The good news: your live webinars are gaining a reputation for being both entertaining and informative, and your invite list is growing — people are even requesting new topics for you to cover.
The bad news: there's no way your team can schedule and present more live webinars without taking time and resources away from your other duties.
It's time you swallow a bitter pill: in order for you to support a repeatable, scalable marketing funnel, you're going to have to start hosting recorded webinars.
Why host a recorded webinar?
The goal of a recorded or "evergreen" webinar is to allow attendees to take part in the webinar at any time (either a predetermined time slot or on-demand) that works with their schedule.
From the perspective of the marketer, it's nearly impossible to run events all the time, so an evergreen/automated event can help to allow for more scalable options.
Are evergreen webinars the same thing as fake live webinars?
Unfortunately, there are some platforms and systems that abuse the trust of potential customers by doing everything they can to trick attendees into thinking a presentation is truly live.
DOWNLOAD YOUR FREE WEBINAR STRATEGY CHECKLIST BELOW
Use this checklist
to design your very own high-converting webinar marketing strategy from scratch, then automate the process to attract high-quality leads.
We promise to never spam or send emails about cats.
Okay, maybe some cat stuff.
For some people who have been burned in the past, the very thought of using an automated webinar brings to mind the worst of shady, infomercial-style marketing tactics: the "Fake Live Webinar" or, as I like to call it, the "faux-binar."
Maybe you've fallen for the faux-binar before:
You get an "exclusive invitation" from a guru-preneur for a "special, one-time only online event" with "limited seats." (How is that even a thing for a webinar?)
When you register, you are asked to pick a specific time slot.
If you show up earlier than the scheduled time, you have to wait for the webinar to start.
After logging in, the webinar is presented as though it's in front of a live audience, even reporting hundreds of participants; the number changes throughout the presentation as though people are coming and going.
There's a box at the bottom where you can type a question. When the webinar begins, the host promises they'll "try to get to all the questions at the end."
You're increasingly aware that the presentation is completely canned and has probably been running on autopilot for the past couple years.
You end up sitting through what can only be described as an hour-long sales pitch as you lose trust in the people behind this deceptive marketing scheme by the minute.
At the end of the webinar, the Q & A session is actually a 2-minute FAQ session-slash-high-pressure sales pitch, and no one answers your specific question; no one is actually there to read it!
The webinar ends with an offer for a $500+ product. A "BUY NOW" button is emblazoned across the screen, maybe even with a warning that there are "only X left!"
Effective marketing? Maybe.

Ethical marketing? You decide.
If you're running a business that relies on customer relationships (a.k.a. EVERY LEGITIMATE BUSINESS EVER), the worst possible foundation upon which to build those relationships is deception.
So, why do people do it? Why do they try to trick people into believing they're participating in a live event?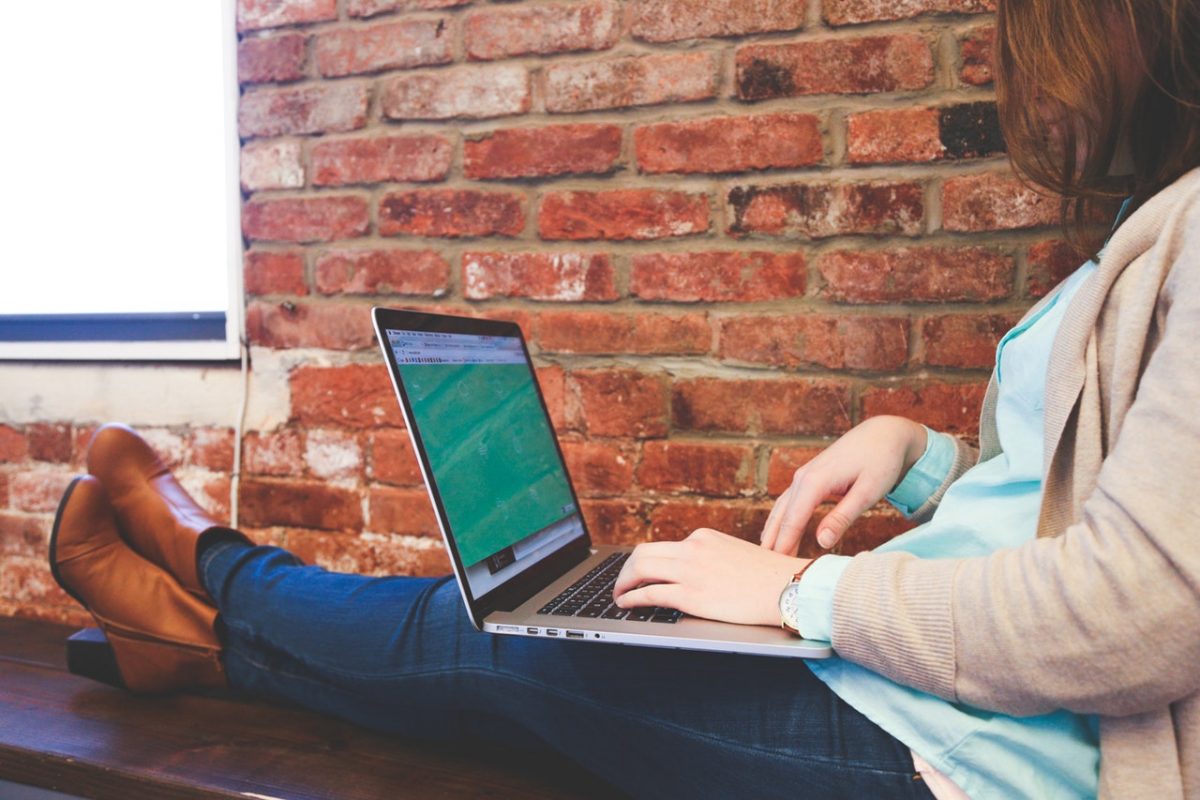 Here are a few big reasons why some marketers rely on the faux-binar:
Laziness: Some of the marketers who host simulated live webinars are get-rich-quick folks. They don't care about the relationship — they just want the sale. So, they copy a move from a nearly decade-old playbook used by certain internet marketing gurus. The irony, of course, is the most successful gurus have since moved on from the Fake Live Webinar because it's a failed experiment. The faux-binar is just one more untested marketing "hack" that floats around the internet like the Great Pacific Garbage Patch.
FOMO: Creating a sense of urgency (a.k.a. Fear Of Missing Out/FOMO) is a time-tested persuasion tool. Some marketers think the only way to create urgency is by manipulating (i.e., lying) about the popularity and availability of a product. What they don't realize is that there are plenty of ways to create a sense of urgency without faking scarcity.
Lack of confidence in the webinar content: Many of the people who run automated fake live webinars are relying on a numbers game — the same numbers game played by robo-callers and telemarketers and spammers. If you play a recording enough times to enough viewers, it doesn't matter how cruddy the content of the presentation is, you'll end up making a few sales to gullible people. The problem is, if you're in the business of delivering value to people and they get little value out of your content, you won't get repeat business. Plus, you'll earn a reputation for being sleazy.
Here at Demio, we took a stand against the Fake Live Webinar with a more ethical approach.
Not only because it's the right thing to do, but also because it's smarter business.

We're going to show you how to increase engagement and excitement over your evergreen, recorded content so you can see awesome conversions — comparable to your live webinars — without having to resort to deceptive tactics.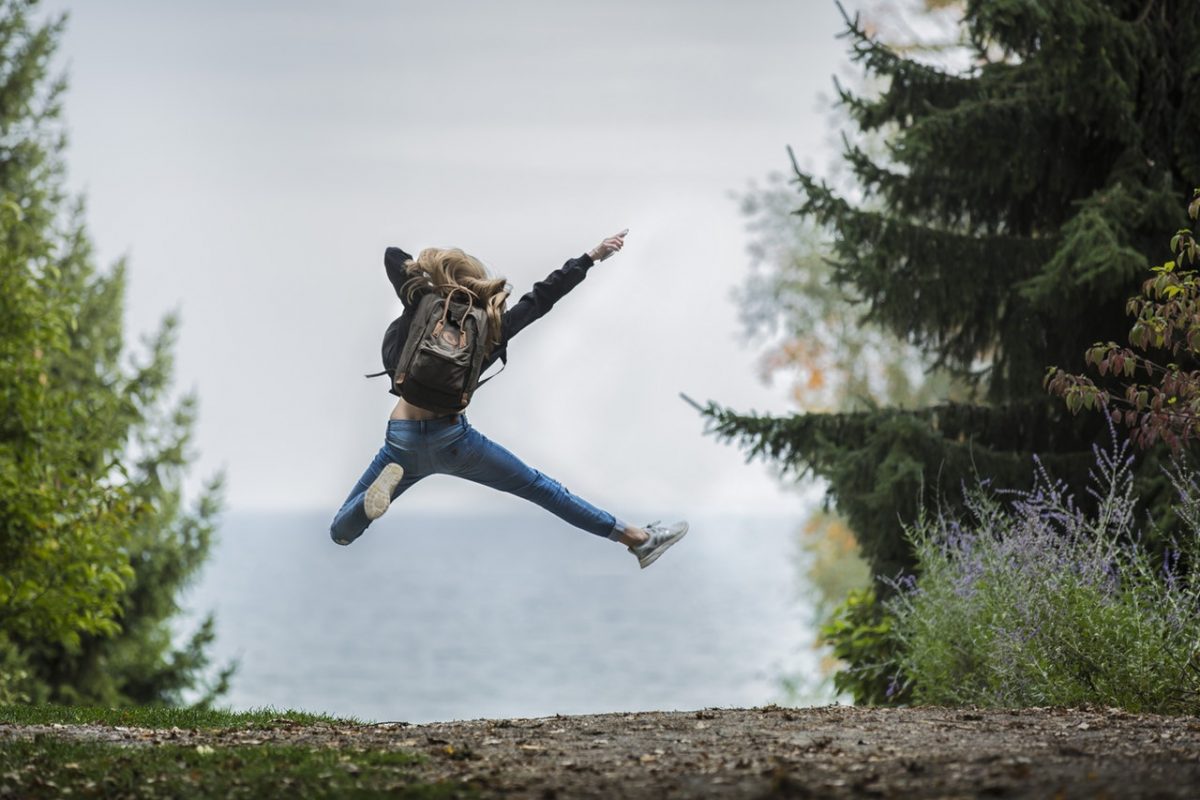 #1) Test your live webinar content first

An evergreen webinar funnel is a great approach to scaling your marketing once you have a presentation that converts and is proven effective. You need the live webinar data to know what works and what doesn't.
Demio offers plenty of post-webinar reporting tools and integrations so you can see how your live webinar measures up in terms of attendance rates, how long people stay, when they leave, and how many convert.
Once you discover a winning formula for your live webinar, then and only then is it time to record it and build an evergreen funnel around it.
Looking for great ideas to use within your webinar to make it a conversion-generating machine? Check out our examination of Drift's most popular webinar: Generate 2-3x More Qualified Leads with Drift's Webinar Strategy

#2) Stay transparent and authentic in your messaging

This should be obvious by now, but show respect for your prospects' intelligence by being upfront about the fact that the webinar is recorded.
Better yet, leverage the fact that it's a replay of a live webinar; you're sharing it with them for their convenience. Thanks to things like time zones and work schedules, almost a third of webinar registrations happen after a live webinar is already over.

#3) Present your recorded content without apology
If you're worried that less people will participate if they know your webinar is recorded, think about it this way: when you listen to your favorite podcasts or watch your favorite shows on Netflix or check out a YouTube video, do you expect it to be presented live?
When these podcasts and shows and channels come out with new content, are you more or less likely to tune in?
According to HubSpot, 43% of people want to see more video content from marketers, live or not.
So, don't sweat it: having on-demand recorded content will just make your biggest fans value the opportunity to attend your actual live events even more.

#4) Use tools to reproduce the live webinar experience
Just because your audience knows they're watching a recording doesn't mean they have to completely miss out on the things that made the live event special.
With webinar platforms like Demio, you can time interactive resources to show up at the exact moments they happened during the live presentation. Here are some interactive materials you can share during the recorded event: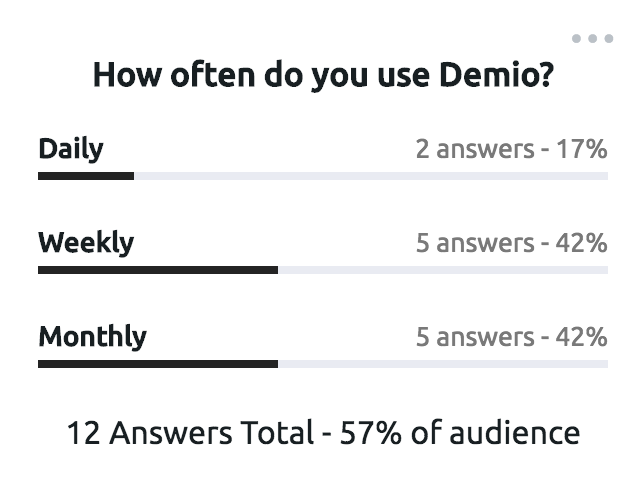 Polls: Invite your recording attendees to respond to the same questions as those the live audience answered. It gives them a chance to see how they compare with most people.
Handouts: Share a downloadable worksheet to fill out along with the presentation. That way your attendees walk away with actionable material, regardless of their interaction with a live webinar host or a recorded one.
Calls to action: When timed correctly, these are great ways to send attendees to something or somewhere actionable — maybe to lock in an offer on your own website, or a link to your social media!
#5) Gamify your webinar
When you're creating the content for your webinar, think of gamification elements you can use to keep your audience engaged in the information you're communicating, whether they're live attendees or people who watch the replay.

Here are some examples of ways to gamify your webinar content:

Keep score

Award points throughout your webinar and invite your viewers to tally them at the end to see how they add up in comparison to other webinar attendees. The points can be awarded for anything: correctly answering quiz questions, following certain calls to action like connecting on social media, or based on their background.
For example: "Give yourself five points if this is your first webinar with me."

Give prizes

At the end of the webinar, reward people who have stuck around to the end with added bonuses. You can even give the bonus according to the amount of points people have accumulated.
For example: "If your score is more than 50 points, use this link to get free access to Module 1 of my paid copywriting course."

Guess that stat

Before you roll out a statistic using a pie chart or other visual element, challenge your audience to guess the answer by sending out a quick poll in the chat area.
For example: "Out of the 2,000 funding applications Andreessen Horowitz gets every year, how many do you think they actually fund?"
200
70
20
Hashtag challenge

Take audience participation outside of the webinar by challenging your attendees to tweet an answer to a creative question using a hashtag. This not only gets people engaged in the discussion, it helps promote your webinar to your followers.
For example: "Ready for the Twitter Challenge? Using the hashtag #SaaSContentWebinar, answer the following question: 'what character are you in HBO's "Silicon Valley" and why?' Whoever gives the best answer gets a free t-shirt!"

#6) Make your offer exclusive to webinar attendees
You don't have to manufacture a sense of urgency just to get people to act on your offer.
Keep it simple: at the beginning of the presentation, let your audience know they will get a special opportunity that's only available for webinar attendees, but they will have to stick around till the end to find out what it is.
Then, when you present your offer, announce the special bonus with a coupon code or link just for your webinar audience. Communicate that the offer will expire after a certain time, and back that caveat by creating new coupon codes for webinar attendees each month.
No gimmicks, no fake scarcity. Just straight-up quid pro quo with a time limit.
To shorten the sales cycle on the offer, follow up with a post-webinar email sequence only to people who viewed the webinar, reminding them of the special offer and its expiration date.

Keep it real, even if it's recorded
Let's face it, what's most important to your customers isn't whether or not a piece of content is presented live, but whether or not it's useful.
The marketing world is full of manipulative tactics that have earned marketers a bad reputation in the eyes of the average consumer. If you really want to fake people out to get a quick sale without regard for your customer's needs, the tools you need to do so are literally a click away.
But, if you want to grow your business while creating a positive impact in the lives of your customers, you have the opportunity to rise above the fakers and the wannabes with truly helpful, authentic content. With the right tools and content, you can create amazing, high-converting evergreen webinars that are so good, they feel live — without having to pretend they are.
DOWNLOAD YOUR FREE WEBINAR STRATEGY CHECKLIST BELOW
Use this checklist
to design your very own high-converting webinar marketing strategy from scratch, then automate the process to attract high-quality leads.
We promise to never spam or send emails about cats.
Okay, maybe some cat stuff.