To generate high-quality leads, you have to present information to your prospects in a way that warms them so they're ready for your sales department. Fortunately, all it takes is a well-crafted and targeted webinar to gain that audience reach you seek.
Unfortunately, several factors can derail a virtual event and cause you to lose prospects. Something as simple as a poorly-timed call to action (CTA) or too much dead air can cause prospects to drop off and never return.
The solution is to craft a top-notch webinar strategy that encompasses all types of webinars, whether they're live, automated, or on demand. A successful webinar will yield a higher ROI, a stronger, more loyal audience base, and overall better content that you can use for educational and digital marketing purposes.
Once you learn how to make your webinars more interactive, you're well on your way to success. They're a conduit for connecting with your audience and bringing your brand to life. Follow the webinar best practices outlined in this article to take your digital events to the next level, whether you host live or pre-record your content. 

Identify Your Audience and Their Needs
To convince people to attend your webinars, you have to know who your target market and demographic are. That ensures your content resonates with the right audience, enabling you to narrow down your prospects to more promising leads.
Build your title and webinar content around the information you gather on your audience. A great tactic is to have your guests or featured speakers promote your webinars on their social media pages so you can broaden your audience reach without straying from the demographic you want. This helps land your event in front of the people who will be most responsive to what you have to offer.
Be sure to thank everyone who registers by creating a post-registration thank you page. The personal messages you send help improve your audience's opinion of your brand while also providing an excellent opportunity to offer other incentives for your prospects to attend your webinar.
Choose the Right Topic
Select a topic that'll appeal to your audience and bring them value. If your webinar comes across as more of a sales pitch than an informative presentation, attendees will jump ship. So, the topic chosen should be educational, relevant, and immediately beneficial to your audience.
Not sure how to pick a webinar topic? Ask the source directly; send attendees customer feedback and surveys before and after your webinars to provide you with insight into what your demographic wants to learn next. Dive deep into the selected subject matter so you position yourself as an authority in your field.
The title and description of your webinar should reflect the topic you choose so registrants know what to expect when they tune in. Even if your main goal is to close sales (a common aim for this type of promotional effort), still make sure the subject matter is engaging and captures your audience's attention.
End webinars emphasizing to your attendees that if they make a purchase or subscribe to future content, they'll gain even more value from your services and products. You can encourage urgency in consumers through several tactics, including CTAs, timed handouts, and chat features. Also, insert promo codes and discounts with time limits to secure a commitment from your most engaged audience members.
Demio's webinar platform provides these and other valuable features to close more deals with your attendees. Check out their offerings to see how your events can benefit from Demio's solution.  
Establish Clear Key Messages
The last thing you want to do during a virtual event is lead your audience astray or, worse, leave them feeling confused. A good webinar should always have a direction and a clear message. If you've done a read-through of your presentation and can't identify the main takeaway, you need to revise your content.
With easily understandable directives, your webinars will keep your audiences engaged until the end. What message do you want your audience to leave with? What are the big ideas you want your audience to receive?
Clearly state these key messages at the start so you set the tone for your sessions. One way to do this is to perform a practice run before recording or going live and have your sales and marketing teams tell you what they took away from your content.
You can deliver several messages, but make sure they're all distinct and don't impede on one another. Ensure your audience gets the message by checking in with them throughout your webinar and asking if they have any questions about what you've covered.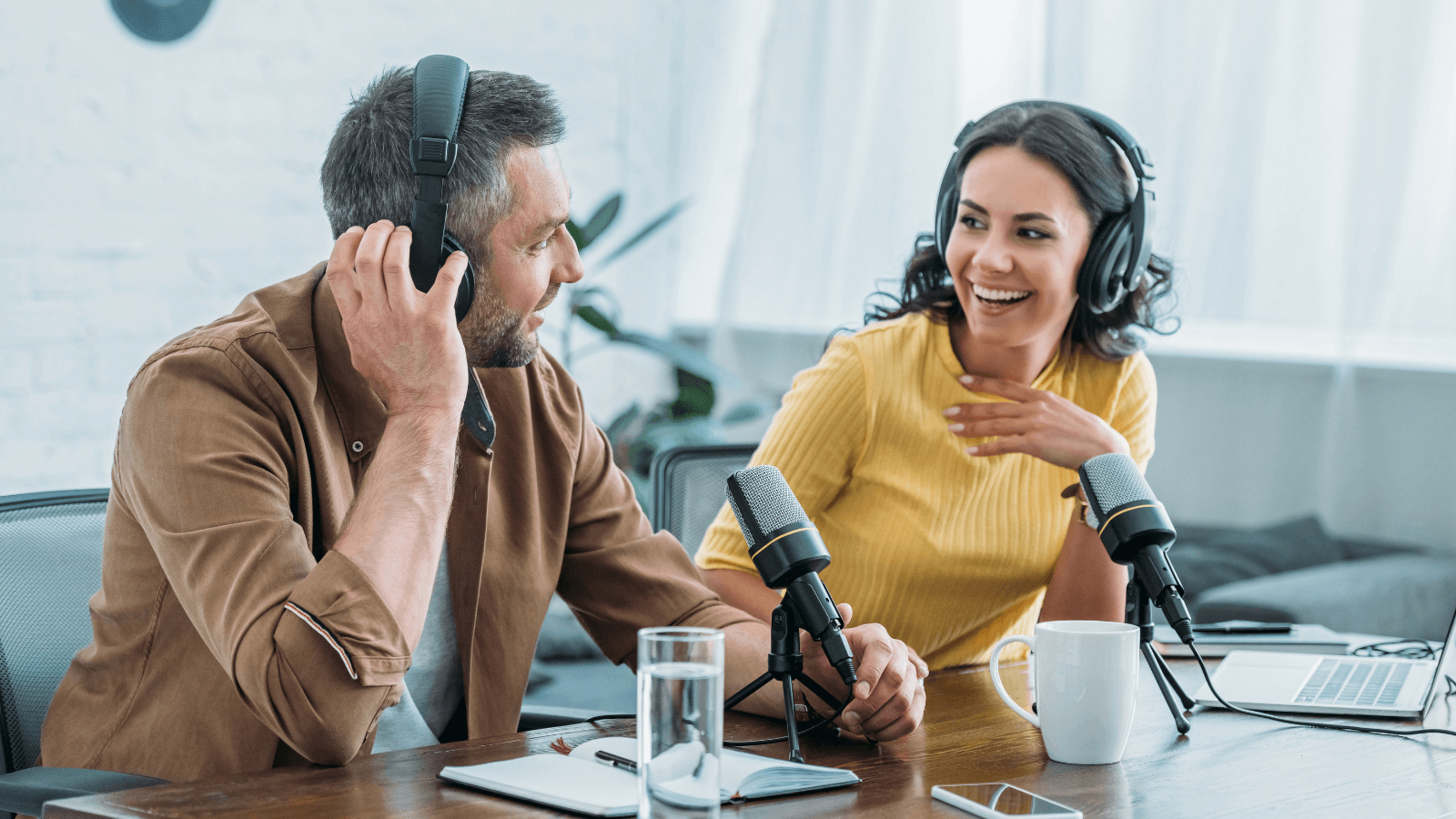 Invite Top Speakers
You'll generate more interest in your live events if you feature well-known guests in your webinar, even if they're only slotted for a short period. Invite top names from your industry or popular social media influencers to speak in your webinar and help you gain more authority in your sector. It's best to find webinar speakers who are connected to your brand or related to your industry, but an endorsement from any respected name will boost your credibility.
Your guests can make or break your brand if you're just starting out and still trying to build a following. While it's tempting to lead with your best or most well-known speaker to keep your audience riveted, save them for later on in your webinar. That way, your audience has a tempting incentive to stick around, and you'll have the opportunity to interact and engage with them until the speaker they've come to see presents.
While your guests are presenting, open up a moderated chat and hold an informal Q&A session or run a timed poll or survey. The excitement of your audience may lead to valuable connections.
Craft Compelling Invitations and Emails
Your communications and other email marketing efforts should convey both urgency and value to your audience, as well as a genuine desire on your part for them to attend. Craft compelling invitations and send them directly to prospects (including those who've attended your webinars in the past) to achieve a stronger response.
State your webinar title, what it's about, and, include the names of the webinar's key speakers or featured segments. Invitations should always include a registration link along with an incentive to join the event, such as a promo or discount code, early access link, or other CTA that encourages follow-through. At the end, thank every registrant for signing up for your webinar and other content.
Continue your email marketing activities to remind them of the date and time your event will take place. Consider adding a countdown timer to induce urgency and build excitement. Remember, the goal is to encourage attendance, not be salesy, so keep your content simple and informative and only offer purchase incentives if they flow organically with your content.
To simplify the creation and distribution of invitations and emails for your marketing team, consider adopting a webinar tool. For instance, Demio's webinar platform boasts several email marketing features that make contacting registrants and keeping track of contacts a breeze.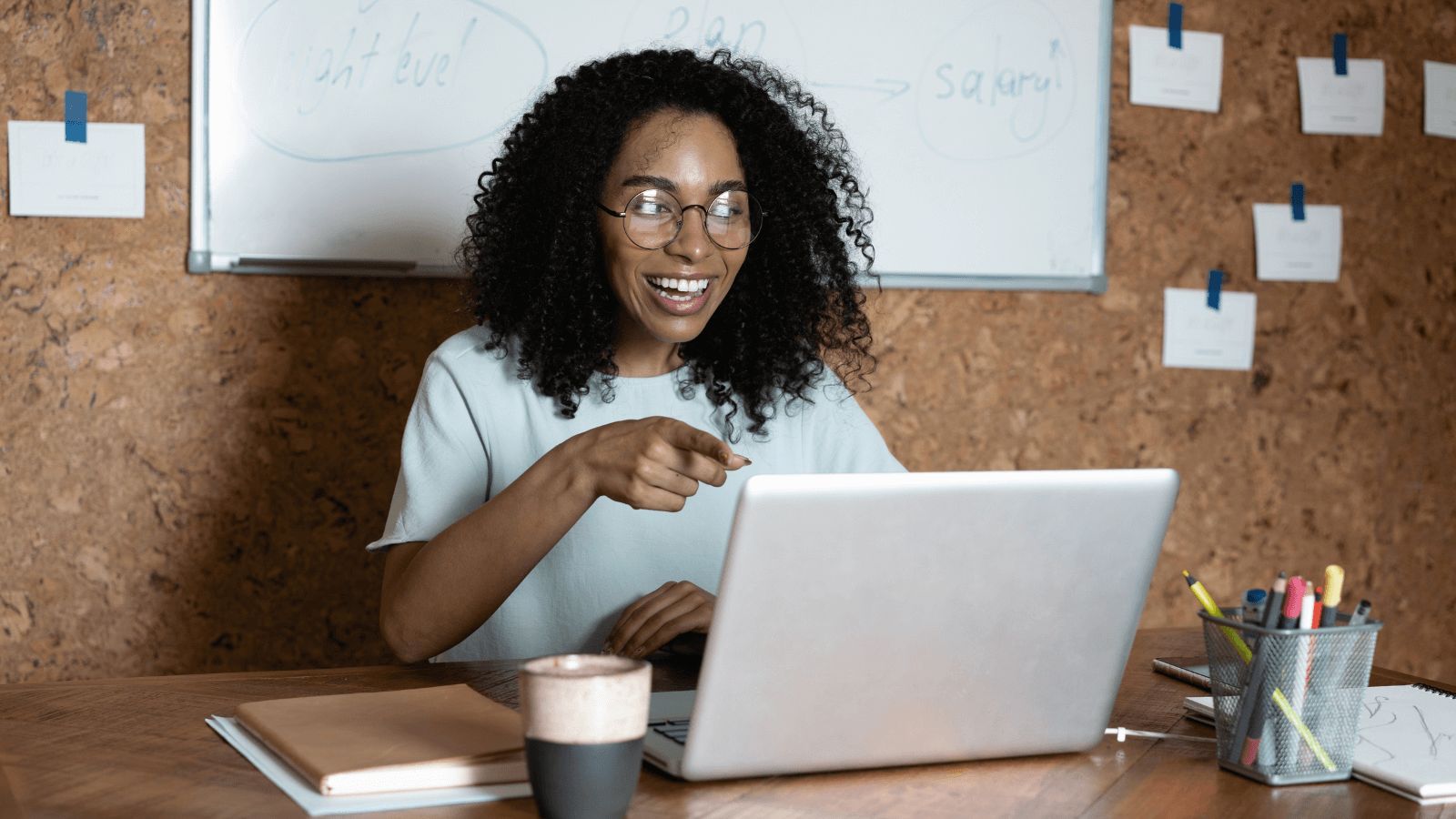 Pick the Right Webinar Platform
As previously mentioned, the right webinar platform is important to execute webinars with ease. It should allow you to drive attendee engagement via live chat, actionable features, custom webinar formats, and more.
Look at a platform's affordability, number of attendees and speakers allowed, custom features, and other elements you need to host events. If you're new to virtual events or want to create both live and on-demand webinars, take usability into consideration as well. 
A great potential candidate is Demio. The platform's user-friendly interface lets you produce engaging webinars and interact with your audience easily. With this no-download solution, you can launch your first webinar in a matter of minutes.
Design Engaging Presentations
We don't mean colorful and flashy presentations; we're talking about creating engaging presentations that draw the audience in and entice them to participate actively in your webinars. A webinar is simply an alternative to an in-person event, so you should give audience participation the same weight as that of a live presentation. Speak with your audience, not at them, and you'll have a terrific presentation.
An engaging presentation both encourages attendees to think and leaves them raptly guessing what will come next, even if they already understand the topic and know the event itinerary. Make your webinars engaging by incorporating product demos and tutorials into your presentation and breaking up topics into smaller segments so don't overwhelm your audience with an information dump.
Less is more when it comes to a quality webinar. A session that's more than an hour long is unlikely to bring more value to an attendee than a shorter one that's to the point. If your webinar runs long in rehearsal, cut the dead air and boring bits to make the presentation more interesting. Try to keep it under an hour total.
Incorporate Interactive Elements
Live webinars give your attendees the chance to have a say in your presentations. A successful webinar must be interactive and informative, and there are lots of ways you can interact with your audience during each session, even if you host from your living room to an audience across the globe.
Incorporating interactive elements into your presentations is easy with the right webinar format. It largely involves inserting actionable features throughout the session and actively encouraging the audience to help you out. Intersperse questions throughout your webinar at timed intervals to break up the lecture and boost engagement for everyone.
Demio lets you live chat with your attendees so you can get to know the most active audience members more personally. You can also structure timed handouts to maintain or regain audience interest, toss in relevant polls and surveys (which gathers valuable information in real time to improve future webinars), and let participants upvote their favorite discussed content to keep them involved throughout your presentation.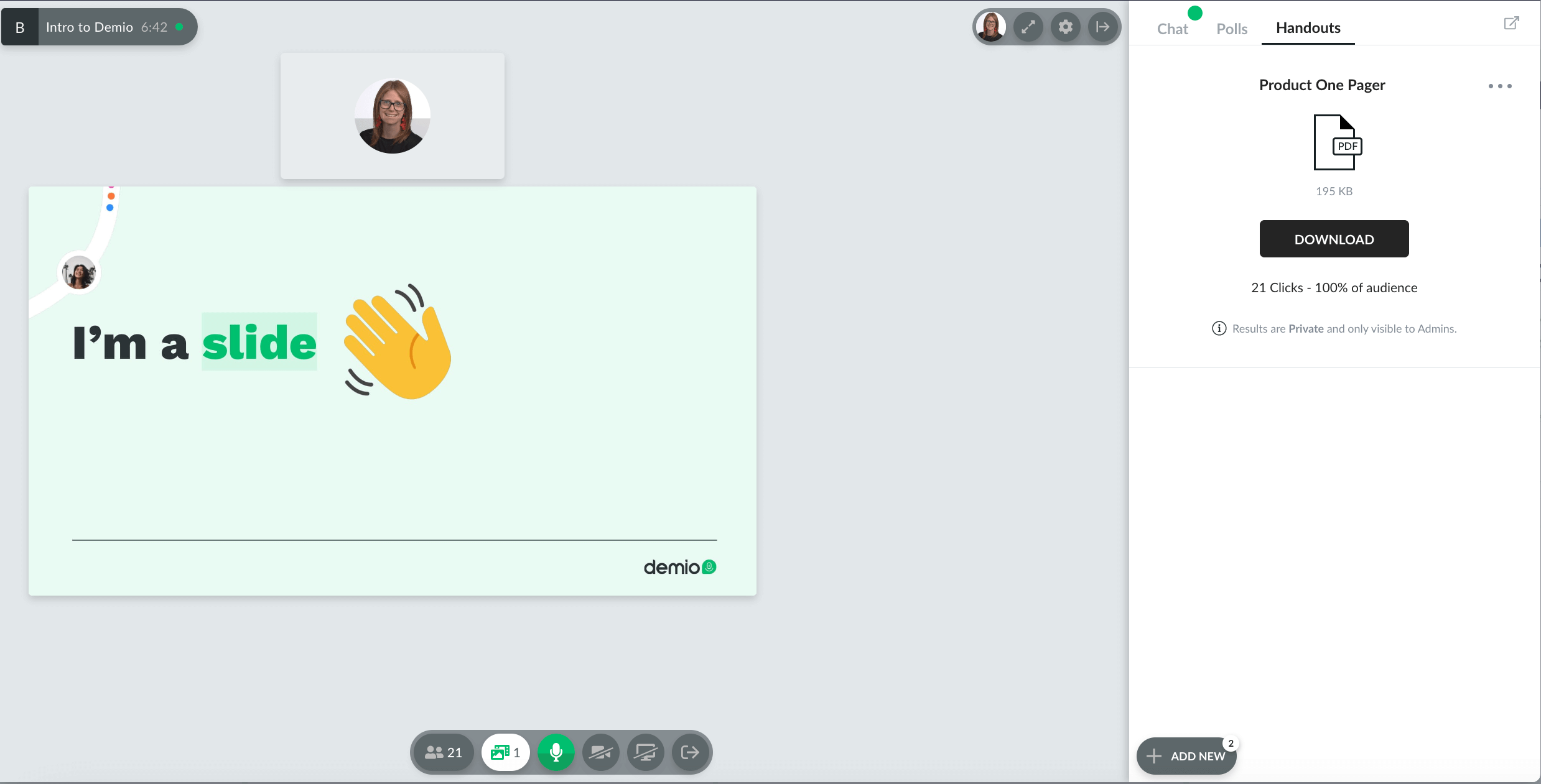 Develop a Webinar Marketing Strategy
For the widest webinar promotion, you need to employ various online marketing strategies. To start, consider where your main target audience spends the most time on the internet and begin promoting your online event there. Post links and countdown timers on the most-visited social media pages, as well as your website and webinar's landing page.
Email marketing is a direct way to reach both past webinar attendees and interested prospects. Without appearing pushy or overly salesy, fill your audience in on the key messages of your webinar and its title, and give a few key benefit highlights to encourage attendance. Closer to the date when the webinar starts, send scheduled reminder emails so your registrants don't forget about their commitment.
If your registration numbers continue to stay low even as the webinar start date draws closer, have a backup promotional strategy at the ready designed to induce urgency in your target audience. For example, starting a registration countdown to indicate you have limited space in your webinar can move registrants along. Or, post a promotional discount or early entry reward to help boost registration numbers.
Continue to advertise your webinar during and after the presentation as well; you have to keep the conversation going with your audience to grow your sales funnel. Simply posting on social media after your event is over to showcase the event highlights can spark rich interactions. Again, using a webinar tool for marketing teams can help develop a promotional strategy that yields the registration and attendance numbers you want.
Follow up to Nurture Leads Post-event
Follow-up emails are essential to nurture leads and increase conversion rates. Send all attendees a thank you communication and ask them to complete a survey or share their favorite parts of your webinars. Or, you can reach out to attendees to personally answer questions they asked during your webinar.
Communicating with audience members after your webinar shows them you value the time they invested into your brand. It also presents an opportunity to promote your content and brand authentically. As their interest grows, continue to reach out until you feel they're ready for your sales team.
A robust webinar platform can streamline sending emails to your webinar registrants and attendees. Interactive webinar platforms contain user-friendly email marketing features that employ automation to make addressing multiple registrants less confusing and time-consuming.
Analyze Webinar Metrics and Improve
Every webinar you host should be more impressive and engaging than the last. Use the information gathered from your audience (via post-webinar feedback and surveys) as well as the webinar analytics and tracking your webinar platform provides to help you determine what works well in your webinars and what causes your audience to lose interest and leave. Simply changing the webinar format can make a huge difference in how attendees respond to your presentation. 
Analyzing webinar metrics enables you to refine presentations so they better match the mood and buying behaviors of your audience members. Irrelevant or poorly crafted content and CTAs lose you prospects, hurt your brand, and waste time and money.
Take note of what produces positive results in your audience. Keep those elements while tweaking the rest of your content to appeal to your audience's interests. Do this, and your next webinar should have higher response and conversion rates than the last.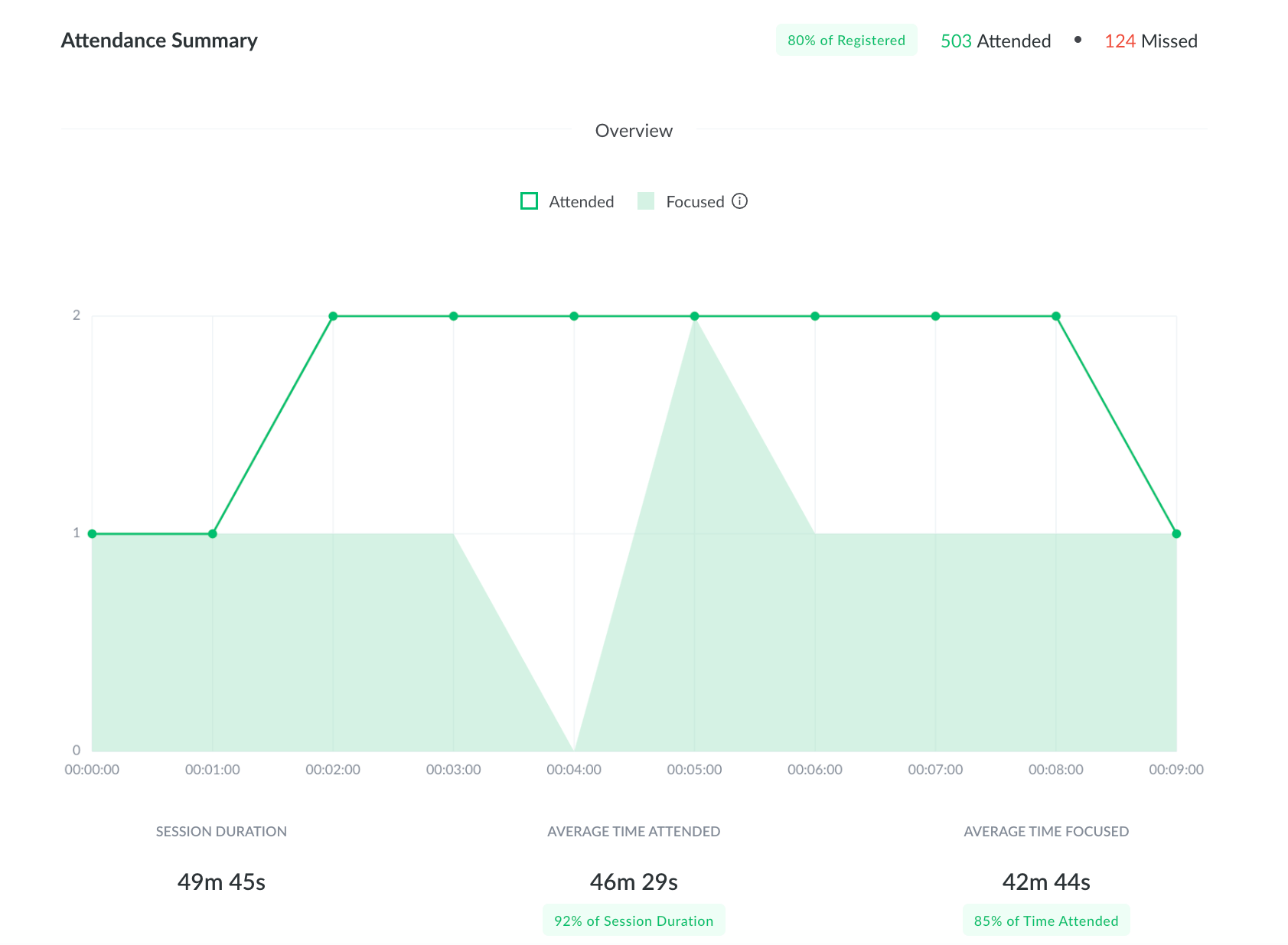 Do More with Demio
Excellent webinars emphasize audience engagement and interaction. They share information attendees are eager to know and feature guest speakers who excel at entertaining and holding people's attention. You should always follow these events with a personal thank you to attendees to strengthen the relationship established during the webinar, as well as keep your event top of mind.
An interactive webinar platform can make the difference between audience retention and scrambling for attendees. As your brand grows and improves, so should your webinar presentations.
Do more with Demio and see your enthusiasm for hosting and sharing webinars grow. Take advantage of its many avenues for interaction with your audience and build your first webinar within minutes using Demio.
Ready to begin? Get started free or see what Demio has in store for you and book a demo. 

Frequently Asked Questions About Webinar Best Practices
How Can I Maximize Audience Engagement During a Webinar?
Engage with your audience during a webinar via featured actions, surveys, polls, and live chat (both public and private).
What Are Some Effective Promotional Strategies for Driving Webinar Attendance?
To secure stronger attendance, create urgency by advertising limited audience slots, host webinars during the most popular dates and times, and leverage social media to advertise your webinar content to your audience.
How do I Choose the Right Webinar Platform for My Needs?
You can request free trials or demos from webinar platforms you're considering to compare and see which works best for you. Factor in your budget, desired audience reach, types of events you want to host, and your level of experience to help you narrow down your choices.
What Key Metrics Should I Track to Evaluate Webinar Success?
Key metrics to track include click-through rates for links and CTAs, the number of attendees versus registrants, and how long audience members stay engaged throughout your webinars. Follow-up surveys and feedback are also valuable methods to evaluate audience satisfaction.