2023 is already proving to be an exciting time for webinars and other online events. Looking back, the last three years have been transformative, with many more businesses engaging in webinars for marketing purposes. However, it's also helpful to revisit past examples and learn their lessons so you can apply that knowledge to your own virtual events.
Let's look at the best webinars that made an impact and how you can recreate their success today.

1. Autodesk: Achieving Results Beyond Expectation
Let's start off the list with Autodesk, a 3D design, engineering, and construction platform. The brand helps people realize their creative ambitions, ranging from high-performance cars and towering skyscrapers to smartphones and movies. 
The platform's tools assist with modeling, animation, civil engineering, drafting, manufacturing, product design, and more. Considering how wide the Autodesk audience is, we were very curious to know more about its webinar target group.
To get the webinar data, we talked to Cole D'Ambra, Autodesk's marketing automation manager.
Webinar Details
Webinar title: Top Workflows To Win More Bids in 2021
Webinar audience: General contractors in North America who dove into bid management, vendor qualification, and model conditioning workflows
Webinar description: Discussed time- and money-saving strategies along with increasing project win rates as the key to success in 2021
The webinar KPIs were highly specific: 700 registrants, 200 attendees, 50 demo requests.
The Webinar Promotion Strategy
In-app messages and email campaigns for lead nurturing: The company has many products in their portfolio and cross-sells to their target audience based on their ideal customer profile (ICP). As Cole D'Ambra indicated, the Drift Email was a game changer: Instead of filling out a registration form, the leads could simply reply to the email to register.
Social media: According to Cole, driving organic social media traffic to the registration page didn't bring many registrants, but it did help keep followers up to date.
Paid promotion: Autodesk used paid promotion in collaboration with industry publishers, which brought in 15%–20% of registrants.
Autodesk Webinar Results
The webinar attracted 1,306 registrants.
340 people attended the event, or 26%. (This is a pretty good rate for webinar registration to attendance.)
The company received 85 demo requests. One week after the event, the webinar team emailed the absentees to offer a personalized demo. This yielded a 5% conversion rate from no-shows to demo requests.
Quick Lessons From Autodesk
Although you may cater to different audiences, be very specific about your target group. Autodesk narrowed down their intended segment by indicating the job (general contractors), the location (North America), and a characteristic. Don't be afraid to "scare off" unqualified leads; the same move can also attract your most highly qualified leads.
Use your database and promote your webinars through email blasts.
Make sure the registration process is as simple as possible. Eliminate the friction so it's easy for leads to register for your webinars.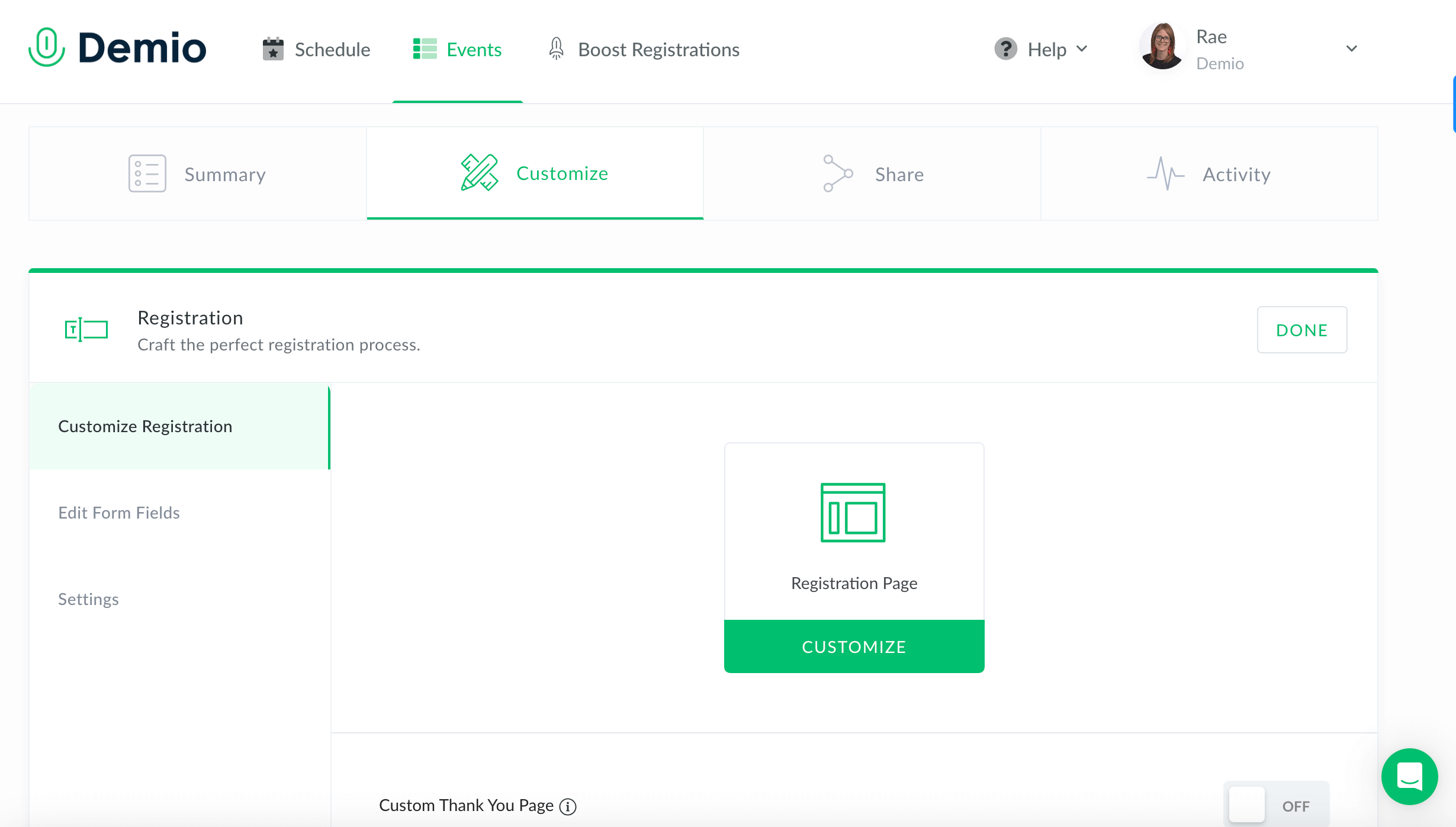 2. Curacubby: Doubling the Number of Registrants
Curacubby is a K-12 school administration software. It helps schools simplify their administrative operations with its management solution.
To uncover deeper insights into the webinar campaign, we talked to Anna McVeigh-Murphy, the head of marketing at Curacubby.
Webinar Details
Webinar title: Preparing for the 2021 School Enrollment Season
Webinar audience: Independent school leadership (principals, assistant principals, directors, heads of school, and enrollment coordinators)
Webinar description: Showcasing the strategies schools need for a successful enrollment process
The main goal was to engage existing customers. Curacubby works in education, and enrollment is a major challenge for their customers. That's why Curacubby wanted to provide support in the form of thought leadership that would help their customers going into 2021.
A secondary focus was on lead nurturing. As Anna told us, Curacubby solves many enrollment challenges, so they wanted to engage their leads in conversations about enrollment and convert them into marketing qualified leads (MQLs).
The Webinar Promotion Strategy
Social media: The Curacubby team promoted the webinar via social media, driving organic traffic to the landing page. According to Anna, they had little success with paid social media, so they decided to direct their efforts toward nurturing their existing audience.
Email campaigns: The webinar team sent a promotional email to their existing customer base, as well as potential prospects.
Curacubby Webinar Results
Compared to other webinars, with this campaign, Curacubby doubled the number of registrants:
130 registrants (who received the recording and the additional on-topic resources)
20 MQLs who agreed to a demo. Although that wasn't a product-centric webinar, the registrants who qualified as leads showed an interest in learning about the product.
The Curacubby team achieved an 85% close rate on deals from the webinar.
Quick Lessons From Curacubby
You can pursue multiple webinar goals. For example, you can use the event both as a thought leadership platform and a marketing piece to attract MQLs, as long as the content is relevant for all included audiences. 
Use webinars to strengthen the relationship with your paying customers by helping them overcome specific challenges. 
When promoting your webinar, leverage your existing audience. 
3. Demandbase: $3.1M in Influenced Closed Won
We continue with Demandbase, an account-based marketing platform. Using real-time data and AI, Demandbase helps B2B marketers find accounts in-market, engage those accounts, and convert them into customers. 
To learn more about the company's approach to webinars, we connected with Brandon Redlinger, head of demand generation and partner marketing at Demandbase.
Webinar Details
Webinar title: The ABM Innovation Tour
Webinar audience: B2B marketers, both practitioners and executives
Webinar description: The webinar series delved into the latest and greatest marketing practices from industry experts, front-line practitioners, and general revenue rockstars. Instead of a one-off webinar, Demandbase launched a four-part series made up of what they called "tour stops":

First tour stop: Identify and Attract
Second tour stop: Engage and Personalise
Third tour stop: Convert and Close
Fourth tour stop: Measure and Align
The main KPIs were:
2,500 registrants
50 sales qualified leads (SQLs)
30 leads for the sales pipeline
Email campaigns: Brandon discussed how Demandbase promoted the series through email campaigns. First, the webinar team sent three general emails explaining the ABM Innovation Tour. Then, they continued the campaign by sending two emails per tour stop.
1:1 invitations: Next, Demandbase engaged their sales development reps, asking them to send one-to-one invitations to target accounts. About 22% of the accounts were post-opportunity stages; the rest were at the pre-opportunity stage.
Social media: The webinar team deployed a social media-heavy promotional campaign, pushing text, graphics, and videos.
Website banner: Another promotional tactic was to create a webinar banner and display it on the website home page.
Email signatures: The rest of the Demandbase team helped advertise the webinar in their email signatures.
Paid promotion: The webinar team created account-based ads targeted at the Demandbase accounts.
Personalized landing page: Finally, the landing page was personalized for the targeted accounts.
Even after the first series of messages, ads, and emails, the team continued to promote the webinar with individualized emails, one-on-one calls, engagement with target accounts, LinkedIn connections, and InMail messages.
All those efforts led to impressive sales results.
Demandbase Webinar Results
Demandbase achieved better results than originally expected:
3,605 registrations, with over 32% from target accounts
77 SQLs
43 leads for the sales pipeline
Closed Won Opportunities: 51 influenced ($3.1M)
Quick Lessons From Demandbase
Instead of running a single event, create a webinar series. This will increase the impact of your webinar efforts and generate more leads.
Involve your sales development reps in promoting your webinar by sending personalized emails to their accounts.
Send multiple emails to the same accounts, hop on calls with them, and maintain an active promotional campaign to convince more people to register.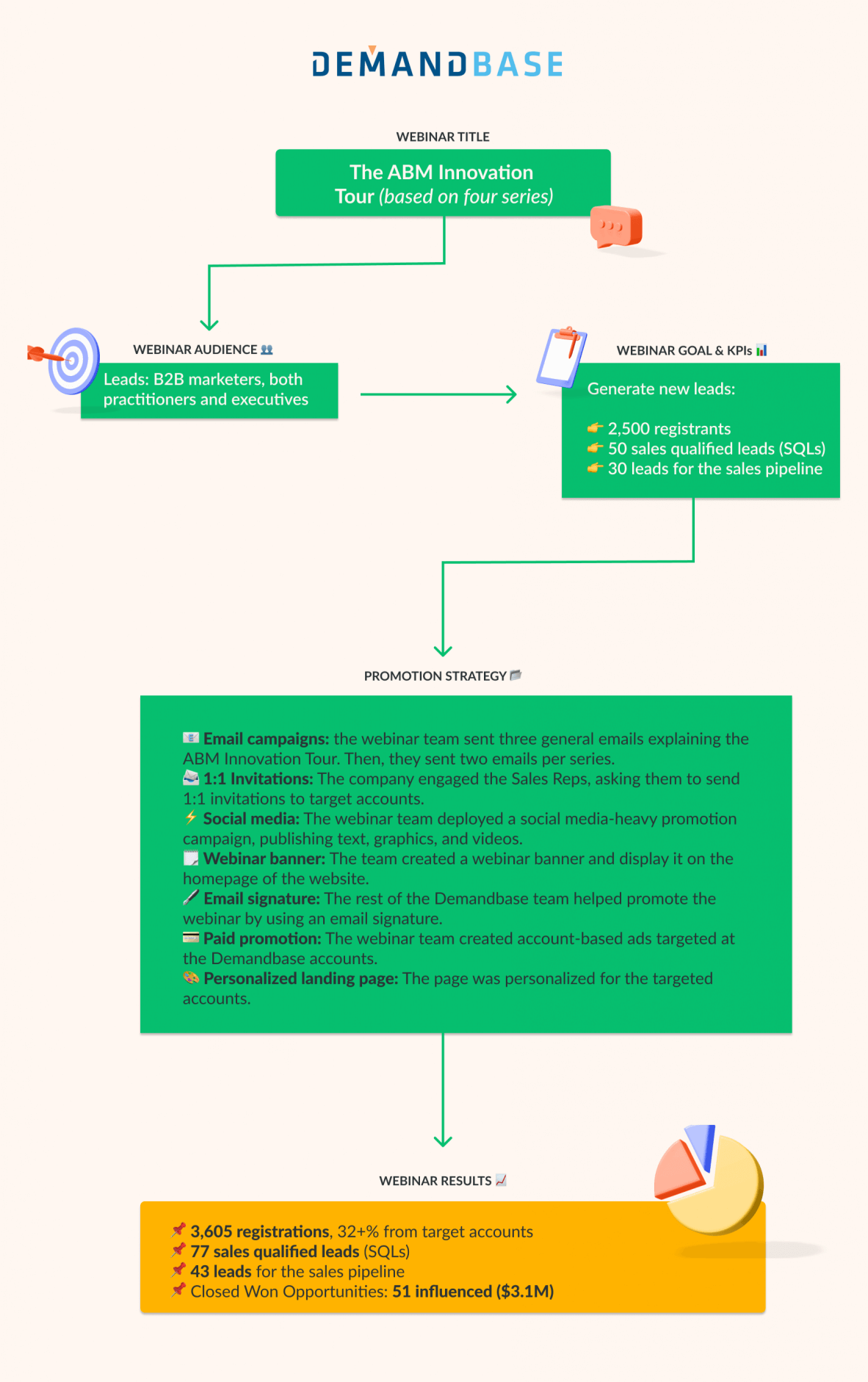 4. Innovatemap: Building a Community With Webinars
Innovatemap is a team of experts in digital product research, branding, marketing, and design. The company is dedicated to transforming shopping technology ideas into high-growth businesses through collaborative client partnerships. For example, some of the services they offer are user and market research, strategy, product management, and branding, among others. 
We spoke with Sara Croft, principal marketing partner, and Ellie McCandless, community manager and product marketing partner, to discover how webinars have benefited Innovatemap.
Webinar Details
Webinar title: Better Product Speaker Series
Webinar audience: Product practitioners and leaders who work in the field of product management, product marketing, product design, and brand. While the Innovatemap honed in on the Midwest, the team also welcomed attendees from anywhere in the country. 
Webinar description: The webinar series featured experts who answered product questions. This five-week series (that's now offered on demand) explored what it takes to design, build, market, and sell better digital products. 
The main goal was to launch an information series to acquire new members for their Better Product Community, Innovatemap's digital product conversation group. The associated KPI was to register 50 product practitioners or leaders per session. 
The Webinar Promotion Strategy
Email campaigns: Innovatemap promoted the webinar series to their existing community members of over 430 people (at that time). They leveraged email drip campaigns, which drove traffic to a dedicated landing page. People could then sign up for one, three, or all five webinars.
Social media: The Innovatemap team advertised the series on LinkedIn and Twitter and featured a week-long Instagram ad campaign.
1:1 invitations: On Linkedin, the team sent personal messages to leads in targeted accounts, as well as tailored emails.
Active promotion throughout the webinar series: After each session, the Innovatemap team sent a recap email with a link to watch the webinar on YouTube.
Innovatemap Webinar Results
Here are the results the Innovatemap team achieved after the live webinar series ended:
290 unique registrants for the combined five sessions.
239 of the 290 registrants weren't community members; those people received a drip email. The message nudged them to complete their profile and finalize their membership.
This webinar series brought the community closer to surpassing 700 members, proving this one activity was well worth the time and effort.
Quick Lessons From Innovatemap
Webinars are excellent avenues for growing your community.
Partner with your speakers to promote the event.
Send personal messages on LinkedIn and via email to engage with your contacts and give a face to your webinar promotion campaign.
5. JB Sales Featuring VanillaSoft: Strategically Choosing Speakers
Next, let's talk about the JB Sales webinar campaign that featured VanillaSoft. JB Sales is a training brand that helps sales professionals and teams optimize for remote delivery and immediate results. John Barrows founded the company in response to the lack of formal academic sales training on the market. Meanwhile, VanillaSoft is an all-in-one platform that provides tools for sales professionals to engage, qualify, and close deals. 
Both brands combined their efforts to launch a webinar campaign. To find out more about their collaboration, we spoke with Ollie Whitfield from VanillaSoft.
Webinar Details
Webinar title: 10 Innovative Cold Calling Strategies To Help You Book More Meetings in 2020
Webinar audience: Sales reps
Webinar description: The webinar focused on cold calling and how to stand out when making a sales call. It adopted an interview-based structure, and the host was a sales expert with a large audience. Also, the webinar had two carefully selected guests — one was a practitioner, and the other was a thought leader. Both brought unique perspectives and opinions to the table.
The main goal of the webinar was to generate new quality leads, and the KPI was attracting between 1,000 and 2,000 leads.
The Webinar Promotion Strategy
The webinar team deployed multiple marketing tactics to maximize attendance.
Email campaigns: Three promotional emails were sent to an existing audience.
Social media: The team capitalized on the company's social media profiles and those of influential individuals on the team to push the webinar. This tactic drove up the registrant numbers over time.
Guest speakers' audiences: Both guests agreed to promote the webinar to their respective audience bases. The expert sales leader, who served as a moderator, had an especially large following on LinkedIn and Twitter and garnered a few hundred registrants as a result.
JB Sales Featuring VanillaSoft Webinar Results
The webinar gathered 3,500 leads, a record for the company.
Quick Lessons From JB Sales Featuring VanillaSoft
To make virtual events engaging, invite guest speakers and attendees with different opinions on the webinar topic. This is one key area where strategic use of registration forms comes in handy: It enables you to "feel out the room" ahead of time and encourage audience participation, where appropriate. You can then use the data you collect ahead of time to make highly educated, tactful decisions about the focus and pacing of the event, which will also help your moderator.
Ask your moderator, webinar guests, and influential personnel to promote the webinar. Encourage your own little viral marketing campaign.

6. MeetEdgar: Leveraging Successful Client Stories
MeetEdgar is a social media management platform that helps people automate their social media accounts so they spend less time managing them. The company boasts a list of famous customers, including Darren Rowse, the founder of ProBlogger, and Neil Patel, one of the top 10 marketers in the world. 
To unravel their webinar formula for success, we talked with Megan McMullin, outreach lead at MeetEdgar.
Webinar Details
Webinar title: How to Plan a Year's Worth of Content in ONE DAY (Note: According to Megan, at MeetEdgar, they like to relate the title of their webinars to a business outcome they know their community needs. In this case, it was focused on gaining more time.)
Webinar audience: Small business owners and solopreneurs
Webinar description: MeetEdgar leveraged the experience of real people to explain the platform for a more interesting experience. The webinar team invited entrepreneur Alyssa Coleman, a successful MeedEdgar user. During the webinar, Alyssa shared her strategies for planning content for social media. The event focused on helping people be more productive and showed how to craft social media content that consistently converts — without spending hours each week staring at a blank screen.
The main goal of the webinar was to increase brand awareness and generate more leads for their email list.
The Webinar Promotion Strategy
Guest speaker's audience: Meghan told us planning collab webinars was a great way to access their partners' audiences. For this webinar's promotion, the speaker had a strong connection with her followers, which MeetEdgard capitalized on. The team offered the speaker $200 to run Facebook and Instagram ads on her account, which helped attract a different audience. It also increased the brand awareness for both MeetEdgar and the speaker.
Email campaigns: Apart from leveraging the speaker's audience, MeetEdgar also ran four invite emails to a list of over 125,000 subscribers.
Digital marketing: The webinar team leaned heavily into online marketing activities. They invested in Facebook and Instagram ads, which paid off by providing high-quality leads.
MeetEdgar Webinar Results
1,776 people registered to attend the webinar.
455 of them showed up live, while 586 registrants were new to the email list as leads.
After the webinar, the MeetEdgar team sent a follow-up email with an offer for a seven-day free trial. A week later, they sent an invite to their Social Media Success Kickstarter Challenge, a week-long email course that helped new leads onboard with MeetEdgar. It included a daily email with a PDF checklist and video. These content assets were designed to help people set up the software to reach social media goals. Also, it pushed the leads to put what they learned during the webinar into practice.
Quick Lessons From MeetEdgar
Instead of having someone from your team explain how your software works, it's more interesting and authentic to invite a successful client who can share real-life experiences. If possible, seek out those who have a large (and new) audience that you can leverage during promotion.
Help your speakers promote your webinar by providing them the necessary resources to run ads on their social media platforms.
Once the webinar is over, continue to nurture your relationship with the new leads. Offer them free product trials and relevant content pieces that help them put their knowledge into practice.
7. Piktochart: Dipping Into Professional Communities
Piktochart is a web-based infographic application that lets users easily craft infographics and visuals without intensive graphic design experience. Professionals from Accenture, Oxfam, Typeform, and booking.com use Piktochart to create engaging content in multiple formats. 
Like many other companies, Piktochart decided to jump on the webinar bandwagon for their marketing strategy. To find out how it went, we spoke with Piktochart's marketing project specialist, Wilson Moy.
Webinar Details
Webinar audience: HR professionals and change managers 
Webinar description: This webinar was published at the beginning of the COVID-19 pandemic and subsequent lockdown that began in April 2020. Piktochart noticed most companies were opting for remote work and wanted to contribute visual communication tips for the HR community embracing new ways to keep their employees engaged and motivated. 
This was the first Piktochart webinar initiative (and their first live event using the webinar platform Demio). The main goal was to attract new leads, and the KPI was to acquire 500 registrations. Piktochart also had a secondary goal to convince people to download a PDF handout the company gave away to promote their templates for HR professionals.
The Webinar Promotion Strategy
Email campaigns: The webinar team sent emails to their newsletter subscriber list.
Communities: Wilson explained the Piktochart team promoted the webinar to various HR communities through groups on Slack, Facebook, and LinkedIn.
Social media: Piktochart promoted the webinar to their existing audience and, to reach their target group, the webinar team set up a LinkedIn ABM campaign. This connected them with HR professionals based on their job, title, and interests.
Website banner: Piktochart also set a banner at the top of their home page, which succeeded in increasing the number of registrants.
Piktochart Webinar Results
By running the webinar campaign, the Piktochart team ended up attracting 637 registrants, of which 80 attended the live event.
After the webinar, all leads received a follow-up email with a PDF handout. Next, the prospects list was passed to the Piktochart sales team for further nurturing. According to Wilson, the number of registrations contributed to the achievement of their team's OKR for the quarter.
Quick Lessons From Piktochart
For an easy webinar setup and launch, choose Demio. The platform considerably reduces the hassle of event creation and helps design a webinar workflow in no time.
Promote your webinar on professional communities via Slack, Facebook, and LinkedIn for optimal exposure.
Set up a LinkedIn ABM campaign to connect with your preferred audience.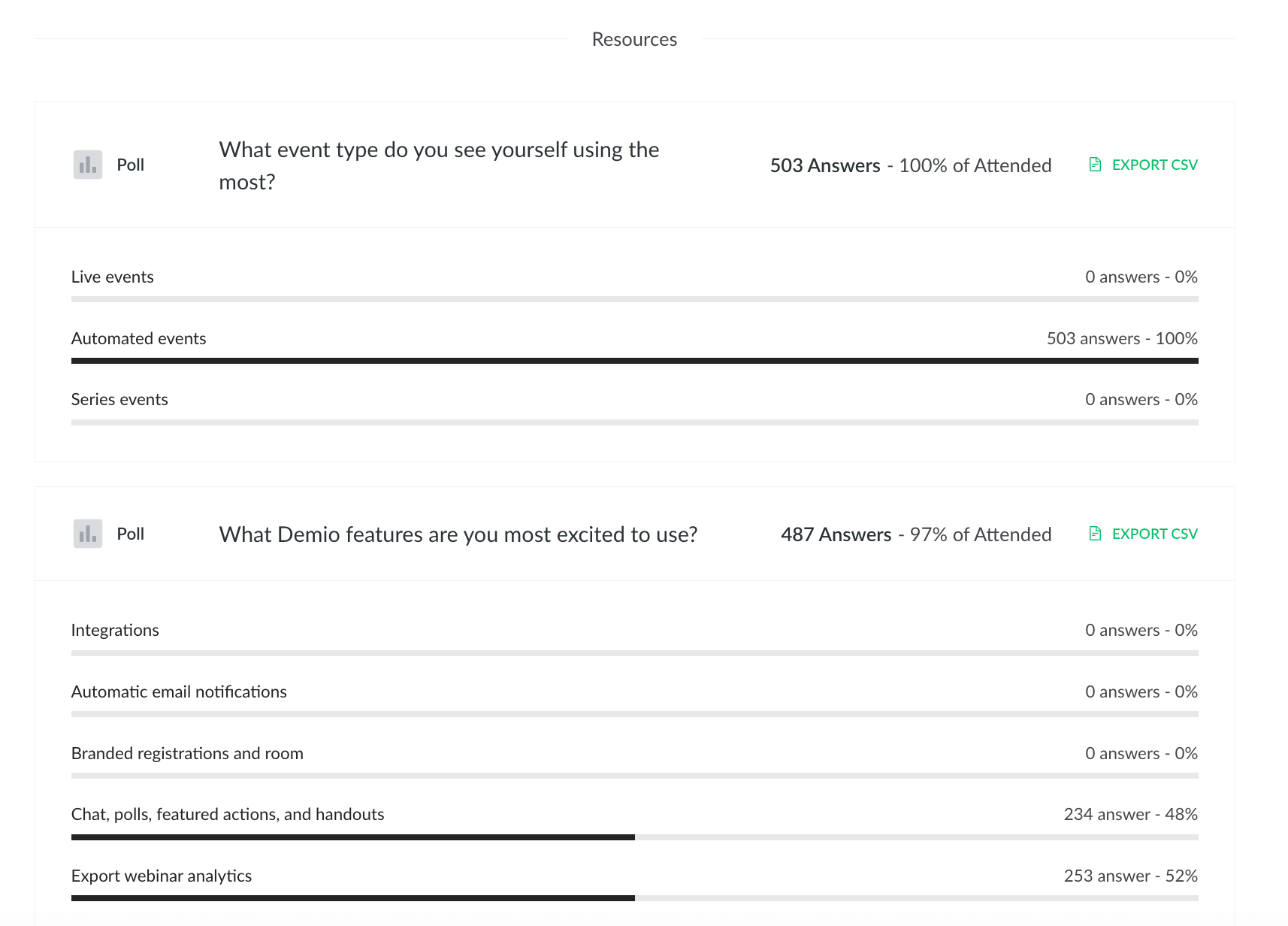 8. Hootsuite Social Media Strategy Webinar: Experts With Authority & Action-Oriented Delivery
Hootsuite runs social media strategy webinars for social media marketing professionals. They share useful techniques and walk attendees through how to recreate other successes.
As they progressed in their webinar marketing strategy, they dove into the development of interesting material and repeatedly tested its reception.
Their experience provides rich lessons on how to launch webinars to establish or cement thought leadership in any space.
Webinar Details
All presenters and panelists are reputable social media authorities.
Webinars take a "how to do it" focus by disseminating highly usable processes.
Real-world examples are displayed via screen sharing and other features.
Hootsuite offers both on-demand and live webinars.
The Webinar Promotion Strategy
Email marketing forms the basis of their promotional strategy, which is in line with most webinar promotion success stories.
Social media marketing receives special attention, as social media is Hootsuite's area of expertise, so they must look excellent there.
The company leverages remarketing and retargeting to gather and maintain as large and as loyal a following as possible.
Webinar Results
Clients leave with valuable information on how to use Hootsuite's many features.
There's less turnover due to adequate understanding of the high-quality tools available.
Pain points are addressed so newcomers are better equipped to interact with the platform.
Quick Lessons From Hootsuite's Social Media Strategy Webinar
Always use (or, if necessary, hire) high-authority presenters.
Go above and beyond when presenting expertise that's required for your business.
Provide giveaways that are immediately actionable. For instance, Demio enables you to invite audience participation in several ways. Take advantage of them and be sure to complement this with immediately actionable content. Use Demio's engagement analytics features to track downloads of these resources. If attendees hesitate or simply don't use it, follow their journey and find out how to optimize their opt-ins for your actionable resources.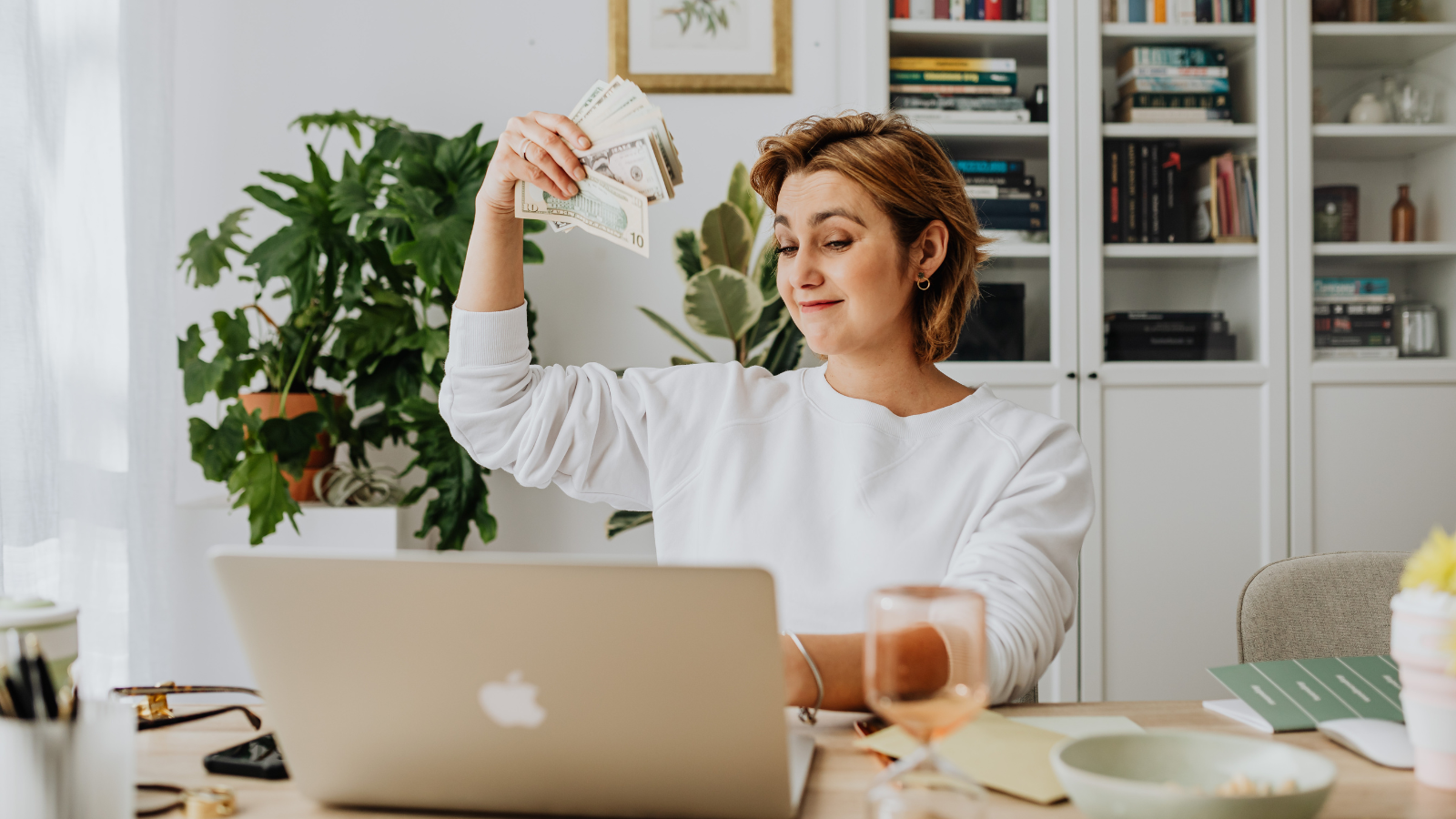 9. Adobe Create, Collaborate, Deliver: Visual Content Delivery for Easy Repetition
As a graphic design and video editing software, Adobe aimed to build automated webinars that provide quality assurance and smooth streaming. The company understood that training users on video editing or similar skills could become awkward quickly if the quality failed to translate through attendees' screens.
Specifically, their Create, Collaborate, Deliver Webinar checked off every important box related to hosting webinars.
Webinar Details
Adobe specialists in the creative arts recurring deliver the content . Excellent presenter selection keeps the presentation smooth and engaging. Their passionate presentation is a key ingredient in the formula.
The variety of content covers the creative arts, which Adobe supports, but also different subject matter. While this broader scope isn't always the best way to convince potential customers to convert, in cases like this where creative freedom is the main subject, covering a lot of ground helps inspire a wider swathe of audience members.
The Webinar Promotion Strategy
The registration form on the site is simple and easy to fill. It doesn't bog down or annoy potential audience members, but it does nudge them to give away a little information that's important to gather.
The company uses email marketing to automate lead generation and nurturing. They advertise little on social media, instead opting for a more organic approach, which works well for them.
SEO content provides insights into Adobe creative content while also serving as a magnet for interested users.
Webinar Results
The evergreen webinar serves as a permanent tutorial for users.
Businesses learn to create more content in a shorter amount of time.
The webinar supports application integrations that improve the usability of Adobe's software.
Quick Lessons From Adobe Create and Collaborate
Emphasize reliable, high-quality streaming throughout your webinar. That won't always be the most important factor when considering webinar software. However, when you want to run an event with visual brilliance that demands the highest quality, Demio shines through with the highest and most consistent video quality. No more fuzzy faces, pixelation, or lagging to interrupt the video engagement for your attendees.
Collect important data early on via your customizable registration forms. Demio makes it easy to provide customized, step-by-step processes for those signing up. Brand your registration form and include some easy questions that gather crucial information.
10. Upwork Webinars: User-Friendly and Engaging Webinars
Upwork is one of the leading online platforms for connecting freelancers with clients for projects. In 2023, Upwork started to lean into webinars heavily to achieve multiple aims. All of their events serve to remove friction in what has long been a site plagued with usability issues. By resolving these problems and helping clients and freelancers connect more easily, their bottom line has risen.
Webinar Details
Upwork offers a well-segmented selection of webinars and online workshops for different portions of their user base.
They employ a mix of educational presentations, panel discussions, and other formats for different purposes.
Webinars are split between classes:

New users
Workshops
Expert talks & masterclasses
The Webinar Promotion Strategy
Upwork developed a largely internal webinar strategy. Although not unique in that regard, it serves as an interesting case study for entrepreneurs with businesses in a similar position.
Webinar marketing takes place on social media and the company platform itself.
Detailed FAQs are present on the site to ensure attendees are prepared to interact with the webinars to the greatest extent.
On-platform banner ads and direct messaging via on-platform chat are used to reach out to the entirety of Upwork's user base.
Webinar Results
Focus groups educate clients on how to gain the most use out of the platform, increasing usability and thus retaining users.
In-event networking connects different users, resulting in greater profitability, as Upwork takes a commission from every contract's payments.
Quick Lessons From Upwork Webinars
Cater to existing users in your webinars to boost retention and help spread the word about the convenience you provide.
Combine your webinar platform's internal communications and email marketing features via their integrations to maximize attendance.
Lean heavily into webinars in general and segment webinar series by different topics.
Final Thoughts
Webinars continue to grow in popularity with each passing year. Businesses of all types are rushing into the webinar and broader virtual events space. That upsurge has produced two major results for this strategy:
There's more competition in many industries.
Consumers have become accustomed to higher-quality, engaging webinars
However, the basic tenets of creating valuable webinars have remained relatively the same. These examples from the last few years demonstrate the best practices that yield lucrative results.
As you construct your next webinar success, incorporate the strategies we've gone over. Additionally, look for robust webinar software, as that makes it easier for marketing teams to recreate each triumph in their own webinars. Engagement activities for webinars are improving and earning greater conversions with thorough analyses that offer deeper insights.

You can reach this level of success too! As a first step, consider adopting a premium webinar platform to simplify your digital event efforts. Demio offers all the features you need to mimic the successes you've read about in this guide. It's also free to try, so you can test the waters before committing. Book a demo or try for free now to see for yourself.