For many, the main goal of a webinar is to generate leads and grow brand awareness, both of which are achievable if the webinar is designed around this focus. The key lies in knowing how webinar lead generation works.
The bad news is, most of your registered attendees won't show up to the live event (but are likely to watch a replayed version, so don't overlook automated webinars). Worse, most of those who do attend in real time won't convert to the next stage in the buyer's journey: Studies suggest only about 5%–20% of attendees convert into buyers. 
Why, then, should you invest in using webinars to gain leads?
Because, when designed well, they can take your single-digit conversion percentages to the next level.
Due to their accessibility and ability to broadcast across the globe, webinars are an increasingly popular method to maximize viewership with leads who are most likely to convert, hence the emphasis on webinars and generating leads. Once you create a strategy to make your webinars more engaging and relevant to the right targeted audience, you'll see a significant boost in the number of qualified leads you gain. Read on to learn more about how lead generation webinars can attract and convert high-quality leads.

Understanding Lead Generation Webinars
A lead generation webinar is targeted toward a specific audience — one that's most likely to convert to your brand. They also provide valuable information about themselves along the way, which is crucial for effective post-webinar follow-up communication to help seal the deal; if the lead has any lingering doubts or concerns, this is your chance to remove those final barriers to conversion. Lead generation webinars are thus excellent for transforming leads into loyal consumers for your brand.
The Benefits of a Lead Generation Webinar
By targeting a more qualified demographic, you market your brand and product to attendees who are most likely to make a purchase. This reduces marketing costs and boosts your ROI, all while moving the right people through your sales funnel. A lead generation webinar also helps identify prospects in the first place, which is highly valuable if creating brand awareness is your primary goal and making sales is secondary. A carefully crafted webinar has the power to bring new leads your way and convert existing ones into buyers.
How Webinars Fit Into the Customer Journey
Why would a customer attend a webinar when they can purchase from your website or view content on your social media pages? Webinars build a more personal and interactive connection between your brand and your audience, which fosters loyal bonds and positive buying experiences among these potential consumers. Webinars educate your attendees about what your brand represents while helping them move closer to their desired outcomes. A successful webinar should bring more value to your audience members than they expected and resolve any reservations they have about your brand.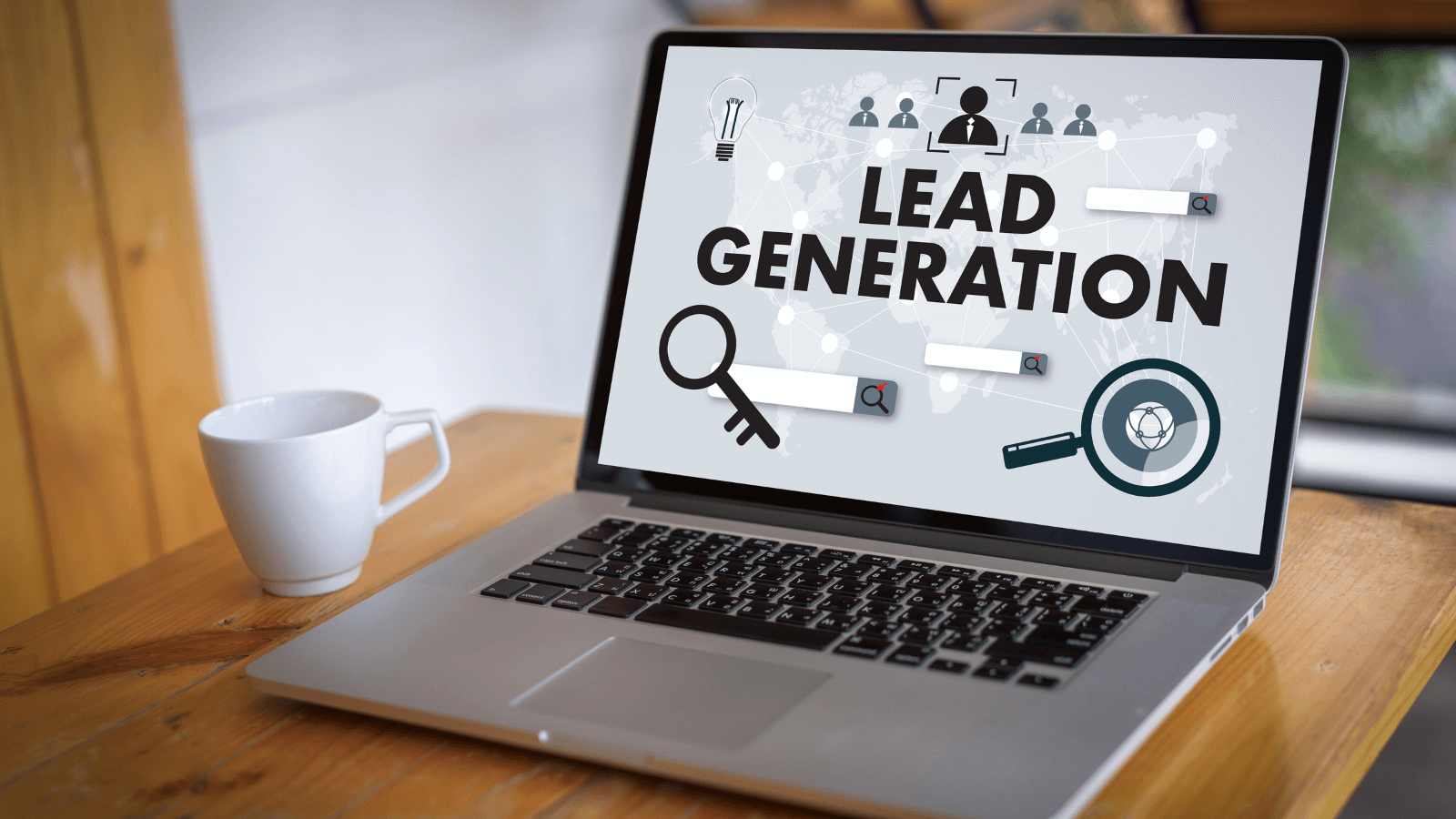 Lead Generation Tactics
You can use a variety of lead generation tactics to qualify webinar leads. These strategies help guide potential customers to the next phase in the buyer's journey, whether it be simply inciting more interest in your brand or convincing them to commit to a purchase or some other conversion. 
Incorporate a mix of the following tactics into your live, automated, and on-demand content while keeping the presentation as organic as possible to increase your attendance and conversion rates. Follow up after every webinar to see which strategies resonate well with audiences and which ones need to be improved.
Provide Valuable Resources and Lead Magnets
If you're including additional content in your webinar outside of the written script, make sure it's relevant to not only the event topic but to your audience as well. Attendees should be able to utilize and benefit from any downloads, additional resources (links to how-to videos, tutorials, etc.) or lead magnets (e.g., free trials, product samples) immediately.
Although you're already providing a quality webinar, extra resources are an important complement to drive home your name and message. Audiences want to walk away with actionable information they can apply after the webinar ends, and you need to remain at the forefront of their minds as they make their final decisions about committing to your products and services. Free perks excel at holding an audience's attention, especially if they're scattered throughout the webinar. So, give your audience a reason to stick around — and commit your brand to memory.
Leverage Calls to Action (CTAs)
Every webinar should have a sense of urgency to it to convince fence-sitters to make a decision and commit to your brand. Insert a couple of clear and concise CTAs at various stages of your webinar, especially at the end. You should also include them in your webinar follow-up emails to keep your brand in mind when attendees are most receptive to making a purchase.
An effective CTA is actionable, easy to complete, and sends a clear message. It can be as simple as a download link to your next webinar or a promo code for a product or service. For these types of discounts, give them a time limit to induce urgency and spur your audience to take action. To simplify this tactic, Demio allows you to insert timed CTAs in your webinar to engage your audience throughout the event. You can also track the success of these CTAS in the platform's analytics tool.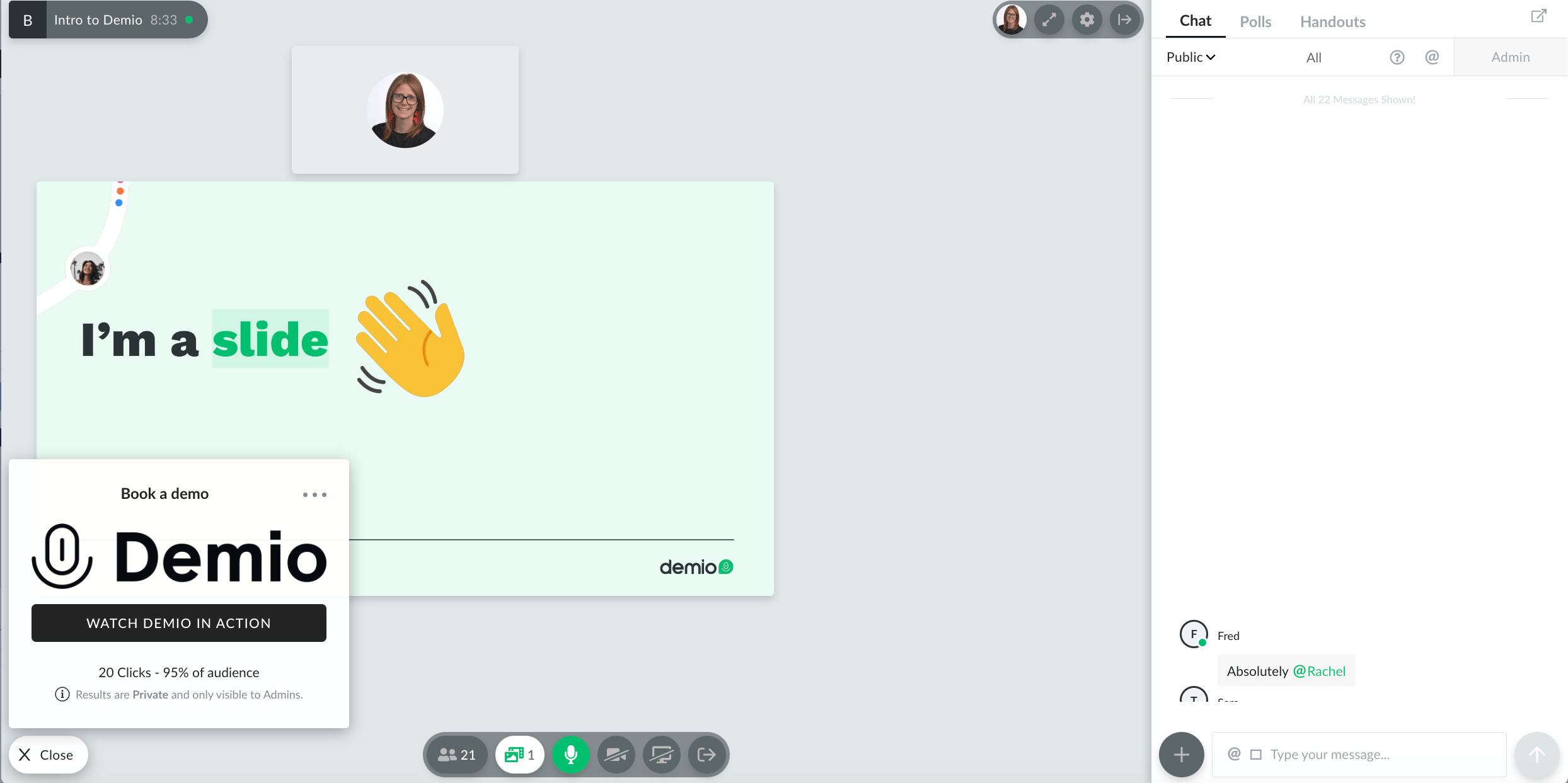 Interact With Your Audience
Sometimes a lead converts simply because they trust your brand or resonate strongly with your message. A webinar drives connection and communication with your attendees, so gather their input on your topics and webinar content to produce a valuable experience.
Demio allows you to chat with your audience members, offer timed handouts, drop polls and surveys, and even give audience members the spotlight to express their thoughts. With this encouragement to participate and offer their opinions, leads feel more inclined to cultivate a relationship with your brand, which can result in a closed deal.
The more conversational and informative your webinars are, the more successful they'll be at boosting lead conversion and, in turn, brand awareness and growth.
Engage in Post-webinar Nurturing Campaigns
As mentioned above, the best times to engage with your leads are during and immediately after your virtual event. A post-webinar nurturing campaign includes sending a personal email follow-up to every attendee. Ask if they have any input or questions about your online event before gently moving them along to the next phase of their buyer's journey. Post-webinar interaction is a common B2B webinar strategy and may be your final chance to convert your qualified leads. Explore the many options available in Demio's email marketing feature to help you create powerful nurturing campaigns. 
Craft Webinar Content Geared Toward Your Audience
Just as your resources and lead magnets have to be relevant to your audience, so does the webinar content itself — otherwise, your message risks coming across as too salesy or uninteresting, and your audience members will drop off. So, dig into your target segment: What does your audience want to learn about, and why are they considering your brand over others? Who are the competitors they currently buy from?
Conduct market research to uncover their desires and pain points so you can narrow down useful webinar topics. Relevant discussions are crucial to keep audiences riveted from the beginning of the event until the final conversion.
If you're unsure what to talk about, send your registrants a survey prior to your webinar going live asking about the topics and conversations they're most interested in. That'll enable you to choose topics that'll capture and hold onto their attention. To help with this, Demio has a useful analytics tool that delves into how your audience responds to your content and interactive features.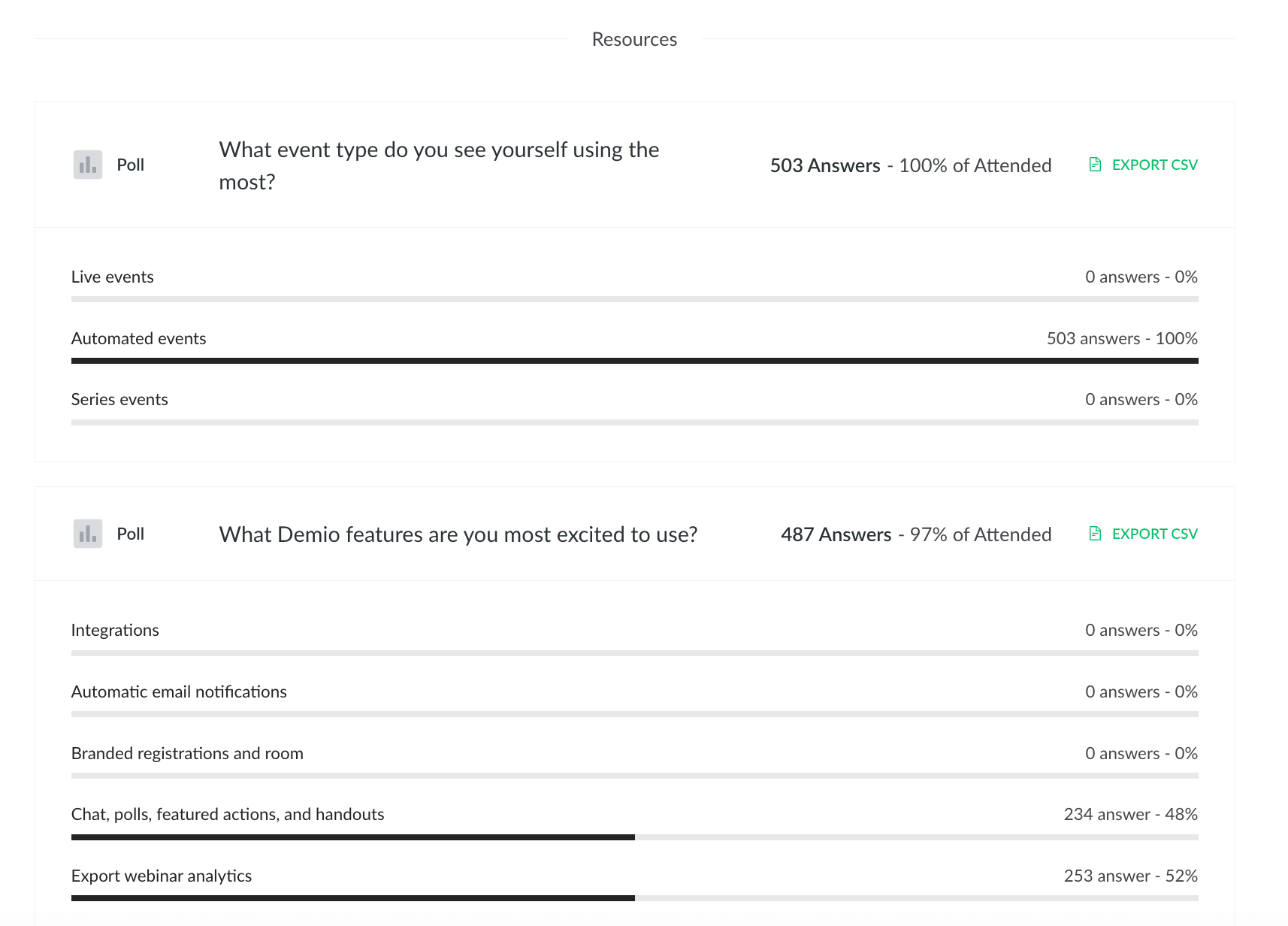 Note: Try to keep webinars under an hour, regardless of how excellent your content is. Audience members respond best to — and stick around for — virtual events that don't drag on. If you have lots to say, turn a single webinar into a series to maximize your impact and earn stronger conversion rates. Multiple sessions give you ample opportunity to promote your brand and keep registrants coming back, so it's a wise addition to your repertoire if you aim to generate more leads.
Target and Resolve Audience Pain Points
What's impeding your webinar attendees in their buyer's journey? Is it a lack of awareness of your brand? Confusion as to which of your products or services is best for their needs? Loyalty to a competitor? By researching your target demographic and their purchasing behaviors, you can anticipate their pain points and address them in your webinars (which, as a bonus, helps build your brand's credibility). Breaking through these barriers helps eliminate buyer hesitation and can yield more conversions.
Maybe your audience needs to see a product demo to know how your offering works, or they need to hear testimonials from past customers to convince them you're the solution they need. Perhaps you need to gear your online events more toward your B2B audience when you typically cater to B2C leads. 
With Demio, you can customize the webinar experience so your logo and other brand elements flow throughout your presentation. This helps maintain professionalism and keeps your name fresh among your audience.
Design your webinars to remove the stumbling blocks preventing your audience from converting. This focus will strengthen both their trust in you and their resolve to commit to your brand.
Ensure Full Webinar Attendance
How do you encourage the people who registered for your webinars to show up? One way is through a drip campaign, which effectively reminds your audience of your webinar, brand, and what you have to offer via timely emails. They can include a countdown to the event date, a sneak peek of your webinar's agenda, or a poll or survey asking registrants what they most look forward to in your upcoming webinar.
Make your promotional content to the point and urgent in its delivery. Do you post registration links on your website, relevant social media pages, and directly to potential audience members? Do you have a dedicated webinar registration landing page that teases what's to come? Is your registration form easy to fill out? Do your email headers explicitly state what your webinar will cover? Do your emails contain CTAs like promo links, early access discounts, and other actionable activities that draw in a large audience and ensure their attendance? Incorporate these tactics into your email and social media marketing strategies to secure a webinar audience that's comparable to your registration numbers.
Calculating the ROI of Lead Generation Webinars
Using your webinar platform's analytics tool, you can evaluate certain key metrics to calculate the ROI of your lead generation webinars. Those measurements are attendance, performance, and intent.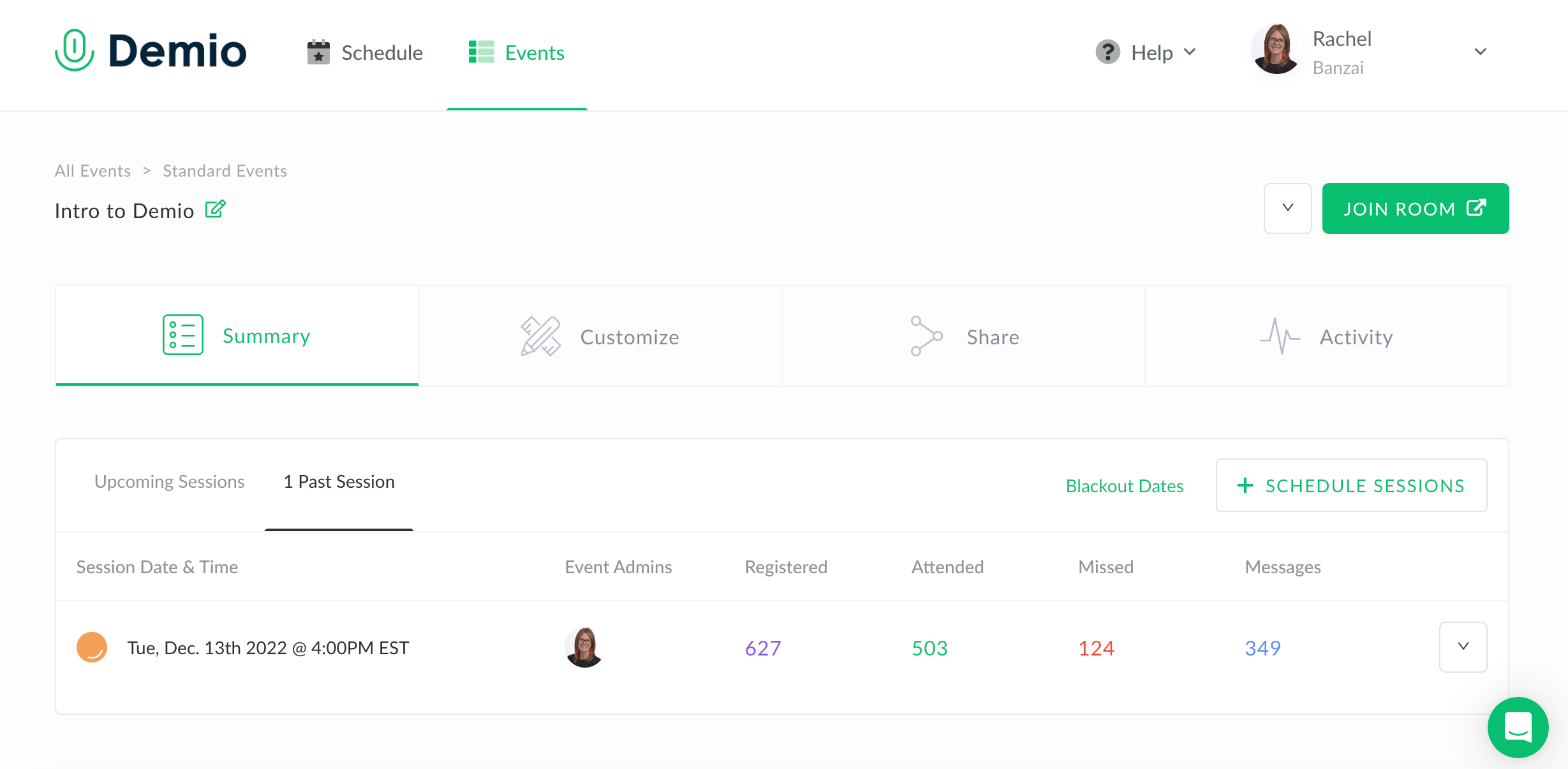 Attendance
Total how many registrants actually attended your webinars. Then, look at how many of those converted into qualified leads.
Performance
Your audience responds differently to different webinar engagement features, so analyze how those features performed for you. Did your polls or surveys secure greater attendee interest, or did your chat features grab more of their focus? Which CTAs resulted in the most clicks or conversions? Which featured handouts performed best?
Intent
Lead generation scoring is largely comprised of how well your audience responded to your webinar as a whole or what their intent was for attending. So, of those who joined your webinar, add up how many participated, and for how long. Additionally, how many attendees finished your webinar? How many responded to your follow-up emails?
Expand Your Webinars' Capabilities
As you develop and refine your lead management and acquisition strategies, it's wise to integrate helpful tools so your online events yield higher conversions and more qualified leads. You can revamp old webinars into enticing marketing assets using several of Demio's interactive features — such as chat, featured handouts, surveys, and more — or create new content designed around lead generation. 
When designed well, webinars are a fruitful instrument of lead generation, so invest in crafting quality content every time. The webinar platform you use can also help streamline converting quality leads. With its user-friendly interface, Demio makes it simple to target specific demographics and grow your brand awareness. Get started with a free trial or book a demo to learn more.

Frequently Asked Questions About Webinar Lead Generation
Can a webinar be a lead magnet?
When properly promoted and with the right CTAs, a webinar can be an informative lead magnet, with additional enticements scattered throughout the event to maintain audience interest.
What is the most effective way to generate leads?
Understanding your target audience is mandatory to generate leads. By knowing how to market to your potential leads, you're better equipped to capture more of them and move them through your sales funnel, ultimately leading to conversion.
Can webinars be used for both B2B and B2C lead generation?
Yes, but employ CTAs and content appropriately so they align with each target segment. The pain points of B2B and B2C audiences won't be the same, so tailor your lead generation strategies to their unique concerns.