In 2022, Demio hosted over 650,000 webinars. 🤯 Revenue leaders in industries ranging from computer software to education drove engagement with their audience and realized impressive business results for their efforts.
In keeping with our practice of supplying annual webinar benchmark reports, we've put together a new report that'll help you set goals and measure success based on the most important attendance and engagement metrics. Let's go!
1. How long can webinar attendees stay focused?
While 2021 boasted an average 77% focus rate for webinar sessions, we see that number dip slightly to 75% in 2022.
Demio's focus rate tracker looks at whether or not a webinar attendee is fully focused on your session (i.e., are you capturing their attention or are they online shopping?).
Why does this matter? Unengaged prospects don't buy.Incorporating webinar engagement activities into your session keeps your audience focused on your content and drives them to participate in the group experience. (Note: You can cultivate engagement even without running live events by offering on-demand ones. Yes, even on-demand events can drive participation from your audience. 🤯 ).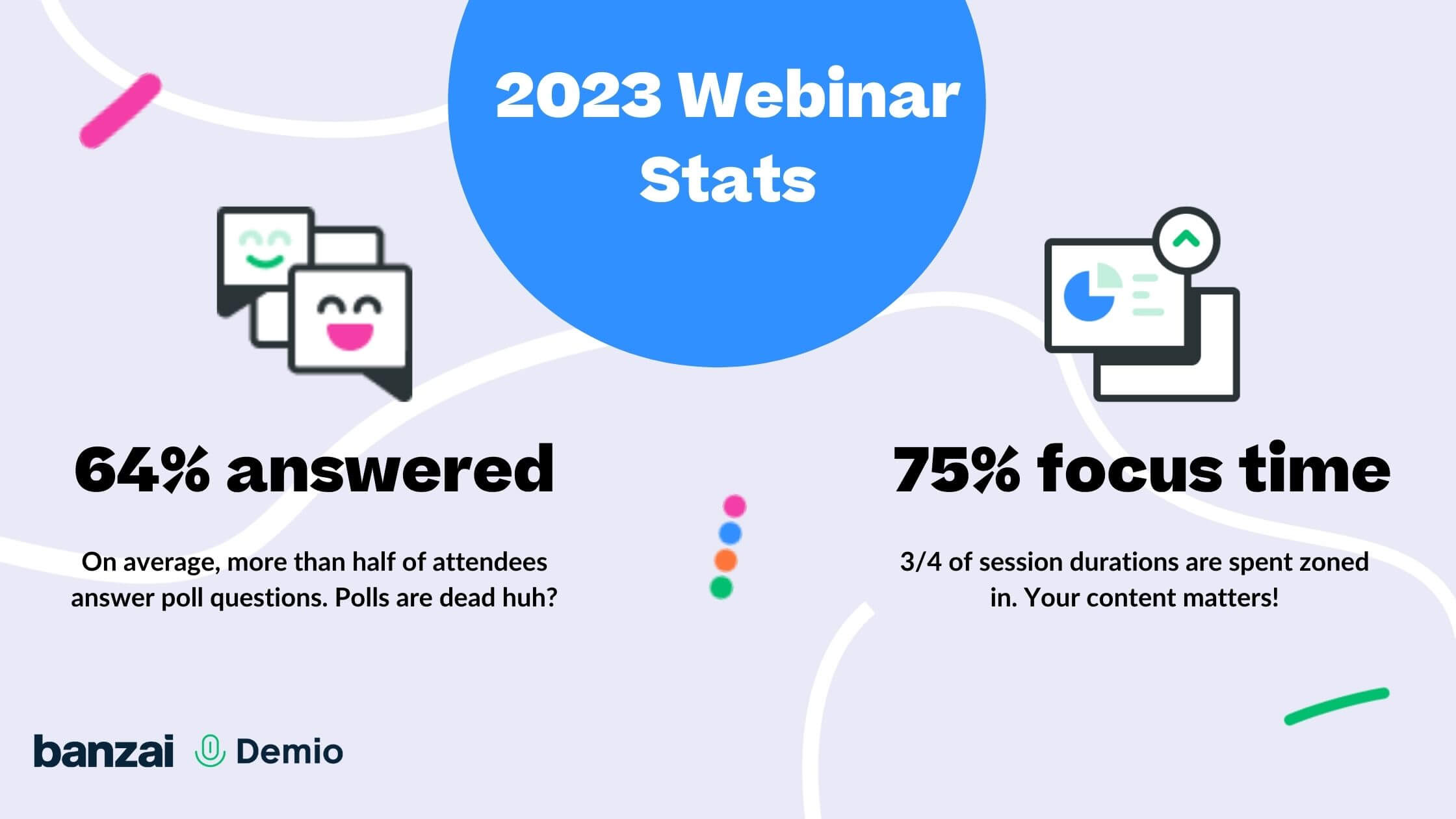 2. What is a good poll response rate?
We've heard it a million times: "Polls are dead." Yet, from 2021, we saw poll participation increase from 49% to 64%.
We understand using polls as part of your webinar content can be nerve-racking. What if no one responds?! Your best bet is to make sure the poll is relevant to the content you share; ignore the impulse to run a poll asking attendees about their favorite "Star Wars" character (unless you're running a webinar about the franchise, in which case, please invite me immediately).
Below are a few ways polls can drive engagement and serve your business:
Use it as a market research opportunity. You have your ideal audience in one spot and you're holding their attention. Take this opportunity to learn more about their challenges, goals, and what they want from your company.
Use it to give attendees more control over the content. Ask attendees what they want to learn during the session. Do they want you to talk about topic A or topic B? This allows your audience to become more connected to the content immediately because they're actively driving it.
So, ask questions! Polls are a great way to make your webinars interactive, solicit audience feedback, keep your attendees engaged, and foster relevant conversations.

3. Should you use handouts?
In 2022, users took advantage of Demio's handout feature to provide attendees with additional resources and content throughout their webinars.
Handouts can take the form of a workshop sheet to fill out during the event, a coupon to encourage purchases, a case study to read after the webinar, or a useful toolkit or checklist.
Handouts extend the value of your event, ensuring a part of your session leaves with your attendees. Give them something of value that reminds them of the incredible session you provided.This powerful feature didn't disappoint: Demio saw more than 380,000 handout downloads in 2022.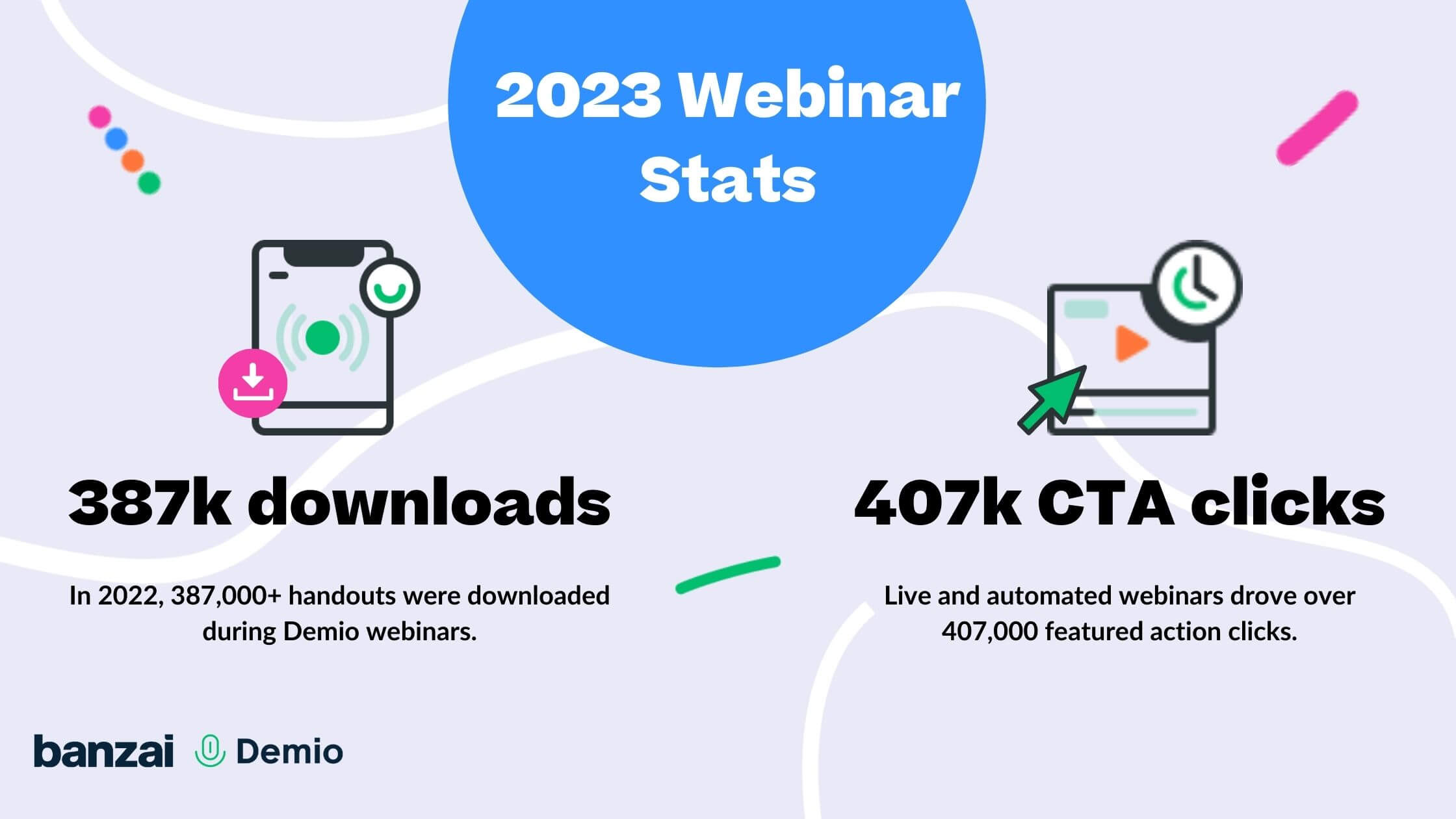 4. How do you drive action in your webinars?
Webinars hosted on Demio can launch a CTA (also known as a featured action) to spur their audience to act. This is a URL that pops up for your attendees during the session. It could be a "Book a demo" link, a link to a blog post, or anything else that drives your audience to take action.
Throughout 2022, there were more than 400,000 featured action clicks across all sessions run on Demio. Featured actions are the best way to identify intent within your session: Are your attendees ready for the next step? Do they express interest in your call to action? Identifying this readiness helps marketers better manage follow-ups after the webinar ends.
5. What's the best time to host a webinar?
Our data shows there's no time of day when a webinar isn't running. 🎉 You could tune in to a Demio webinar while drinking your morning coffee, letting off some steam during happy hour, or battling insomnia at 3:30 a.m.
However, the most popular time to host a webinar is 12 p.m. EST (9 a.m. PT / 5 p.m. GMT).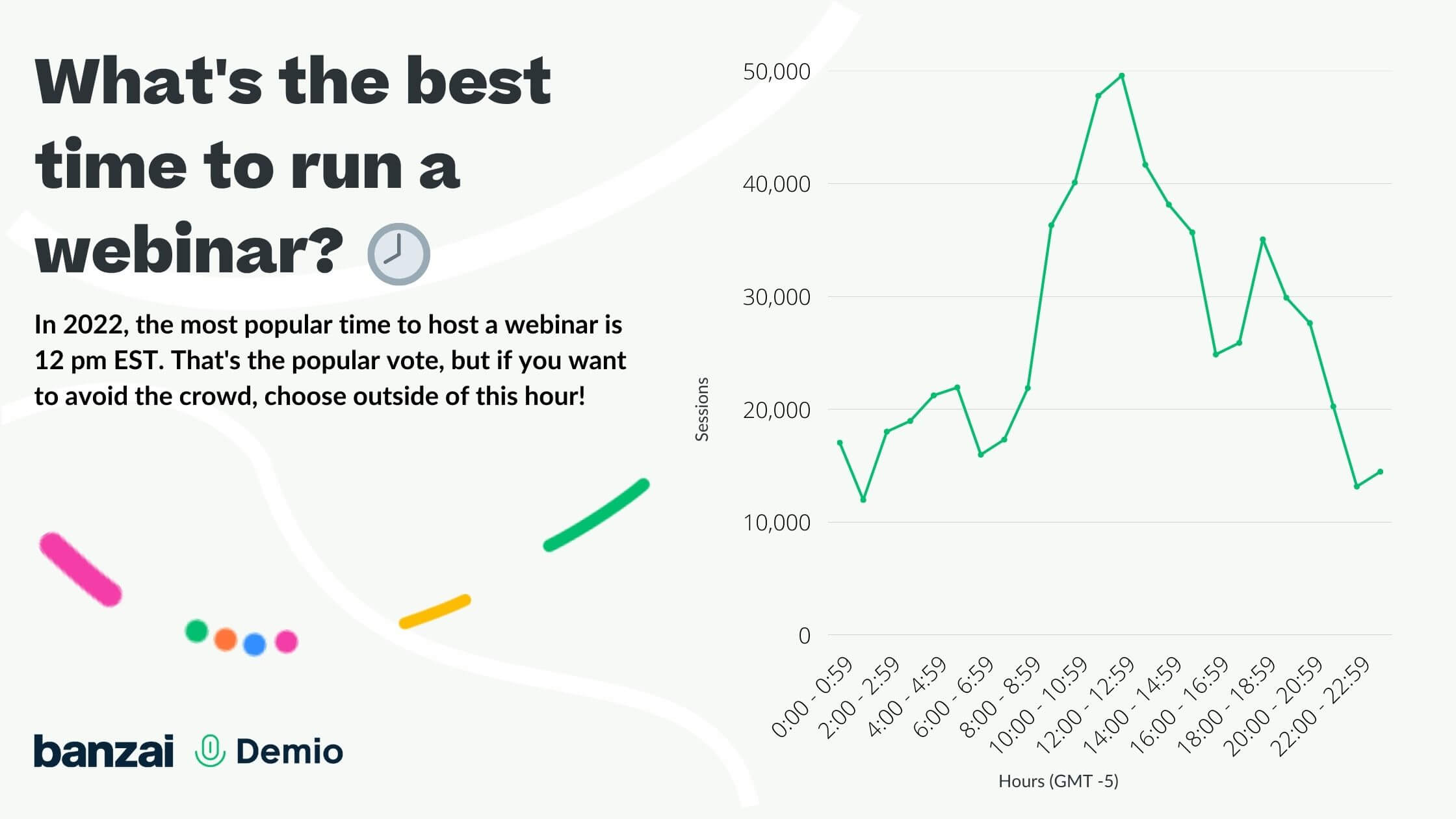 Given this information, you can either:
1. Try hosting your webinars during this time to see if it increases registration and/or attendance rate.
OR
2. Host your webinar outside the time frame to see if you break through the webinar noise. Much of your competition is vying for your audience's attention from 9:00 a.m.-12:00 p.m. EST (and not just webinars), so running your event during a less popular time might be what you need to get in front of your target market.

6. What's the webinar attendance rate for live events?
Demio customers saw an average attendance rate of 38% for live sessions.
February and March held the highest attendance rates of the year at 41%.
With Demio's native email reminders, driving your audience from registrants to attendees is a lot easier. Here are a handful of other tips to increase your webinar attendance rate:
Offer an exclusive promotion, content piece, or gift to attendees.
Make sure your webinar topic is appropriate for your target audience and be transparent about what you'll cover in your session.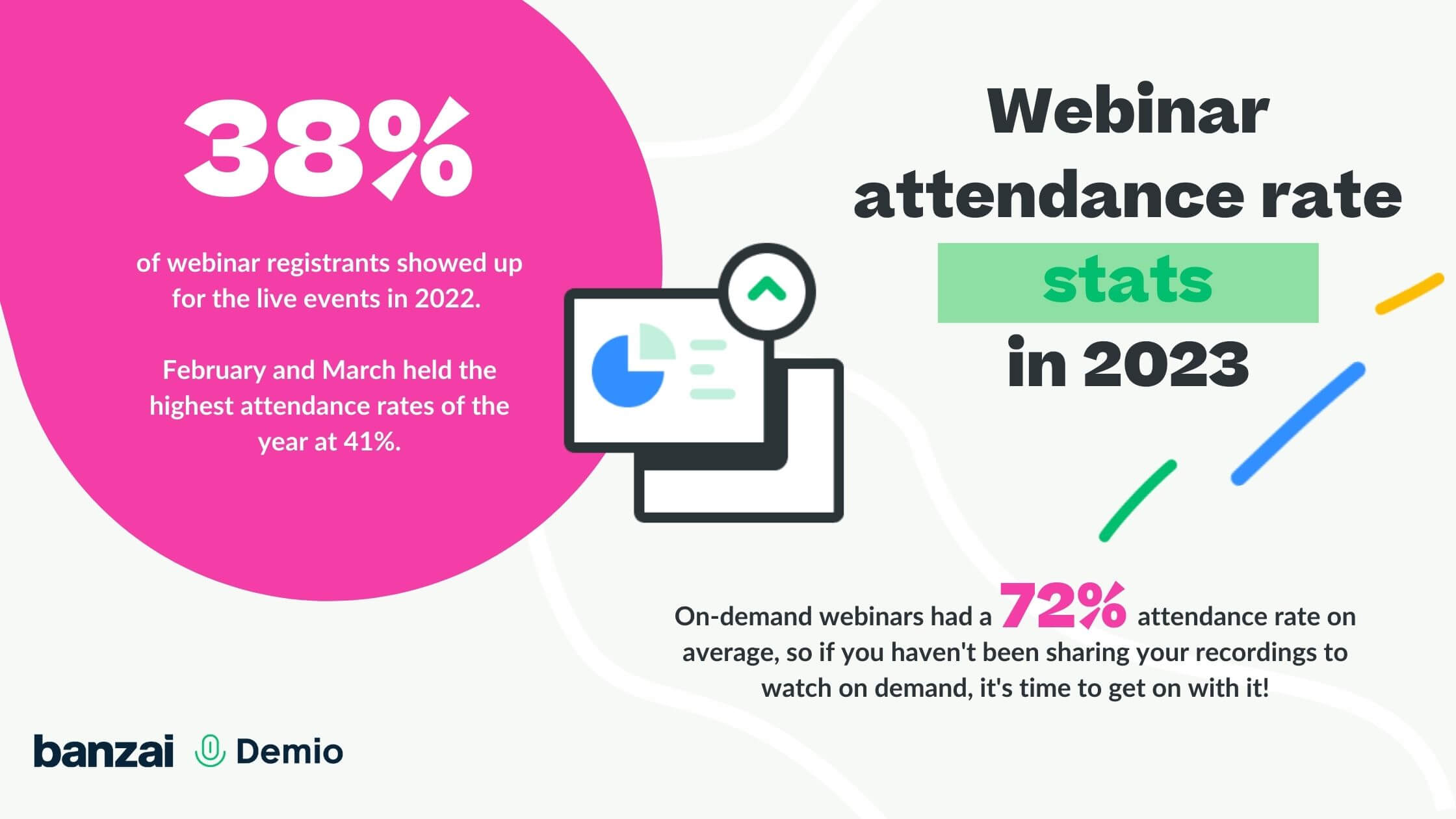 7. What's the webinar attendance rate for on-demand events?
If your webinar strategy doesn't include on-demand sessions, you're leaving money on the table: Demio saw an average on-demand attendance rate of 72%.
Creating on-demand webinars is a low-effort way to generate leads while providing your registrants the flexibility of engaging with your content on their schedule. It's also an incredibly easy way to repurpose the content from your live webinars.
If you assume on-demand webinars are dull, think again! Let us show you how cool and engaging they can be: Join our on-demand Game Show!
8. Which webinar type is best? On-demand or live?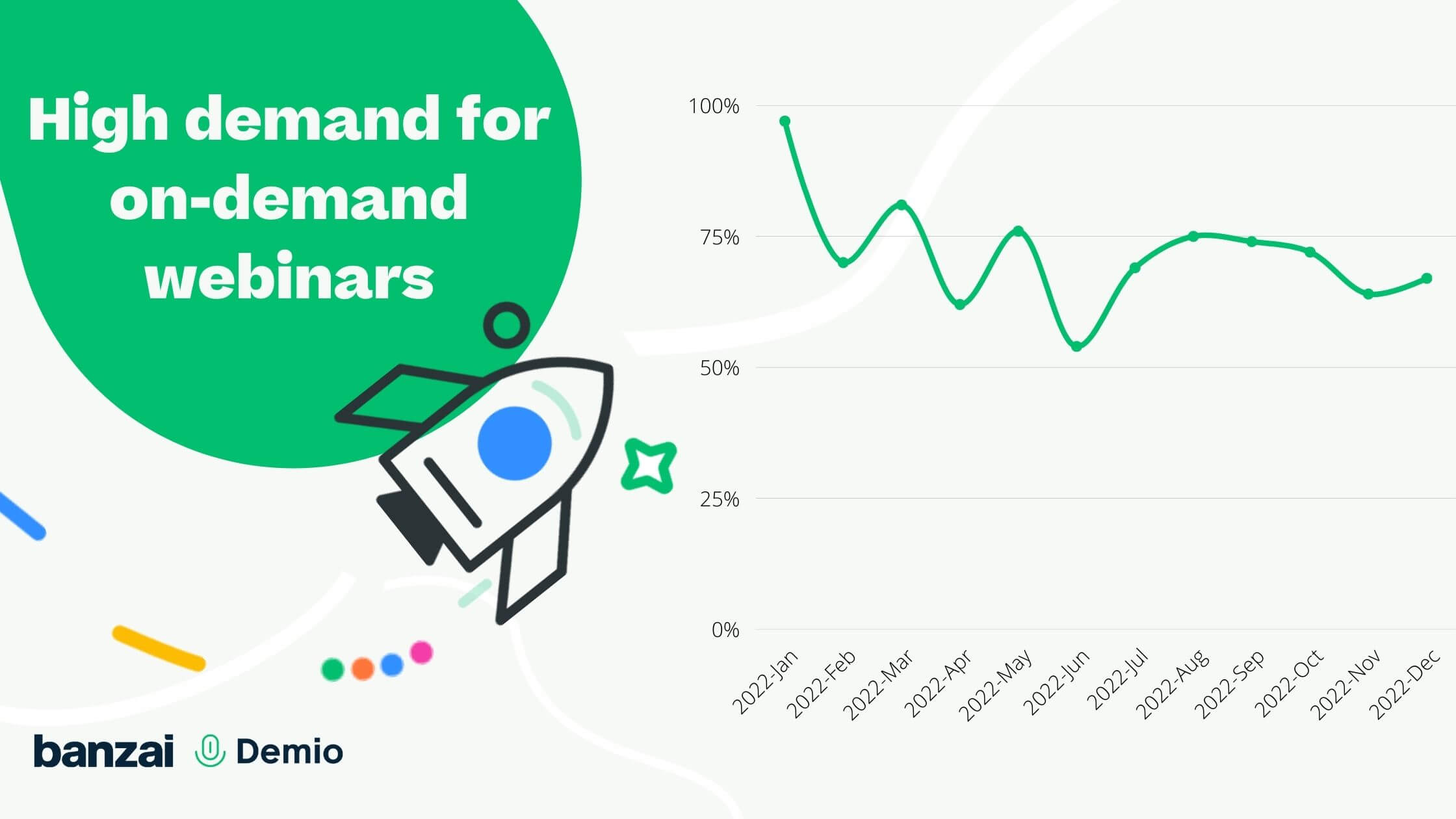 Only 2% of total sessions run on Demio in 2022 were on-demand. Yet, with an average attendance rate of 72%, it's clear this is the kind of content audiences want.
According to Gartner®*, "B2B technology buyers increasingly want to control when, where, and how they consume information that provides insight about potential business solutions and technology providers." Providing on-demand webinars generates a customer-driven buying cycle where customers are in charge, and providers simply serve as resources and guides.
9. Which industry has the highest webinar attendance rate?
The top four industries that ran the most webinars on Demio in 2022 weren't necessarily the ones with the best attendance rates. Software leads the charge with the highest number of sessions (11% of total sessions ran in 2022) and a 24% attendance rate. Museums and Institutions follow with 10% of total sessions and a 23% attendance rate. Third is Education, making up 6% of total sessions and a 72% overall attendance rate. Finally, we have Finance cornering 6% of total sessions and a 48% attendance rate.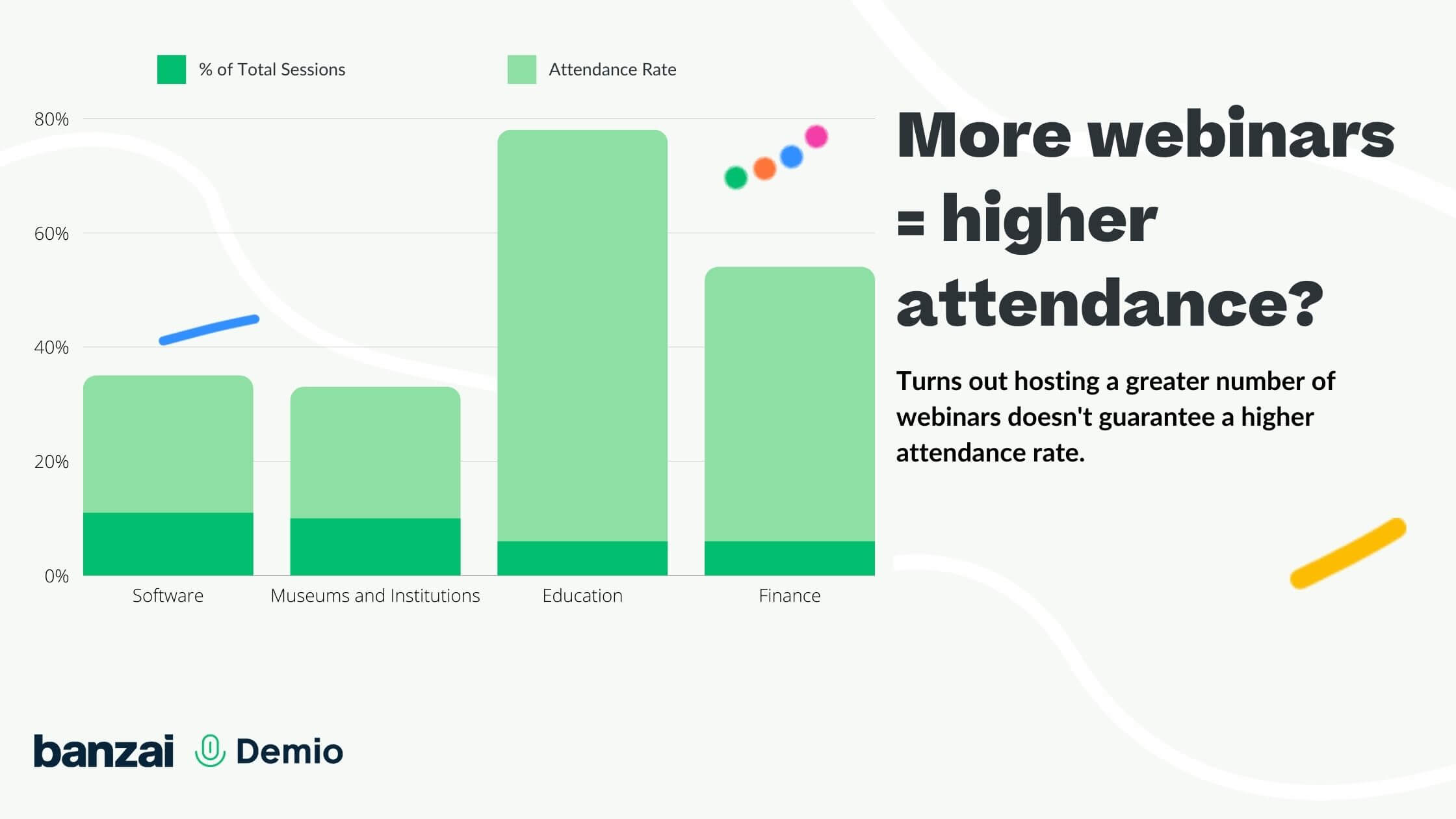 The Transportation/Trucking/Railroad industry had the highest webinar attendance rate at an average of 90%. Other industries that saw excellent attendance rates include:
Medicine – 89% average attendance
Accounting – 87% average attendance
Mining & Metals – 86% average attendance
Restaurants – 85% average attendance
Arts & Crafts – 83% average attendance
Public Safety– 83% average attendance
Wireless – 80% average attendance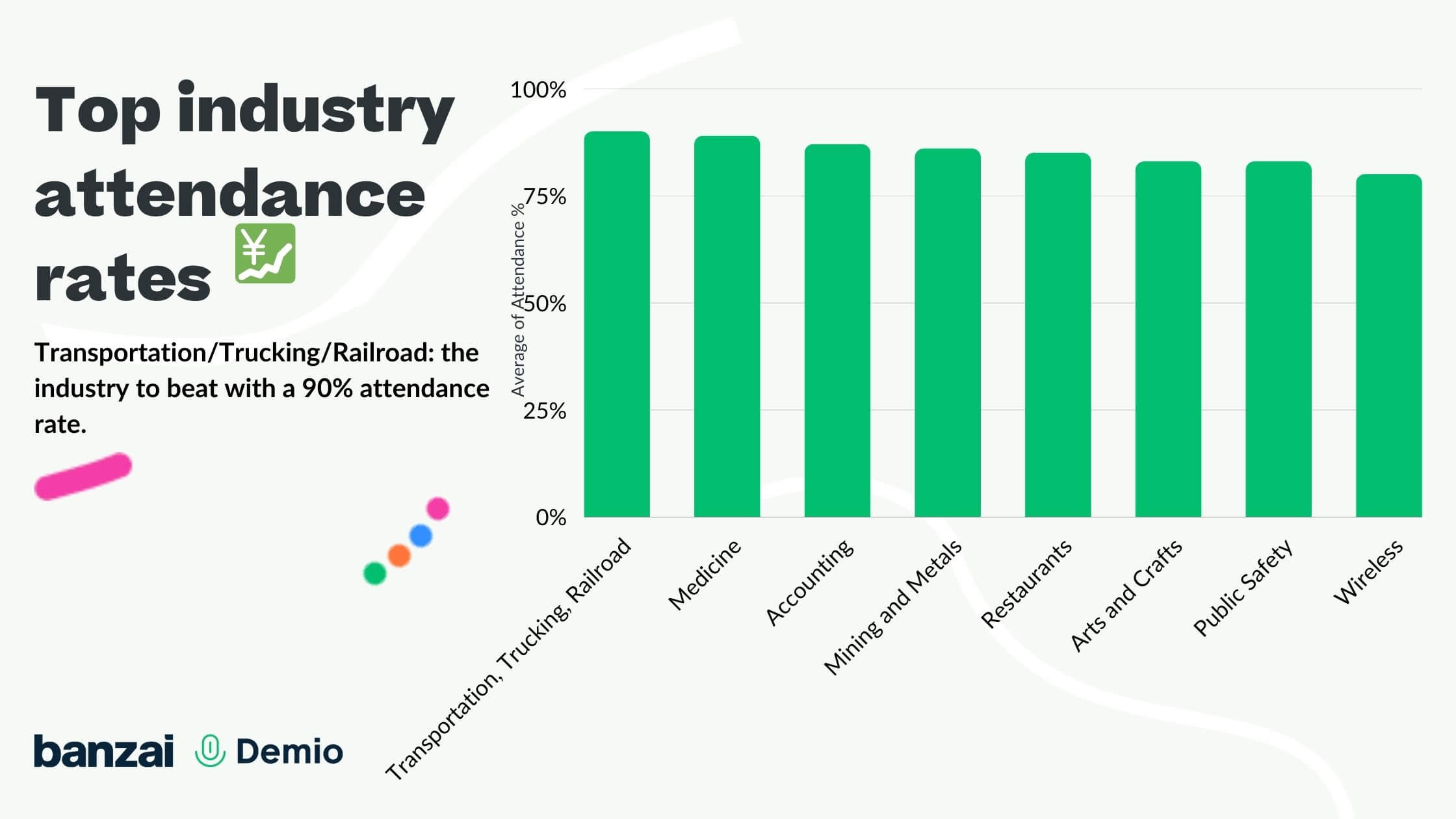 These numbers prove high attendance rates are attainable if you build an attractive event. Attendees are willing to engage when the content is right.
Conclusion
Now that you've seen the numbers, it's time for you to experience the same webinar success. Get access to important attendance and engagement metrics by trying Demio's 14-day free trial, no CC required. Seriously, it's 100% free.
*Gartner, The B2B Customer Life Cycle for Technology Products and Services, 2 February 2022
GARTNER is a registered trademark and service mark of Gartner, Inc. and/or its affiliates in the U.S. and internationally and is used herein with permission. All rights reserved.