Webinars are a great way to reach a wider audience and circumvent the constraints of in-person attendance. In fact, 83% of marketers have found they're effective for lead generation, brand awareness, and other business goals. This is due to how versatile and impactful webinars are in the competitive online landscape.
With these types of events, you have 60 minutes or less to impress and engage an audience. It's hard to build genuine connections with attendees when they're behind a screen instead of sitting across from you in a live setting, but it can be done. You can even create an interactive experience with your automated content to offer your audience value on demand.
It all comes down to the right tools and presentation, and we'll break down how they combine to produce a top-notch final product. The goal is to craft quality, relevant content that will hold your target audience's attention. If you fail to provide something of value or simply lecture to webinar attendees rather than interacting with them on a personal level, you'll deprive yourself of quality leads and peak ROI.
Whether you've hosted webinars for years and aren't seeing the results you desire or you want to ensure you're optimizing your webinars to be as interactive and impactful as possible, we've listed 10 easy-to-follow steps that will take your content to the next level. You may even be using some of them already, which means you're already on the right track!
Feel confident in your content's effectiveness? Read these best practices for hosting an engaging webinar so your event yields the results you desire. 

1. Choose a Niche Topic
Start with a broad concept and narrow it down to a targeted topic. For example, if your webinar is about marketing to a wider demographic, you'd focus the subject on a certain age or location, not simply a vague "wider demographic."
A narrow topic brings greater value to your audience than trying to cover too much or sticking to generalities. Further, choosing topics that have evergreen potential helps keep your content relevant regardless of when an audience member attends a session. If you can't choose only one subject, hone your options to two or three relevant topics and then cover each one thoroughly so your webinar presentation is more valuable to your audience.
Not sure which to cover? Get your audience involved! Demio is a great solution for virtual events and webinars. Their survey and poll features — combined with its email marketing tool — allow you to ask your target segment what topics they'd like to learn most. You'll keep them engaged and in the loop about what to expect from the webinar, and those who respond will be more likely to show up to the event.
2. Select the Right Format
The webinar format you should choose depends on what you're covering. A product demo or presentation format is ideal for introducing new products or services; a panel discussion is an excellent way to assemble a group of expert guest speakers for a rich discussion on a given subject matter; meanwhile, a Q&A session is an excellent way to get to know your audience better.
However you decide to interact with attendees, make sure the format is appropriate for the venue. That contributes to a more genuine webinar delivery and provides valuable topics for everyone to enjoy.
Past results can assist in helping you decide which webinar formats are best for your needs. For example, Demio possesses analytics tools that make it easier to track your attendees' buyer intentions so you can trace what webinar formats perform best.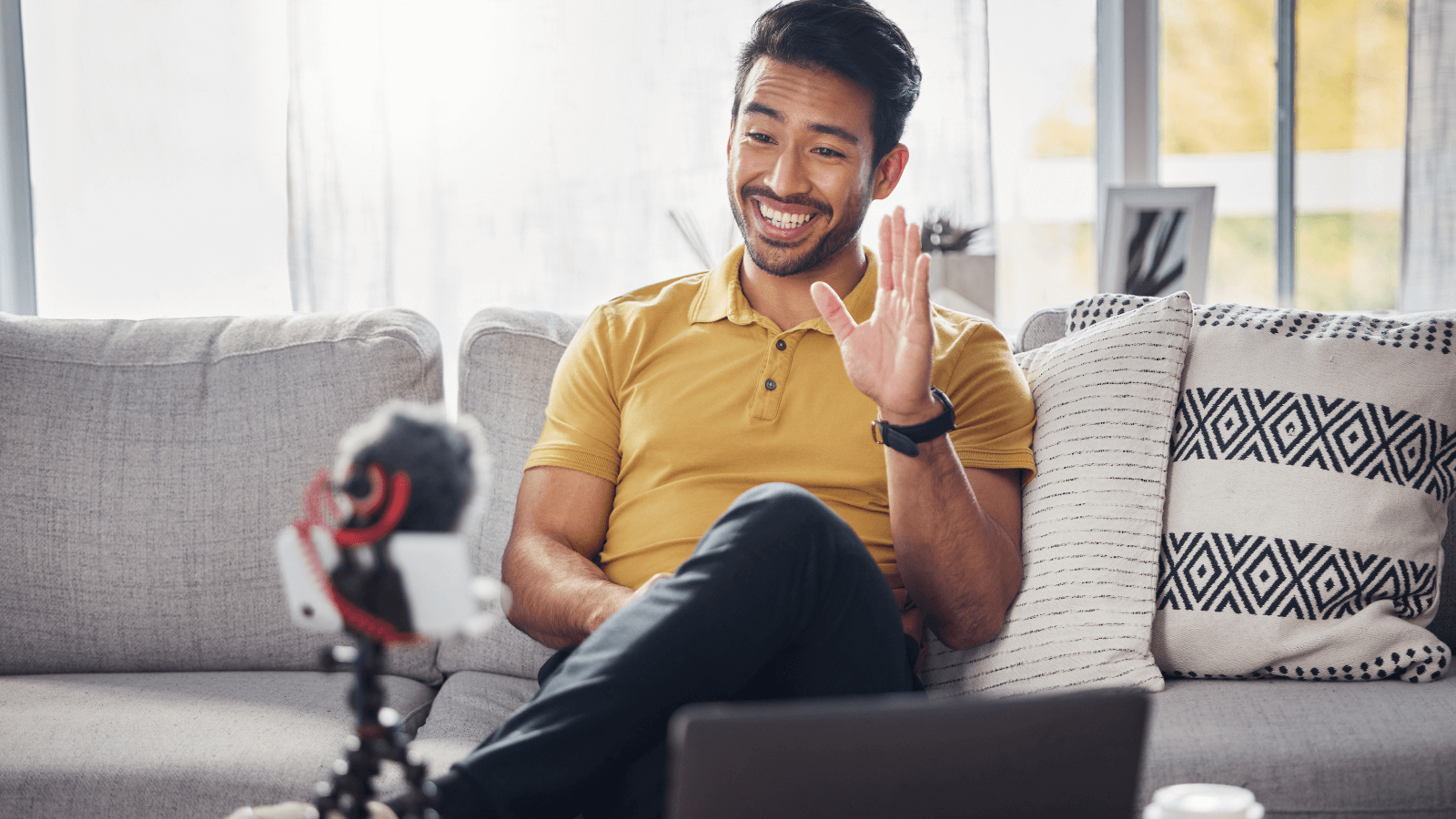 3. Craft Compelling Invitations
This isn't the time to toss a cheesy sales script at your audience. Engage them with compelling invitations that clearly state what your webinar will be about, what they'll get out of the experience, and what they need to do next to register and attend.
The CTA should be concise, to the point, and easy to accomplish; you only have one shot to impress potential leads. Holding out something of value that requires little effort to participate in will achieve a better response than an invite that's too wordy, salesy, or meanders around the point. A compelling invitation should lead your invitees through the registration process with ease so they're eager to attend and actually show up.
4. Start With a Powerful Opening Hook
An opening hook quickly draws in your audience and fills them with excitement for what's to come — when crafted with care. So, make it relatable, relevant, and engaging to keep attendees entertained for the duration of your webinar.
Opening hooks can include buyer incentives, impressive stats, an engrossing story, or something else that fits the subject at hand. Just make sure it's relevant, not too salesy, and authentic in its delivery. The goal is to relate to your audiences, not create shock value.
5. Use Slides, Videos, and Images
Your audience pays attention longer and retains more of what they hear if they have visuals to guide them along. Slides should be simple and not too busy for easy viewing on any device, including smartphones. Videos should be spaced throughout your webinar in short clips. Ideally, you want to include a video in every section of your webinar.
Imagery can be employed alongside both slides and videos or serve as standalone elements for announcing statistics, CTAs, and featured actions. Using slides, videos, and imagery makes evergreen webinars more interactive and your live sessions more engaging.
Before incorporating any visual or audio media into your webinars, run through your script to see where to place these elements so they flow naturally with the presentation. Demio allows you to prep the session room in advance so slides, videos, and images are ready to go without a hitch.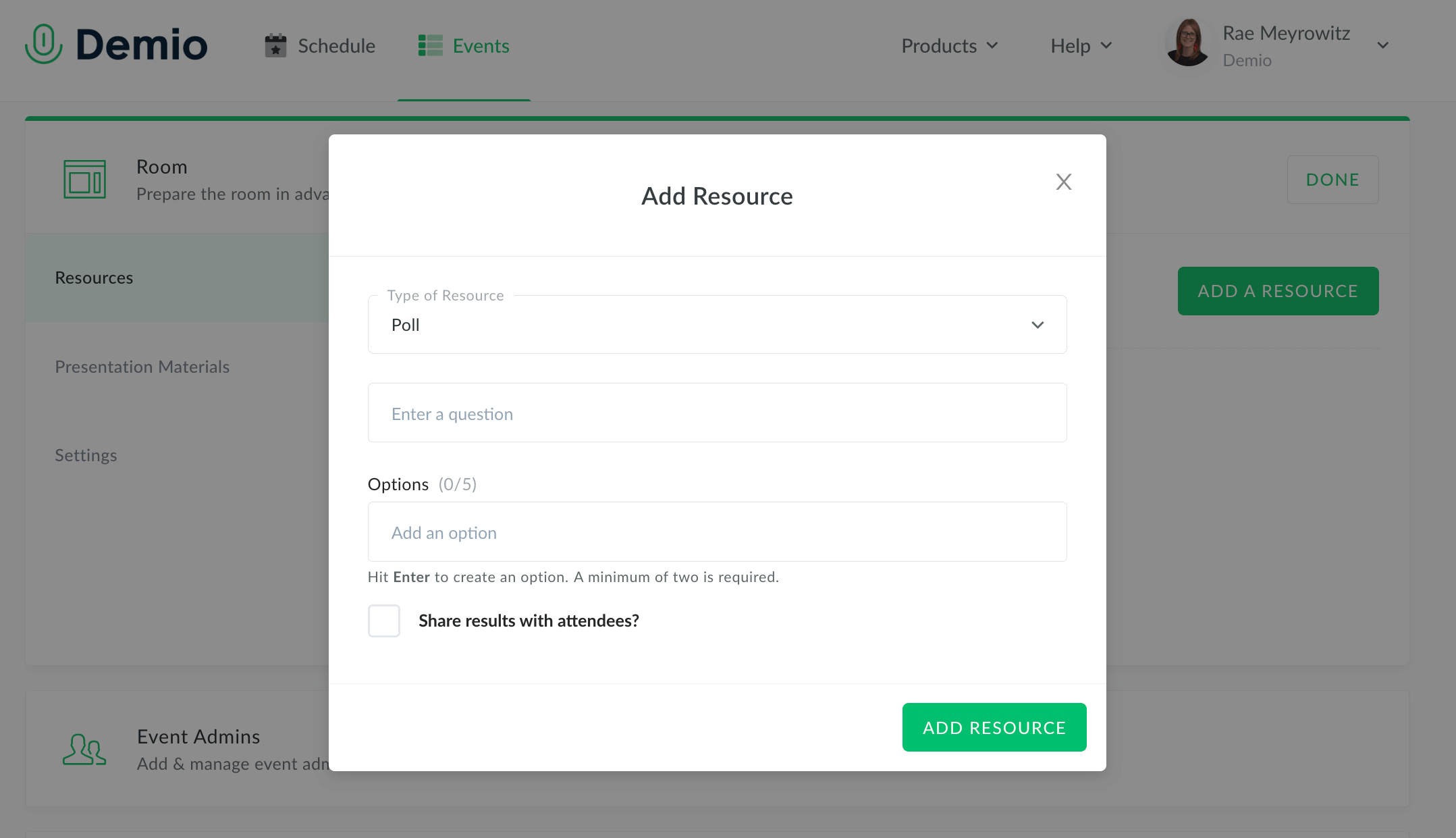 6. Incorporate Interactive Q&A Sessions
Q&A sessions are great at interacting with attendees to uncover what they want to know more about regarding your brand. Q&As gauge how clearly your webinar topics are expressed and help your audience participate more in your sessions.
While it's tempting to reserve a Q&A session for the end of your webinar, it's wise to pause periodically during your webinar to ensure your attendees are caught up. Take a minute or two to solicit audience questions and invite them to input their comments in the chat box. You can monitor it yourself or designate someone to be the chat moderator.
Depending on the time you have or how many questions you receive, you can then hold a quick interactive Q&A with your audience, giving individual members the spotlight or sharing your screen with them. Then, you can move on once everyone is up to speed. Demio even lets you flag questions typed into the chat feature so you can answer them in real time for an optimal viewer experience.
Invite audience members to interact with one another, too, and answer each other's questions. It's a great way to test how well your audience has retained what they've learned — and those who contribute the most are likely to be your most qualified leads.
7. Create an Emotional Connection
Your audience wants to know you're invested in them and can relate to their lives or needs. Storytelling— that is, using your narrative to create a compelling message that encourages audience response — helps attendees build a connection with you and shows you understand their pain points.
As you increase your audience's emotional awareness and captivate them with your narrative, you also boost their ability to absorb your message more clearly.
Note: It's important to ensure you have a strong knowledge of your technical tools. The last thing you want is for your audio or visual aids to fail in the middle of your story or have a glitch when sharing a screen with your audience.
8. Break the Monotony With Polls and Surveys
As mentioned above, you have only 60 minutes (or less) to impress your audience and share your message. Dead air or a few dull moments can drive attendees away, so use polls and surveys to break up the monotony and boost webinar engagement.
Polls and surveys allow your audience to take part in the actual presentation while gathering valuable feedback that can make future webinars better. Demio is a great live webinar solution with interactive features to create timed polls, surveys, quizzes, and interactive games that keep your audience on their toes and actively participating. Even better, interactive webinar platforms allow even automated and on-demand events to be engaging with polls and surveys for audience members.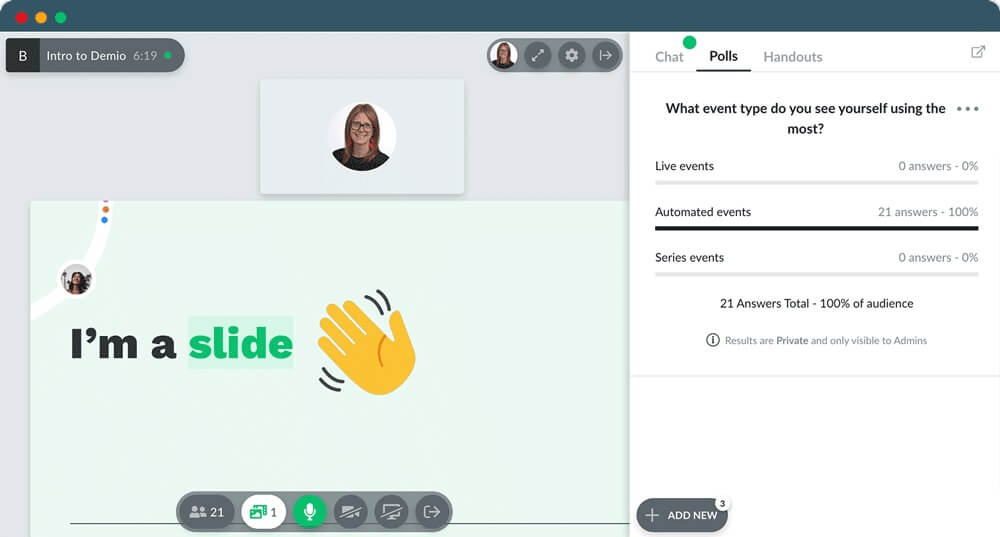 9. Provide Additional Value
For an interactive webinar, this entails introducing extra information that your attendees would miss if they skipped your online event. So, bypass anything they can learn about your brand on social media or your website.
Offering additional value shows you value your audience's time and loyalty and also gives them an incentive to return for future webinars. Include promos, featured actions, and strong CTAs at the end of your webinar, with several reminders of what's to come at the end to convince audience members to stick around.
Webinar-exclusive handouts and downloads, free items, and special VIP invites to future events all provide greater value that your audience members will appreciate. These perks act as a huge incentive for leads to register as well as show up, so give your audience a true VIP experience.
10. Analyze Webinar Results and Improve
Your webinar platform of choice should have an analytics tool that can track buyer intentions, how long participants stay active in your webinars, who registers versus who shows up, and which interactive elements your audience responds to the most.
Note what went well — your Q&A sessions or polls, for example — and what garnered a lukewarm response. Replace links that didn't get clicked or promo codes that went unused with other, more profitable featured actions, or modify them to better meet the needs of your audience. Improve your events based on the analytics results and repeat with every interactive webinar you host.
Note: Remember to thank your audience for attending. Post-webinar follow-up is an important time to interact with your attendees, as it's usually when they're most motivated to make their next buying decision. A simple outreach can help them stay committed to taking that next step in their buyer's journey.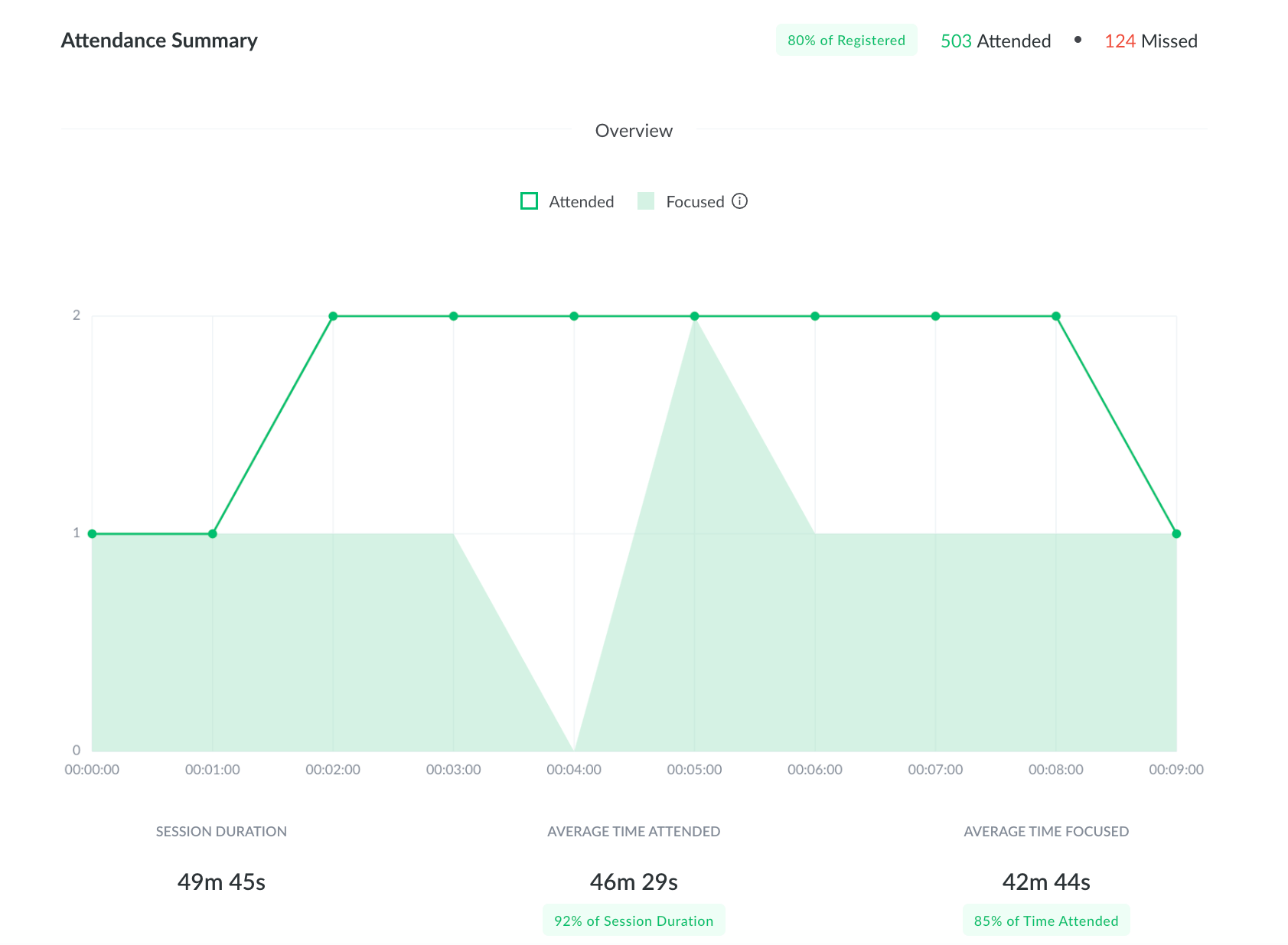 Wrapping up — Enrich Your Webinar Content in 10 Steps
Building a more interactive experience for your audience lays the foundation for consistently successful webinars. Identify problem points in your webinar experience, then incorporate some or all of these 10 easy steps into your creation process to improve them and add greater value to your presentations.
Before long, you'll notice higher attendance, greater audience engagement, and a stronger ROI. Bluejeans and alternatives, such as Demio, makes crafting compelling webinars easy, and you can get started for free. If you're not ready to commit, book a demo to see what this platform has in store for you. 

Frequently Asked Questions About How to Create Webinar Content
What technology do I need to host a webinar?
You need a reliable webinar platform, a strong Internet connection, and a laptop or desktop capable of handling your audio and visual requirements. Your chosen platform should also walk you through the webinar creation process.
How do I handle technical glitches during a live webinar?
Technical glitches can happen while hosting live events, so you should lean on your platform's tech support team to get you back on track. Always have a Plan B in place for potential issues so you're ready and can adapt smoothly when problems arise.
How do I know if my live webinar is interactive enough?
Your audience will tell you if your webinar is interactive enough by how long they stick around. You can also refer to your analytical tools to see which aspects of your event do well. When in doubt, add more interactive elements, and with Demio, you have a range of options that you can easily incorporate into your live, automated, and on-demand webinars.