With a heavy heart, I must start this article by saying that there was no Netflix and chilling for me this month. David, our CEO, had the "brilliant" idea to have me watch tons of product demo webinars and identify best practices.
So that's what I did instead of chilling with my favorite TV series and a glass of wine (hey, don't judge me, we're still in 2020 and it continues to be a very difficult year).
However, I must say that sacrificing Netflix for this resulted in accumulating incredible insights on how to run high-converting product demo webinars. And now I can share everything I've learned with you!
DOWNLOAD YOUR FREE WEBINAR STRATEGY CHECKLIST BELOW
Use this checklist
to design your very own high-converting webinar marketing strategy from scratch, then automate the process to attract high-quality leads.
We promise to never spam or send emails about cats.
Okay, maybe some cat stuff.
What's a product demo webinar?
Let's start with the basics and settle some things.
Product demo webinars are online seminars that focus on showcasing the way a platform works, along with its advantages. 
This type of webinar may also include Q&A sessions and extensive demonstrations of certain features. In all of my research, I've encountered different demo formats, including:
Online product walkthroughs
Interactive demos
Video presentations
But we won't be discussing video presentations, since they're mostly short ads that sometimes include some functionality aspects.
Some people use the world "deminar" to indicate a product demo webinar. But considering how strict my editor is, I'll be using the conventional term.
The core idea of product demo webinars is to show, don't tell.
In other words, by attending these online sessions, your leads and prospects will gain a better understanding of your product, while also getting the opportunity (in most cases) to ask questions.
Who's the person responsible for running these demos?
You may think that sales reps are great for the job. And although some companies may use sales professionals to create and present demo webinars, the product managers are often the right choice.
After all, they know all the intricate details of the platform. Plus, there's a big psychological difference between webinars run by sales reps and ones run by product managers.
The first one may look and feel like a direct attempt to sell, which could dissuade people from attending the session. When a product manager runs the webinar, it's perceived as an attempt to educate people about the product without expecting anything in return.
Best demo webinar practices you can try today
By watching different product demo webinars, I identified a series of best practices you can also use for your business. But for the sake of conciseness, I've decided to group these actionable tips in three categories that will help you get results faster:
How Product Demo Webinars Save You Time ⌛

One of the most annoying things for your sales or product teams is to jam their schedules with demo meetings. No one wants their entire day packed with one session after another.
Moreover, spending less time on running demo webinars means spending more time crafting the right demo content and designing the best interaction dynamics for your leads. Wonder how you can do that? Let's check the practices some SaaS companies are deploying:
Weekly product demo webinars
I've been following Splash for a long time, and I've noticed that the brand has grown tremendously over the years. From Ben Hindman, co-founder and CEO, creating solo videos with doodles to highlighting professional team webinars, Splash is a SaaS company that you want to keep an eye on. You can still watch those funny videos made by Ben.
Well, what do they do to save the time of their sales and product teams? Instead of providing countless weekly demos on request, Splash offers one weekly product demo webinar. This way, Splash is saving the time of its product team, along with meeting the demand and building a strong connection with its leads.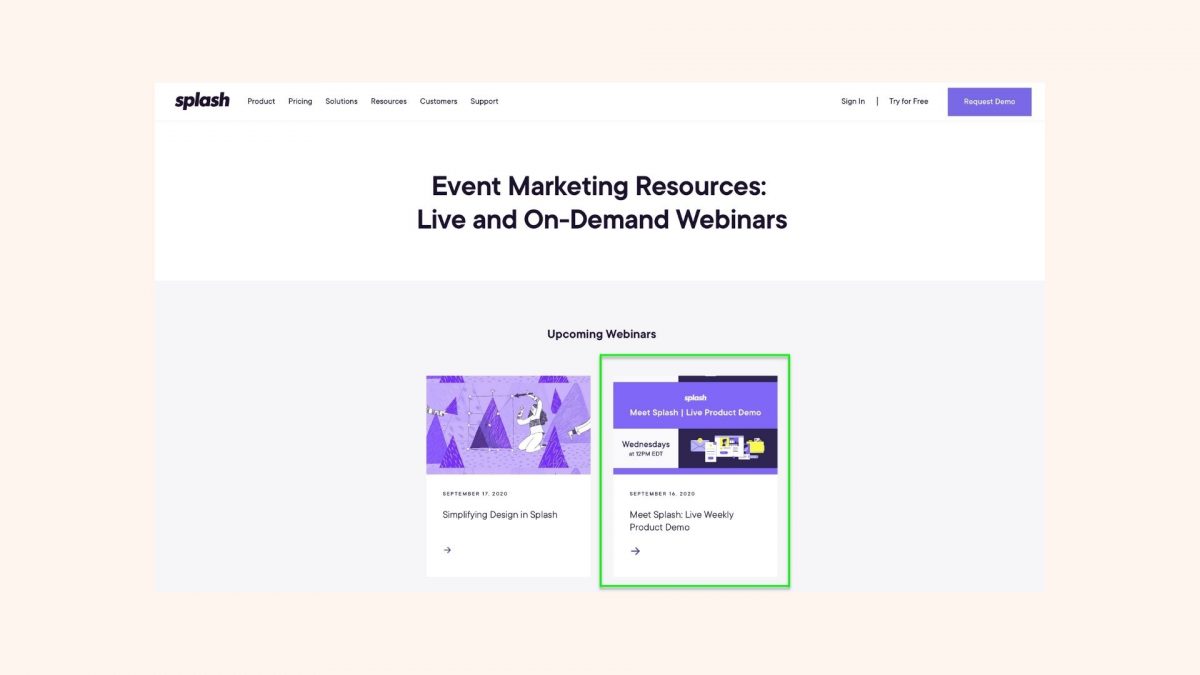 Help Center
One practice from Buffer is to put aside some demo webinar time and explain how the help center works. By doing so, Buffer gives its online audience the necessary insights and tools to navigate the platform by themselves, without needing any assistance.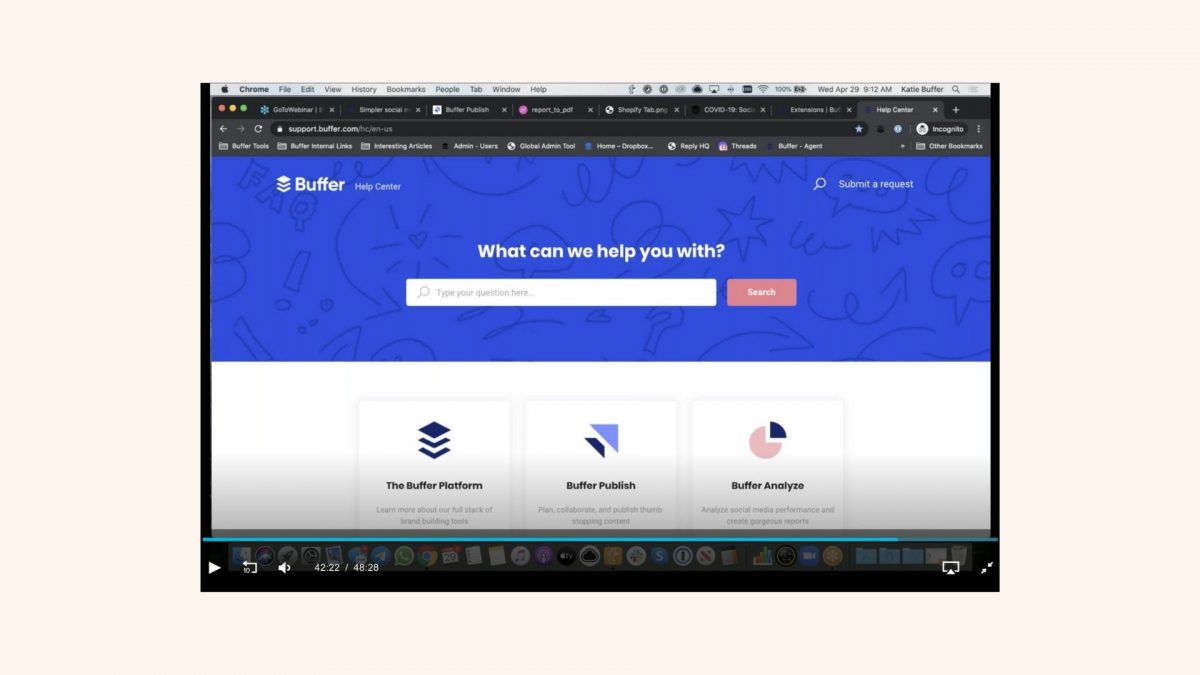 Pricing plans
Ah, Revolut! My favorite! I remember how happy I was to land in the Athens' airport, knowing that I had a free lounge pass courtesy of Revolut, only to discover that the lounge was closing in 10 minutes (I landed in the late evening).
I survived, though, even though I didn't get to use my pass. But I still have it, and I hope to use it sometime in the next few years (damn you, COVID!).
Anyways, watching a Revolut webinar, I noticed that the speaker took his time to explain the company's pricing plans.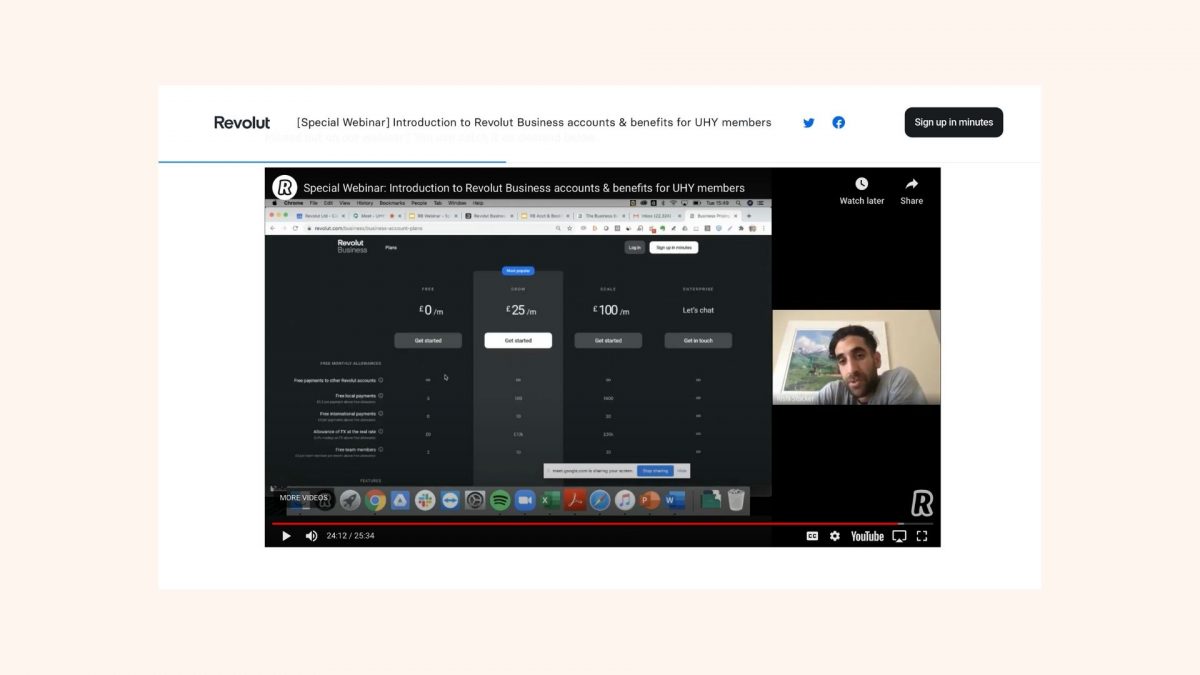 This may seem unnecessary, but believe me, there are plenty of people who may find your pricing plans confusing, and they may need clarification. I mean, I bought a Webflow plan for a website once, and I'm still not sure what I exactly bought.
Plus, this will save the time of your team. Otherwise, people from your company may receive countless emails or questions about the pricing plans. So take good advantage of the demo webinar and explain the way you're pricing your product to eliminate all doubts about this subject.
Demo Center
Having an entire center dedicated to product demo webinars is what makes Pendo special on this list. A resource center is especially useful if you have a complex platform with many solutions and features.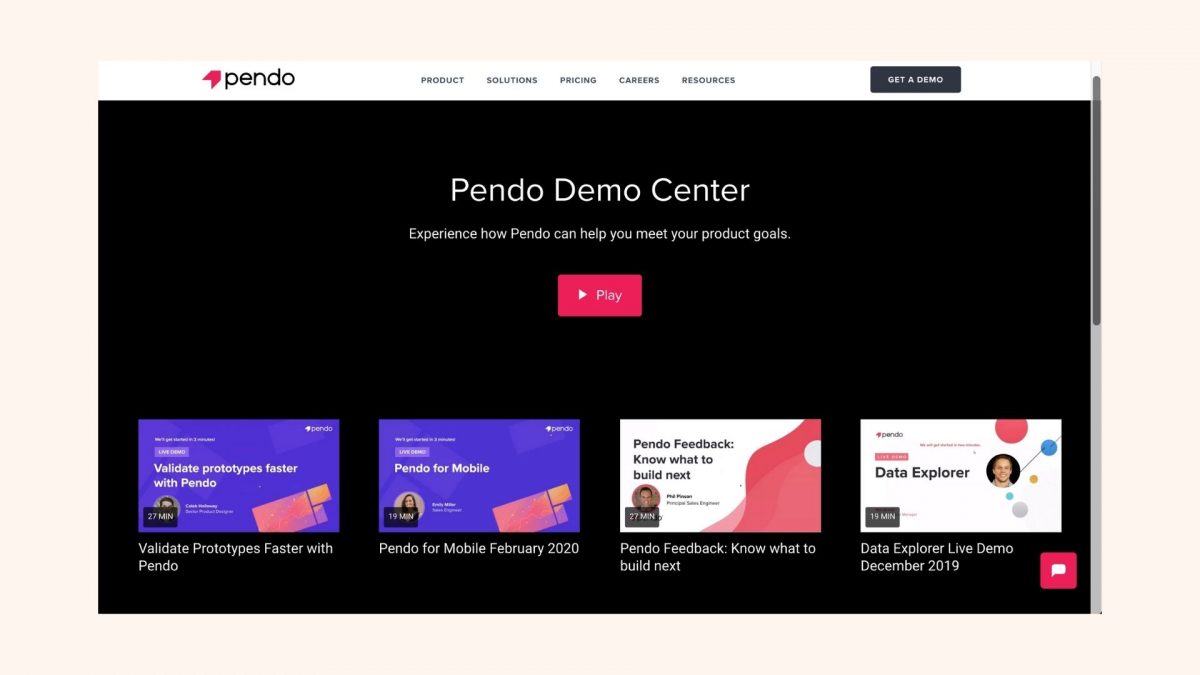 Instead of trying to quickly present all of them in a one-hour product demo, it's always better to segment the webinars and dedicate the necessary time to different solutions you may have for each one.
This practice will require an initial time investment from your team, but later, once you'll publish the demo center, you'll have everything centralized and automatized.
Product Demo Webinars Increase Engagement 🤝

The way you'll be engaging with your leads is as important as the platform presentation itself. Higher engaged prospects are more open to receiving the information they need to make a decision. In other words, they're closer to buying from you.
Also, by increasing the engagement during your demo webinars, you'll be able to use different tools that will help you understand your attendees better and tailor the content to them in real-time.
Casual conversations
When I connected to the Miro product demo webinar, I didn't know what to expect. It was still early. Not many people had logged on at that point.
However, I was definitely surprised to enter the webinar room and hear Matt Mulholland, the customer education manager at Miro, talking about villains in comic book-based movies.
I didn't catch the beginning of the conversation, but I understood that Matt was encouraging his online attendees to share their favorite villains via chat. I didn't expect people to get excited over it.
Start your demo product webinar on a fun note. Don't just sign on, greet everyone, and jump right into showing your product. Warm up the audience by engaging in light conversations with them. After all, when connecting with your remote team, you don't start talking about work immediately—you ask your team how they are and what's new. 

Live Polls
The next thing that caught my attention during the demo webinar from Miro was that Matt started with a poll. He asked the audience two questions:
How confident do you feel creating content on a Miro board?
How confident are you navigating around a Miro board?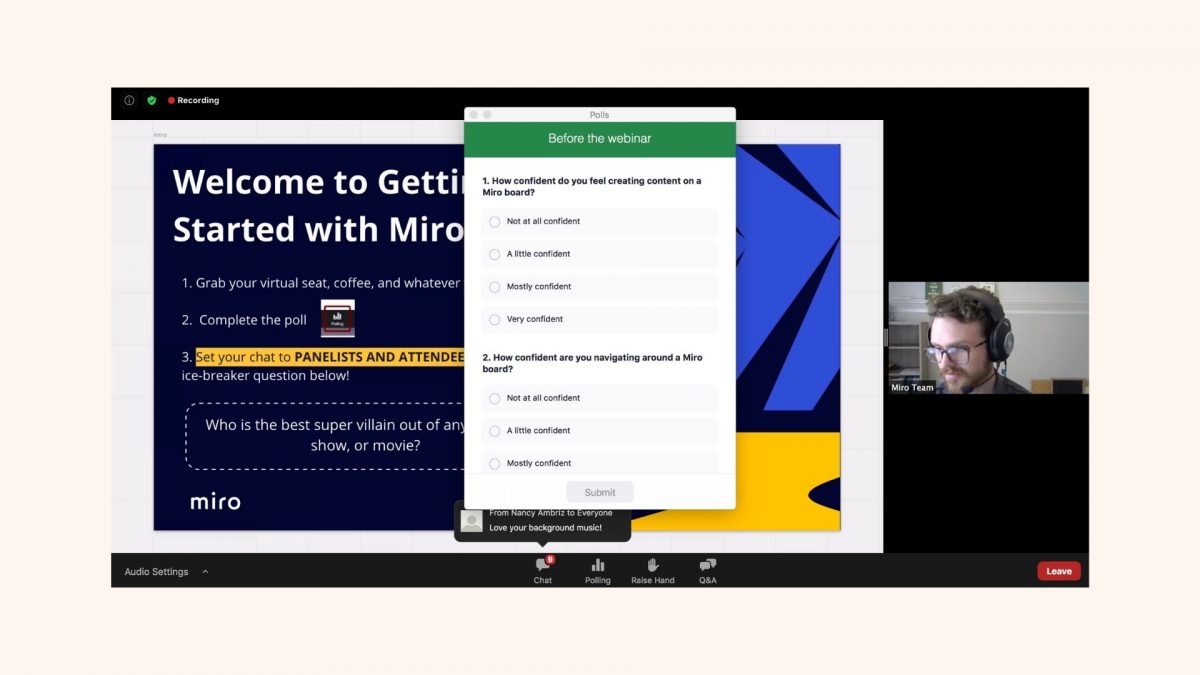 The answers to these questions probably helped give Matt a feeling of the type of audience he'd gathered. Also, that's a great practice to interact with people immediately and make them feel part of the conversation.
Compelling narrative
Let's talk about Leadpages a bit. During the demo, I noticed that the speaker started his presentation by talking about who the webinar was for. I thought this was a great idea. It avoided any confusion and ensured that only qualified leads were present.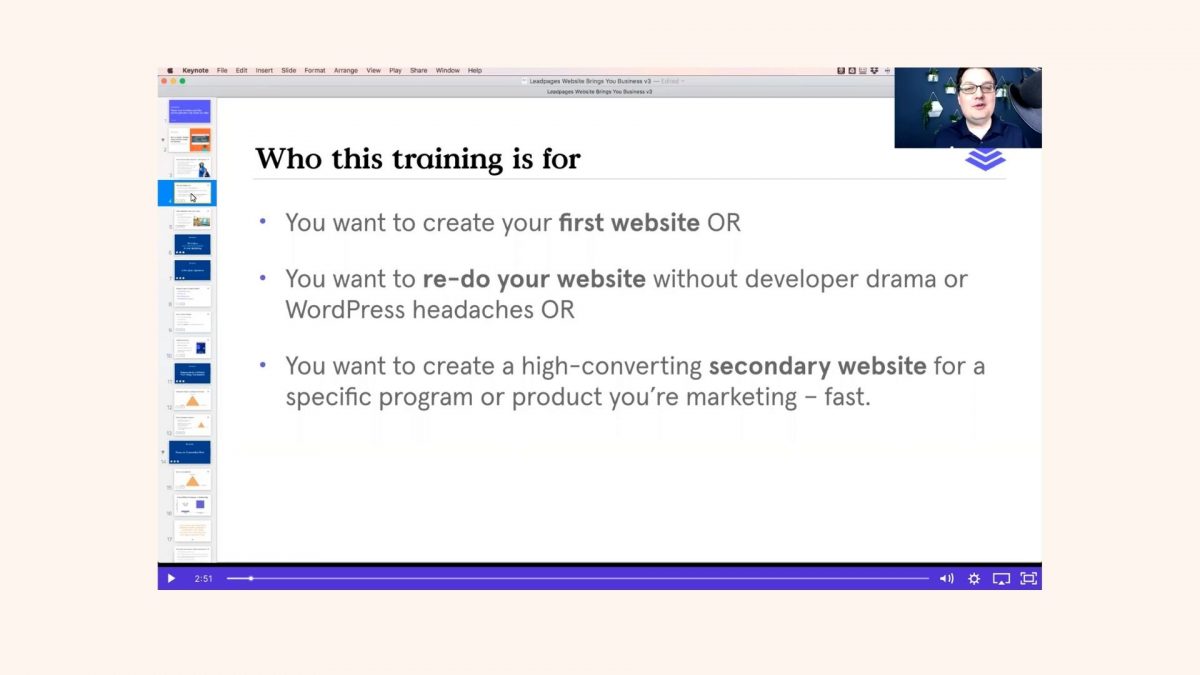 Also, the speaker has a clever approach regarding the demo webinar intro. Instead of just presenting the platform, he offered an overall overview of the problem the leads may have been experiencing, which established a connection with them.
I mean, if someone tells me that I'm being asked to pay between $3,000–$25,000 for something I can get much cheaper, faster, and better, you got my attention, pal!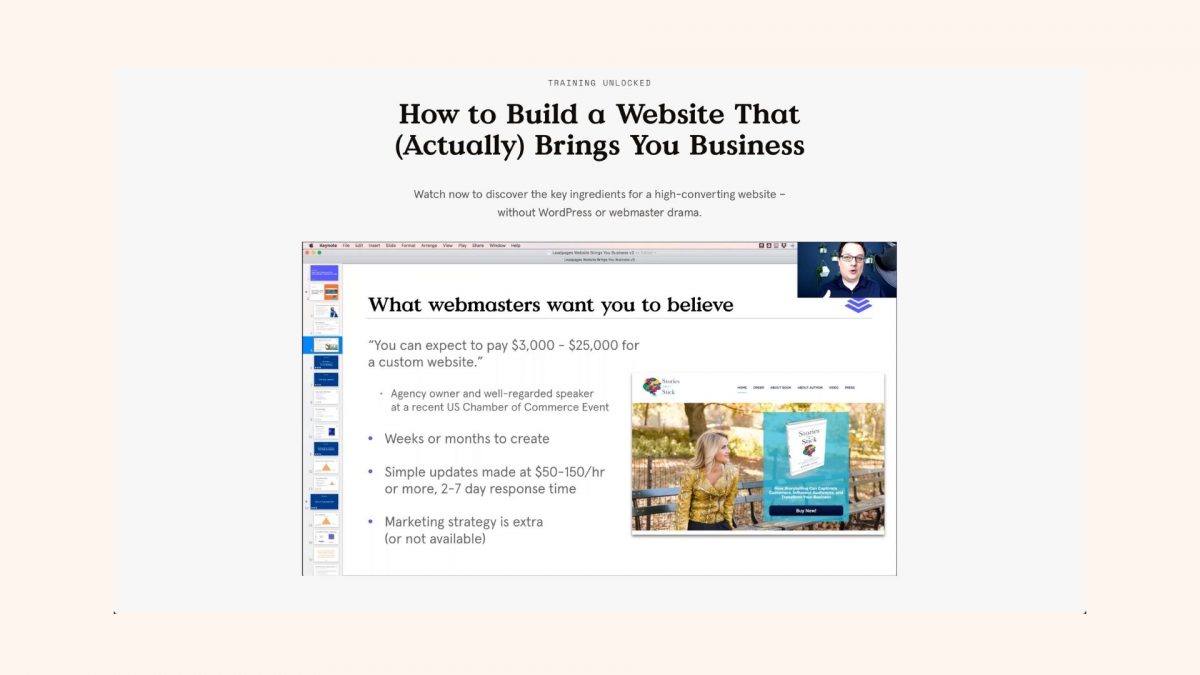 Personality
What's the main thing you notice on Keap's demo webinar's landing page? I wouldn't be surprised if you said it was the speaker's photo. That's an important element if you want to create an emotional connection with your attendees.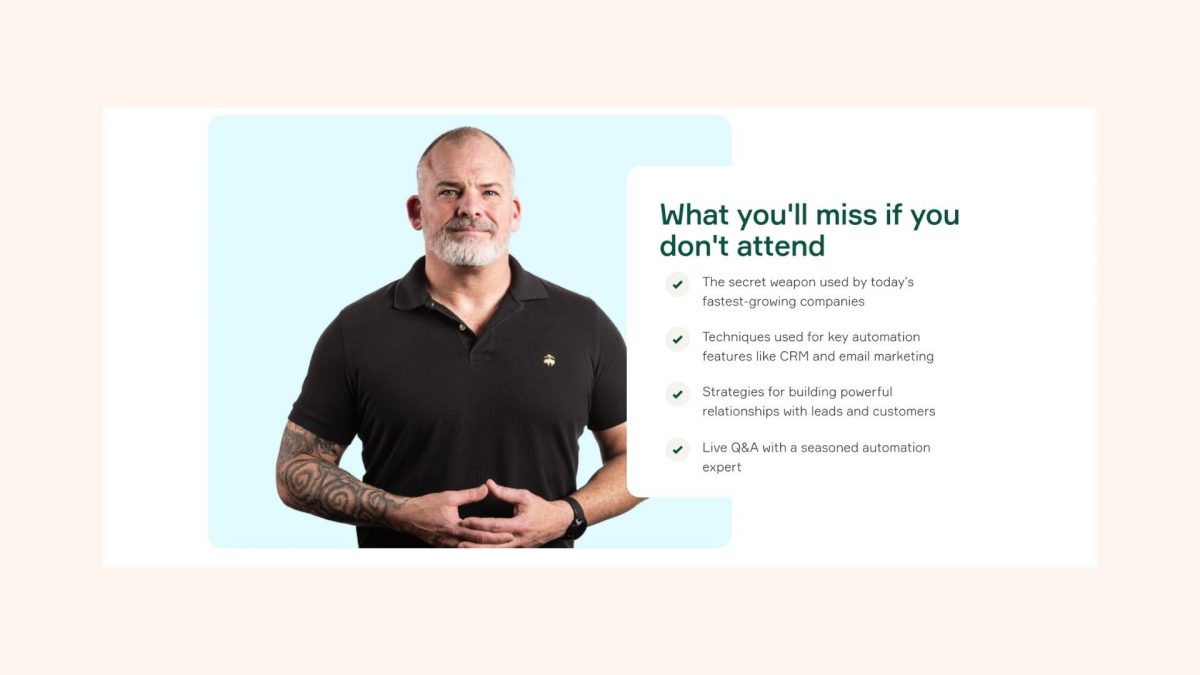 Product Demo Webinars Compound Brand and Content Opportunities 🔗

You may think that product demos are one offs that aren't integrated with other forms of content engagement. However, demo webinars should be part of your inbound strategy. For example, you can workflow these product demos into a nurture sequence to further educate your leads until Sales can follow up with them again to make the final offer.
Moreover, with the consistent branding, copy and validation provided by the registration pages, confirmation emails, or thank you pages, you can further the brand awareness effort, staying top of the mind before, during, and after the product demo.
Landing Page
Splash has an particular approach to its landing page. For example, there's a countdown clock right there on the landing page.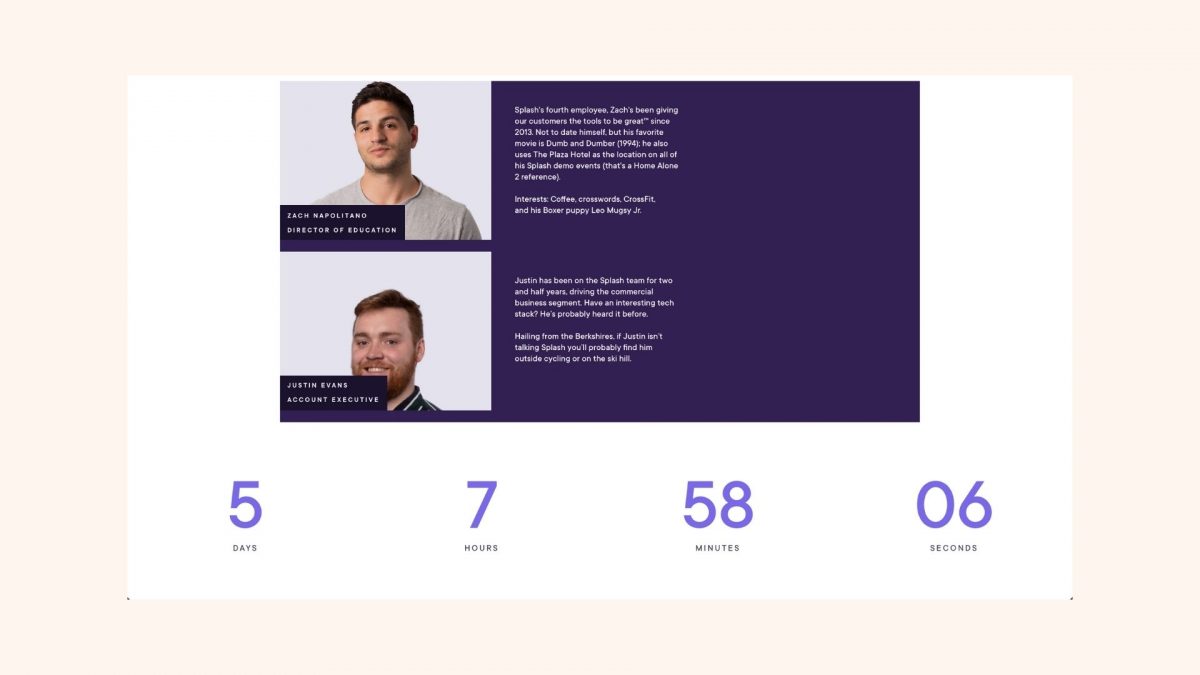 And although you might think this is a way to create urgency, I'd say it's a user-friendly trick to help people see how long they have to wait until the next webinar.
Resources page
Another practice from Splash is to take its audience from the registration page right to the resource page. And let me say, I've never seen better and more consistent branding.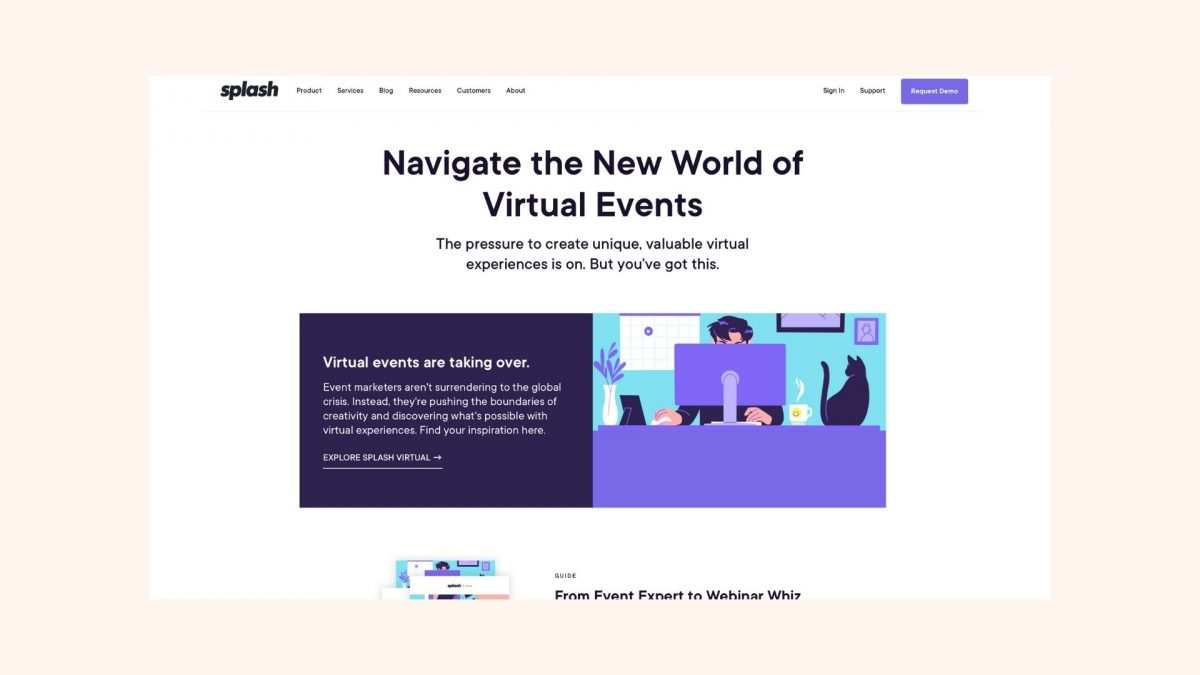 You may have nothing to do with virtual events or event marketing, but you still want to read what Splash has to offer.
Don't waste your post-registration page by simply displaying a generic message, such as "Thank you for registering." Use that real estate to invite people to browse your resources or your blog posts.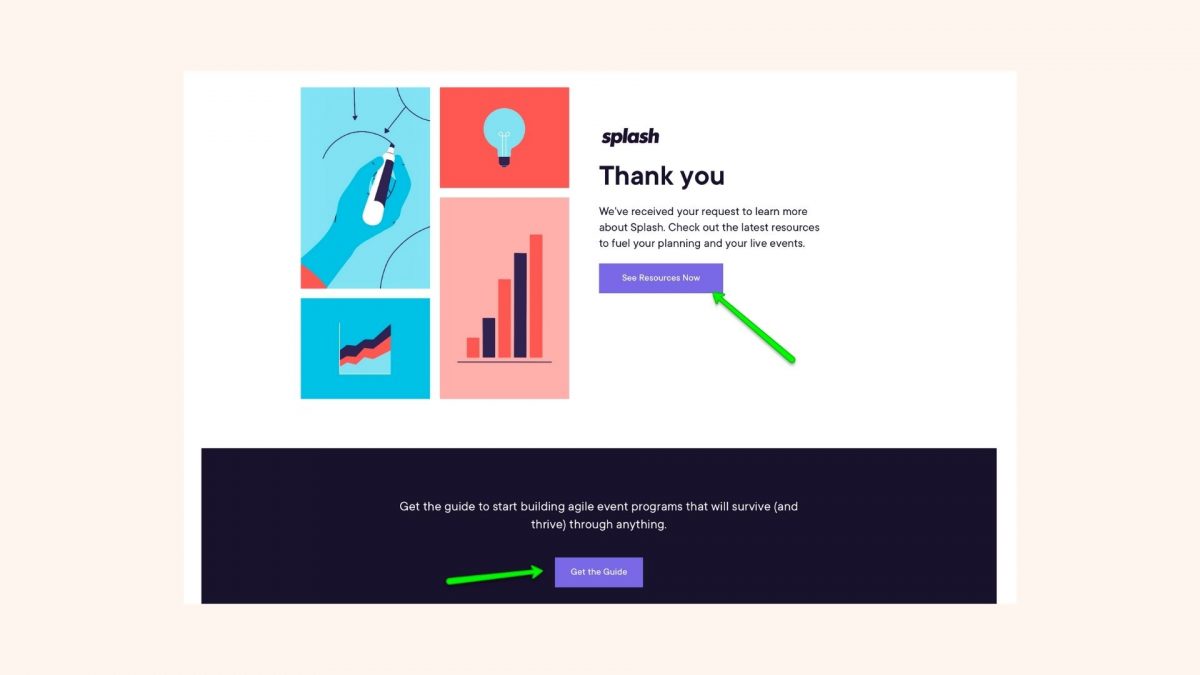 Call to actions
One thing I noticed while checking out Stripe's demo webinar page was the two calls to action: Watch on Demand and Get in Touch.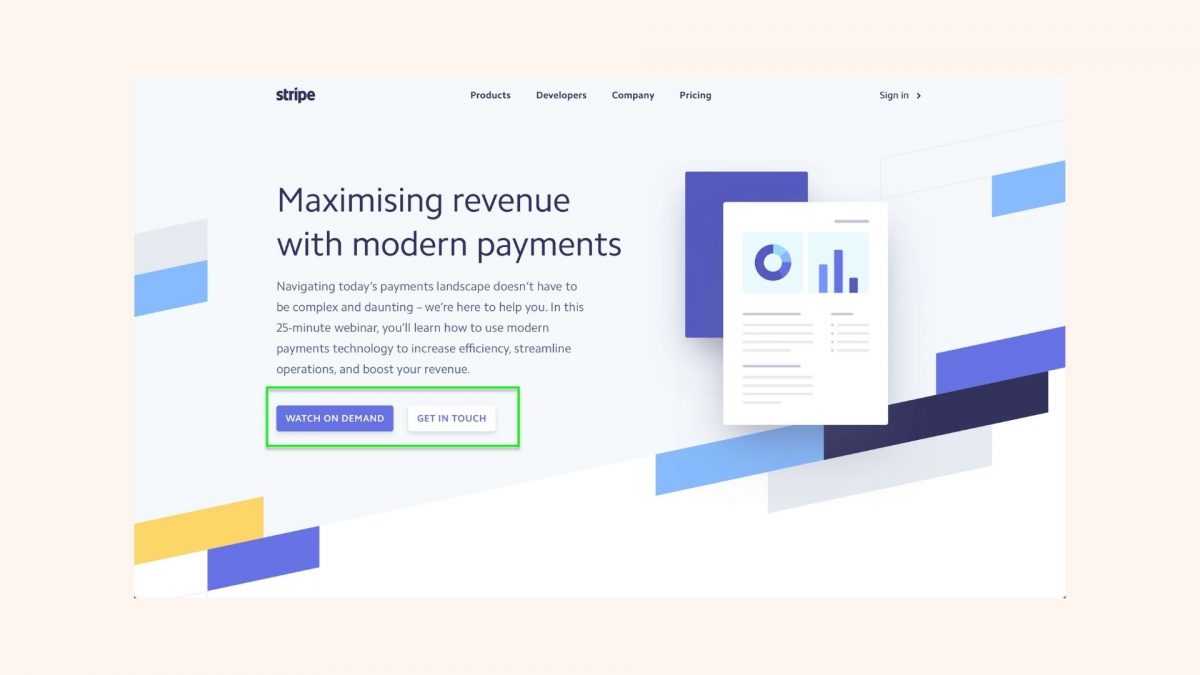 When you click on Get in Touch, you're taken to a contact sales form page, where people have the option to explore the platform themselves or talk to someone from Stripe's team directly without watching the demo webinar.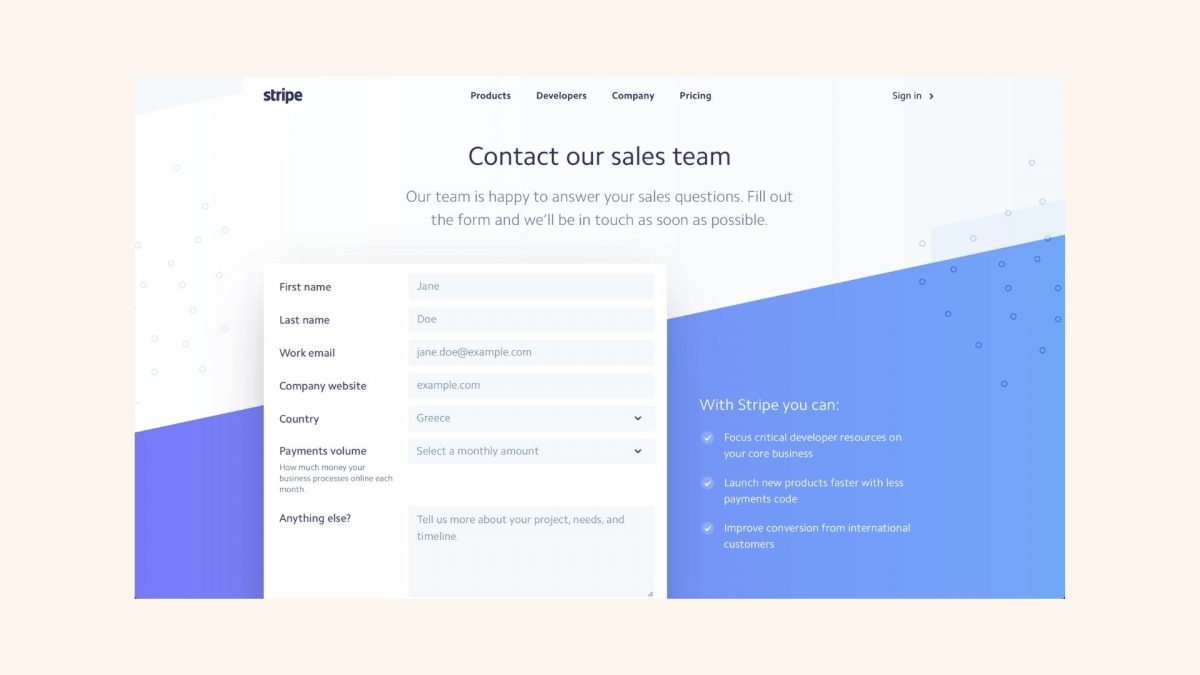 Registration form
The first thing I noticed about the Zendesk demo webinar page was how friendly it felt. You can check it out yourself. It's neat and clean. Plus, the registration form is short and friendly. All you have to do is provide your first name, last name, and work email address, and then you can immediately watch the demo.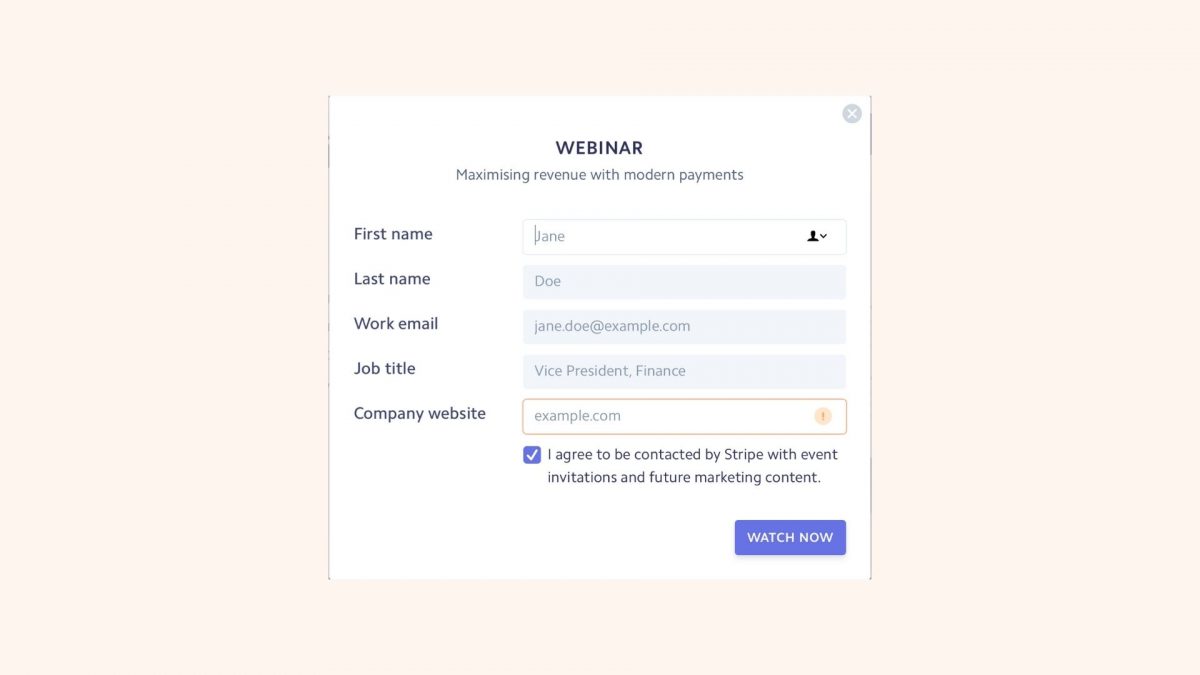 But there's a trick: If you want to register for a second time, you need to complete a longer registration form. This way, the Zendesk team can qualify you better and move you through their pipeline. That's a fantastic strategy you can use.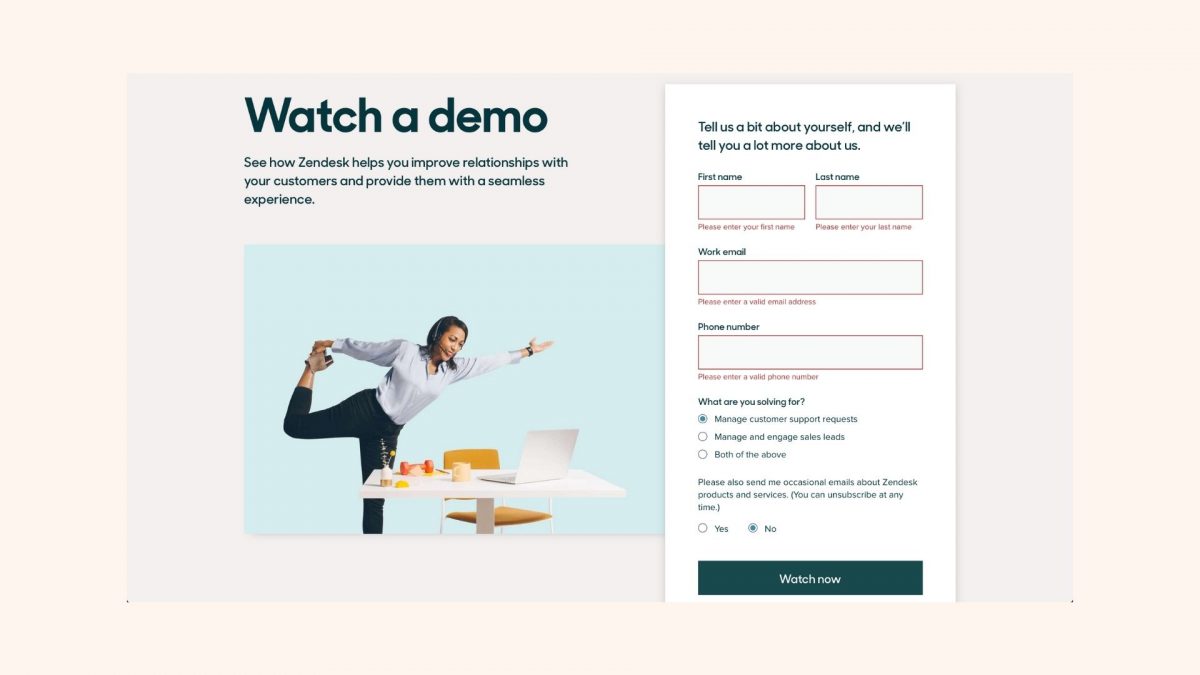 For the first interaction, don't scare your leads with a huge registration form that asks for tons of unnecessary information, including their blood type. Keep it simple.
But if this lead comes back for more, ask for more information. Plus, I love the way Zendesk asks for information on its form: "Tell us a bit about yourself, and we'll tell you a lot more about us."
Free trial
And since we're talking about Zendesk, once you've registered, you're nudged into accessing a free trial. Again, it's a pity to not take advantage of your post-registration landing page. So instead, think about the next action you want your leads to take after registering.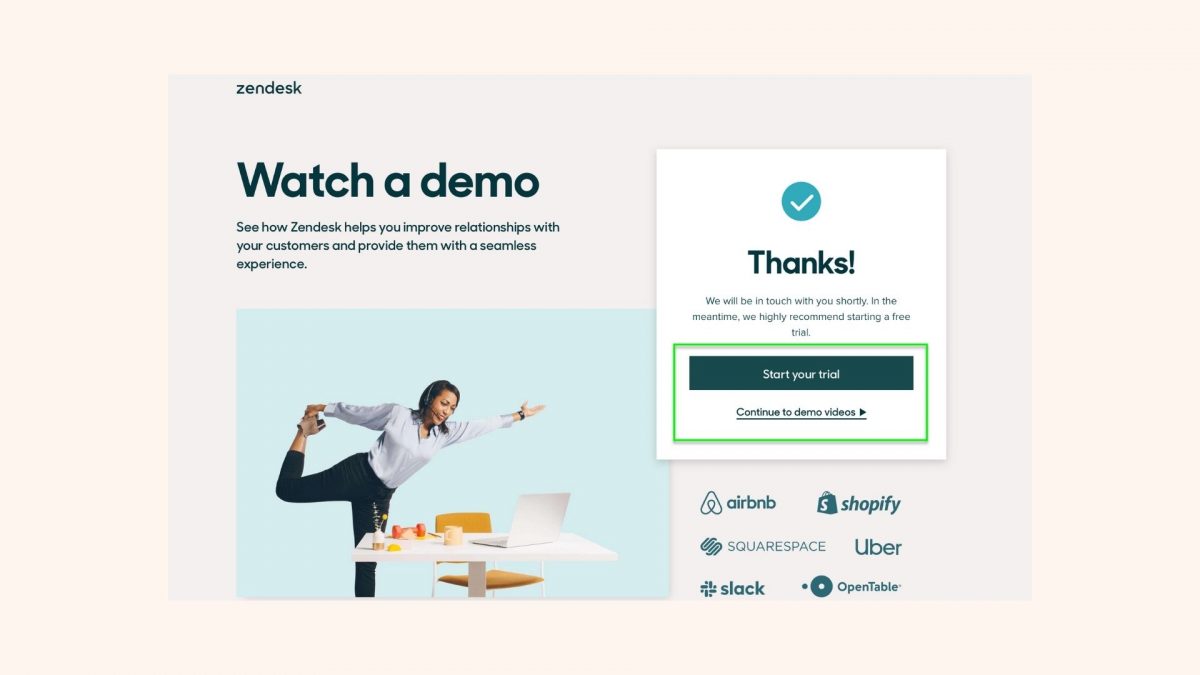 The recording
Moving again to Miro, once the demo was over, the online attendees received the recording. That's very important, considering that some people might not have been able to stay for the entire webinar, so they might have wanted to review what they missed later.
Demo Webinars Recap 🖋️
If you want to start driving more leads with your product demo webinars and you don't know where to start, here are a few quick considerations you'll want to have in mind:
➡️ Save time and focus more on crafting great content for your leads
Let's admit it: One of the most annoying things for your sales or product teams is to jam their schedules with demo meetings. No one wants their entire day packed with one session after another.
Instead of trying to showcase the product during individual meetings, you can create a great script and run webinars frequently. There's a big difference between having to run a 60-minute webinar and having ten meetings a day saying the same things.
➡️ Increase the engagement of your leads
When you run product demo webinars, you can interact with different people, let them ask questions, and clarify things you never considered before. This dynamic can be truly inspiring for all the online attendees, especially considering that these conversations may highlight the value of your product and encourage your leads to become paying customers.
➡️ Strengthen your inbound marketing efforts
Finally, you can subsequently use these product demo webinars as lead magnets and qualify everyone who enters your pipeline. You can use different copy techniques to nudge your leads into discovering your platform or product beyond the demo. Moreover, these demo webinars will help you sustain the brand awareness efforts and make sure people won't forget about you.
DOWNLOAD YOUR FREE WEBINAR STRATEGY CHECKLIST BELOW
Use this checklist
to design your very own high-converting webinar marketing strategy from scratch, then automate the process to attract high-quality leads.
We promise to never spam or send emails about cats.
Okay, maybe some cat stuff.
That's all friends! What do you think? Did I miss any good demo webinar practice? Let me know in the comments!