Regardless of industry or customer demographic, a successful business relies on open communication to make sales, develop stronger relationships with their clients and customers, and grow in an ever-changing market. That emphasis on communication requires tools to collaborate effectively with sales and marketing teams and partners.
In that regard, webcasts and webinars have become essential to individuals and businesses alike. You likely use one — or both — of these formats to run virtual events that allow you to interact with attendees, work with your teams, and keep your brand relevant to your online audience.
You're not alone if you use the terms "webcast" and "webinar" interchangeably. These methods of communicating with large audiences around the globe share certain similarities, but each format is distinct and best serves specific goals and circumstances.
Demio aims to educate you on these defining characteristics and use cases. By the end of this article, you'll be fully informed to craft webcasts and webinars that contribute to your short- and long-term goals.

What Is a Webinar?
A webinar is a virtual event where an audience registers to attend and learn more about a specific topic while interacting with one or more brands. This type of online event can be hosted in real time, and then you can archive the live video for repeat viewing. You also have the option to pre-record a session or create one to be viewed on demand. 
A webinar typically engages the audience via Q&A sessions, polls, CTAs, and other featured actions. It also limits attendee numbers to create a more collaborative presentation.
What Is a Webcast?
A webcast is a recorded event (either live or on-demand) that's streamed to viewers across several media channels. It's a broadcasted presentation that typically doesn't allow for audience participation. It also doesn't have an exclusive audience in attendance; in short, it's a one-way flow of information.
Webinar Vs. Webcast: Understanding the Differences
Both webcasts and webinars reach wide audiences and share vital information about your brand with them, so they both can successfully promote your brand, increase conversions, and aid in lead generation.
However, their strengths and weaknesses make them suited for various situations. We've broken down their differences to help you determine which video engagement strategy is best for accomplishing your goals.
Live Vs. On-Demand Content
Although both webcasts and webinars can be hosted live and on-demand, live events are best left to webinars. They're more interactive than webcasts, so it's easier to host a virtual event in real time through a webinar format than a webcast. You can compare Zoom and Demio's features to see how different platforms interact with attendees and maintain strong engagement, including private and public chat, live polls and surveys, and audience spotlights.
Webcasts, however, excel at crafting top-notch on-demand content for raising brand awareness and broadcasting to a much wider audience base when you're in your brand positioning phase. Whichever direction you take, adopt a reliable webinar platform to assist you in launching high-quality content for promotional and profit purposes.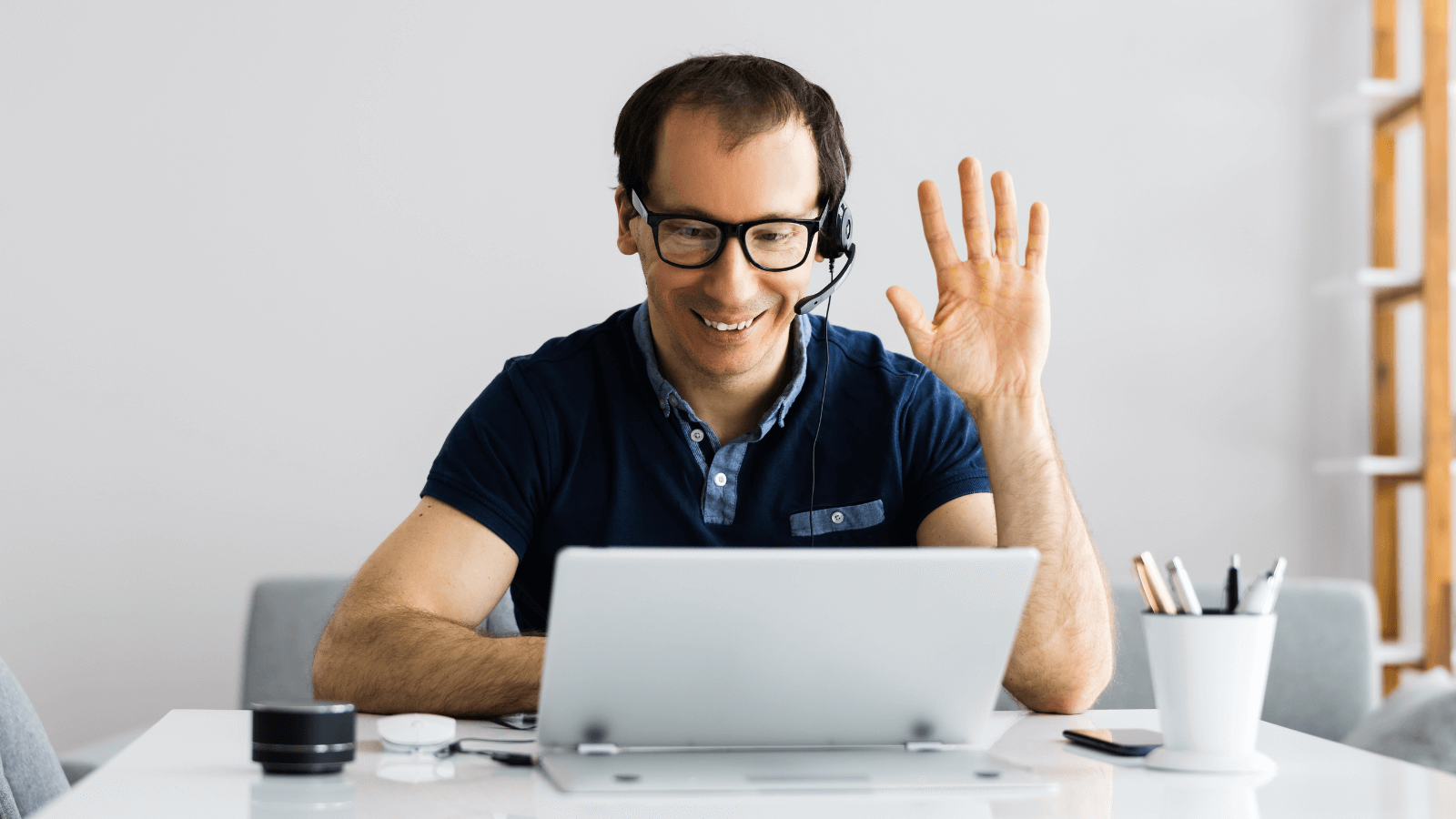 Scope and Scale
The scope of your project defines how broad of a topic you'll cover, as well as how you present it. Meanwhile, the scale determines your ability to run it repeatedly and reach a wider audience. Since a webinar is directly marketed to your intended demographic, its broadcasting is limited, which makes it easier to measure the who, what, where, why, and how of your live event. On the other hand, a webcast boasts a much wider reach, so it comes down to what your marketing goal is for hosting an online event.
If your overall aim is to scale your presentations to increasingly larger audiences, then a webcast should be your presentation of choice. However, if you want to vary your subject matter and reproduce your presentations to reach a target segment in a new way, then you'll want to host a webinar. Using analytics tools, you can measure your scope and scale more effectively and see which format best accommodates your needs.
Benefits and Use Cases of a Webcast
If you're planning a huge presentation and want a limitless audience outreach (think Ted Talk presentation quality), a webcast is exactly what you need. Its many benefits and uses can help you educate your audience while growing your brand.
👉 Ideal One-Way Communication
Webcasts simplify the straightforward sharing of information with your audience to grow your brand. All you have to do is choose a presenter, practice your content, then record and share it with either the world or a targeted audience. Webcasts drive brand growth by enabling you to market new products and expanding brand awareness.
Market New Products
Show off your new products, how to use them, and how they benefit your audience to generate new leads and brand awareness. Since you use one-way communication with your audience, you rely on being informative to grab their attention.
For example, launching a new gadget that your audience may be unfamiliar with or that is revolutionary in its design would fit a webcast format well. The webcast could educate an audience without interruption as to how the product works and benefits them.
Educating your audience also helps you strengthen your authority in your niche, which can solidify your industry position.
Expand Brand Awareness
Are you new to the industry and you have yet to establish a demographic? Or, maybe you don't know which social channel is best for boosting brand awareness? In those types of situations, it's wise to start with a broader audience base and then narrow your segment after you gather feedback from your webcasts.
Some new companies start with webcasts to launch their name, products, and services on the market, then scale back with targeted efforts via webinars once they've secured more leads and audience interest.
A webcast for brand awareness purposes needs only to be entertaining and valuable to the consumer — and played often. Consider a webcast that introduces your brand to the world and why your company exists, and as you gain awareness with an audience base, you can start hosting more targeted and detailed webinars.
Demio possesses excellent analytics tools to help you learn who your most engaged attendees are, where they view your content, and what links or email invites they respond to consistently.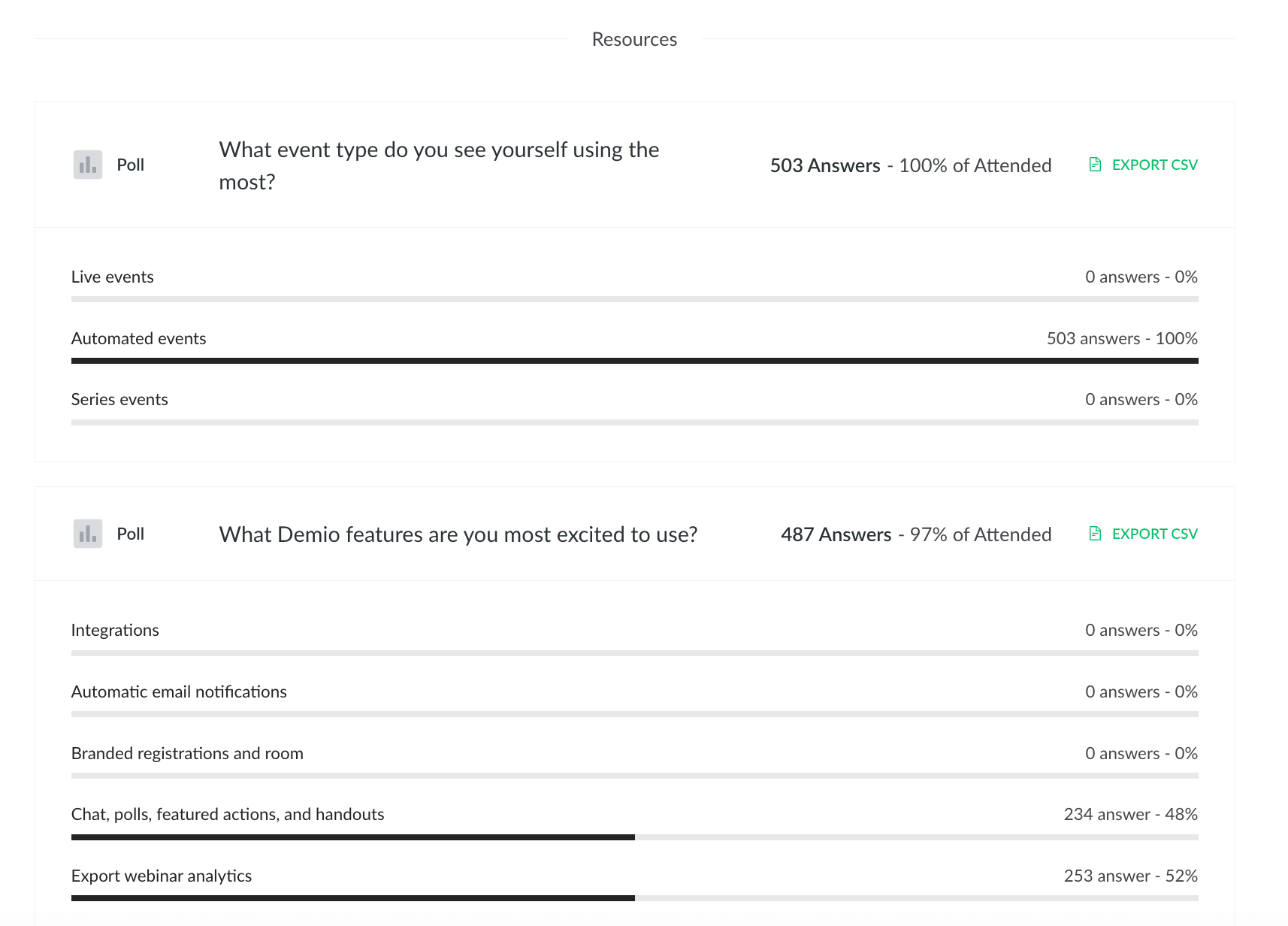 👉 Smoother Internal Operations
Your achievements rely on every member of your team understanding their role and carrying out their respective duties well. Webcasting software tools make hosting a webcast easier and more effective so you can develop a more cohesive flow of business operations. You can use webcasts for various internal education purposes like training and product updates.
Training
Broadcast training videos to all new hires so everyone receives the same information from one main coach. This lowers training costs since everyone has access to on-demand footage and you won't have to pay a trainer every time you make a new hire.
Product Updates
Provide product announcements and demos to your sales and marketing teams (and, once approved, to your broader audience base) to bring everyone on board and apprise them of your company's new promotions and offerings.
Benefits and Use Cases of a Webinar
When your objective is to really connect with your audience and build lasting relationships through rich, two-way communication, you need a webinar. Whether it's a live stream or a pre-recorded video, a webinar is an excellent way to get to know the people who show an interest in your brand (including where they're at in the buyer's journey), educate them about your services, and cultivate strong ties with your followers and loyal buyers.
If you want to drive not only brand awareness but also lead generation and higher conversion rates, then direct your marketing efforts towards webinars.
👉 Audience Engagement
Webinars encourage more audience interaction and participation through activities like Q&A sessions, live and moderated chat features, product demonstrations, and more. You can engage a larger number of people while simultaneously plugging your brand and products, making webinars a marketing win for businesses at any stage of growth.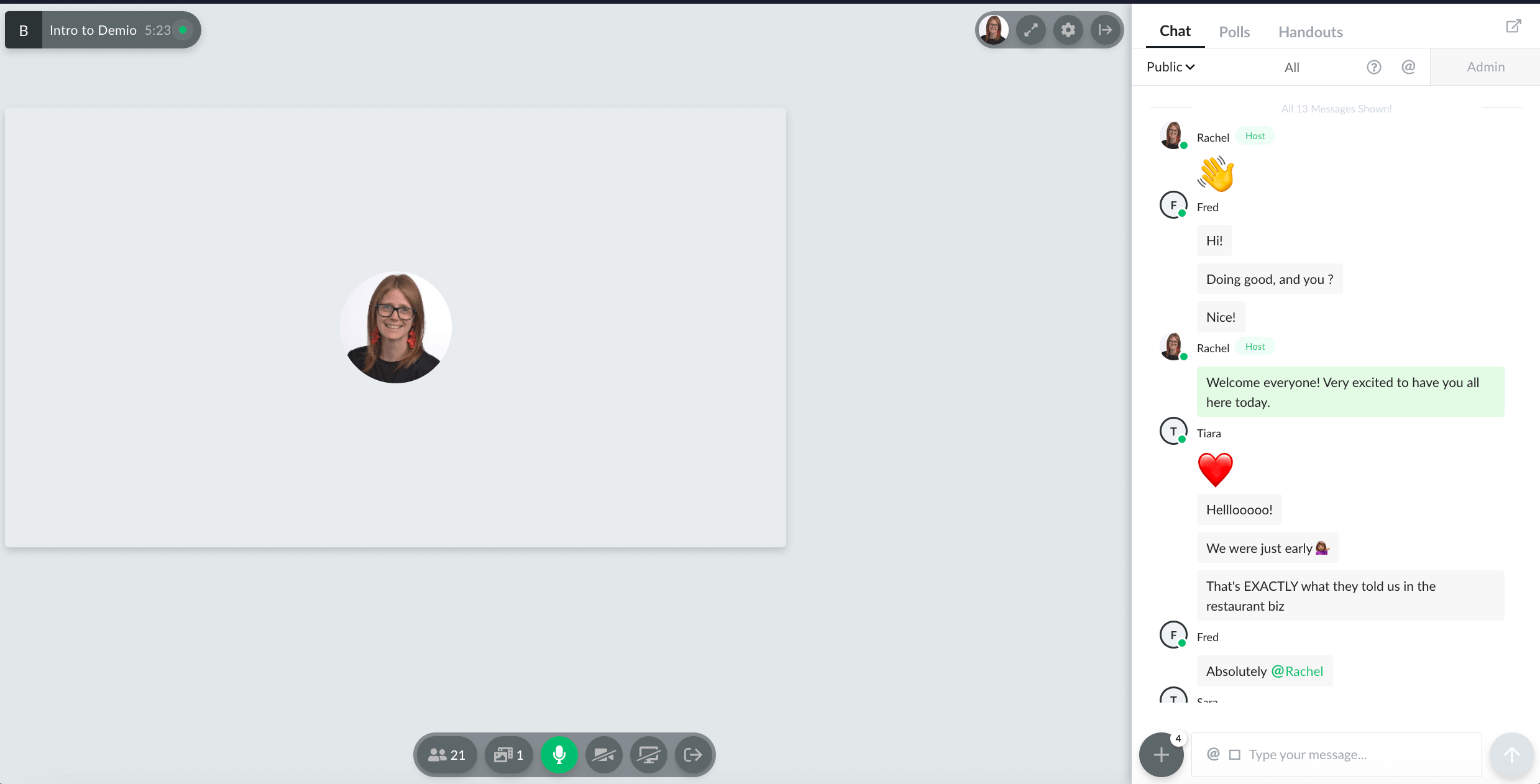 Q&A Sessions
Your audience has questions about your brand, products, and services. Use a webinar to answer these questions and uncover insights into the functionality of your offerings, consumer pain paints, how effectively your product or service solves their problems, and even how well you're promoting and positioning your brand.
A great starting point is to ask your audience what they'd like to know. Demio features a useful email marketing tool that allows you to survey your audience before and after webinars so your Q&A sessions are more relevant to your users.
Customer Stories
Customer stories and testimonials do more for your brand than any other marketing effort. They highlight the top uses of your product or service to your target audience. Gain greater customer trust by spotlighting customers who've used and benefited from your offering in your webinar strategy. 
👉 Business Growth
Obviously, the end goal is to promote your brand and gain leads you can then convert into buyers. Webinars allow you to grow your business in many ways, especially through video engagement strategies combined with well-defined webinar goals and objectives.
Collaborations With Influencers
Use webinars to collaborate with influencers, choosing popular or authoritative presenters to give your brand greater clout. Many of your registrants will attend because of who's present and stick around because of what your brand brings to the table.
For example, collaborating with a popular fashion influencer could help promote a new seasonal clothing line.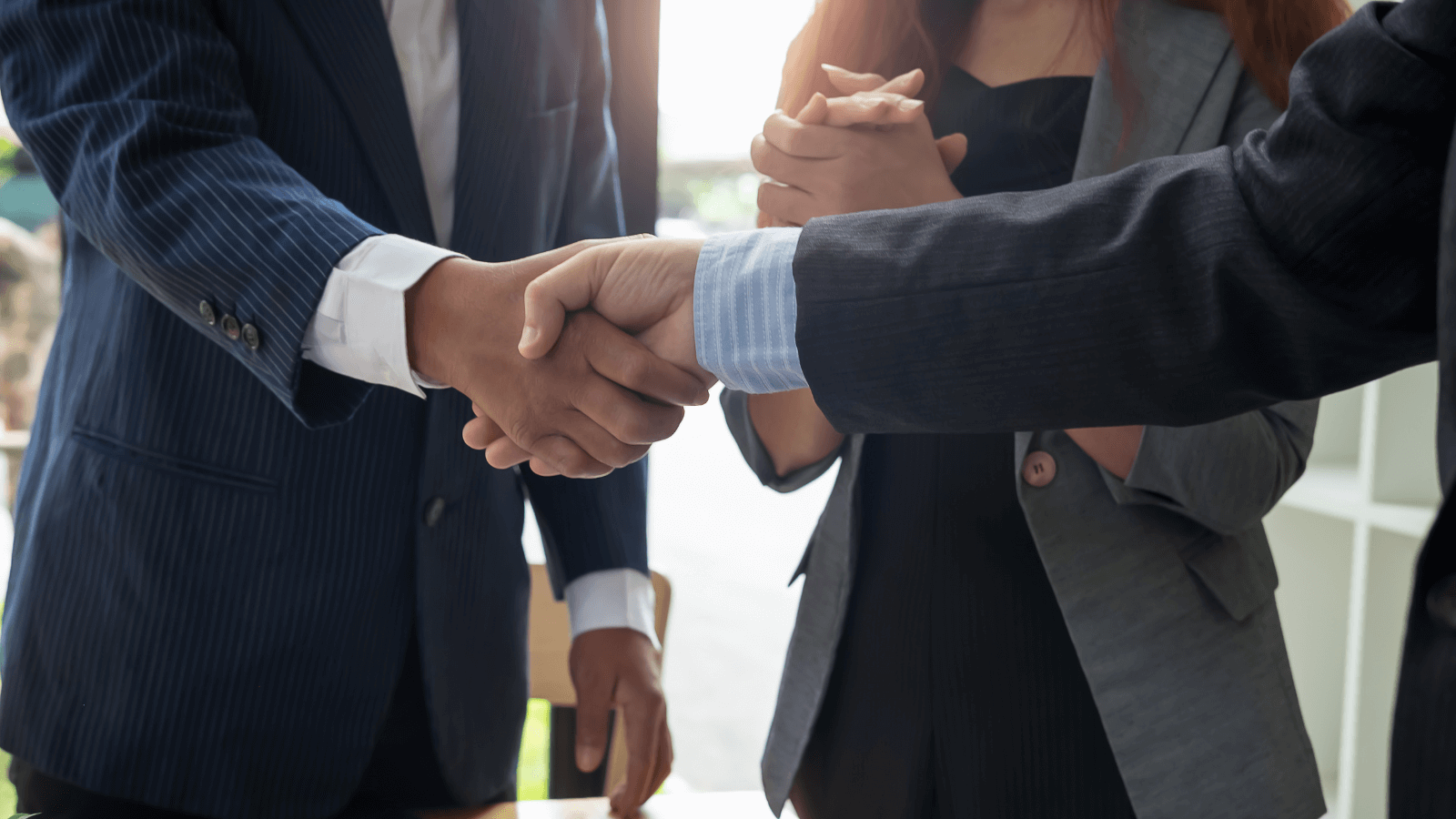 Onboarding Sessions
Perfecting your onboarding sessions helps you deepen your relationships with your customers and secure ambassadors for your brand. Host onboarding sessions on a regular schedule to keep new followers engaged and make the benefits of your brand immediately applicable to them.
For instance, a potential lead may be ready to take action in the next 30 seconds — or they might not. Host immediately accessible onboarding sessions so you can catch qualified leads at the height of their decision-making moments.
Choosing the Right Format: Considerations and Use Cases
Both webinars and webcasts have their strengths and weaknesses in marketing. The right format for you will depend on a few factors, which we've outlined below.
Webcasts
If your goal is to reach as many people as possible with the fewest barriers, then webcasts are your best option. Viewers aren't required to register and, because of the format's broadcast style, few limitations exist for audience attendance. So, if you intend to launch a product promotion or educational video, webcasting is a wise choice. Think of them as a net you cast to catch as much as possible; they put your name out there, even if you have no idea who you're reaching. This isn't a bad marketing strategy so long as you combine it with other, more targeted marketing efforts.
Webinars
If your goal is to understand and resonate with your targeted demographic, webinars are the better choice. What you lose in attendance numbers, you gain in audience engagement and participation, which ups the likelihood of closing more sales. Use webinars to share customer testimonials, host panelists for Q&A sessions, run a product demo, and other interactive activities. You can even record on-demand webinars so attendees can watch the session whenever it's convenient for them.
Webinars and Webcasts — Opposite Sides of the Same Coin
Engaging with your audience is an excellent marketing strategy, and webinars and webcasts are both top-notch vehicles of interaction. Each one serves different purposes, so assess your goals and resources to choose the format that'll best help you achieve your business objectives.
If reaching your audience in a more authentic way is what you're after, Demio is here to serve you. You can easily get started for free and have your first webinar up and running within minutes.
Not ready to commit just yet? No problem — simply book a demo to learn more about Demio's offering to help you decide.

Frequently Asked Questions About Webcasts and Webinars
Which Format Is More Suitable for Large-Scale Events?
A webcast can accommodate a larger audience and has a broader reach than a webinar, so, for large-scale events, a webcast is the better option.
Can You Monetize Webcasts and Webinars?
Yes. One way to monetize webcasts and webinars is to charge a small fee to reserve a spot or access content (although most webinars are free to attend). Audiences can also take advantage of discounts and promo codes sent to them after the event as a thank you gift.
How Can I Measure the Success of My Webcast or Webinar?
Your webinar platform's analytics features can remove the headache of determining your webcast or webinar's success. You can also measure performance by collecting audience feedback and through conversion rates.