A strong webinar marketing funnel requires tracking metrics and setting ambitious but attainable webinar goals. Of all the metrics that gauge the effectiveness of webinars, attendance rate is one of the top. This important webinar benchmark enables you to reach your goals and increase your webinar ROI.
In this guide, we'll cover:
Why attendance rate is important
Content marketing strategies to maximize attendance rate
Simple tips to attract a wider audience
How to capitalize on a higher attendance rate to drive home a successful webinar

What Is Webinar Attendance Rate?
Webinar attendance rate is a key performance indicator (KPI). It's the ratio between the number of people who register for your event and the number who actually attend.
Attendance rate is one of the most important webinar stats because it gauges event marketing success and enables marketing teams to diagnose shortcomings in their registration follow-up. Along with engagement metrics, it also paints a more complete picture of webinar engagement for event organizers.
How to Calculate Webinar Attendance Rate
Webinar attendance rate can be written as a "x:x" ratio or a percentage. To calculate it, you divide the number of attendees by the number of registrants. For example, if 100 people register for your event and 20 attend, the calculation would be: 20/100 = 0.2. The ratio of webinar attendees to registrants is 1:5. To find the percentage, simply multiply the decimal result by 100. In our example, it would look like: 0.2 * 100 = 20%.
The webinar attendance rate is one of, if not the most important indicator of your content marketing strategy's success. Inevitably, some people who register won't show up to the event. People get sick, become busy, or otherwise find themselves unable to attend. But, if you have significantly more registrants than attendants, something is amiss.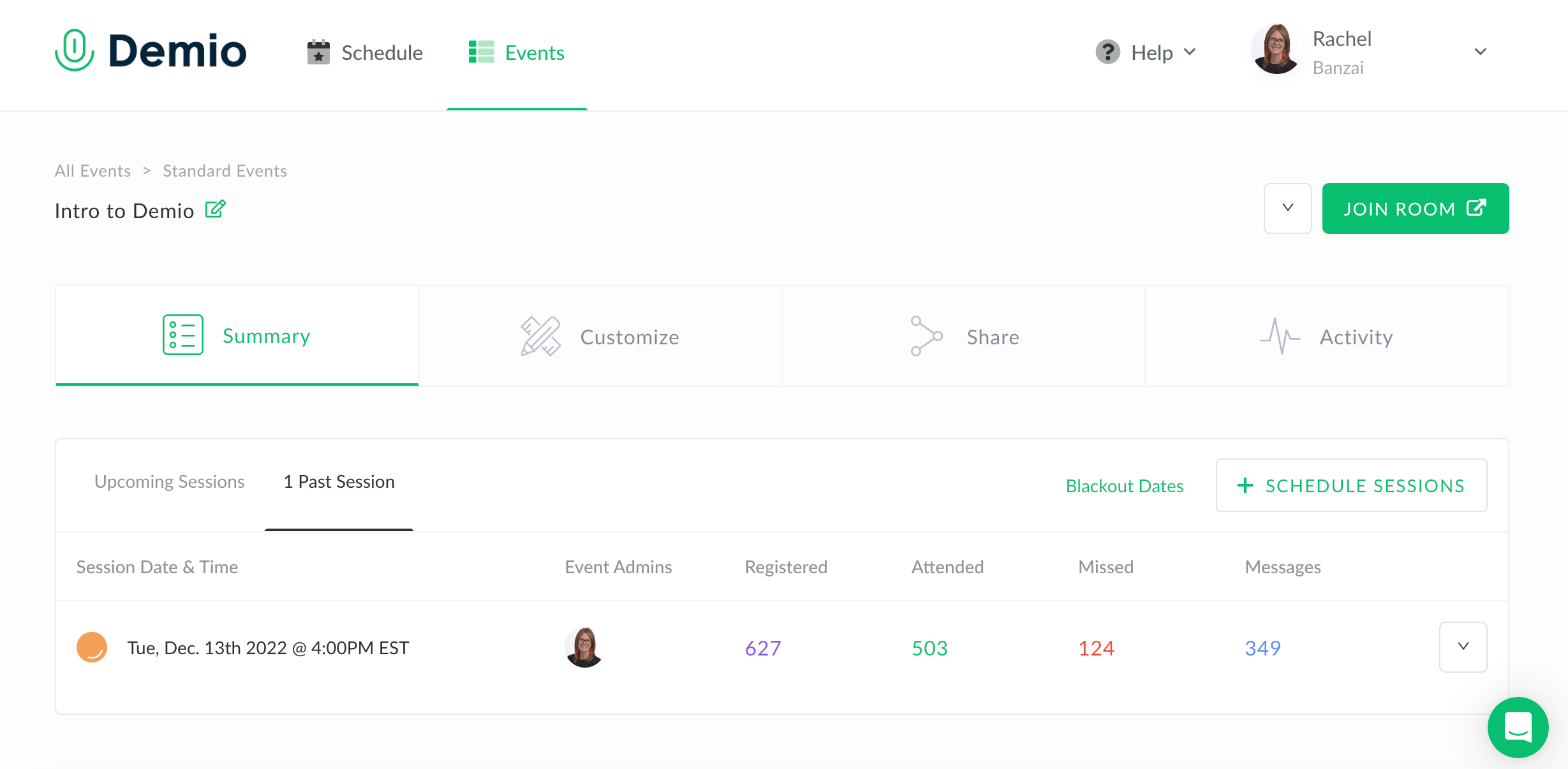 The Importance of Webinar Attendance Rate
When combined with other KPIs, webinar attendance rate functions as part of your strategy diagnostic. It measures the efficacy of:
Your content marketing for your webinar
Your email marketing, social media posts, and other follow-up tactics
The number of high-quality versus low-quality leads you attract
Attendee experiences in past webinars
It's important to keep an eye on all of these points. Successful webinar promotion entails building a well-oiled machine to maintain or increase your attendance rate and support your other KPIs.
Webinar Attendance and Conversion Rate
Webinar promotion is key to gaining more registrants. However, an incomplete approach to event advertising may lead registrants to sign up and then lose interest or simply forget about attending the webinar.
However, you can bridge the gap between lead generation (i.e., webinar registration) and number of attendees in several ways. By looking at adjacent statistics, you'll see more registrants make it to your webinars.
Factors That Influence Webinar Attendance
Below are some major factors that influence what portion of registrants become attendees. They can all improve your attendance rate if addressed properly.
Topic Relevance
Your webinar topic significantly affects attendance rate. If it aligns with audience interests in a meaningful way, more registrants are likely to attend.
If your webinar looks entertaining and informative but lacks relevance to your average user, this may explain a large gap between registration and attendance numbers. Focus on crafting problem-solving webinar content that's genuinely useful to increase your average attendance rate.
Promotion
As we've shown, although someone may register for your webinar, that's not a guarantee they'll attend. Several things can happen between the time they fill out your registration form and the day of the event. However, you can avoid many of those obstacles with strong webinar promotion.
Email and social media are two powerhouse channels to spread the word about your virtual event. Adopt automated email marketing tools to send registrants timely reminders about the upcoming date, along with teasers of what to expect. Also, post sneak peaks and other enticing content on your website and social media accounts to draw in a crowd.
Date and Time
Timing is a seemingly simple factor that can have a major effect on attendance rates. Often, registrants are genuinely interested in your webinar, but when the live date arrives, they may be busy, tired, or otherwise unable to attend.
This is a critical element to get right when you have a diverse, international audience. It can be challenging to find the right launch date for everyone when people live in various time zones.
Also, keep in mind your average customer's work and sleep routines. The best days for webinars are often on the weekends, as registrants may have more flexibility to attend for live events.
A smart way to approach online event scheduling is to offer on-demand webinars. These are automated virtual events that recur according to a set schedule and can be viewed whenever it's convenient for the viewer. On-demand webinars can be just as engaging as live webinars with excellent speakers and a strategic combination of engagement features.
Speaker Credibility
Your choice of speaker influences the number of qualified leads who attend your webinar. Niche experts who are respected in your industry can improve your attendance rates. Make sure you promote your speaker's credibility in promotional emails, registration pages, landing pages, and other marketing tactics such as LinkedIn.
Lead Quality
Attracting high-quality leads is a common webinar challenge. But, with proper messaging and the right offer (speaker, content, etc.), most of the leads you draw in will be warmed from the start. That, in turn, could increase the number of registrants who end up attending your webinar.
Tips to Improve Webinar Attendance Rate
Let's dive into strategies for webinar attendance optimization. Below are some of the must-haves to include on your webinar checklist.
Compelling Event Titles and Descriptions
Your title is the first touch point potential leads encounter with your online event. The event description comes next and so is equally important.
To capture webinar leads, develop compelling and honest titles and descriptions that explicitly convey the contents of the event. Center your title and description around the benefits attendees can expect from your webinar.
Speak to your audience's needs in their language. That means addressing their pain points and desires and communicating how you'll help them fix these issues.
You can write strong copy by referring to forums, news, and other content in your niche. Audience research is key to crafting attention-grabbing titles and descriptions.
Use verbiage that builds anticipation and optimize SEO while keeping general credibility in mind. A good title and description will speak to audience needs first but check all of these additional boxes as well.
Timely Email Reminders
Email marketing and webinar promotion are a powerful combination. Although email shouldn't be your sole reminder method, it significantly drives attendance.
Email reminders reduce no-shows by alerting each member on your email list about your event. They set expectations while simultaneously building anticipation with sneak peeks and other tempting content, which improves attendee preparedness during the lead-up to the webinar.
Even after the event ends, email marketing is a crucial tool to maximize your webinar conversion rate.
To make the most of email reminders, keep in mind these tips:
Segment your email list by lead quality.
Personalize emails with email marketing software.
Set up an automated email reminder series on a well-timed schedule.
Maintain a good cadence, such as once per week until the week of the event, then every two days, then one each day for the last three days.
Use catchy subject lines that match the tone of your titles and descriptions.
Include clear CTAs that build anticipation ("Click to join now," "Save my seat," etc.).
Include attractive visuals and make sure any links are well placed and function properly.
Employ templates that match your brand imagery and create consistency in your messaging.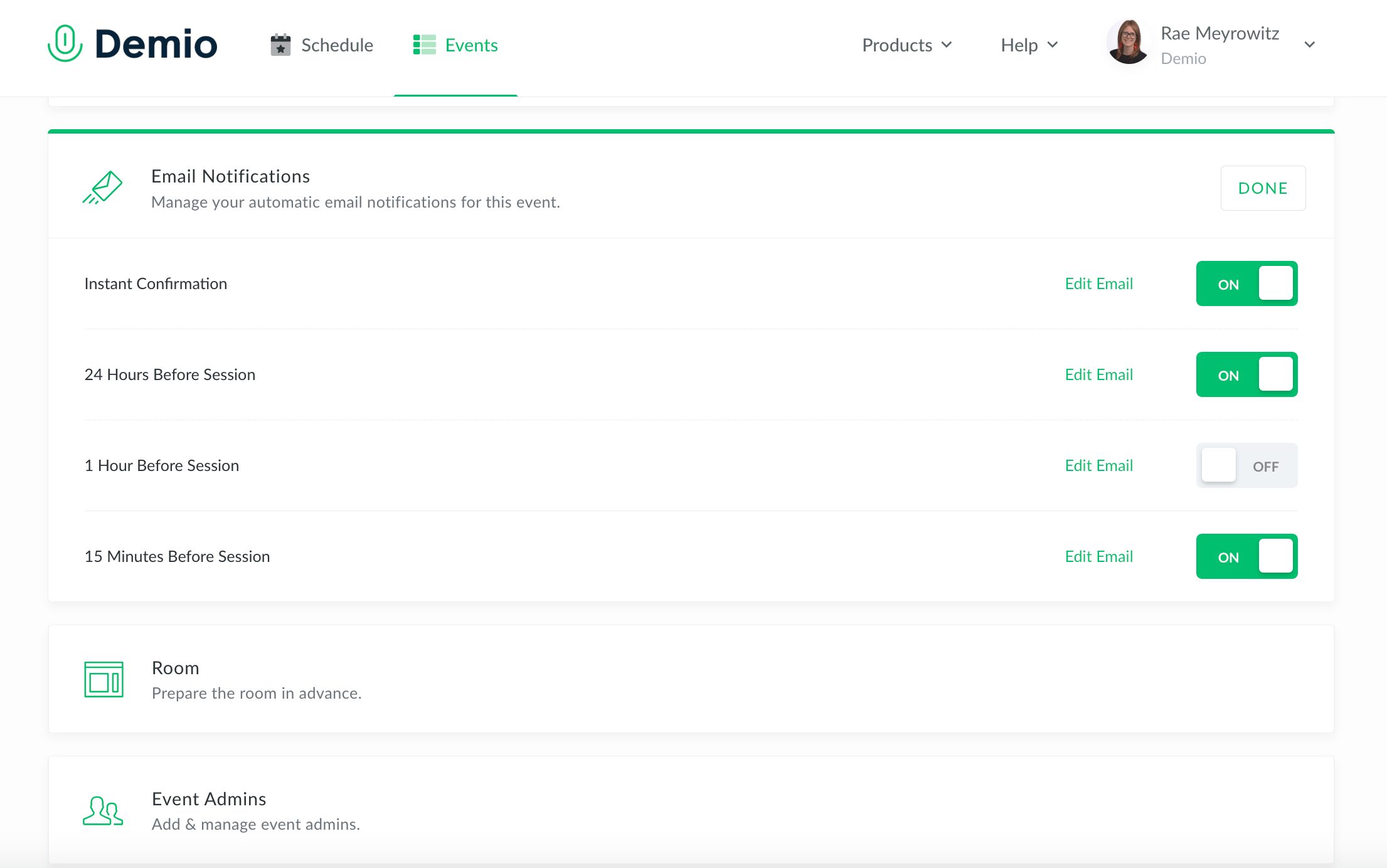 Interactive Content
Engagement plays a big role in your present and future audience numbers: Imagine someone signs up for a webinar series. But, after attending one, they found it underwhelming and decided it's not worth it to watch the rest.
This is a common pitfall when constructing virtual events. To build interactive and engaging webinars, they need to break up the presentation and encourage audience participation through elements of fun.
The webinar platform Demio understands the importance of engagement to webinar success and so offers a suite of interactive features like:
Polls
Q&A sessions
Interactive elements
Featured actions
Handouts
Breakout rooms
@ mentions
These features require action from the audience, which keeps them awake and engaged. Watching video content without accompanying interaction produces a static experience that's unlikely to inspire an enthusiastic response. But when you encourage active participation, it keeps viewers attentive so they're more likely to come back for more content.
Additionally, Demio's engagement features come with built-in analytics. They show you who engages and how much so you can assess the effectiveness of the interactive elements you include in your events. This enables you to refine your webinar experience for optimal engagement — and return attendance.
Record and Share
Recording webinars automatically is also built into Demio and can help maximize the effectiveness of your content.
You can record your virtual events and then edit them into on-demand webinars. This gives you a much broader audience reach with far less overhead. It also extends the shelf life of your live event through on-demand viewing.
Which is better? Read our article on Live vs. Pre-recorded Webinars to learn the answer.
Look through your webinar video content for marketing material as well. Insightful, interesting, and funny moments are excellent for trimming and sharing online as sneak peaks to entice registrants. This kind of content is often used in viral marketing, event highlight reels, or similar methods of advertising. There are many ways to turn past webinars into promotional content that fuels your future attendance rate.
Measure the Success of Your Webinar With the Right Metrics
Attendance rate is only one piece of the puzzle. A successful webinar encompasses a great experience for those who attend that produces strong results for your webinar metrics.
The most important benchmarks are the KPIs that, when put together, drive an increase in webinar conversions, namely:
Registration count
Attendance rate
Engagement metrics
Conversions (SQLs)
Audience feedback scores
Revenue
Costs
Attendee drop-out rate
Attendees-to-leads ratio
Replay requests
Your attendance rate is crucial, but other measurements are necessary to paint a full picture of your event performance.
Engagement rates, for instance, are among the most important and deserve special attention. That's why Demio focuses on viewing time and engagement metrics. On the platform, you can see how long people were focused, when they stopped paying attention, and at what point they left the webinar.
Strong engagement in one webinar leads to greater attendance in the next.
Attendance rates rely on engaging and useful content. This is true of both online events and in-person environments. When your marketing funnels are fully operational, engagement is the last barrier to optimized attendance rates.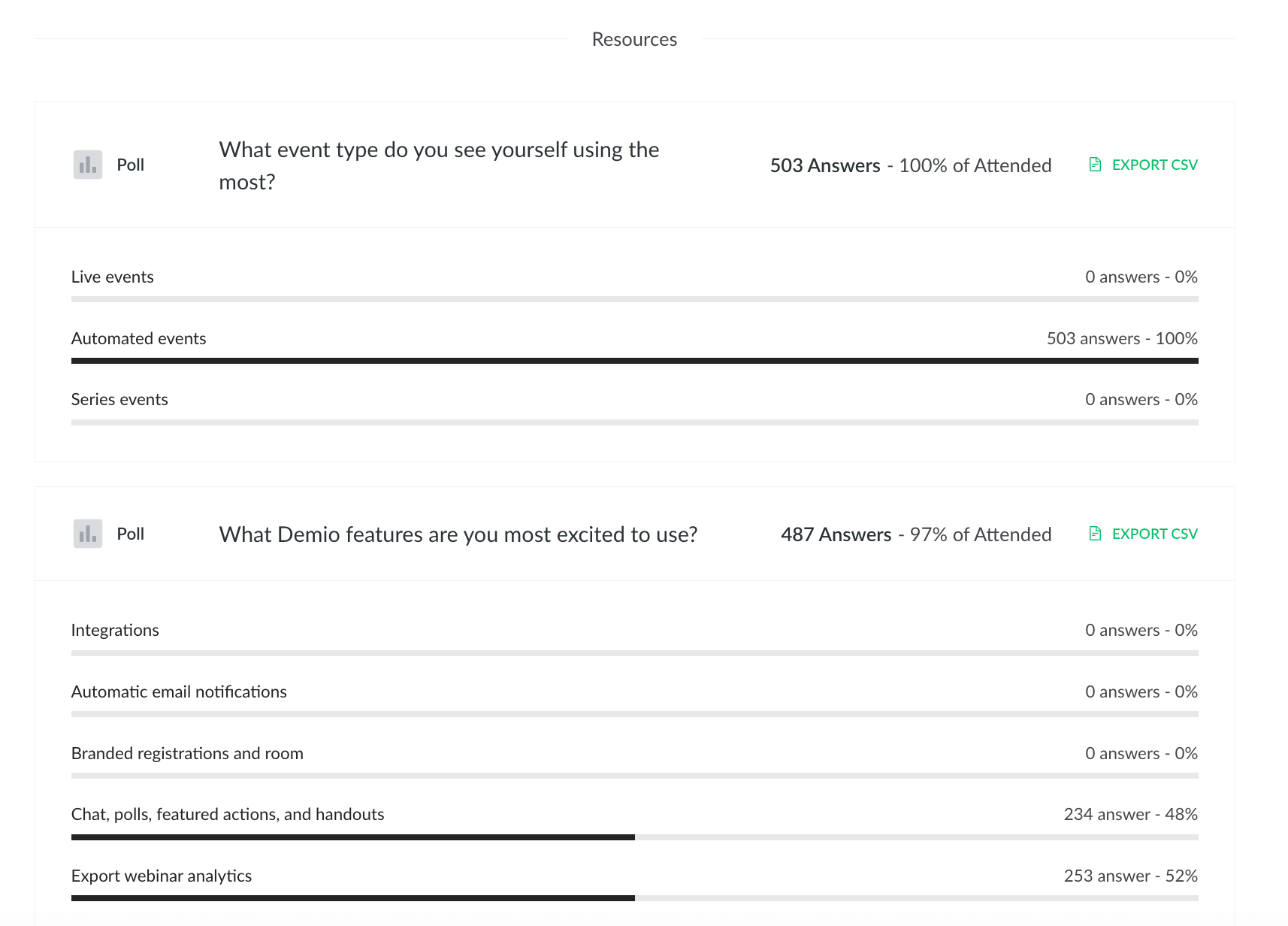 Maximize Your Webinar Attendance Rate
Webinar attendance rate is indicative of your event's overall success and so shouldn't be taken lightly. Both internal and external elements affect it, including the relevance of your webinar topic, the breadth of your promotional efforts, and even the chosen date and time of your event.
By implementing the tactics outlined in this article, you can boost your attendance rate for your current and future webinars and, in turn, up your conversion rate. You can streamline these strategies with the right choice of webinar software. Demio provides multiple tracking tools to determine your webinar attendance rate and other metrics, along with other tools to maximize it through engagement.
Book a demo to see how Demio can transform your virtual events into high-converting assets for your brand.

Frequently asked questions about webinar attendance rate
What is a good webinar attendance rate?
A webinar attendance rate of 40%–50% is good in most industries. Over 30% is often considered adequate, but lower rates point to problems in the host's funnel.
Are no-shows a reflection of poor content?
Possibly, yes.
No-shows occur for many reasons, some of which are personal and completely beyond your control. But if no-shows are continuously high despite the marketing team's best efforts, either the content or its delivery needs improvement. It may be audio or video issues, which is why audience feedback on content and the quality of delivery is crucial.
Should I offer recordings of my webinars?
Yes, you should always offer recordings of your webinars. It's standard practice and is a great opportunity to satisfy attendees with a freebee or an upsell. Automatic recording is a built-in feature on most webinar platforms.