If your audience doesn't feel like they're getting something valuable from your webinars, what's the point of hosting them in the first place? Audience engagement is almost entirely dependent on how much interactivity you introduce into your sessions (and how well it's executed).
Webinars are meant to give your audience the same experience they'd have if you hosted an in-person event. The benefit of digital over physical events is that you can achieve a broader reach, and your attendees enjoy more freedom over how they choose to attend (especially if you automate your webinars so attendees can attend at a time that's convenient to them).
You can incorporate different webinar engagement activities to make them more interactive, in turn building trust with your audience while increasing brand familiarity. Interactivity in webinars helps your brand stand out and ensures a repeat audience.

Benefits: Why Is Interactivity Essential in a Webinar?
From building your brand to gaining the trust of your audience, engaging interactions are a must for every webinar and online event. If your audience only wanted to watch a performance, they could simply turn on their TVs or head to social media. They're watching your webinar so they can be part of the discussion, so let them.
Build Trust
Foster trust with your audience by actively speaking with rather than to them. This creates a bond between your brand and your consumers, which leads to deeper audience loyalty and higher conversion rates than a pre-recorded virtual event.
Grow Your Network
Forming genuine and authentic connections with your audience will grow your brand more effectively than any other marketing strategy. Engagement marketing focuses on personalizing email campaigns, targeting your audience with polls, surveys, and feedback questions, and providing a valuable webinar experience for every audience member.
The genuine relationships you build with your targeted segment today will boost your sales funnel and lead to stronger prospects in the future. Actively include your audience in every live event you host (and fill your pre-recorded events with interactive elements as well) and you'll see great results.
Increase Retention
It's one thing for attendees to see your webinars through to the end; it's another for them to retain what they've learned. If your audience can't remember your takeaway message or anything you've presented to them, you've wasted their time (and yours).
Break up webinars with engagement sessions and features to maintain the audience's attention. When you surprise attendees with random poll questions, CTAs, group games, and more, they're more likely to stay on their toes and pay attention throughout your live event.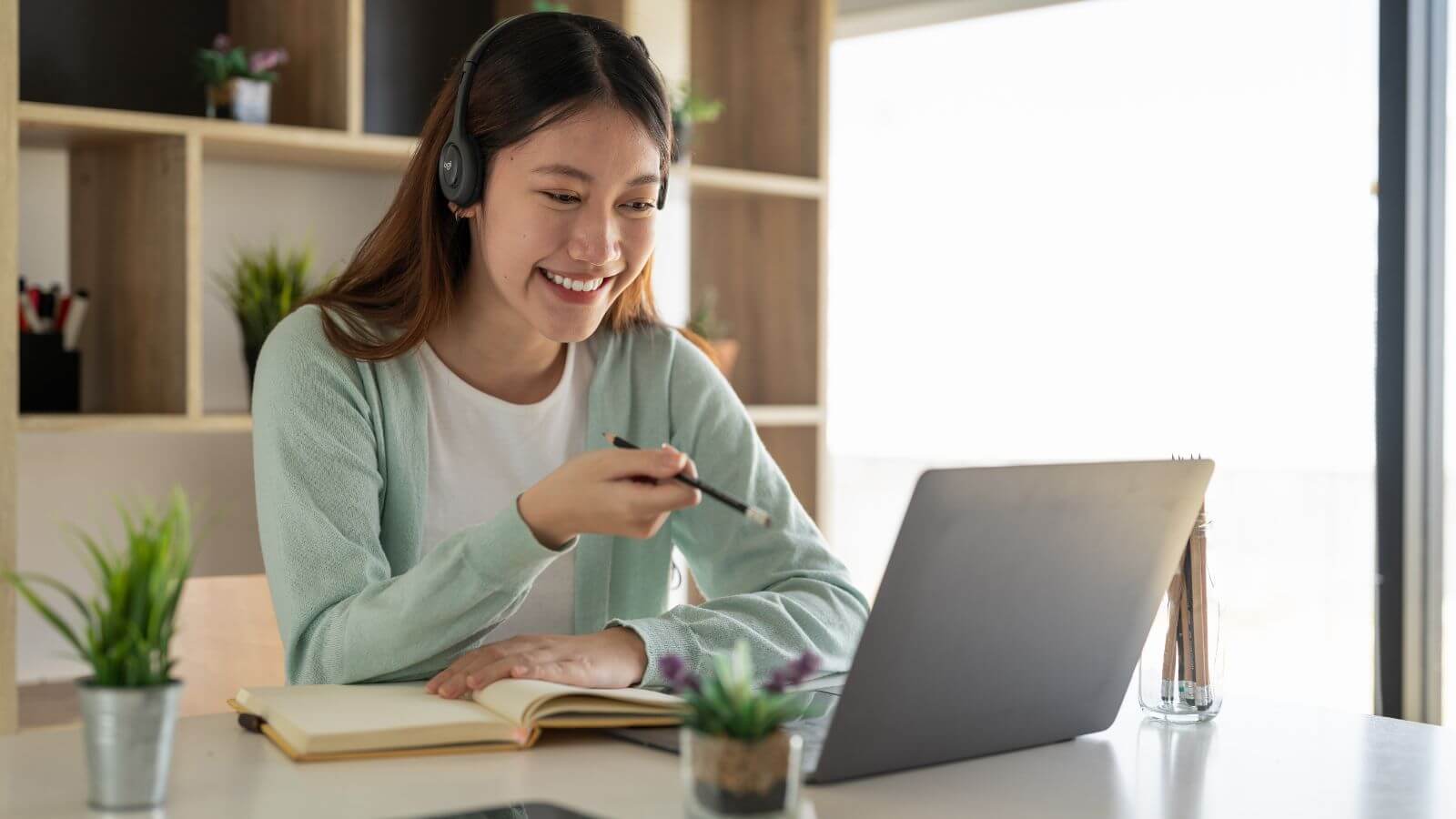 7 Steps for More Interactive Webinars
Live webinars are as interactive as you want them to be. You can go off-script and run a live poll when you see attendance numbers dropping, or toss out an upvote session when you see chats start to lull.
Switch up your webinars by featuring multiple guest speakers, random CTAs, and other incentives to increase consistent audience engagement and keep your attendance high. Opportunities to participate will hold your audience's attention as they eagerly await to get involved.
Here are highly effective interactive strategies to incorporate into your next live webinar.
Ask Questions
Periodically check in with your audience by asking them, "Was I clear?" or "Does anyone have anything to add to what we just covered?" This keeps your audience engaged in your webinars and lets you know your messages are well received.
You can also begin events by asking your audience what they most look forward to learning, which prompts them to put their responses in your public chat box. Unmute your audience and let them share their expectations live to put them center stage.
Note: Avoid asking so many questions that you derail your webinar presentation and drown out the entire message. Insert questions periodically to fill gaps between speakers or to re-engage tired or distracted audience members.
Send a Live Survey
Boost audience retention by creating webinar surveys to hand out during your live event. Attendees can upvote certain suggestions and polls and even submit their answers publicly.
A survey gauges how your audience feels at that moment. Their questions can be directly tied to your webinar or target audience members themselves. Keep surveys short with just a few questions. Break up longer ones so your audience enjoys pop-up interactions throughout the session.
Note: Consider sending a final survey at the conclusion of your webinars. Follow-up surveys give valuable feedback and keep your brand fresh in the minds of your audience post-event. Demio allows you to use polls and surveys during and after your webinar with ease.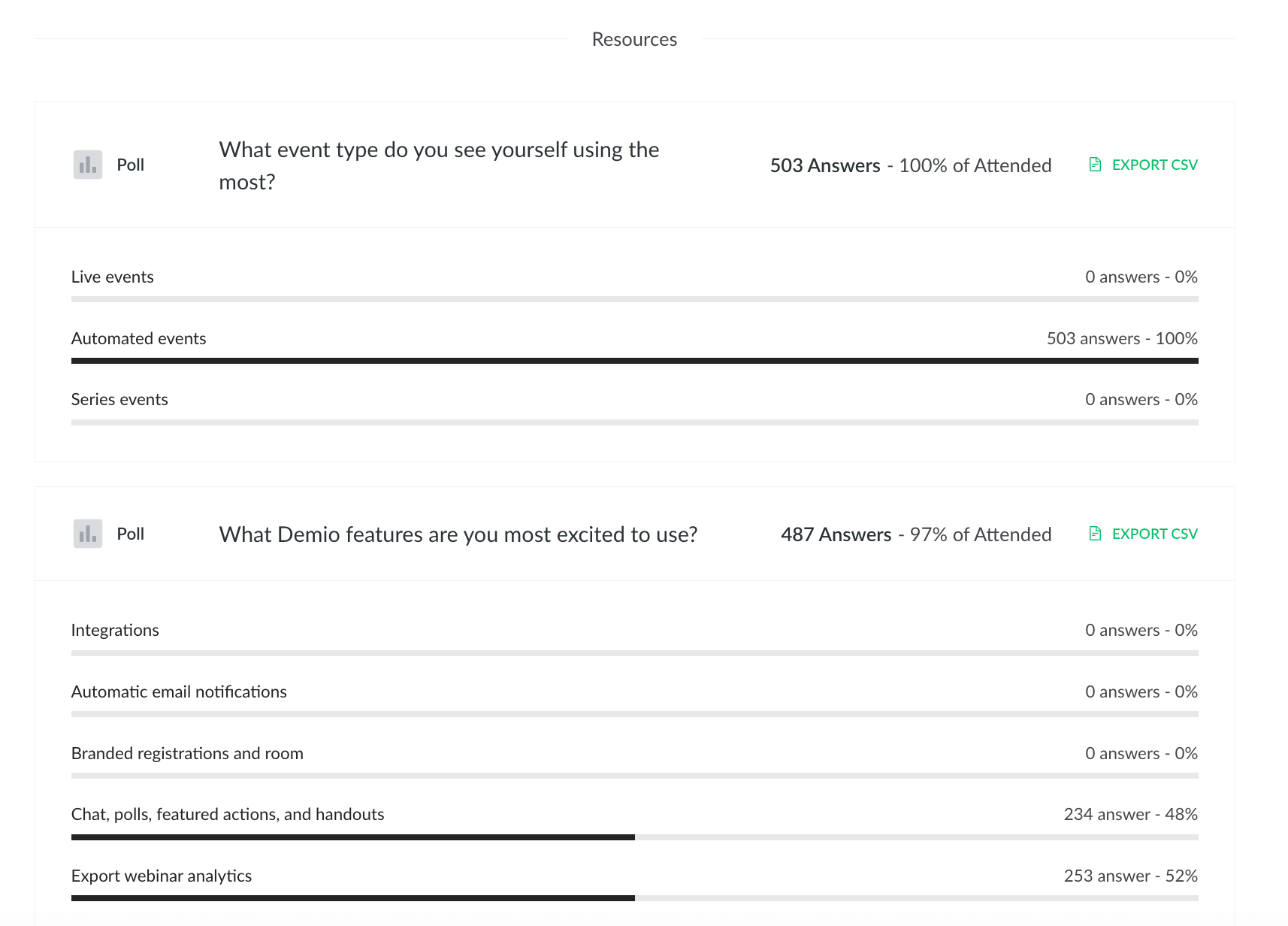 Quiz Your Audience
Similar to surveys, you can keep your audience interested and entertained by randomly quizzing them about the topics covered in your webinar. Want to introduce even more fun? Divide your audience into teams and have them compete. Those who answer the most questions correctly can win a prize!
Not only does this test how well they pay attention, it also allows you to see which of your attendees are most engaged in the activity. High contributors can be pulled aside for private chats or be separated into a breakout room for a private session where you can get to know them better.
Note: To make quizzes more enjoyable, let your audience know at the beginning of your webinars that you'll randomly quiz them throughout and offer prizes with the best rewards going to top contributors. However, if an audience member would rather not participate, don't push them, as it can place unwanted pressure on them and diminish their experience.
Spark a Discussion
Webinars are best delivered in a conversational manner, and sparking a discussion between yourself and your audience will help build a bond that deepens your connection with your audience.
No matter the topic, make sure your delivery feels more conversational than lecturing. Share a two-way screen with your audience members as you speak to enhance engagement.
Note: Choose webinar software like BigMarker or another alternative that allows you to mute and unmute your audience, share screens, and place your attendees center stage as needed. This gives you more control during discussions without distracting participants. Demio is a strong option in this regard, as it allows you to bring audience members to the stage, provides easy two-way communication, and offers chat functionality to make discussions even more engaging.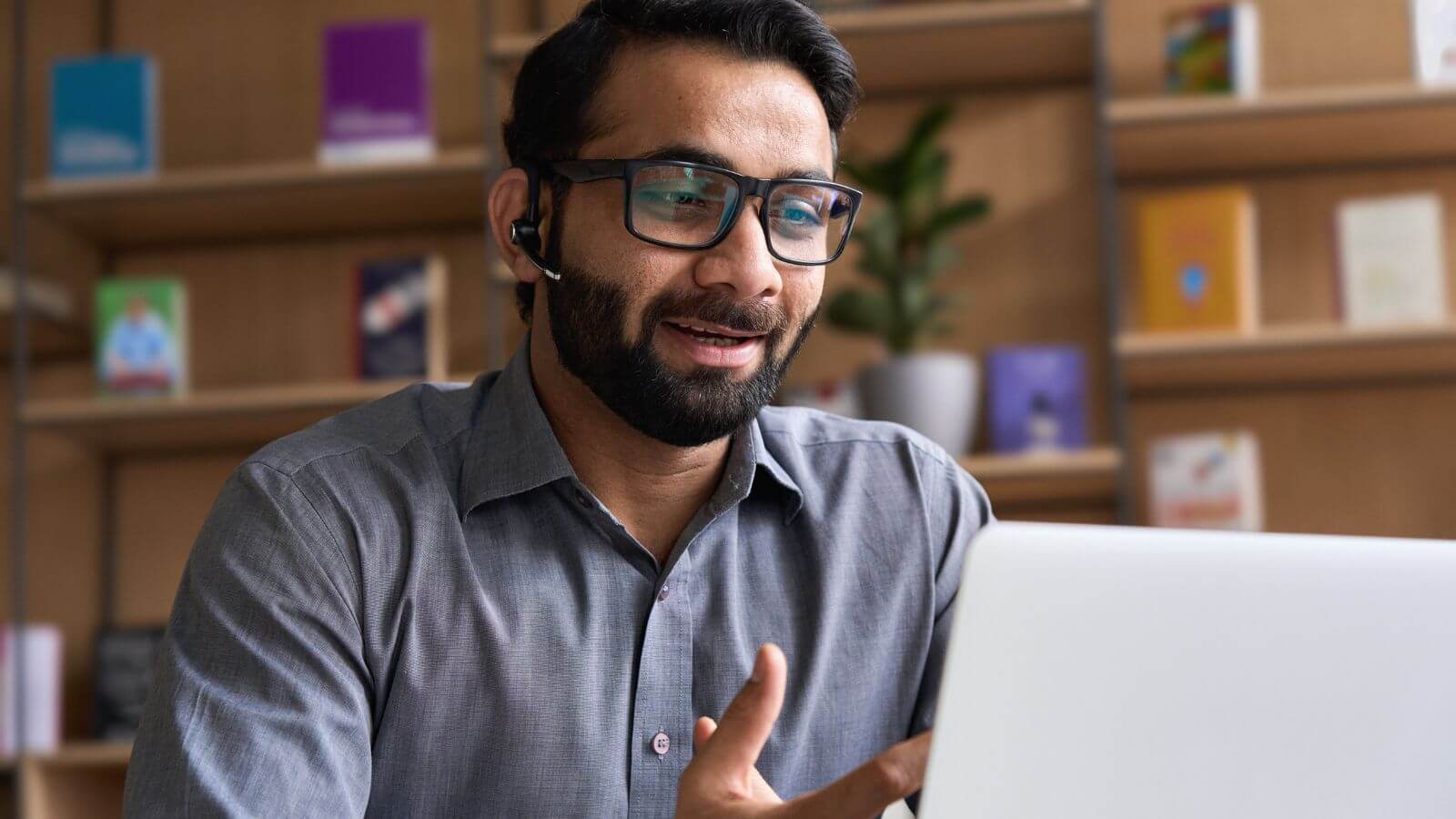 Give Audience Feedback
Contrary to what you may believe, your audience loves receiving healthy feedback on their own projects or real-life uses of your products and services as they are related to your brand. Whatever is relevant to your webinar, give feedback as part of your presentation. Invite audience members in advance of your webinar to bring their questions, comments, and real-life experiences with your brand to the table for your critique and feedback.
Why do audiences love critiques and why should you offer this interactive feature as part of your webinars? Because your audience trusts your judgment and expertise, and you position yourself as an industry leader when you offer healthy and positive advice. A healthy critique may just be the most impactful way you can reach a fickle audience and help those currently using your brand make the most use of it (while also allowing audience members new to your company to learn the best way to benefit from your brand).
Note: It's wise to check with attendees in advance to ensure their offerings for criticism are in sync with your webinar's topic. Choose a platform like Demio that will allow you to seamlessly interact with your audience and give each audience member one-on-one attention without disrupting the flow of your session.
Set a Challenge
If you plan to host several webinars as a series, challenge your audience with homework they can present at your next webinar. Homework keeps your audience actively engaged in your brand and message and ensures they'll return for part two, three, and so on.
The challenge should be achievable and directly related to the present subject matter. Ultimately, it should also help your audience further their understanding of your teaching.
Note: Your email registration strategy comes in handy here. Send reminders and customized emails to keep attendees motivated and on task until your next webinar, where they can present their works. Demio is a great platform in this regard, as it enables you to maximize the power of email with little effort.
Hold a Q&A
Holding a Q&A session where you or your panelists answer questions from the crowd is an excellent way to address your entire audience and let them participate in the live event in a simple and easy way while providing greater clarity on your presentation. You can run a segment entirely via a public chat and even have audience members answer one another's inquiries for greater interaction.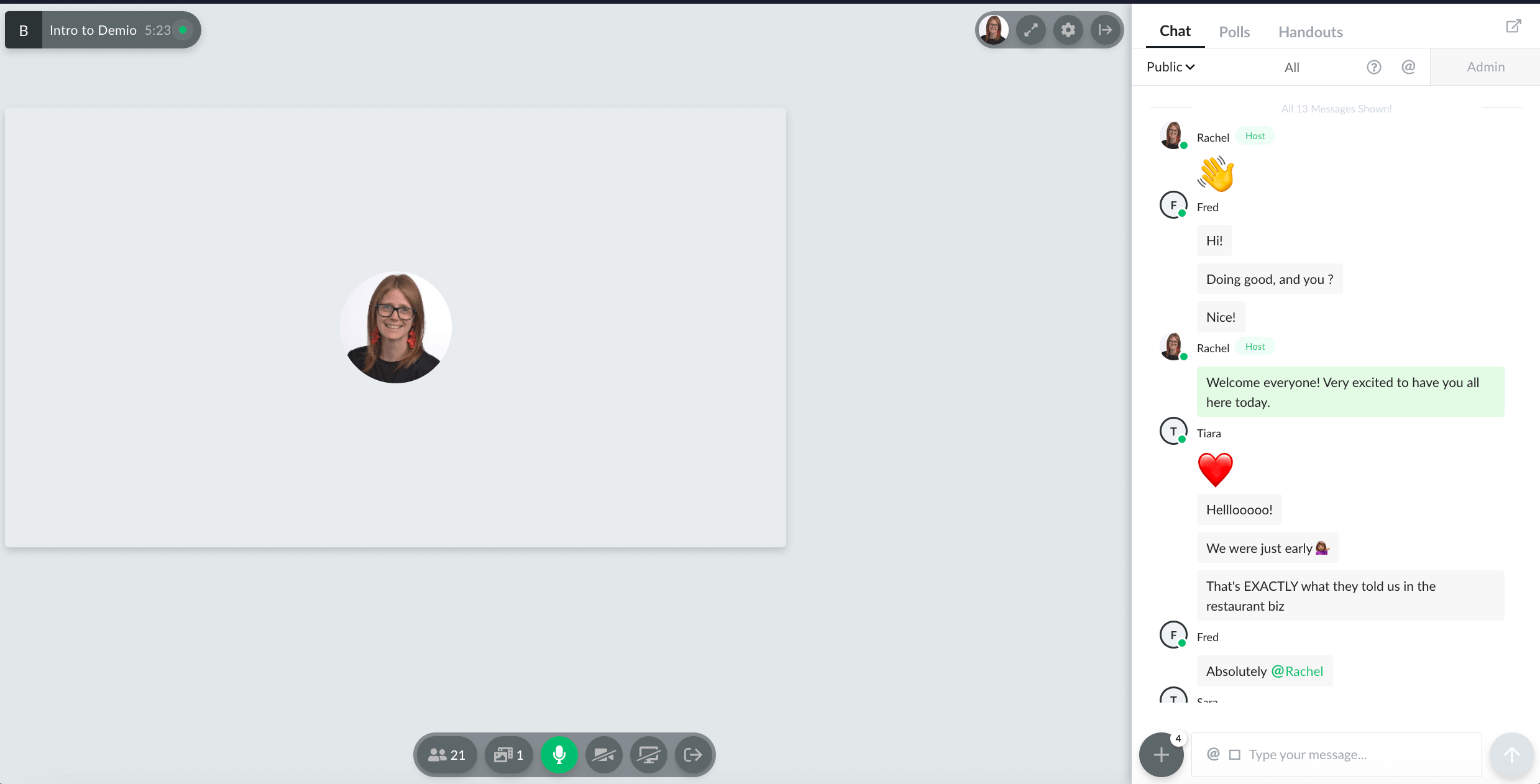 Tips to Encourage Attendee Engagement
Engaging your audience begins before the event, and your efforts need to remain at top speed during it as well so they'll watch the whole session. The following tips can help you gain more attendees for your webinars who stick it out until the end.
Craft Catchy and Compelling Titles
Think of titles that bring value to your attendees. Engaging webinar titles should tell people in advance what they'll learn. For instance, titles like "Five Ways You Can Increase Your Email Response Rate" or "Seven Strategies to Encourage Sideline Sales" will receive greater weight from your attendees than "Join Our Webinar" or other headlines that fail to explain clearly what's in it for them.
Although this tip is geared towards registration engagement, it also influences your promotional efforts; after all, you have to convince people to join your virtual event in the first place. A catchy and compelling title piques interest and prepares your audience for what they can expect to gain from your webinars instead of leaving them guessing.
Plus, the more intriguing a topic is, the more likely your registrants will be not only to attend but also offer their own input during the session. Up the chances of registrants turning into attendees by giving them a sneak peek into the featured actions you'll showcase in your webinar or a snippet of past covered content on similar topics.
Focus on Creating Engaging and Informational Content
Again, your audience is taking time out of their day to attend your webinar, so cut out the fluff and stick to useful and educational content. (This is where the aforementioned suggestion to ask your audience what they want to learn most from your webinars comes into play.)
The format you choose for your webinars can make them more arresting, particularly if your topics are more informational and one-sided in presentation. Product demonstrations, Q&A sessions, and panelist discussions are great ways to impart weighty content while encouraging your audience to stay attentive throughout.
You should also break up longer topics into shorter segments so attendees can more easily absorb the information. Test their engagement (and how well your interactive efforts are working) by reviewing covered topics before moving to the next one.
Add Interactions Every Few Minutes
These little "comprehension checks" measure your audience's attentiveness and will bring attendees back if they've fallen behind or lost interest in your presentation. A great interaction to incorporate is a short and fun game (perhaps a quiz on what you've covered thus far) where audience members can work alone or in groups toward a goal. Scatter them throughout your sessions to break up the presentation and spark the audience's gray cells to wake up.
How to Measure Engagement Success
Track engagement during and after your live event to gauge your success. Choose a webinar platform that allows you to analyze how interesting your webinars are in real time. Metrics to track include attendance rate, number of chat responses, social engagement (e.g., number of clicks, people who responded to a quiz or survey), and more.
Demio allows you to download CVS engagement data for analysis, and integrations enable you to sync data with MarTech Stack for added convenience and easier tracking. Consider webinars for marketing teams to help you understand ROI and other measurements that reveal engagement success.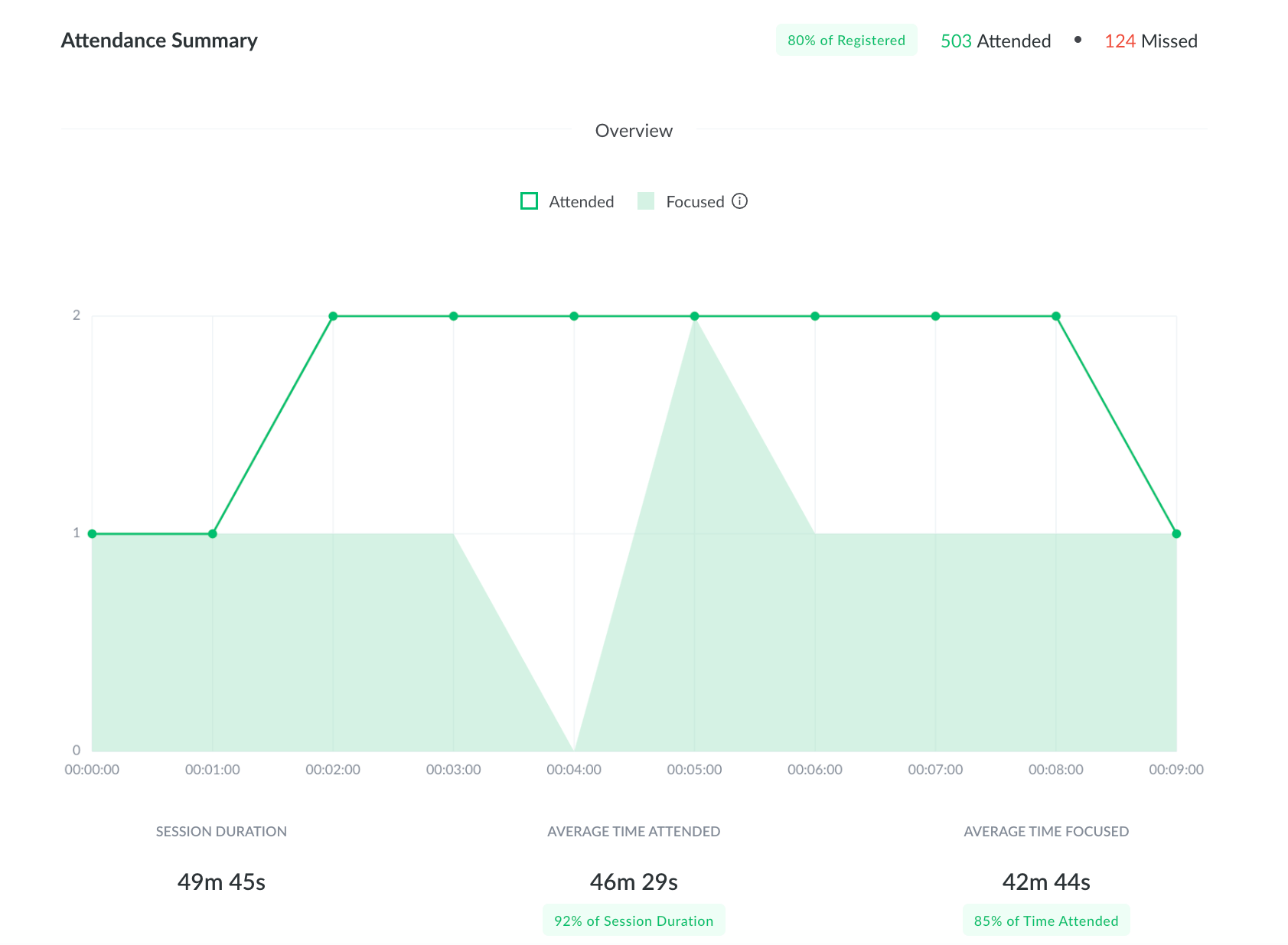 Prerecorded Webinars and Interactivity
Prerecorded webinars are an appealing option because attendees can join the session at their convenience. However, they lose the live aspect of interaction, which is a significant disadvantage. To keep engagement strong in your prerecorded webinars, employ various on-demand webinar tools and features.
For example, with Demio, you can insert polls, handouts, and featured actions to provide your audience with lots of opportunities for interaction. Want even more participation? Use Demio's chat feature to schedule interactions with attendees in real time while they watch your prerecorded virtual events. You can participate yourself or assign a moderator to man the chats for prerecorded webinars.
Wrapping Up — Webinar Interactivity Is a Must
The more interactive your webinars are, the better your audience engagement and retention will be. Incorporate some (or all) of the interactive tools we've discussed, then analyze their impact on your event's success by looking at relevant metrics. Growing closer to your attendees lays the foundation for deeper relationships that'll help expand your business and secure loyal followers. Ready to make your webinars more interactive and fun? Give Demio a try. You can get started for free or book a demo to see this first-rate platform will kick-start your engagement efforts.