You've likely attended at least one live webinar in your career. These online events are an excellent way to communicate with a wider audience across the globe without leaving your living room. As such, many businesses both new and established are employing them to generate audience engagement and for other marketing purposes.
If you're not already hosting live webinars, this is one bandwagon you should jump on.
They're an effective medium for communicating with your team members and reaching your target audience. Our team at Demio aims to help you grow your brand with confidence. In this article, we'll teach you what a live webinar is and how to create a successful presentation, step by step.

What Is a Live Webinar?
A live webinar is an interactive presentation that occurs in real time. Live stream presentations, such as onboarding and training sessions, classes, how-to presentations, and panelist discussions, are broadcast to live audiences across the globe — all viewers need is an internet connection.
How Do Live Webinars Work?
Companies use live webinars to gain a wider audience reach. They work similarly to an in-person presentation, where attendees receive information on a topic of shared interest. Audience members can see and hear the presentation and even engage in Q&A sessions, live chat, polls, and other engagement features available in the host's webinar platform.
Live webinars are often free to attend but do require registration so hosts can track who registers versus who actually attends. Virtual events run in real time are limited in terms of participant numbers, similar to an in-person presentation.
Benefits and Advantages of Live Webinars for Businesses
Live webinars are excellent for achieving marketing and audience engagement goals. Several webinar formats are available for hosting a live event, from a classic panelist discussion to a riveting Q&A session. Regardless of what stage your business is at, it can enjoy the many benefits and advantages of a live webinar. 
✅ Lead Generation
A live webinar aids lead generation because it attracts targeted leads who are interested in your subject matter and advertisements; they're the ones who will click on the registration links on your website or webinar landing page, social media channels, and personal or mass emails. Once these registrants commit to attending your online event, you know you've secured promising prospects. 
✅ Brand Awareness
A live webinar is an interactive experience, making it easier for your brand to relate and connect with your target crowd. Live webinars are more than a sales pitch; they allow your products and services to shine — all while you engage your audience to keep your name and intent in their minds.
A live webinar may have a more targeted reach than an on-demand webinar does, as it can be broadcast across the globe to audience members of your choosing as you promote your brand's benefits and your expertise in your industry in real time. While a live webinar may not have as wide of a reach as an on-demand service, the marketing efforts from going live can result in strong brand awareness with your audience.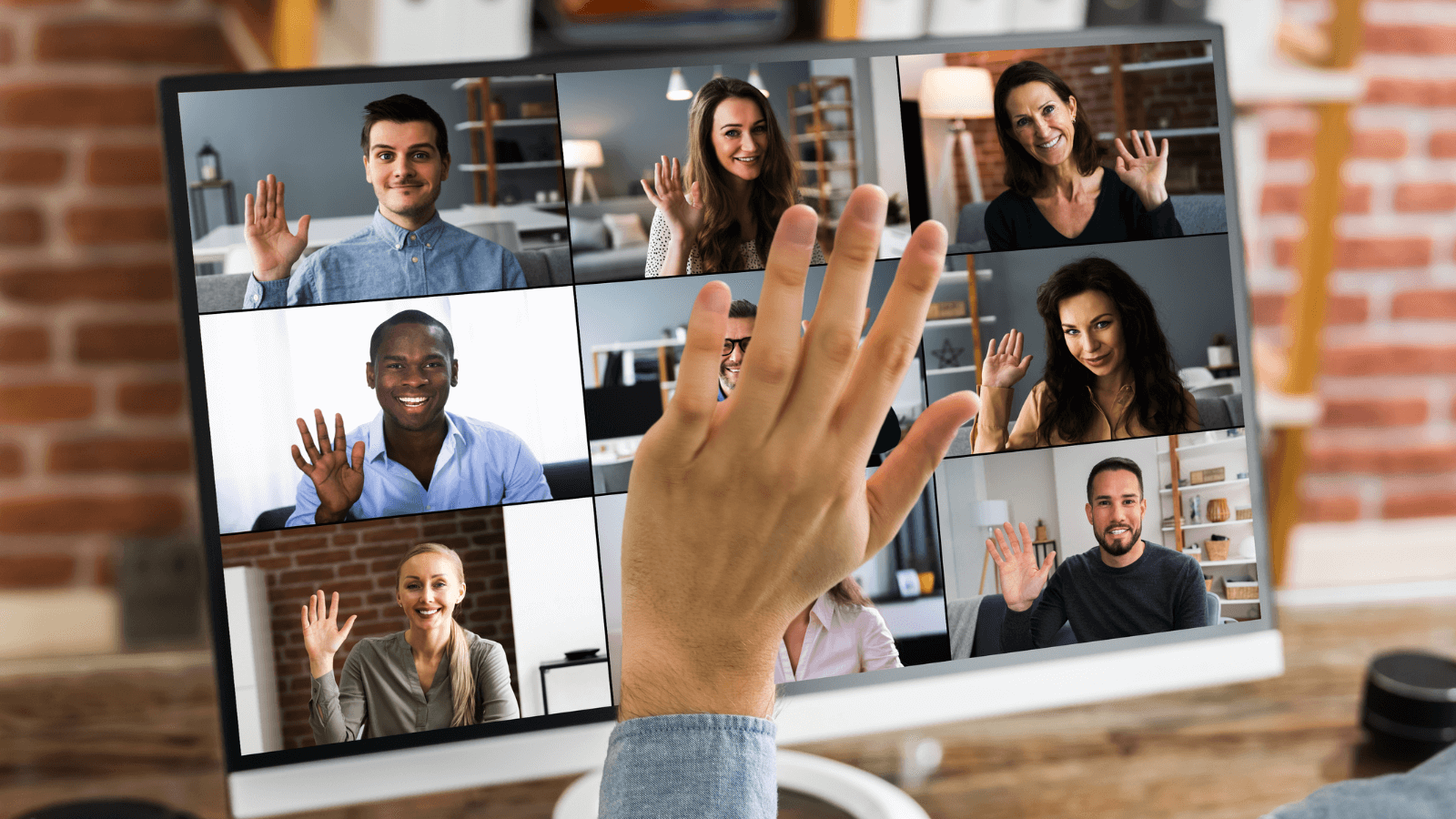 ✅ Establishing Industry Authority
With a sea of competitors vying for the same leads and customers as you, establishing authority in your industry is an excellent way to stand out from the crowd. Use live webinars to educate prospects about your brand and offer valuable insight about your industry. Just make sure what you share during your live webinars is relevant, current, and to the point; don't come across as braggy or overreaching.
✅ Real-Time Interaction
When you go live, you see how your audience responds and reacts to your presentation in real time. You interact with your crowd and feed off their energy, taking opportunities to supply featured handouts, discount codes, and other relevant information as your attendees gain interest.
Real-time interaction is especially important for lead generation. Gaining a lead? Send a prospect to the sales department by inviting them to a private chat. Losing a lead? Calls to action (CTAs) can regain interest and reestablish why your lead attended your webinar in the first place.
Interactive webinar platforms like Demio make engaging with your audience simple. Use public and private chats, upvotes, polls, and more to communicate with your audience, collect valuable feedback from them, and keep your event running smoothly.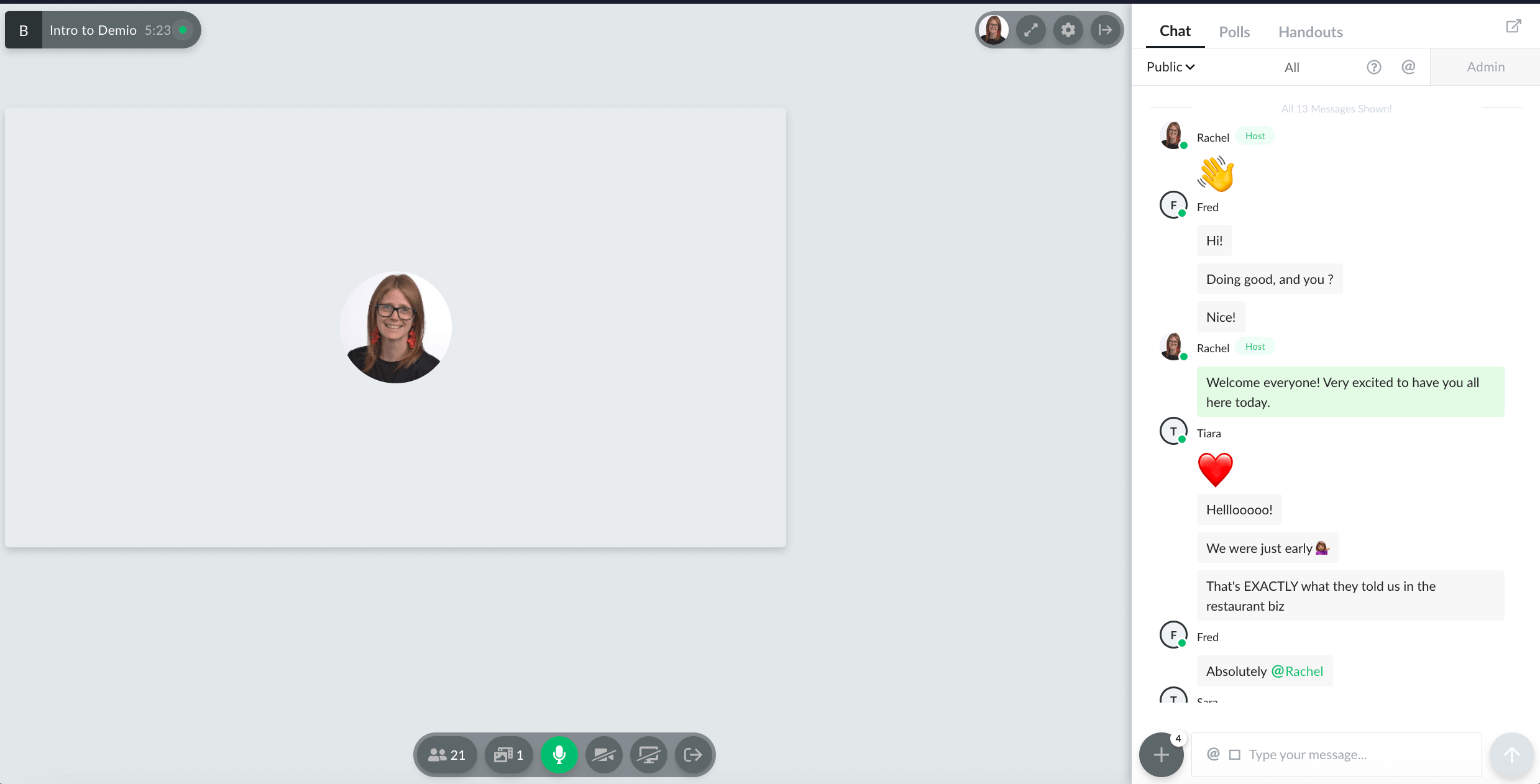 ✅ Audience Engagement
The ability to speak with your audience instead of giving them a lecture makes a huge difference in how well you engage your audience. Being able to retain your audience's attention is key to a successful webinar.
An on-demand webinar can be informative and serve your audience to a point, but then again, audiences don't have to commit to a set time and date to attend. They can skip an on-demand session and re-sign up whenever they wish. This doesn't lead to strong audience retention or loyalty.
A live webinar has a sense of urgency, as it's often aired live only once. As such, audience members are more eager to save their spot by not only registering, but confirming their commitment before the live webinar starts. This early engagement can produce more qualified leads and stronger conversion rates. Some webinar platforms even feature a countdown timer you can include in emails to registered participants, inducing a sense of urgency and exclusivity that solidifies their commitment to attend.
✅ Audience Feedback
Audience feedback is essential to growing your brand and learning what your buyers want so you can accommodate their demands.
Gather feedback in the moment with live webinars for an honest impression. Then, follow up these live sessions with surveys to collect immediately relevant reviews that can improve your future webinars or tell you when you're on the right track. To simplify the process, look for a great webinar platform with features for gathering and analyzing audience feedback.
How to Host a Live Webinar
Having covered the perks of a live webinar, you're ready to build one yourself. We've broken down the process so you'll be able to host your first live webinar in a short amount of time.
Plan Your Webinar
Planning is a webinar's foundation. This is the stage during which you solidify several key elements that'll guide your webinar content, including:
Goals – What you hope to achieve with your live event (e.g., leads, brand awareness)
Target Audience – Who you want to attract and what their pain points are
Topic/Title – What your live webinar is about, and the clear and engaging title you'll give it
Ensure your title explicitly clarifies what your webinar will cover so you draw in more leads interested in the subject matter.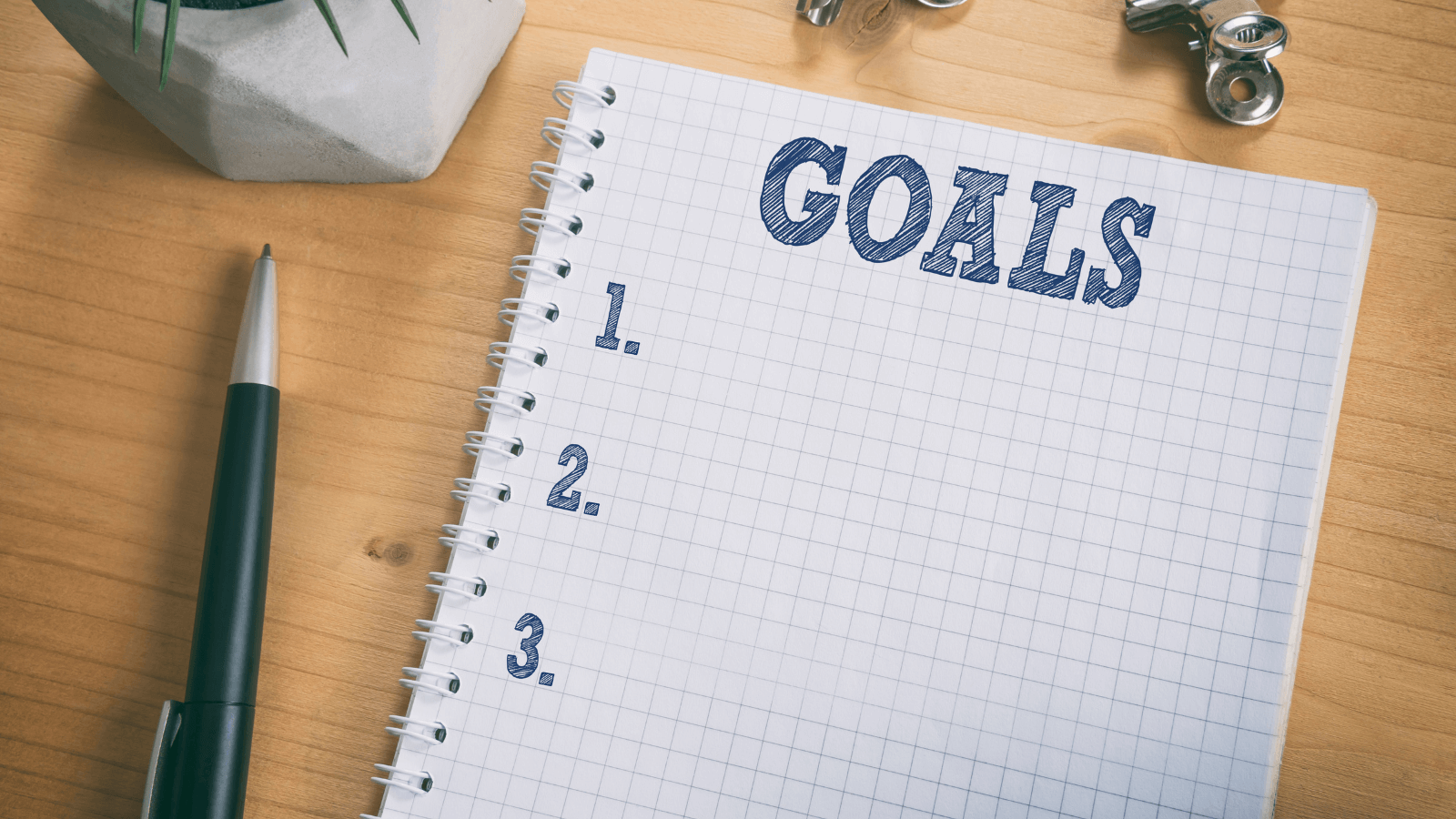 Build Your Webinar
To prepare a professional webinar that converts entails knowing which featured actions to include in your webinar presentation, choosing a host, and establishing a timeline for the event. Keep your live webinar under an hour if you can, include only engaging information, and always encourage audience interaction through the following elements:
Script – A preset dialogue of the content you'll deliver to your audience
Presentation – The heart of your live webinar, its design and content should appeal to and engage your attendees consistently, without dead parts or scattered topics
Visuals – Colorful and relevant visual aides that break up the subject matter and provide "brain breaks" for your audience
CTAs – The actionable features that keep your audience committed and encourage them to convert (space these out to avoid ambushing your audience and appearing salesy)
Once you've crafted your webinar, rehearse the content to see if any information comes off as confusing or falls flat. Omit redundant or unclear information and pay attention to time — going over an hour may lose your audience's attention.
Host Your Webinar
Now's the fun part: running your webinar. Either you'll host it yourself or you'll have a presenter or moderator. Here's where you'll observe firsthand the major benefit of live vs. automated webinars. Get creative, have fun, and remember to give attention to:
Interactive elements – Q&A sessions, live polls, upvotes, handovers, and public/private chat
Storytelling – Real-life stories and case studies from your customers and team to showcase your brand
Speakers – Authoritative guests who move the live webinar along in a smooth and engaging fashion
That's it! Once you've hosted your first live webinar, you'll feel more confident about your future webinar content.
How to Select the Right Live Webinar Tool
We've explained the overarching stages of hosting a high-quality live webinar, but you also need the right live webinar tool to build a first-rate experience for your attendees. When reviewing potential candidates, compare the following considerations.
Engagement Features
Choose a webinar platform with engagement features that let you interact with your audience seamlessly. These include chat, email marketing, live polls and upvotes, CTAs, and handouts.
Analytical Features
Analyzing the performance of your live webinars guides your future efforts and encourages regular success. Demio has you covered there, with analytical tools that tell you what aspects of your event the audience paid the most attention to and where they dropped off. You can also comb through chat logs to find audience questions and then answer them in a follow-up communication.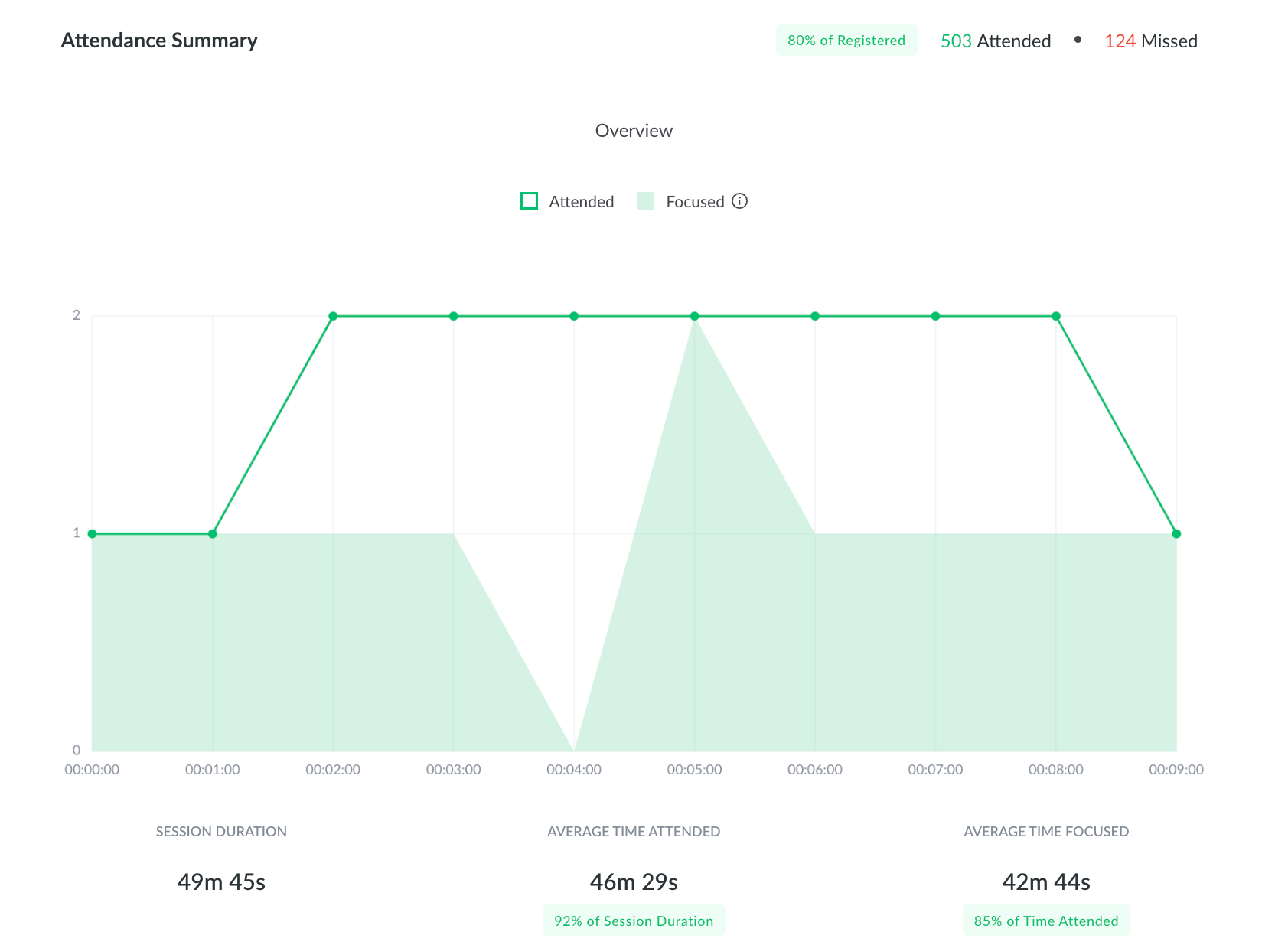 Reporting Features
Pinpoint which of your interactive features earned the highest response from your audience so you can better tailor future webinars to their preferences. Use Demio's CSV export attendee analytical data to reveal which polls, featured actions, and other marketing efforts in your webinar resonated the strongest with your attendees.

How to Promote and Market Your Webinar
Fill those audience spots with the right promotion and marketing efforts so your live webinar is booked. Maintain relevance even after your live webinar has concluded by pushing follow-up activities.
Create a Marketing Strategy
Take advantage of various marketing channels to get the word out about your webinar. Post your registration links on social media platforms to maximize event awareness. You should also consider building a webinar landing page where visitors can easily fill out a registration form. Do you have an email list of past webinar attendees? An email marketing campaign is an excellent way to invite previous audiences to your next webinar.
Follow up With Registrants
Send follow-up emails to your audience members post-event to drive continuous urgency so they register for your next live webinar. Feature a webinar countdown timer and other notifications to remind registrants of when you go live; this keeps your event top of mind as well as builds excitement for the live date. 
Thank you emails are also necessary to reengage your audience following your live webinar. It's a chance to show them you truly appreciate their time and loyalty to your brand. Drive home your value by including links to repurposed or pre-recorded webinars they may be interested in based on the live event they just attended.
Also, ask for audience feedback in your thank you emails. Capturing their opinions while the event is still fresh in their minds will yield the richest insights into what your webinars do right and where they need improvement.
How to Measure Results
To quantify your live webinar's performance and how well it achieves its established goals, use appropriate measuring tools and track relevant metrics.
Webinar Lead Scoring
Webinar analytics tools are excellent for scoring leads based on engagement, such as how long attendees stayed active during your webinar, which leads clicked on links and responded to polls, and more. The higher the lead score, the more likely the prospect is to convert.
Webinar Goals and KPIs
Review registration and attendance rates to see if they meet your webinar's goals. Other important KPIs are engagement and conversion rates, as well as audience feedback results.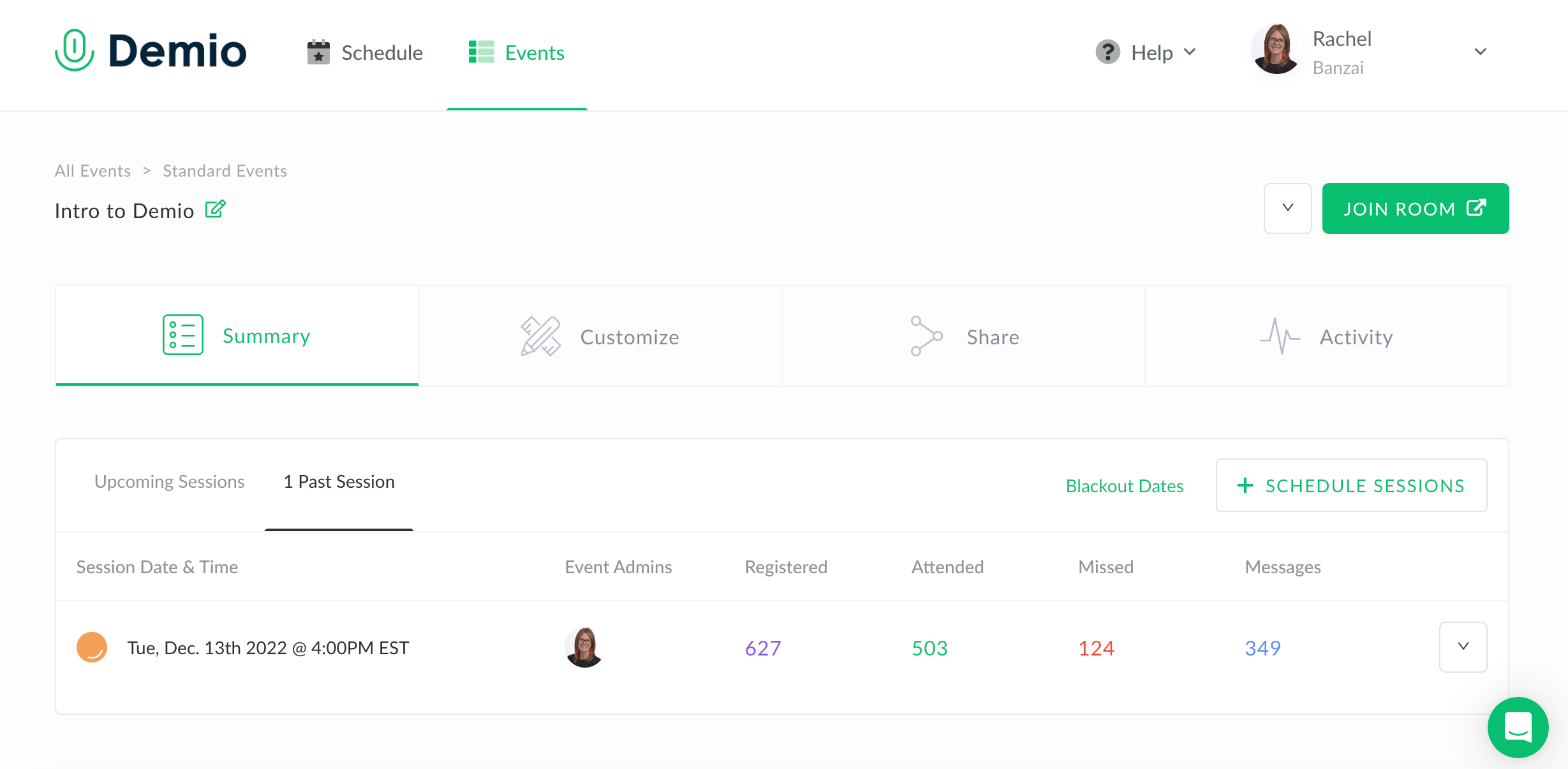 How to Automate Your Webinar
Automated webinars make webinar hosting much easier because you work less while your webinar continues to run, providing almost the same level of engagement as a real-time session. You may not even have to be present when your webinar goes live.
Depending on the webinar platform you use, you may be able to insert pre-programmed features, such as the beginning and end times of your event, timed surveys, and CTAs, and featured handouts or page redirections, effectively placing your event on autopilot.
Choose Your Automated Preferences
Determine which sections of your webinar don't require a hands-on approach and automate them. Chat messages, surveys, or timed polls are common options.
Choose Your Live Webinar's Level of Automation
You can make your webinar almost entirely automated while still simulating a live event. Decide how involved you want to be in your webinar and review the automated features your webinar platform provides to learn how automated your webinar can be.
Go Live With Confidence
With the right tools and a thorough understanding of live webinars, you're set to host your first live session. You'll generate more leads, grow your brand, and have fun making connections with your intended demographic.
Demio's webinar software solution makes creating live, automated, and on-demand webinars simple and fun. Enjoy engagement features and user-friendly apps that make running virtual events a breeze. Get started for free or, if you want to know more about Demio, book a demo to see it in action. 

Frequently Asked Questions About Live Webinars
What Happens in a Live Webinar?
During a live webinar, your audience views and hears your presentation in real time. You can invite them to participate in the live session as well, just like in-person presentations. Live webinars foster rich conversations between the host and the attendees, leading to deeper connections and long-lasting consumer relationships.
Are You on Camera During a Live Webinar?
The webinar host is on camera only when on stage. If you're not presenting or actively hosting, then you aren't seen. Your audience also isn't on camera during a live webinar unless they're "brought to the stage" and put in the spotlight.