Automated webinars offer one of the most efficient paths to lead conversion. Setting one up takes work but, once done, pre-recorded webinars require less manual work and overhead than live events.
They can yield impressive results while removing some of the burden of running live events. However, realizing that potential entails a detailed and thoroughly planned approach. Read on to learn how adopting automated webinar best practices enables you to put lead conversion (largely) on autopilot.

What Are the Benefits of Automated Webinars?
The many benefits of automated webinars can be summed up in one word: efficiency. After you construct one, you leave it on autopilot while monitoring and optimizing your results.
One (outdated) concern business owners have had with event automation is a lack of engagement. But, thanks to advancements in host platform technology, that's no longer an issue. For example, Demio's pre-recorded presentations are thorough and accommodate many timed engagement features that keep your audience focused.
You can schedule the specific time and even include a countdown for your audience to build anticipation for the event, or simply present content as simulated events. Jump in and out of the session, monitor the chat, review engagement metrics, and more.
On-demand webinars also fall under the automated webinar umbrella. With this type of online event, you enable audience members from around the globe to attend your automated events when it's most convenient for them.
Time and Resources
Logistically, automated webinars reduce the time and resources associated with live events. You'll still create new webinars and redo or optimize old ones. However, you won't need to engage in repetitive manual cycles of preparation, presentation, and follow-up.
This frees up your staff's time and resources to devote to other higher-value tasks. It also makes your webinar marketing more scalable.
Reach and Scalability
A strong appeal of automated webinars is their ability to reach larger global audiences. Presentation scheduling isn't restricted to one time zone; once you record your webinar, you can make it accessible to viewers anytime, anywhere, and as many times as your marketing strategy demands.
By creating universally accessible evergreen content, you reach far more people at a much lower cost.
Increased Lead Generation
While lead conversion is the ultimate prize, automated webinars also improve lead generation with their convenience and accessibility.
If you intend to go this route, compartmentalize your automated webinars by goal. For example, you could create a series of webinars specifically to convert highly qualified leads, and another that repurposes content to attract new leads. Best of all, you can bake lead capture and qualification into automated webinars.
Their better time and resource efficiency as well as wider reach make it easy to build unique webinar experiences that address the needs of people at different stages of the buyer's journey.
Pro tip: Always maintain evergreen webinars for lead generation specifically. This allows brand-new leads to show up over time and watch and interact with your content at their convenience
Lead conversion is the ultimate goal, but segmenting webinars by stages in the customer journey directs your teams' efforts more effectively.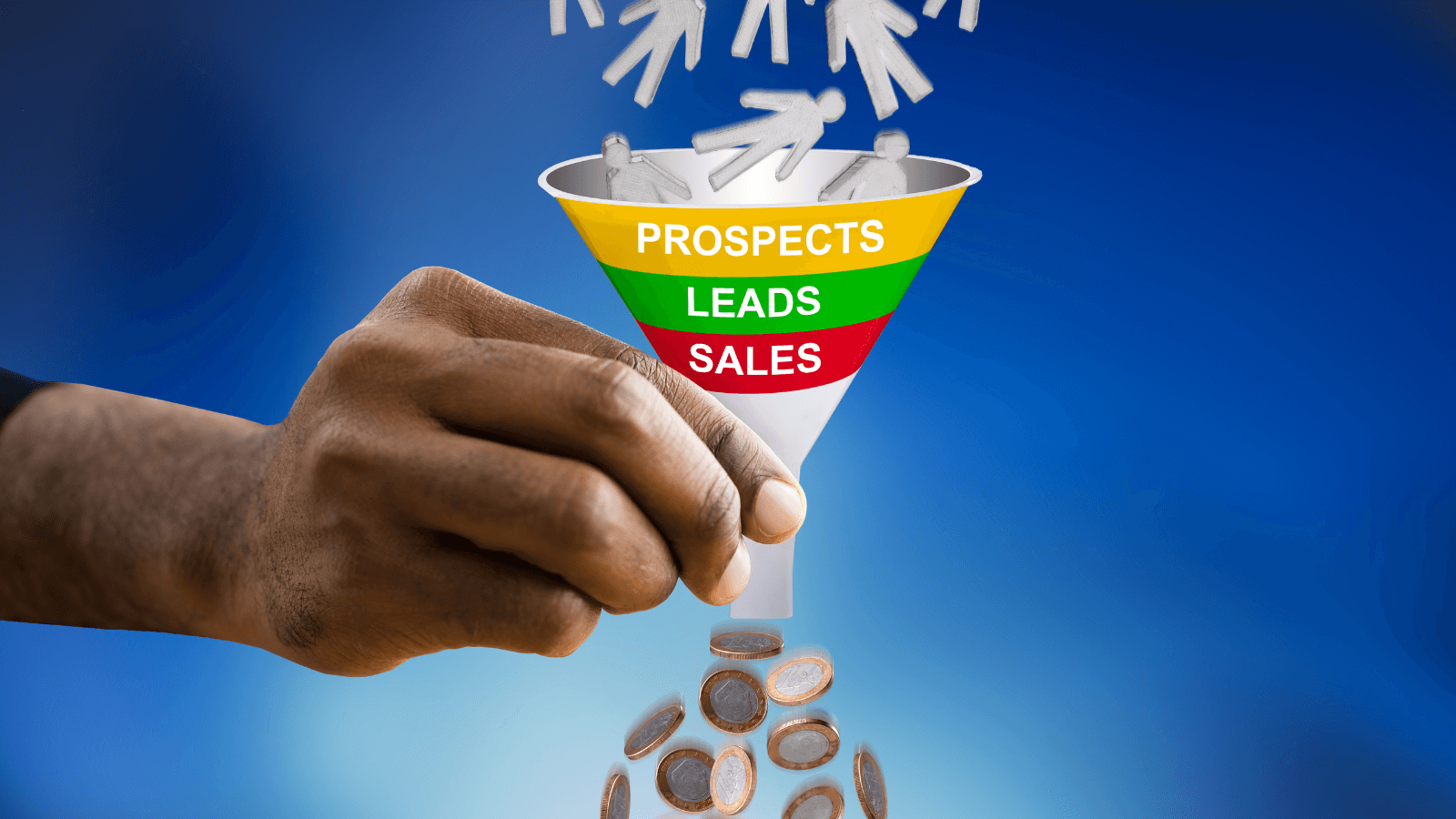 Lead Nurturing
Webinars then become the next step for turning new leads into conversions. Automated webinars fit this purpose perfectly by acting as lead gates and engagement tools.
A new lead may or may not already understand the full value of your products or services. Automated webinars fill in any knowledge gaps they have and drive them toward a decision.
Comprehensive Analytics
Webinar platforms open new learning avenues for your marketing teams. They provide built-in features and integrations dedicated to gathering information on audiences and optimizing their webinar experiences. On the front end, you receive multiple means of communicating with your audience in a more personal way.
Engagement features for automated webinars also accomplish this dual purpose of keeping audiences interested while gathering feedback. They leverage surveys, polls, pop quizzes, Q&As, and gamification elements to draw out useful information from webinar attendees. When a webinar is engaging, audience members are more likely to provide honest and insightful information because they're already interacting with your brand in a purposeful way (it beats an email survey they open up at a random point in the day). Real-time engagement tools collect a higher quality of feedback on:
How engaging your webinars are
What people really think of your products and services
The level of knowledge people have about your products and services
All of this enables you to optimize your webinars for greater success, but don't restrict its application; the information you gather is useful for all ends of your existing marketing practices.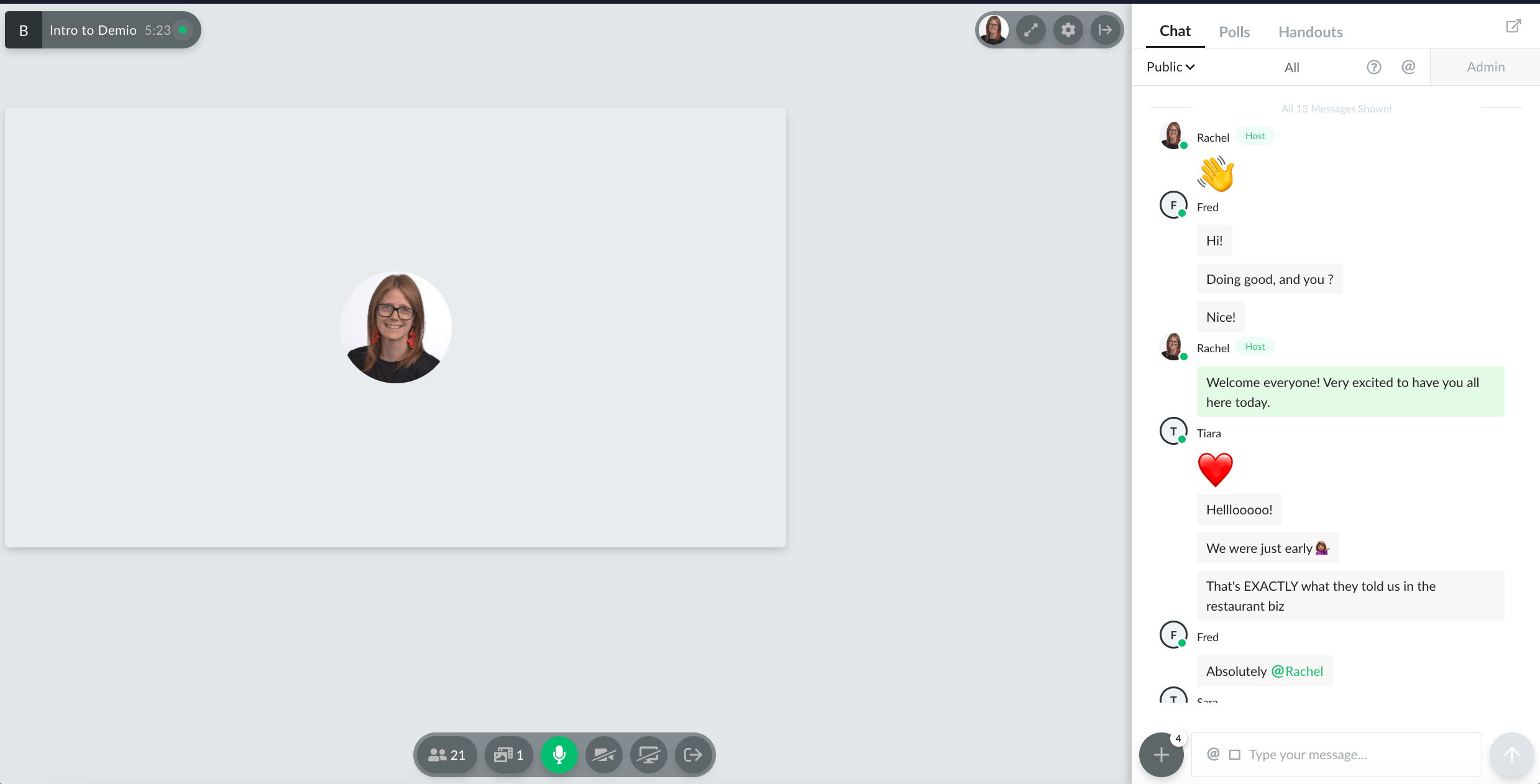 Automated Webinars in Marketing and Sales
Webinars can serve many purposes, taking the form of a sales pitch wrapped in an educational experience. But you should carefully consider which experience you want to cultivate.
Recurring Events
Marketing and sales teams use recurring events for several reasons. One of the foremost is to provide continuous sources of lead generation and lead conversion. But recurring events can also contribute to event optimization. Continuous data can reveal new opportunities for improving KPIs such as conversion rate.
In addition, with a pay-per-view model, recurring automated webinars can be a continuous source of revenue.
Self-Service Product Demos
Pre-recorded product demos are among the most effective ways to boost sales for specific products. They're an excellent platform to demystify any confusion your followers have regarding your offering, and it's (obviously) one of the best ways to show off the full extent of a product's utility.
With on-demand access to product demos, you put product promotion on auto-pilot. That ensures a convenient educational resource for qualified leads, existing customers, or anyone else who demonstrates interest in your products. Leads can be directed to product demos through webinar landing pages via social media, email, or your website.
Marketing teams also find this format excellent for lead capture: The registration page gives a list of every person who demonstrated a genuine interest in a specific item. This is then passed on to email marketing professionals to nurture these highly qualified leads. They can be directed to future events, join your newsletter, or be engaged with through other marketing tactics. Send prospects handouts, follow-up emails, and other perks related to the product demo.
Once again, analytics prove to be a boon here. Professionals can leverage analytics tools and integrations to collect data on customers interested in these specific products.
Online Courses
Online courses provide educational experiences for people considering buying products or services. They're among the better options for businesses selling service packages.
Online courses often serve similar purposes as recurring events, but they're usually more complex and require a greater investment of time and resources.
A major benefit of this type of experience is the versatility, making online courses accessible to a wider range of potential customers. Pre-recorded content can accommodate leads of varying levels of knowledge and commitment, or it can target highly specific demographics. Additionally, online courses provide an opportunity to display your webinars through other businesses or educational institutions.
A substantial advantage of online courses is the ability to establish thought leadership. When experts who are highly credible in a specific niche deliver high-quality educational content, it positions a business as an authority in their industry. It's also a great way to build trust while subtly (but surely) promoting your brand.
This unique value proposition doesn't require you to sacrifice any of the broader benefits of automated webinars; online courses are also a good option when your goal focuses on lead generation and qualification. Signing up for an online course as a personal choice is a commitment that demonstrates a high level of interest.
Employee Training and Onboarding
Webinars are a low-cost and highly scalable option for enterprises of all sizes to train new employees.
Automated webinars specifically are consistent, standardized products that can be implemented at the end user's convenience. This makes it a convenient go-to option for employee onboarding. In addition, incorporating multimedia can make training and onboarding clear and engaging.
Ongoing Product Education and Feature Updates
This focus is good for SaaS companies in particular. When comprehensive product or service updates occur, you can encounter a lot of friction. However, automated webinars are all about reducing friction.
They provide flexible and convenient access to memorable visual demonstrations that smooth the adoption of any changes. Include features like pop quizzes and Q&A sessions to increase engagement and ensure information is internalized.
If you use automated webinars for this purpose, remember to gather feedback after each run. Employ surveys and polls liberally to gather in-depth responses on any significant changes to your products or services.
Planning and Preparing an Automated Webinar
Now that you understand the rationale behind different approaches to automated webinars, it's time to put your new knowledge into practice. Follow these steps to construct your next success.
Set Goals
Goal-setting is an important first step because it forms the basis of all subsequent choices. Quantifiable goals enable you to direct all of your efforts toward a specific result.
After you set a goal, you're better positioned to:
Choose a webinar format
Target the correct audience
Select the right presenters
And more
Select a Topic
Your topic must align with your established goals. For example, if you simply want to sell more from one product line, your list of relevant topics will be shorter.
It's also important to consider industry trends that present unique opportunities. Market research is important when choosing a webinar topic. Also, consider the feedback you've gathered from existing customers and previous event attendees. Knowing what your consumer base cares about uncovers more relevant subject matter.
Hone in on Your Audience
The success of any webinar depends on matching the right audience with the right content. Think about their interests and levels of knowledge.
Refer to the "Promoting Your Automated Webinar" section below to understand how to capture your ideal registration list.
Creating Webinar Content
Now, let's go over what to consider when crafting your webinar content.
Scripting
Your presentation script should guide attendees toward intended actions that support your goals, so always keep your objectives in mind.
To start, create an outline of the main points that must be taught. It should maintain a logical progression that makes it easy for the audience to follow. Give greater attention to developing a strong introduction since that sets the tone for the rest of the webinar. Include in your outline:
An attention-grabbing statement
Introductions and a brief overview of the event
A series of logical sections with a few main points to explain
Examples, statistics, case studies, or other concrete support or evidence, where appropriate
Crafting a script is relatively simple, but keeping the webinar interesting takes more work.
Interactive Elements
Within each section of the script discussed above, add interactive elements. For example, insert a Q&A session ahead of the conclusion to drive your message home. Interactive webinar platforms offer many features that encourage engaging interactions in your automated webinars and make them more effective.
Demio equips you with all the engagement tools you need. With it, you can incorporate real-time surveys, pop quizzes, visual cues in transitions, and other elements and interactions that'll keep your audience wide awake.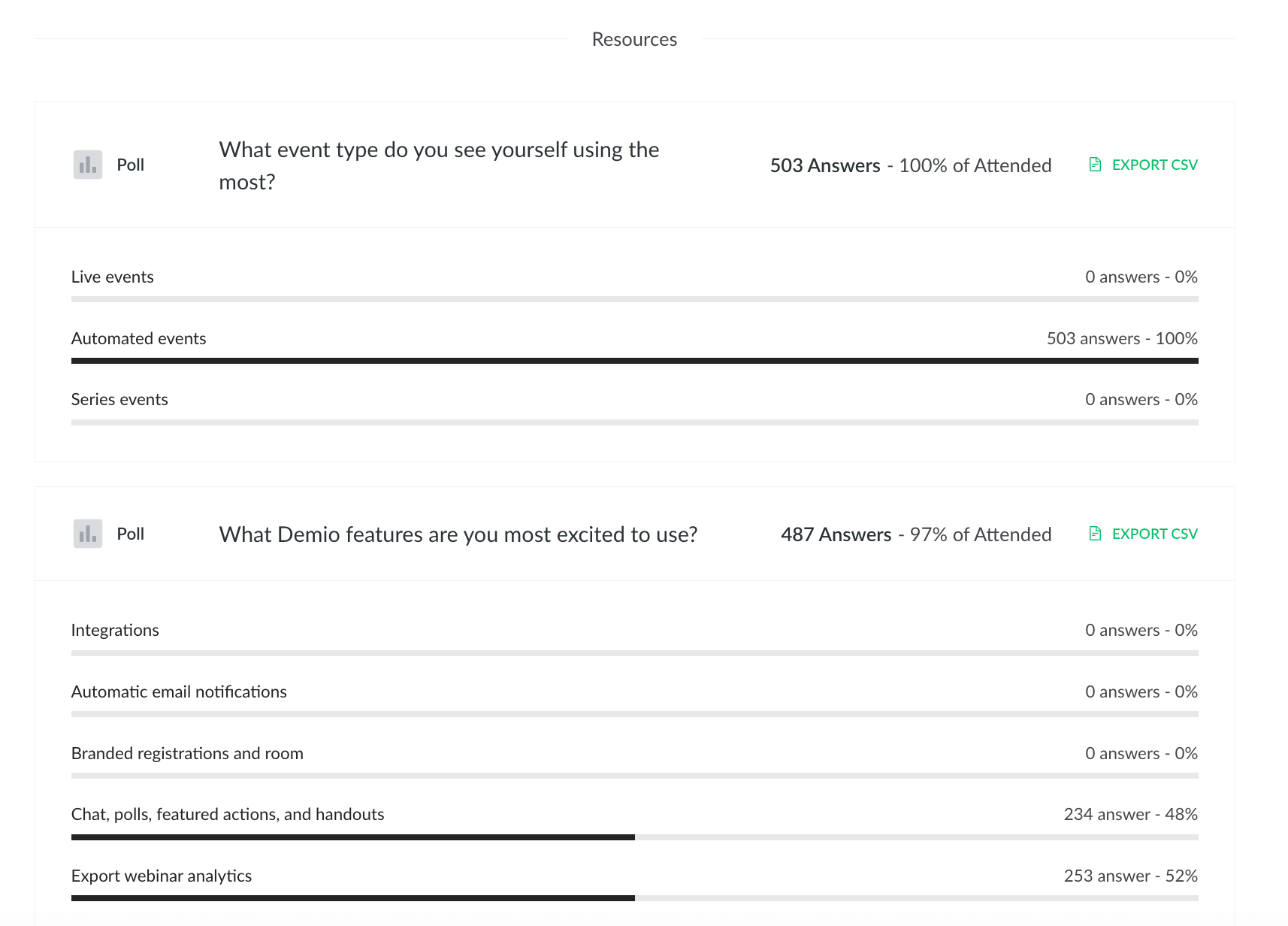 Call to Action
Last but not least, include a call to action (CTA) that aligns with your intended goal. This is the moment your webinar has been leading up to, so strike while the iron's hot!
Keep your CTA short and concise. It should be specific and entice the audience to take an action that's easy for them to complete.
Rehearsal
Practice, practice, practice. You'll need at least a couple of dress rehearsals before recording the perfect automated webinar. This is your chance to root out any obvious mistakes and inconsistencies, verify the reliability of your equipment, and become familiar with your script so it flows naturally in the final recording.
Promoting Your Automated Webinar
Test your webinar promotion in the same ways you would any other marketing effort, assessing each strategy, image, copy, etc.
Multi-channel Marketing Strategy
You can find highly qualified leads in various spaces, so take advantage of every available channel. Keep your messaging on-brand and consistent across all platforms. If you decide to split test different approaches, maintain consistency during that process as well.
Email Marketing
Email marketing is a necessary tactic in lead generation, but it's also crucial to ensure more registrants actually attend the webinar.
Build your email list through opt-ins on your website, landing pages, and creating registration pages. Make sure you qualify leads and segment them based on those sources.
Send updates leading up to the event so would-be attendees don't miss your webinar.
Social Media
Market through social media wherever your target audience is most active. As such, you need to establish a presence on all major social media platforms for maximum visibility.
Your webinar funnel should have several entry points, with many being social platforms. However, these portals are a double-edged sword: Along with your activity, lots of other content will vie for users' attention. So, craft catchy headlines and employ eye-catching images (bonus points for video content). Publish genuinely valuable content that makes your followers happy to have clicked on your posts or ads.
Landing Page
Your sales funnel should push leads to a landing page that speaks to the interests they've demonstrated thus far. Keep these best practices in mind when building your page:
Craft a catchy headline. Split test a few variations at the beginning to learn your most effective headline style. As your marketing team already understands, people do judge a book by its cover.
Landing page copy must always focus on the benefits attendees will receive after completing desired actions. This is especially true of webinar landing pages. Clearly and concisely highlight the gains attendees will walk away with.
Ensure you lay a strong foundation, including the use of attention-grabbing visuals, addressing potential objections, and formatting text to contrast well with the background.
Webinar registration pages must be simple and easy to use, so keep your page and all its fields as simple as possible. The goal is to minimize friction.
Employ an intuitive UX design to make the optimal action easier to complete. For example, the "Go back" option is usually gray, while the "Register" button could be a vibrant blue or green. Make sure important details, starting with the date and time, are displayed clearly. Lastly, write copy that's persuasive and drives home the value of attending.
If attendance rates are much lower than registrations, revise your landing pages.

Tracking and Analyzing Automated Webinar Performance
Tracking and analyzing performance are key to the long-term success of your automated webinars and to prove event ROI. Many webinar platforms (Demio included) come with the built-in analytics tools to capture everything from registration counts through engagement and on to conversions.
Track Key Metrics
Registration and attendance counts are important to monitor, but the ratio between them is even more crucial. Also, track the interactions your content receives with built-in reporting features. For example, pay attention to participation rates for surveys.
Analyze Audience Engagement
Quantifying audience engagement normally entails metrics like average and total viewing time. You should also check the viewership peaks and drop-off points (when attendees stop watching). These uncover opportunities for improvement in the next webinar recording.
Polls and surveys are also excellent measurements of engagement. You learn what attendees think about relevant topics while determining how many of them interact with these features.
Other avenues of engagement to follow include chat box use and Q&A session activity. Chat box monitoring is important because engaged audiences interact more. You can review the chat log to gauge engagement and see what people are asking (or saying).
Ultimately, conversions are the clearest indication of audience engagement in a webinar. Relevant metrics include:
CTA clicks
Handout downloads
Purchases
Sign-ups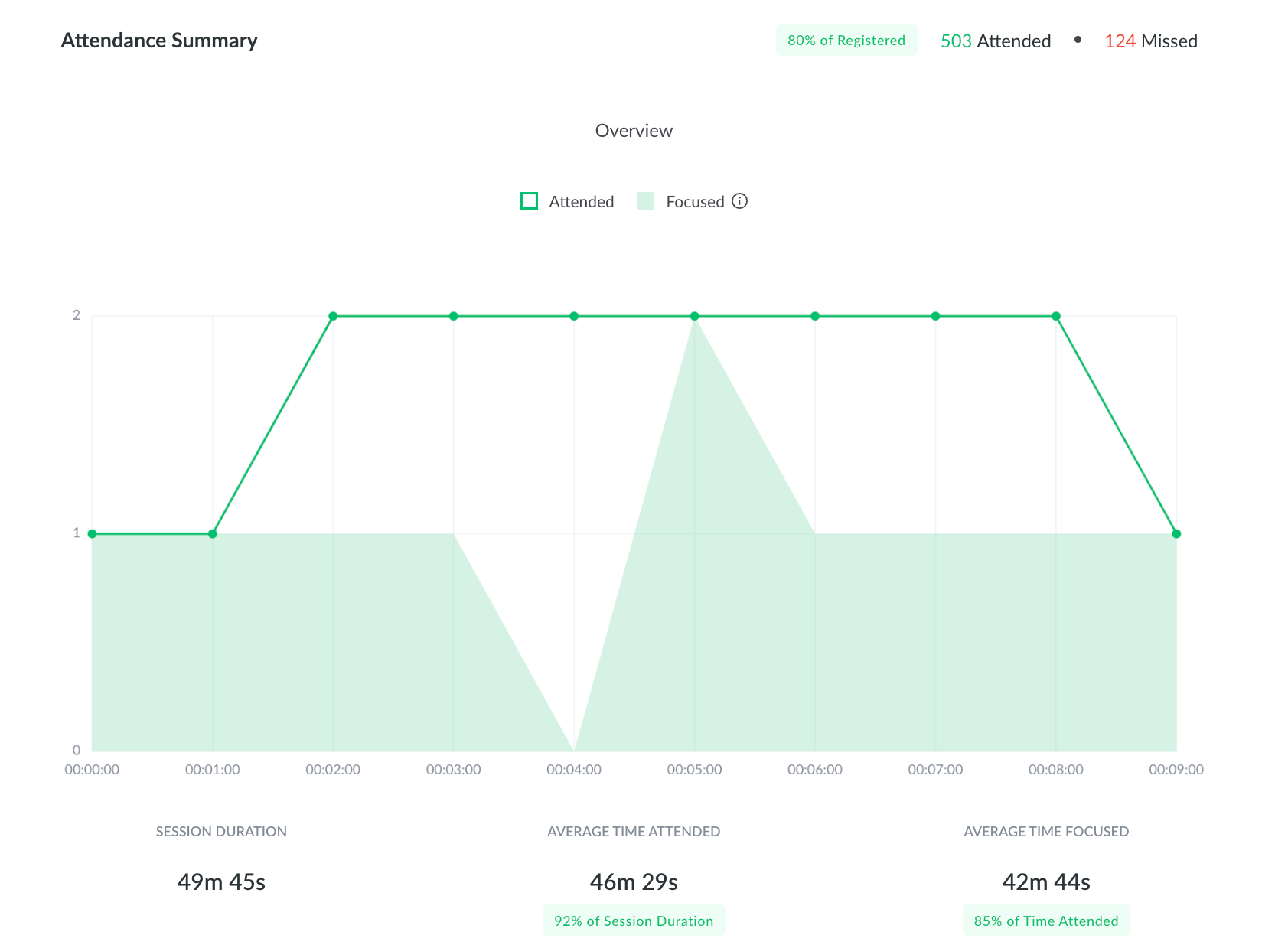 Follow-up and Post-webinar Lead Nurturing
Your job isn't done once the webinar ends. Follow up with attendees to continue warming potential leads and keep your automated webinar at the forefront of their minds.
Social Media
Share the results and highlights of your event on your social media channels. You can post about the key takeaways or publish clips of the webinar to show off your event and expertise. It's a free and simple tactic that showcases the benefits of your webinars to others and entices them to attend future sessions.
Automated Email Follow-up
Utilize automation to send follow-up emails that include:
A thank you for attending
Surveys and other feedback forms
Giveaways and other useful incentives
Continued learning recommendations
Relevant product promotions
Lead-nurturing drip campaigns are an excellent post-event activity to reemphasize the value of your event, and with automation, you barely have to lift a finger to enjoy the results!
Top Automated Webinar Platforms for Lead Generation
These companies offer the best automated webinar software on the market. Any of the solutions on this list can simplify your automated webinar creation and produce sessions that generate impressive results each time they run.
Demio
Demio is an automated webinar platform dedicated to building user-friendly experiences that accomplish the goals that matter to you. It comes complete with a step-by-step process for creating impactful, highly customized events.

eWebinar
eWebinar is a popular automated webinar solution offering all the features needed to create engaging and informative sessions. It focuses on turning any existing video content you have into rich webinar content.
WebinarGeek
WebinarGeek emphasizes customer support while providing top-notch webinar features. It integrates with over 5,000 tools to ensure users get the most out of their webinar marketing efforts.
EverWebinar
EverWebinar also boasts a full suite of webinar features, but they're tailored to creating long-lasting evergreen content. This makes it a great choice for employee onboarding or training/demo content.
BigMarker
BigMarker focuses on producing immersive and interactive virtual experiences. It strikes a happy medium that makes it excellent for hybrid events.
WebinarNinja
WebinarNinja offers a simpler approach to webinar content. It can accommodate any webinar purpose, but it's less feature-rich. However, some reviewers believe that makes it easier for small enterprises to use.
GoTo Webinar
Along with a full suite of webinar features, many users enjoy GoTo Webinar's user-friendly experience. They also praise its focus on small details such as seamless transitions and speaker control over the webinar.
LiveStorm
LiveStorm provides highly customized webinar experiences. The platform has a wide variety of integrations, including with top CRMs, in addition to its highly interactive presentation features.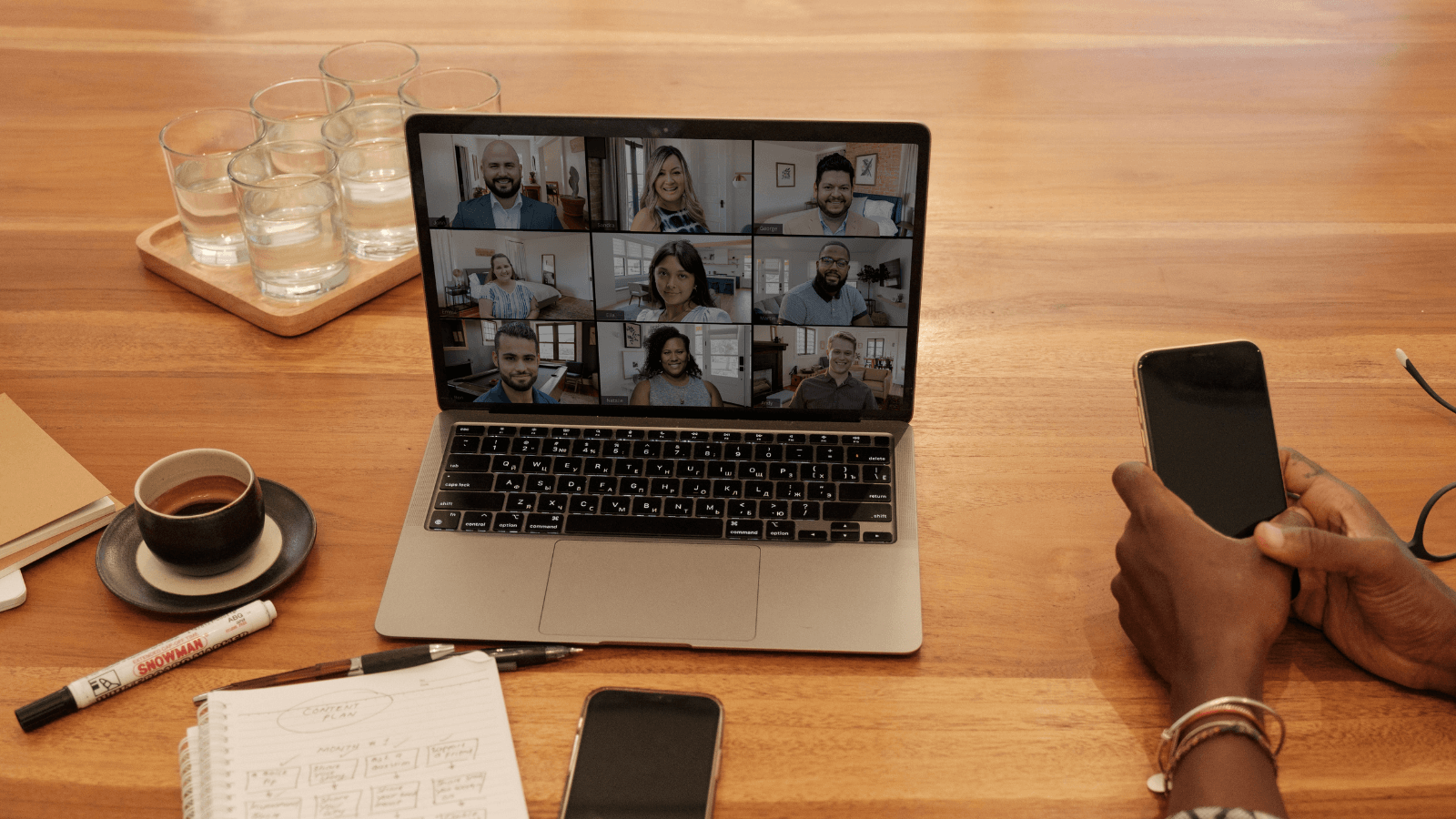 Misconceptions About Automated Webinar
While audiences and businesses largely embrace automated webinar content, some misconceptions remain.
First, some feel the automated aspect of the experience is deceptive. However, if you inform audiences ahead of time of what kind of webinar it is, you easily avoid pulling the wool over their eyes.
A more common concern is the lack of personalization. Some worry that, without real, live human interactions, the webinar content will be ineffective.
Although it does take work and deeper consideration, webinar experiences can be very engaging even when they're not live. Supporting creativity with professional webinar engagement tools allows audience members to interact with the session despite the lack of live presenters.
Conclusion
Crafting automated webinars is an investment that pays dividends for your company's bottom line. By following the best practices outlined in this article, you can build events that wow attendees with minimal effort from you.
If you're ready to get the ball rolling but don't know where to start, take the easy route with Demio. The platform offers a free trial and a beginner-friendly product that makes it easy to get started quickly. It doesn't matter whether you're switching from another platform or launching your first-ever webinar; Demio includes everything you need, with a focus on engagement to drive conversions.
Book a demo or get started free today.
Frequently Asked Questions
What is an automated webinar?
An automated webinar is pre-recorded and made available to people in perpetuity (or until the owner takes it down). Unlike live webinars, they remove the need to prepare live presentations (and presenters) constantly.
How do you automate a webinar?
Automated webinar software platforms handle this so you don't have to! All you need to do is choose an excellent software, build your webinar, and the platform will take care of the rest.
Can an automated webinar be interactive?
Absolutely! Simply incorporate pre-made and timed engagement features to trigger interactions that keep attendees engaged throughout the presentation.