I'm a member of all kinds of Facebook groups for SaaS founders (including Demio's Facebook group — SaaS Breakthrough — come on over!). One type of question that pops up over and over again is "What tools do you use for…?"
Which makes sense: SaaS people are looking for good SaaS tools to grow their SaaS businesses. (Saasy.)
Problem is, if you're in the middle of a hunt for reliable, easy-to-use software products that won't kill your budget, you can easily drown in the ocean of tools to choose from. You should see the amount of people popping into my DMs, begging for Product Hunt upvotes (not cool, total strangers, not cool).
So, I'm going to throw you a life preserver and share the tools we've been using for our webinar marketing funnels. Our webinar marketing stack hasn't changed since we launched our beta in 2016. Why? Because our toolkit has served us well: we've gone from 0 to 30,000 leads generated in almost two years.
DOWNLOAD YOUR FREE WEBINAR STRATEGY CHECKLIST BELOW
Use this checklist
to design your very own high-converting webinar marketing strategy from scratch, then automate the process to attract high-quality leads.
We promise to never spam or send emails about cats.
Okay, maybe some cat stuff.
But before we get started, there's something you should know.
If you're in SaaS, you're likely someone with a technical background, so you invest a lot of energy in finding well-designed, reliable software. But I'm going to be honest here: webinar marketing software is useless if you aren't delivering the right message to the right people in the right places.
Before you go all-in on signing up for tools, ask yourself a few questions:
Do you have a webinar marketing strategy in place and a funnel mapped out?

Why is this important? Without a strategy, you don't know what kinds of tools you'll need to implement it.

Have you created a customer avatar to understand the problems your prospects are having, where they go for help, and the best channels to use to get them to sign up for your webinar?

Why is this important? Your customer's needs should determine the use case for your software tools. For example, if your primary audience uses Instagram, you might need software that helps you identify and reach IG influencers, along with social media scheduling tools that connect with Instagram.

How many people on your team will be running webinars, and how often?

Why is this important? Your use case determines the level of service you'll need from your software vendors. A larger team with a robust webinar strategy may want to use a full-stack marketing automation tool, while a smaller team may want to put together a custom stack. Also, some tools lend themselves to collaboration better than others.
As a small, fast-growing company with a distributed team, focused on one customer segment (SaaS marketers), we decided to create a custom stack of five software products to support the following automated webinar funnel map: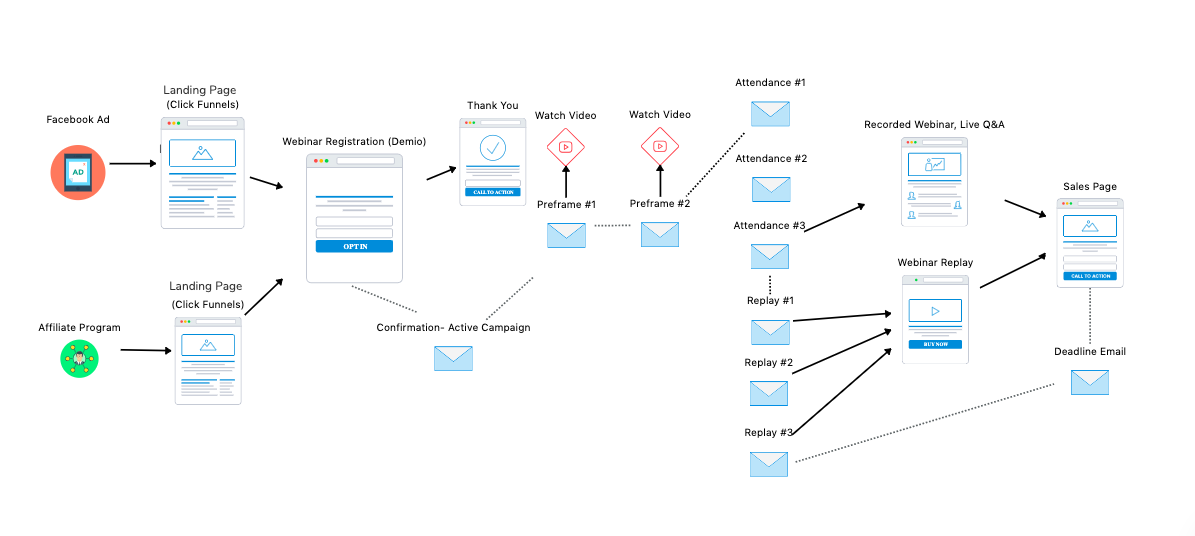 Here's what we use:
---
Lead Generation & Landing Pages

Having a landing page software application is HUGE for your marketing stack and you have plenty of options to choose from. From Leadpages, Instapage, OptimizePress, Thrive Themes, to a variety of others, you'll never run out of variance.
What we use: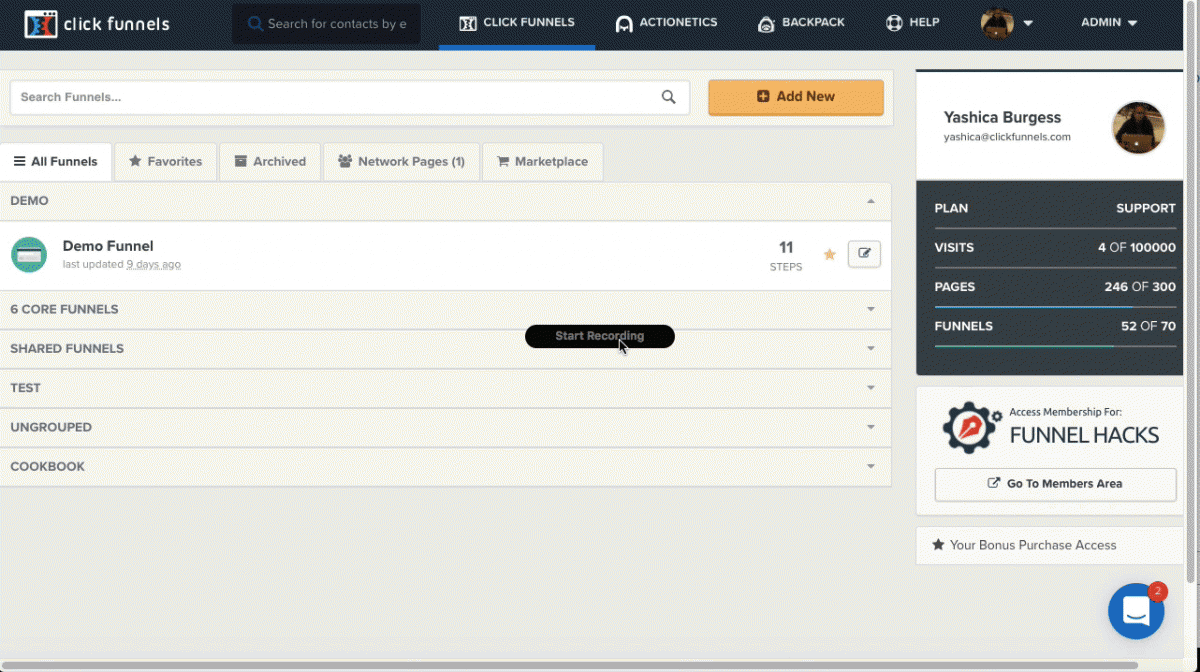 How much it costs: Starts at $97/month
What you can do with it: Design, track, and share funnels, collect emails, and sell pretty much anything using this drag-and-drop landing page builder on steroids.
Why we use it: Clickfunnels are super easy to set up, duplicate, and track. It's easily integrated with a custom domain, so you can set up your landing pages, membership site, and/or sales funnels on your own website, or a custom domain.
We use the Clickfunnels WordPress plugin to add them to our marketing landing page subdomain for advertising campaigns, lead generation, or promotional campaigns.
We still love using our Demio landing pages, but for something more advanced with more testing, we'll flip over to our Clickfunnels pages.
What could be better: There aren't too many "high-converting" templates to use. It can also be a bit slow to load sometimes, and it's often overwhelming to try to figure out what to design and to learn all the tools and functions.

---
Customer Relationship Management (CRM)/Email Marketing
Business is built on relationships, so your CRM is the lifeblood of your business. Picking the right CRM that will also support all kinds of automated email marketing campaigns was a big priority for us. We've been super impressed by DRIP and MarketHero (both showing great automations and flexibility), but our hearts still belong to the platform it all began with.
What we use: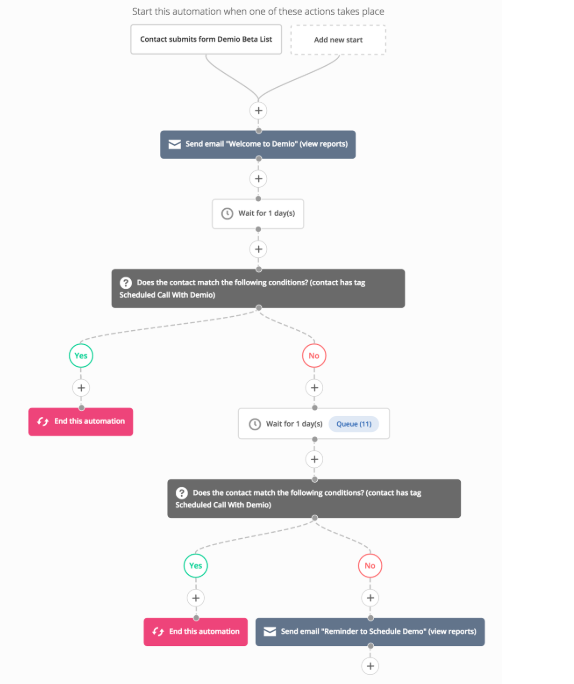 How much it costs: Starts at $15/month for 500 subscribers
What you can do with it: ActiveCampaign is surprisingly robust in both its automations and its CRM capabilities. You can create autoresponders based on a ton of different conditions, automate and segment your contacts and lists, add notes to contacts, and send targeted messages straight to your website visitors.
Why we use it: Integrations with our other marketing applications have been a breeze using Zapier (or Demio Automations) and we've even added website specific automations, based on user behavior on our website using their Website Script. Also, their deliverability is one of the best in the industry.
What could be better: Not much! Wishing we could integrate with Stripe deeper to segment messages based on those customers (need to use Zapier). It would also be nice to have more design ability in the email editor (although it is pretty intuitive) with an easier way to use the site tracking pixel. Of course, we'd also love to see a deeper integration with Demio, to have automated drawn up around the webinar process.

Extra Resource: You can see a full comparison of email marketing tools written in this in-depth piece written by our friends at Venture Harbour.
---
Video Marketing
Because our product is video-based, it's important that we use video to sell it. But even if we weren't a webinar platform, we'd use video; it's one of the most popular forms of content on the planet, and marketers who use video grow revenue 49% faster than non-video users.
What we use: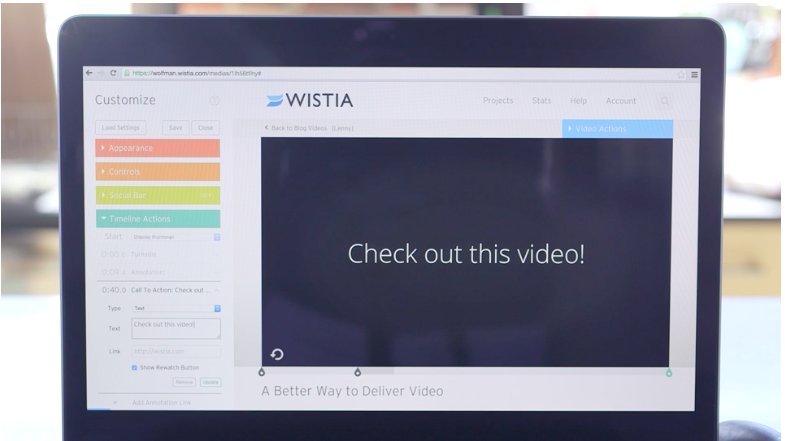 How much it costs: Basic plan is free. Pro plan is $99/month.
What you can do with it: You can use it as a mobile-responsive video player: embed videos on your own domain or landing page; customize the color and settings of the player to meet your design and user needs; and use the turnstile feature to creatively manage your content marketing strategy, including gating content for lead generation.
Why we use it: It's one of our favorite companies, like, ever. Wistia is absolutely amazing; from its user interface to its ease of use, it has become the best video marketing platform on the market and whenever we are using anything related to video, we upload into Wistia.
They have made it so easy to upload, host, and share marketing and business videos in a secure area. With great hosting plans and plenty of marketing automations, you'd be foolish to host anywhere else!

---
Webinar Software
We have A LOT to say about the importance of using reliable, hassle-free webinar software. So much, in fact, that we created our own webinar platform. So it's no surprise to hear that we use our own product to run webinars.
What we use: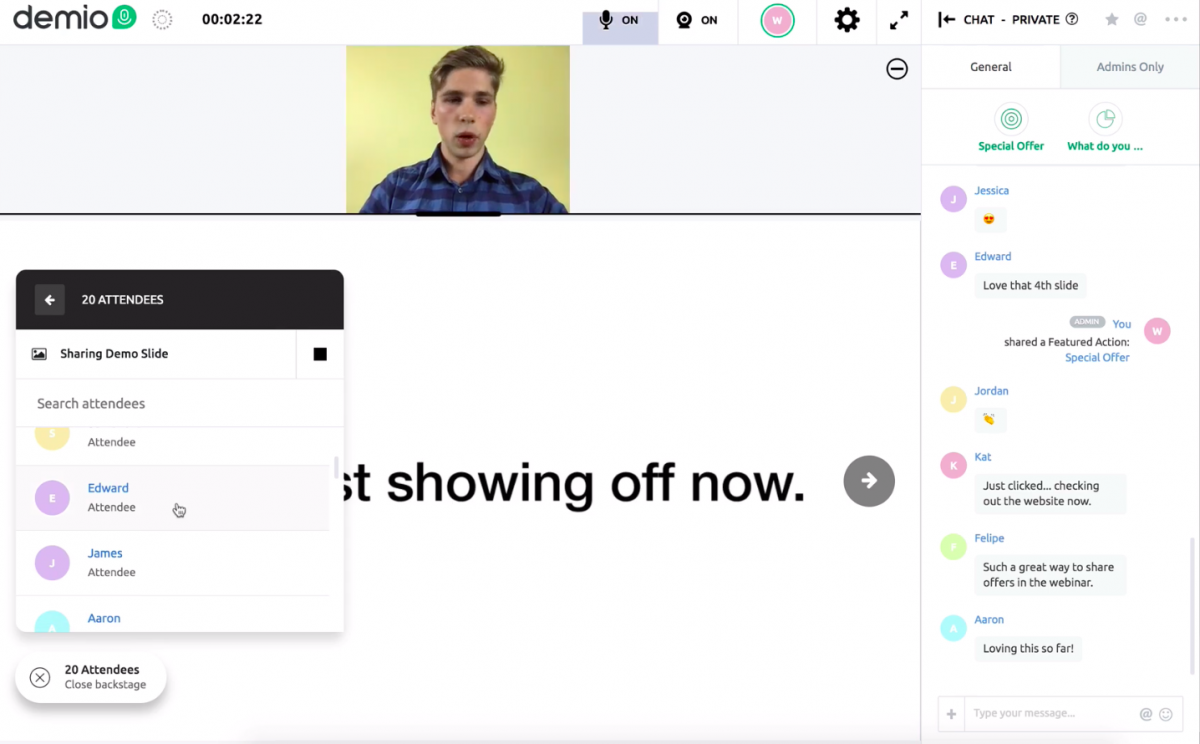 How much it costs: Starts at $49/month (or $34/month for 12 months if you pay annually)
What you can do with it: What can't you do with it? (Okay, we're a little biased). First of all, your attendees can join webinars directly from any browser without having to download software or jump through hoops – less friction means more webinar success.
The auto-recording feature consistently gives you great recordings to download or share. You can track your webinar performance in real time using audience engagement stats. We make it a breeze to create a beautiful way for people to register, schedule email reminders, and deliver the webinar. But the most amazing part is how easy it is to create tailored experiences for people, i.e., segmenting people, creating follow-up sequences, and linking with other software.
Why we use it: See above. Also: duh.
What could be better: I prefer to think of these as "upgrades on the way:"
Deeper integrations to your daily communication tools like Slack, Intercom, etc.
More robust and actionable insights
Smarter custom automations for your campaigns
Using replays in a seamless fashion for the ultimate attendee experience
---
Scarcity Marketing
If you're using an automated webinar to sell a product, the success of your webinar relies on two big factors: a great hook and a sense of urgency. Building time-sensitivity into your campaign is essential to close deals – just make sure there really is a deadline on your offer. There's nothing worse than giving people a deadline and then they're still able to access the offer the next day.
What we use:

How much it costs: Starts at $37/mo
What you can do with it: Create uncheatable countdown timers for your webinar campaigns. When people navigate to your page after an offer expires, they'll see that the campaign has ended. Done. Finito. Better luck next time. This way, you can leverage scarcity marketing to let customers know they have a limited time to get your offer, before the deadline expires. You can set one deadline for everyone for live webinars or a different deadline for each person depending on when they entered your evergreen webinar funnel. Pretty nifty, right?
Why we use it: For scarcity driven campaigns, there's no better application to use than Deadline Funnel. This countdown timer can be used in emails, landing pages, Demio, and evergreen campaigns to track your urgency driven marketing with a strategic uniform timer.
What could be better:
A Demio integration! (Perhaps something we can do in the future ?)
Customize the design to fit your brand more
---
Social Proof
For our opt-in and checkout pages, we know the power of social proof to increase sign-ups, register, and checkout, so we've always put a major focus on listing testimonials when we can.
What we use:
How much it costs: Starts at $24/month
What you can do with it: Increases conversions by displaying recent sales and sign-ups live on your site.
Why we use it: When we found the tool from the Proof team, we knew we had a winner. Proof automatically displays REAL user info from a webinar sign-up, opt-in form, or purchase, and we can list it on our website to increase trust and boost our conversions at checkout. It's been an absolute MUST-ADD to your marketing tool kit.
What could be better: I hope as Proof develops more features, they'll find better ways to showcase social proof within Demio's webinar rooms itself. Imagine the power of a live campaign with real social proof showing along the way. One thing I have noticed is that we've struggled to A/B test our goals and need to review our "Proof Goals" to understand the changes gained from the pixels.
There you have it!
We believe in the power of simplicity, and so far, the simplicity and ease of use of our marketing stack has been a truly powerful force behind our business growth.
Like every business decision, what has worked for us may not work for you. So, take some time to talk with your team and your customers and discover what they need before you settle on your go-to webinar marketing toolkit. You can never go wrong putting your customer's needs at the forefront before any big decision. Good luck!
What tools are in your webinar marketing stack? Leave a comment below ?with why you use them!

DOWNLOAD YOUR FREE WEBINAR STRATEGY CHECKLIST BELOW
Use this checklist
to design your very own high-converting webinar marketing strategy from scratch, then automate the process to attract high-quality leads.
We promise to never spam or send emails about cats.
Okay, maybe some cat stuff.