Webinars are a vital tool for marketers, with 95% believing they're effective for business promotion and lead generation (which were the goals of the majority of these webinars). Perhaps the most important element that influences a webinar's success is your audience. 
If your webinar fails to engage your audience, they won't stick around. You lose a viable lead — along with the time and money invested in acquiring them — and miss out on a valuable connection that could yield lucrative results. If you don't understand your demographic, they won't believe in your brand.
Webinars allow you to reach a wider audience than ever, attracting attendees across time zones who choose to give you their precious time. So, if you have nothing of value to teach them or don't target their pain points, they'll take their business elsewhere (and their friends and family).
These virtual events set the stage for developing personal connections with your audience while also helping you remain relevant to them. Rather than simply being present during a session, your webinar should encourage your audience to participate in it. Active engagement can ultimately increase your conversion rates and boost your ROI — all without spending more money on marketing and promotion.
Let's get started and discover multiple proven ways to improve your online events, whether they're live webinars or automated. 

Craft Compelling Webinar Content
The meat of your webinar is the content. From the way your script is laid out to the topics you cover (and how in depth), ensure you address your audience's pain points and make your webinars relevant to them so your attendees are thoroughly engaged.
Understand Your Audience
What does your audience want? What are they hoping to gain from attending your webinar? Ask your audience to answer some basic questions on your webinar registration landing page, and you'll learn most of this with minimal effort. Then, craft your content around the information gathered.
Solve Problems
What problems does your audience face within your industry? Uncover, discuss, and then solve them over the course of your webinars. This problem-solving approach not only establishes your brand as a thought leader in your industry but also shows your audience you genuinely listen and offer credible help.
Be Relatable
You have to be on the same level as the demographic you serve in order to be seen as approachable and authentic. Get to know your target audience in a personal way by learning what drew them to your brand. Keep a friendly and casual tone and use storytelling to capture and retain your attendees' attention. Making webinars interactive revolves largely around speaking with your audience instead of at them. 
Master Visual and Audio Elements
If your webinars are grainy or experience frequent audio feedback, they'll come off as amateurish or just torturous to watch. So, make sure your visual and audio elements are crisp and clear for best results.
High-Quality Visuals
Incorporate bright and clear visuals into slides, screenshots, and other components of your webinar. Avoid lots of busy imagery though, and keep verbiage to a minimum. When using text, stick to classic fonts that are easy to read from several feet away.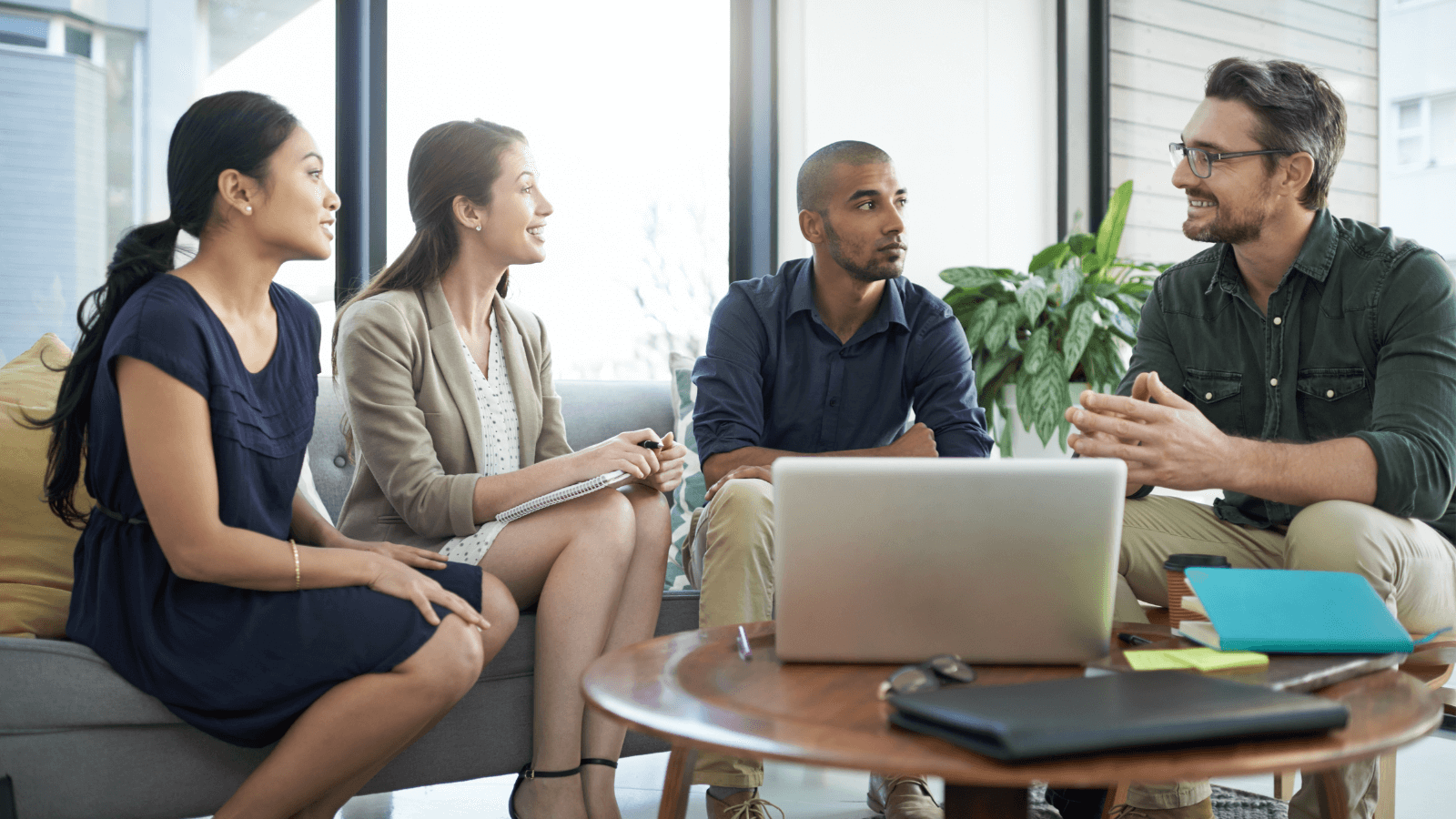 Crystal-Clear Audio
As previously mentioned, audio should have no feedback, and there should be no background noise to distract attendees. Much of this is within your control, such as how well you soundproof your recording room for live and pre-recorded content and the quality of your microphone and speakers. Reliable equipment is worth the investment, as they greatly enhance the user experience.
Encourage Audience Participation
This cannot be stressed enough: Successful webinars are dependent on audience participation. Why? Because attendees who are active in virtual sessions make it easier for you to qualify webinar leads and adjust your strategies accordingly, as they're more likely to convert and are easy to spot among their non-participating peers. 
They also enhance the webinar experience and show you how much your attendees know about your brand, as well as what else they'd like to learn. You can foster audience participation in your webinars with something as simple as a quick Q&A session at the end.
Demio features several engagement features that make this webinar platform stand out among its competitors, including live chat, customizable registration, and email marketing features. Whether it's Demio or another alternative, find a webinar platform that enables you to reach out and engage your audience in several ways with ease.
Q&A Sessions
Like we said earlier, you can easily insert a Q&A session into your webinar presentation to ensure your audience understands what's being covered. They can introduce their questions via chat during the webinar, and you can collect them to address at the end so your attendees stick around to hear their questions answered.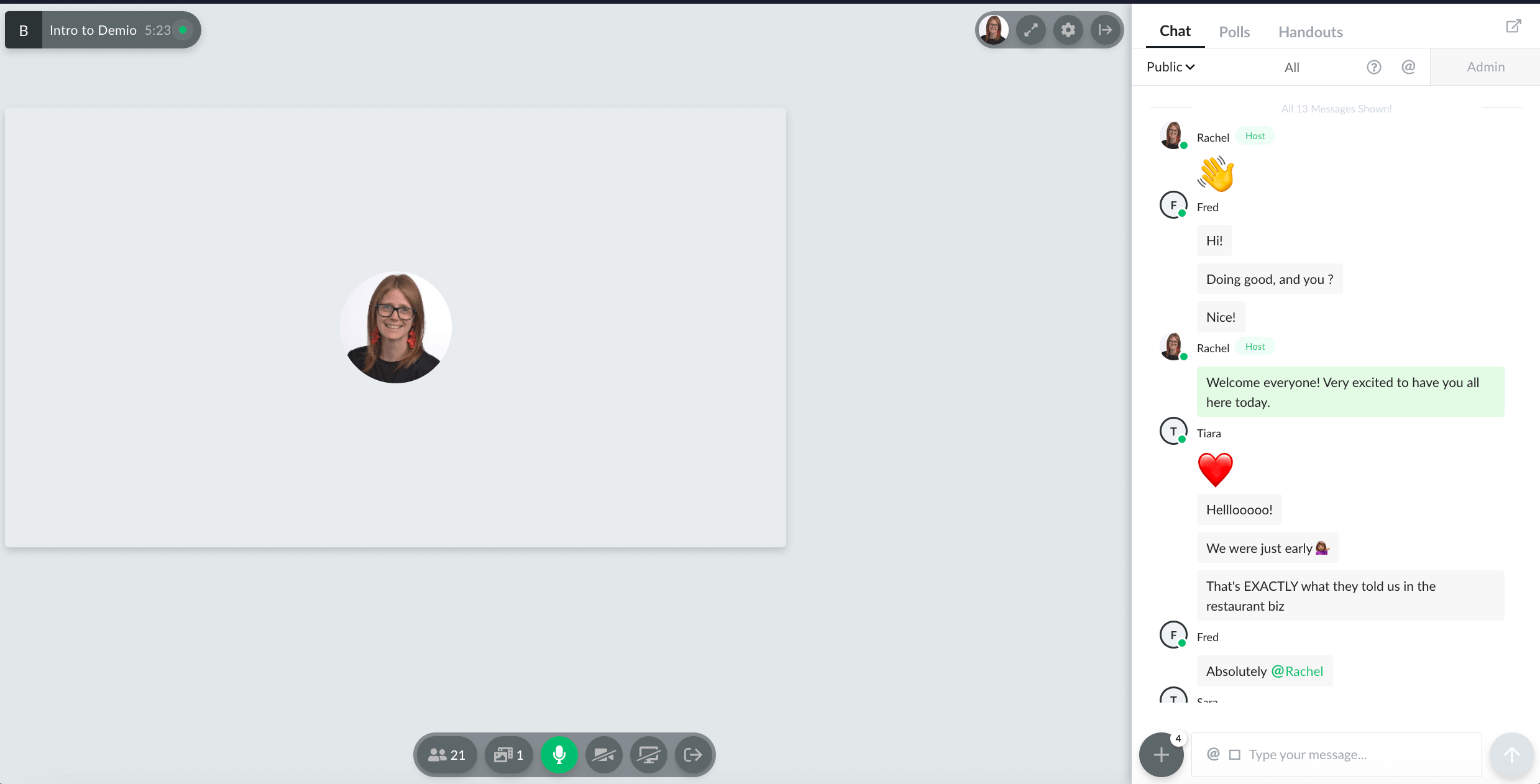 Polls and Surveys
Polls and surveys are fun for attendees and easy to incorporate throughout your webinars. (Demio lets you time these activities during automated webinars so they display organically to enhance engagement.) 
Not only do you give your audience a group activity to participate in, but your polling questions and surveys also gather valuable information that you can utilize in your brand's marketing strategy.
Custom Registration and Thank You Emails
Personally engaging with your audience during the registration process can significantly help fill your event seats. Only about 40% of registrants will show up to the webinar, so make the first impression count. 
Customize your follow-up emails as well to thank attendees personally for coming to your webinar. Include a CTA to incentivize a sign-up or purchase in this personal interaction to encourage higher conversion rates.
Live Chat
Running chat sessions with your audience (you can even chat in real time during automated webinars with Demio) gives them a more authentic interaction with your brand and helps you keep attendees engaged for longer periods of time. Engage in both private and public chats based on participation, the specificity of the topic or sub-topics, and other factors. 
Audience Spotlight
Have an attendee who's especially excited or knowledgeable about your brand? Give them center stage by using an audience spotlight feature like Demio's. This allows these engaged audience members to hype your brand to their peers, which serves as powerful word-of-mouth marketing.
Utilize Data and Statistics for Your Webinars
It's essential to capitalize on your webinar platform's analytics capabilities. The tools they provide allow you to see exactly how well your online events perform, including when and why audience members drop off, what featured actions earn the highest response from attendees, what links or CTAs they click on, and more.
It's also important to incorporate data and stats that support your webinar's topics to help establish your authority in your industry.
Include Relevant Stats
Only feature relevant stats that benefit your brand and your audience's pain points or solutions.
Visualizing Data
When are audience members most actively engaged? When do they lose focus during the session, and at what points do your webinars have the most (and least) attendance? Your findings will help you determine if you need to shorten the length of your presentation or change the event format to make it more engaging so your audience sticks around.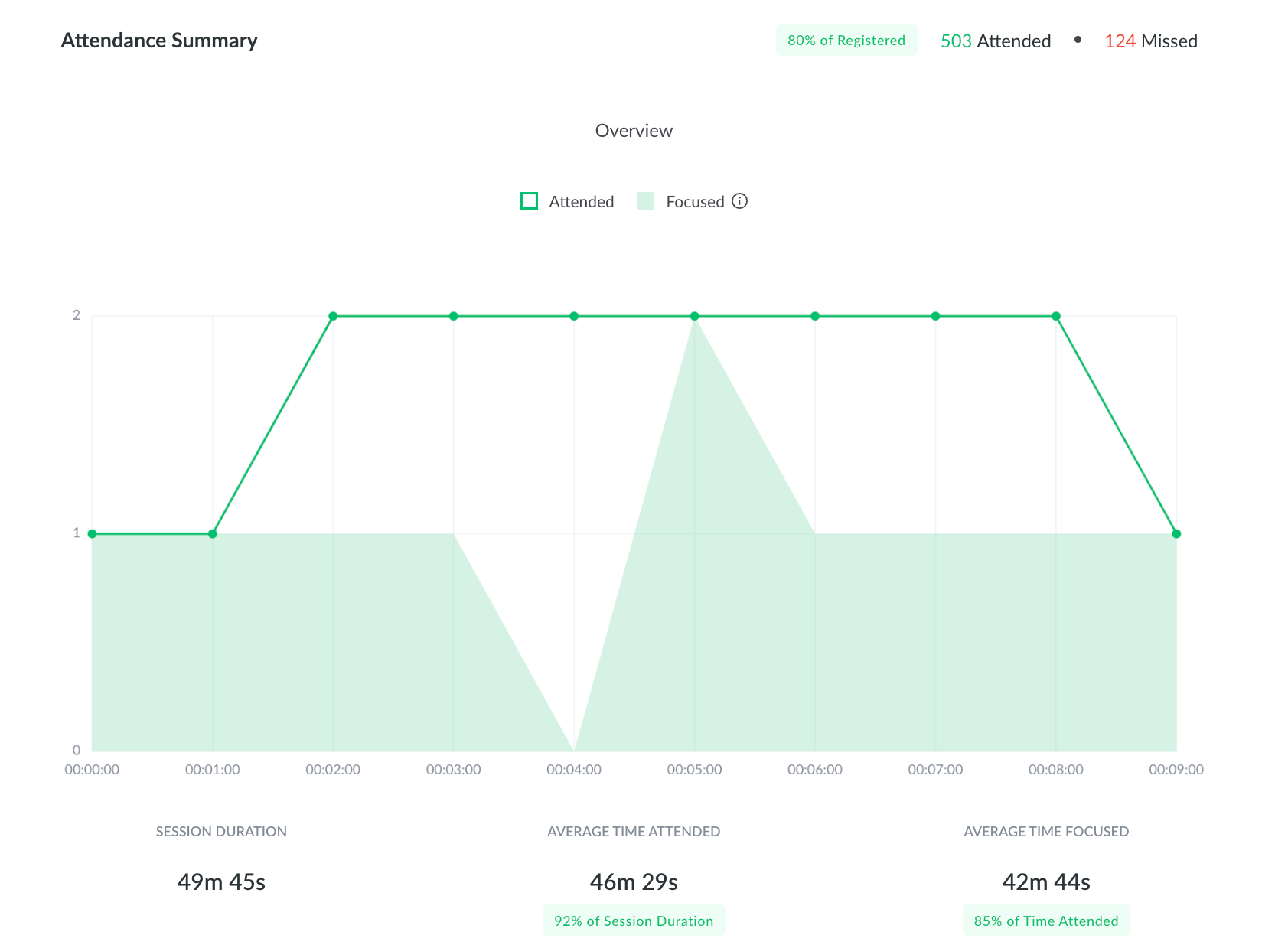 Ensure a Smooth Technical Experience
Technical issues arise with any live event, but being prepared can make this less of a worry. Always have a plan B just in case, and take the following actions to enhance the user experience from a technical POV.
Test Your Equipment and Internet in Advance
Never go into a live webinar without testing your equipment and Internet connection in advance. Even pre-recorded events should have a run-through. This helps identify and solve any audio, visual, or connective issues ahead of time and limits audience frustration due to technical issues.
Choose a User-Friendly Platform
The right webinar platform will improve your user experience, in turn enriching your audience's overall experience with your event. Stick to a marketing platform for webinars that has a user-friendly interface, doesn't require downloads for audience members, and has the customizable features you desire.
Have a Backup Plan in Case of Technical Issues
A robust backup plan should anticipate multiple problem scenarios and include various solutions to them. It should also have a prepared slide, session recording, or other relevant resource ready to send to webinar attendees to make up for the mishap. Technical issues are just some of the challenges with webinar creation, but if you're well prepared, you can avoid disastrous results. 
Build Anticipation Through Effective Promotion
Webinar promotion is vital to securing more registrants and attendees, so get creative to hype up your audience for your sessions.
Develop Teaser Campaigns
Teaser campaigns (or pre-launch campaigns) are great for drawing in audiences by hinting at what's to come without giving away the big reveal. These types of campaigns are especially impactful for product launches, demos, or webinars with guest speakers or influencers.
Leverage Social Media
The more exposure your webinars have, the better, which is why social media is such a powerful asset to your webinar marketing strategy. Make all content shareable so your registrants, followers, and curious prospects can easily spread the word to others, be it on LinkedIn, Instagram, Meta, or some other online community.
Leverage content by pushing a unique hashtag, posting snippets of your upcoming webinar, displaying a countdown timer on your website or other social media channels, or simply polling audiences about what they hope to gain from your next live webinar.
Capitalize on Email Marketing
Use email marketing to remind your registrants of your upcoming webinar and stress the key elements of the live event. It's a proven strategy to boost the number of registrants who show up to your event by lowering the chances of people forgetting about it.
It also helps to post a countdown timer on any reminder you send and include incentives like early entry promo codes or discounts to keep registrants committed to becoming audience members.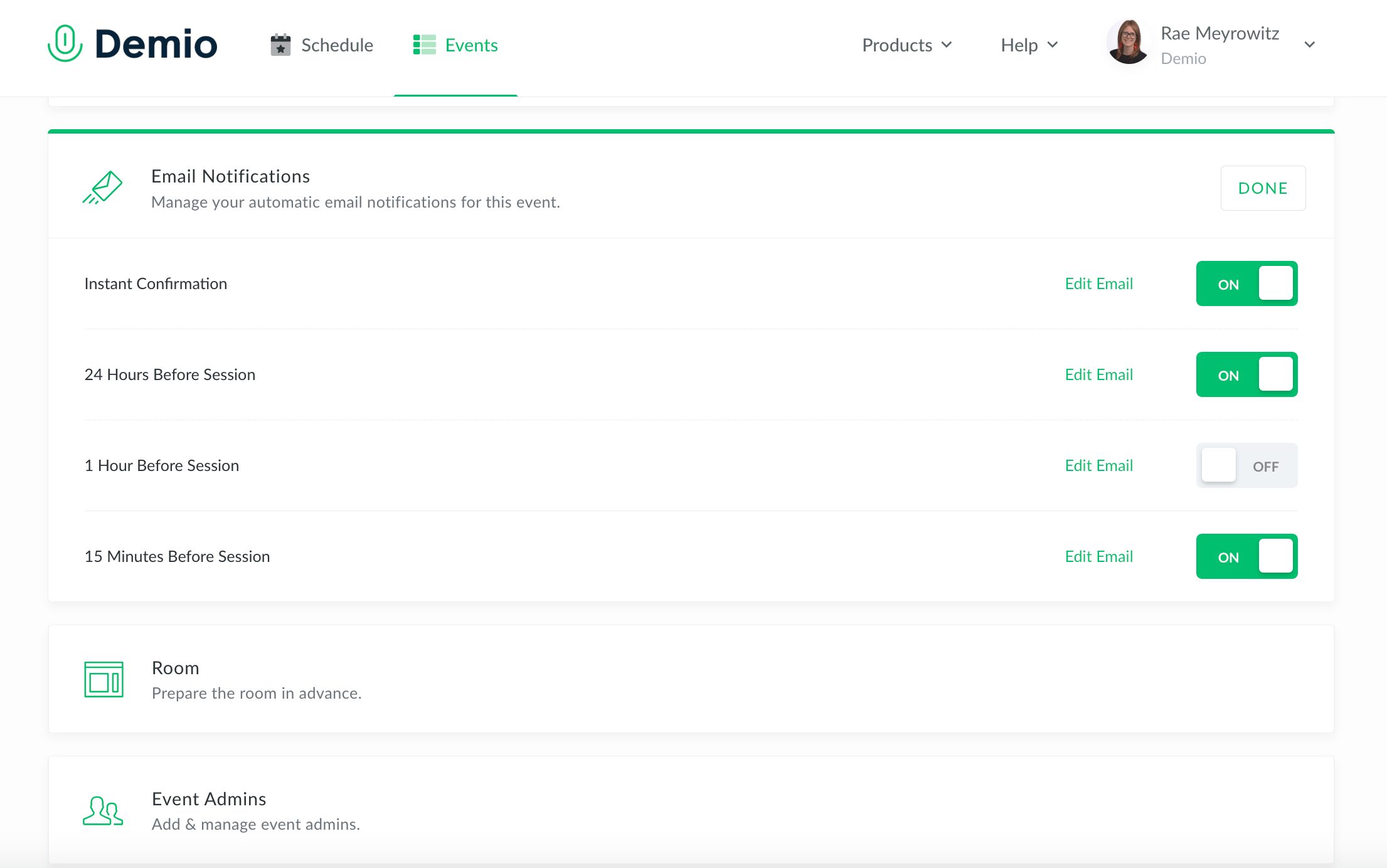 Harness the Power of Guest Speakers
As mentioned above, guest speakers and influencers can attract an impressive crowd. Even if attendees aren't fully aware of your brand or what your webinar is about, they're likely to anticipate and engage in your next webinar if you feature a known influencer or popular guest in your industry.
As a bonus, fans of your guest can become your fans as well after they view your webinar. So, make sure your event pushes quality content and delivery and doesn't rely on the guest speaker or influencer presenter alone; they're a compliment to your webinar, not the main event.
Choose a Speaker Relevant to Your Covered Topic
In other words, don't select a guest speaker simply to serve as clickbait. Any speaker you choose should relate to your brand either as an industry expert, current user, or endorser of your product or service. Or, they could simply help you demonstrate what your brand is all about. Their role is up to you.
Offer Diverse Viewpoints
Pull in a crowd by holding a panelist discussion with various guest speakers who offer differing views. Your audience will gain new insights into your brand and learn from varying opinions. You also widen your audience base, as many of the attendees who tune in want to hear the expert opinion or view of certain speakers.
Transparency is key here: If you invite a guest speaker, let your audience know who they are, what their industry is, their area of expertise, and why you're excited to feature them in your webinar. This way, they know you're not having guests simply for clout or to raise your popularity; your speakers will be genuinely worthwhile.
Smash Your Next Webinar With Stronger Engagement
We've covered the best practices for hosting an engaging webinar; now it's time to put what you've learned into practice. It's easy to make your webinars more engaging even in simple ways through guest speakers, interactive elements, and effective webinar tools to get you going in the right direction.
With a great webinar platform like Demio though, you can enrich the attendee experience in big ways. Book a demo today to see if this solution is a great fit for you, or get started free if you're ready to experience firsthand the impressive results Demio has to offer. 

Frequently Asked Questions about How to Improve Webinars
How do I make my webinar stand out?
Creating a standout webinar involves a combination of strategic planning, engaging content, effective promotion, and interactive delivery.
How can I improve my webinar engagement?
Start by selecting an interactive webinar platform.
Tailor your content to meet the needs and interests of your target audience. Understand their pain points and preferences to create content that resonates with them.
Create visually appealing presentations with images, infographics, videos, and storytelling. Use a conversational tone and avoid jargon to make the content easily understable.
How do you encourage participation in a webinar?
Incorporate live polls or surveys at strategic points during the webinar. Ask attendees to vote on relevant topics or express their opinions. Share the results and discuss during the webinar.
Set aside specific time during the webinar for participants to ask questions. Encourage them to submit questions through a designated Q&A feature or chat.
Invite attendees on stage to be part of the webinar, instead of just observing.