If you run webinars, taking the time to nurture webinar leads after the event is over can be one of the most crucial steps to seeing ROI. Webinars are a business favorite for lead generation and content marketing, but you have to optimize for conversions once you've captured your audience's attention. A webinar registration form produces a list of warm leads, but if you never follow up, they'll likely remain just a lead.
While there are many ways to nurture leads, follow-ups are a key aspect of any marketing strategy. Here, you contact the lead after the webinar, offer more information, and invite further engagement. In this article, we'll go over the steps to nurturing those leads through strong follow-ups to build long-term sales and customers.
Why Nurture Webinar Leads
One obvious reason to nurture leads is to turn your webinar registrants into customers, but there's more to it.
Nurturing your webinar leads gives you an opportunity to build relationships, gain trust, and learn more about their desired outcomes. And don't forget to connect with registrants who didn't attend, because they're still warm leads.
1) Reach Registrants Who Didn't Attend
Statistically, most webinar registrants don't attend live, especially with the webinar fatigue of 2020. However, that doesn't mean you should forget about the non-attendees — they've still given you their email and contact details, and shown interest in a topic you've aligned with your buyer goals and sales funnel.
Reaching out to your non-attendees helps you build relationships. You could offer any handouts or other content provided during the webinar, and even share a link to your webinar slides and replay (Demio can do this automatically for you!).
To drive the relationship forward, you might also invite the registrant to attend your next event on a related topic.
These types of communication build a foundation of trust, while showing your registrant they can still receive value even if they weren't able to attend live.
2) Qualify and Validate Webinars
The more you nurture your webinar leads, the better you can gauge which webinar topics and campaigns drive the highest quality prospects, and where you should focus content.
Analyzing your lead quality following your webinars will help you narrow down your best target audience for your webinars. You can look at demographics on who registered, who attended, who was most engaged, who took advantage of your handouts and featured actions, and who continued the conversation with you via your nurture, following the event's conclusion. Likewise, some webinar topics may convert at a higher rate than others. This often requires experimentation, and identifying your high-conversion topics and audiences is crucial to long-term optimization.
How To Nurture Webinar Leads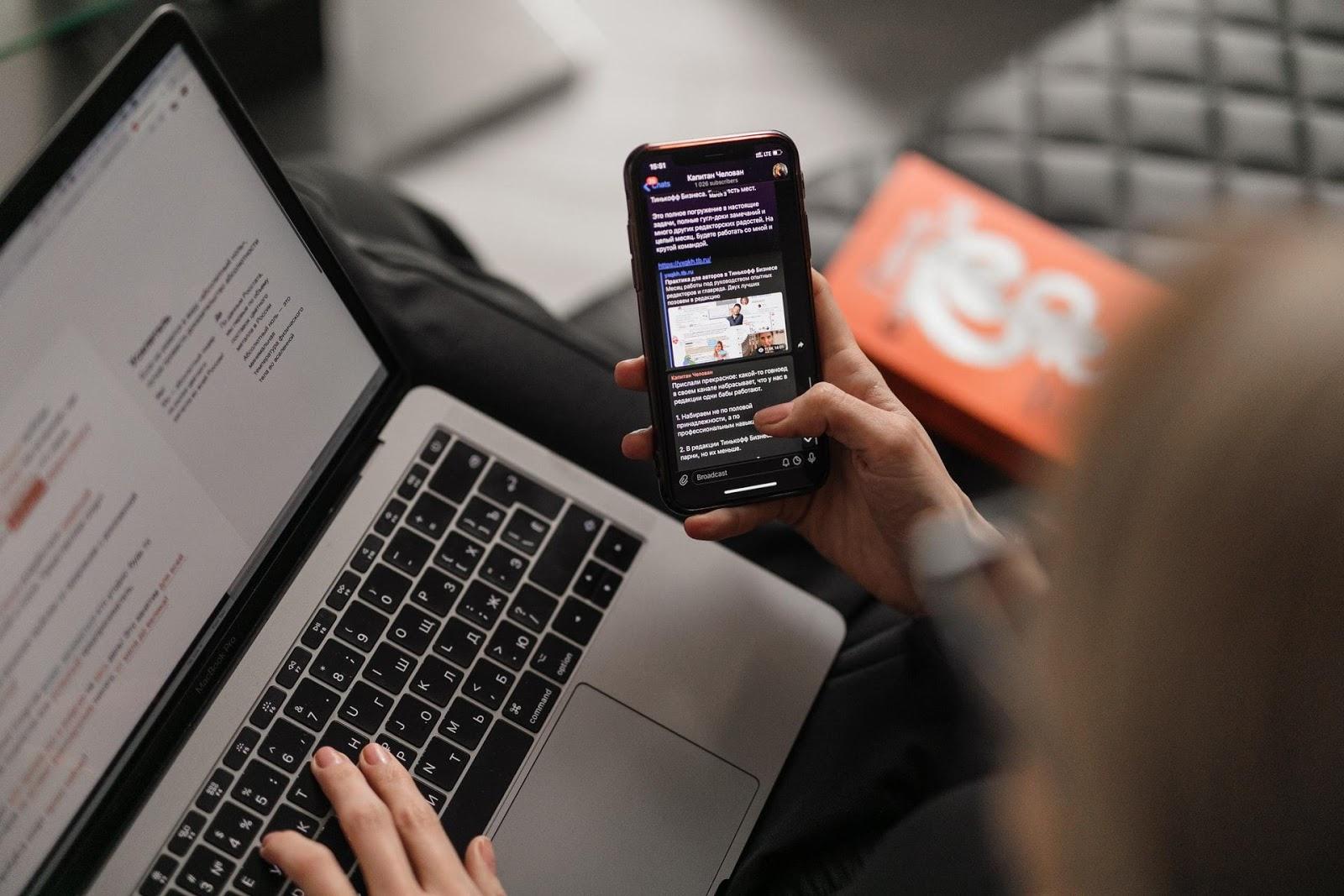 Nurturing webinar leads requires following up and connecting with the registrant, whether they watched the webinar or not. Below are some of the best tactics to accomplish this.
These methods are intended for immediate use following and up to a few days after the webinar.
1) Post-Webinar Surveys
Post-webinar surveys request a rating and feedback on the webinar from viewers. This reveals what you did right or wrong so you can improve your webinar process. With these, you gain more from your marketing campaign, while fostering relationships.
Keep surveys short and to the point. Four to six questions is more than enough to obtain the information you need. For example, you could use the following rough template for your questionnaire:
Did you learn anything new from this webinar?
How would you rate the Q&A session?
Were your questions answered?
Were the webinar presenters engaging?
Would you recommend this webinar to someone else?
Are you interested in a follow-up demo or call?
2) Post-Webinar Handouts
Post-webinar handouts should include any materials promised during the webinar, plus any additional items viewers might need. In some cases, it's useful to send the webinar slides and the handouts immediately after the webinar.
This gives individuals who watched the webinar the opportunity to go through the content again at their leisure. It also allows people who missed the event to catch up when they have time.
However, your approach should change depending on whether or not the registrant viewed the webinar. For example, if you're emailing no-shows, it's a good idea to include something like, "We missed you at our webinar! If you're still interested, here are the slides and a link to see the webinar replay."
Segment your email list based on attendance, remember to separate drop-outs, and send personalized emails. The more relevant the email, the more likely registrants are to click through, download and view the material, and learn more from it.
3) Invitations to Future Events
Post-webinar follow-ups should almost always include invitations to your next webinar or content piece. However, this doesn't have to be right away; if you already have plenty of other content in your email, consider sending a follow-up invite a few days later to avoid overwhelming their inbox.
Here, you simply inform the registrant of upcoming content, especially if it's in the same series or aligned with the webinar they registered for originally.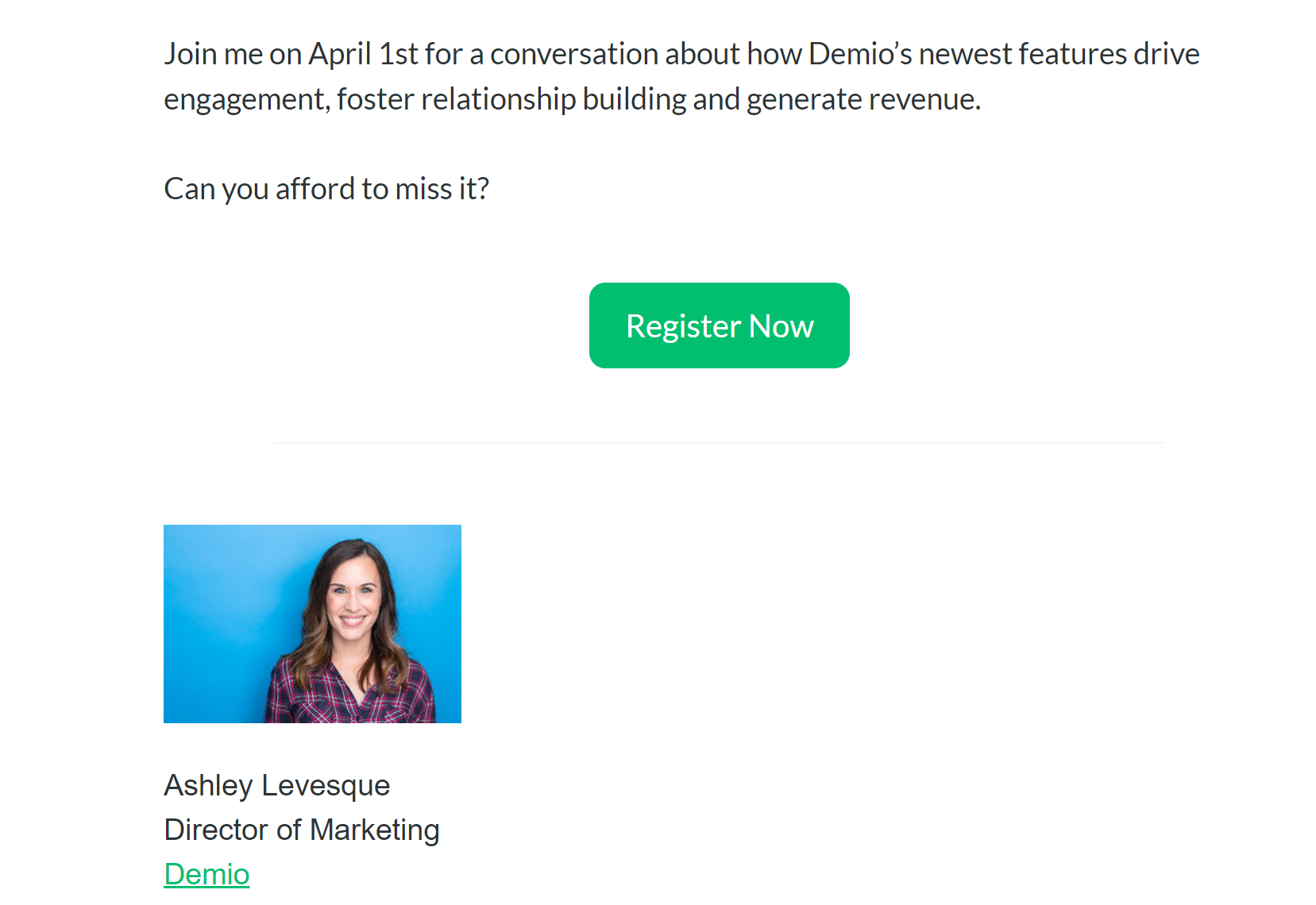 4) Call to Action
Most businesses end webinars with a call to action for a demo, sales call, or other suggestion to move the prospect further into the sales funnel. However, you can also do this through a follow-up as part of an email after the event.
Here, it's important to be short, direct, and clearly show how following your CTA will get your audience one step closer to their desired outcome. Follow up and deliver something useful to nurture the relationship.
Best Practices
While reaching out post-webinar is the best practice to nurture leads, there are plenty of ways to optimize your entire lead generation process.
Targeting Webinars
Mapping webinars to the lead funnel and market goals ensures they target the right audience and function as part of lead qualification. If a webinar is properly targeted, you'll know that most users viewing the page are interested in your product or service.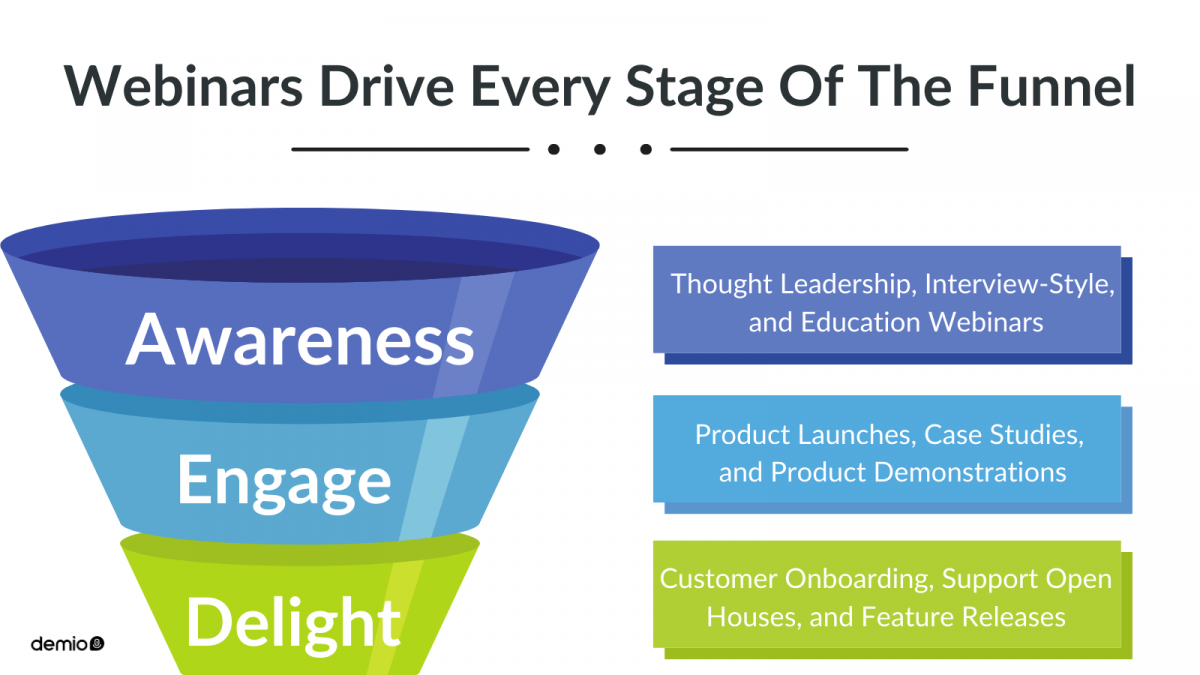 Tip: You can use webinars at every stage of your funnel. Consider what your target audience's desired goals are at each stage, and design a webinar to bring them one step closer to those outcomes.
Know When To Nurture
Connecting with leads at the right time is almost as important as reaching out itself. Here, you should focus on three main connection points:
During the Webinar – Distribute handouts, ask for feedback, and drive engagement activities directly with your webinar attendees. The more you interact throughout the webinar, the more you strengthen the relationship, which results in a higher probability of conversion.
End of the Webinar – Deliver a webinar quality survey, give away handouts, and stick around to offer a Q&A session. This can be a powerful stage for conversion by identifying those who are most ready to learn more, but you shouldn't stop there.
After the Webinar – Follow up with emails that include the replay, slides, and handouts after the webinar. Send any important calls to action within a few days at the most.
Use a Compelling CTA
Craft a compelling call to action, invest in A/B testing, and optimize over time. Leveraging free offerings, demos, and discounts on the product can increase conversions as well. This is one of the most important elements of your webinar conversion, so spend time honing it for emails and email-end contact.
Wrapping Up
Converting warm leads from a webinar registration to sales takes time and nurturing. That involves building relationships, answering questions, and delivering useful information.
Many leads don't convert right away. However, you can improve your conversion rate, drive more revenue from webinars, and learn what works and what doesn't by actively reaching out, making connections, and nurturing leads throughout your funnel.
DOWNLOAD YOUR FREE WEBINAR STRATEGY CHECKLIST BELOW
Use this checklist
to design your very own high-converting webinar marketing strategy from scratch, then automate the process to attract high-quality leads.
We promise to never spam or send emails about cats.
Okay, maybe some cat stuff.