Launching a new webinar campaign can feel like a Herculean task when you're juggling all the SaaS marketing to-do's.
Whether you're a solo marketer or work on a small, but mighty marketing team, you have a bunch of campaigns to ship, and your priorities can change by the minute.
The good news is, webinars don't have to drain your time or budget.
At TeamGantt, we put on eight webinars a month for roughly 1,500 people, and every minute and dollar counts because we're a 100% self-funded company. We've established a repeatable process that makes hosting webinars and hitting our deadlines easy-breezy.
Here's how to save time and money on your campaigns without sacrificing webinar quality. 
Scale your webinar campaigns with these time-saving tips
Let's start with a few simple tactics you can take to keep your webinar campaigns from sucking up every waking minute of your day.
Establish a project plan
You wouldn't embark on a journey to a new destination without figuring out how to get there first. So, why not do that with your webinar campaign?
Making a plan eliminates any confusion that might bog down your campaign. Everyone knows what's due when and who's responsible for what, and you can easily keep tabs on progress along the way.
Before you sit down to create your actual plan, it's a good idea to sketch out a general timeline for all the tasks you'll need to knock out to get your webinar campaign off the ground. Our webinar campaigns generally follow this timeline: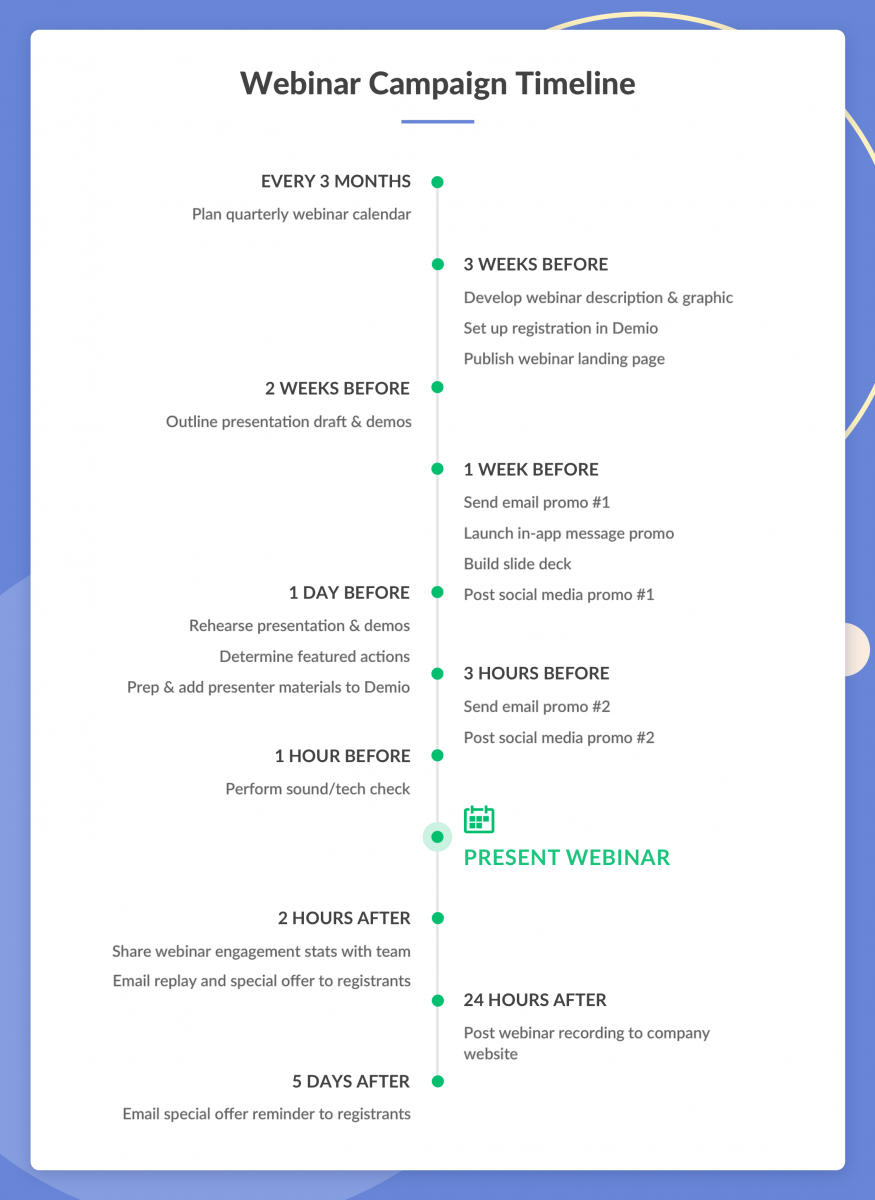 Once you've figured out a basic timeline, make your plan official by building it out and assigning tasks in your project management system. We're partial to gantt charts because you can see where your project is at a glance at any time. That visibility makes it way easier to stay on top of deadlines.
Here's how a webinar plan typically shapes up for us:

Use evergreen content to build your calendar
Coming up with a brand new webinar each week takes a great deal of time and resources. And if you're like us, you don't have a huge marketing team to get'er all done.
Here are a few tips to help you whip up your optimal webinar mix.
Host weekly product demos
In the SaaS world, you're always getting new customers, so product demos will be fresh to at least one segment of your audience, even if they're old-hat for your team. 
At TeamGantt, our Customer Success team hosts one product demo per week, with a combo of the following two classes. 
TeamGantt 101: This beginner class happens 3x/month and serves as a great tool for onboarding new customers.
TeamGantt + Trello: We host this demo 1x/month to help users master this integration.
All in all, product demos go a long way to improve customer retention and boost free-trial-to-purchase conversions.
Give free education away
In addition to product demos, we also host one educational webinar a week. These mid-funnel classes focus on the bigger project management picture and provide ongoing value for existing users. We also offer a special discount to registrants at the end of every class to drive purchases.
We typically produce one new educational webinar a month and let evergreen topics do the heavy-lifting the remaining weeks of the month.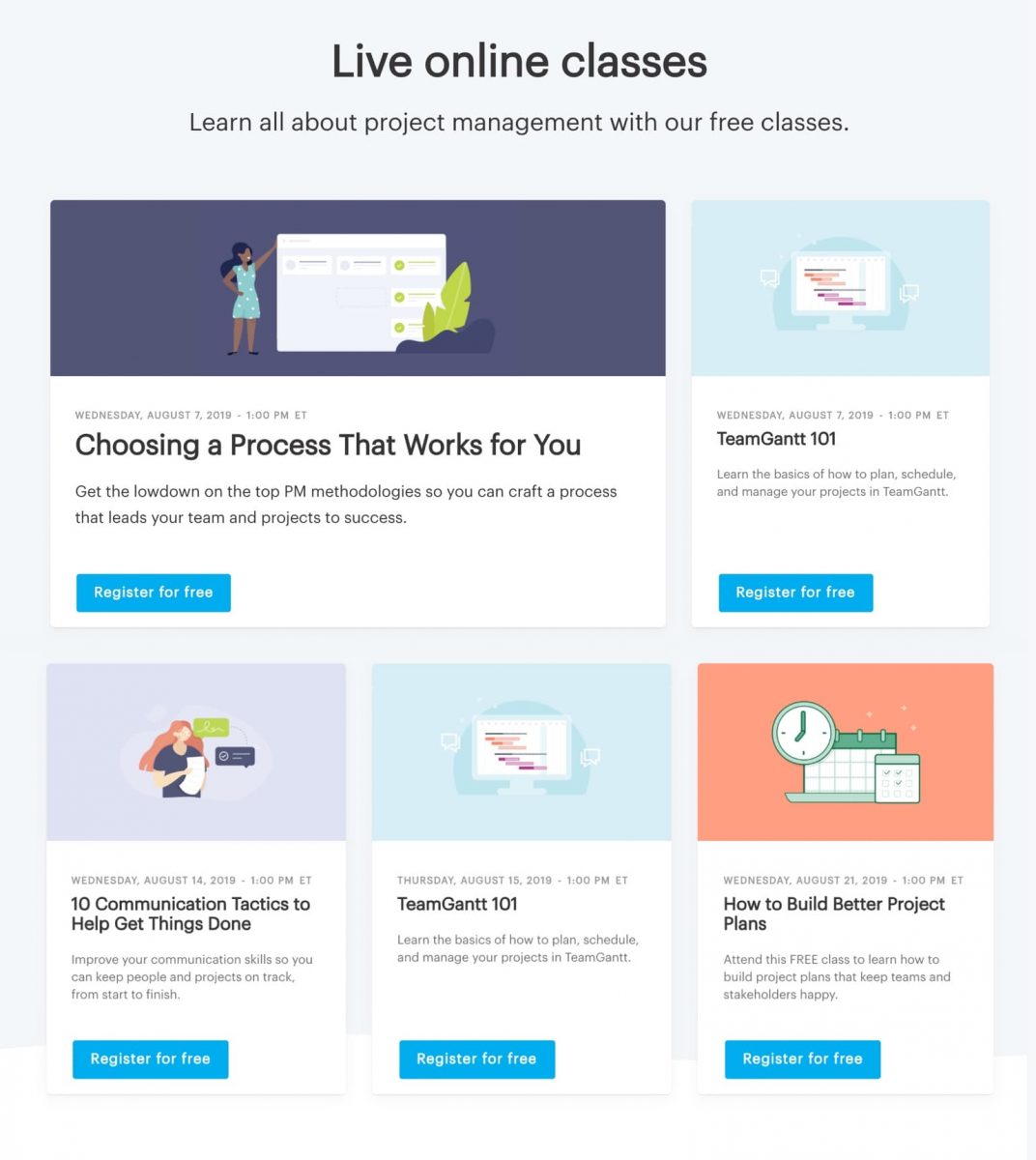 As you add new topics to the rotation, your evergreen webinar library will continue to grow, making it easier to keep your schedule from feeling stagnant.
Schedule top converters more frequently
If one webinar consistently outshines the others in terms of conversion, sprinkle that topic into your calendar more often.
Project planning is our bread-and-butter topic at TeamGantt. That's because people are always hungry to learn more about it, and it aligns perfectly with our product. We've sliced and diced the topic into a few different variations and offer at least one project planning class each month.
Evaluate evergreen webinars regularly
We conduct periodic check-ins to discuss how each webinar went and take that into consideration with each planning cycle. It's a great opportunity to weed out classes that fall flat and optimize tried-and-true topics so you can fill your schedule with high-performers.
Templatize core webinar assets
There's no need to reinvent the wheel every time you host a webinar. Here are a few ways to shave off time by standardizing key elements that go into a webinar campaign.
Landing pages
Want to give your landing pages a custom look without starting from scratch every time?
We created a standard webinar template for webinar landing pages in our CMS and use Demio's embed option to host the registration form on our own pages. This frees up dev and design resources for bigger projects without bogging down our regularly scheduled webinar program. We simply plug in the right webinar details, click publish, and move on to the next marketing task.
If you have webinars you schedule over and over again, you can save even more time with Demio's recurring schedule feature. This option enables you to create a single hub page for repeat webinars, with each upcoming session listed.
Emails
Email is an integral part of every webinar campaign. So, why not create basic templates you can use to promote and follow up after each event?
We announce upcoming webinars in our weekly newsletter because we don't want to overload our audience with too many emails. It's easy to pop a fresh webinar graphic and schedule details into our existing newsletter design each week.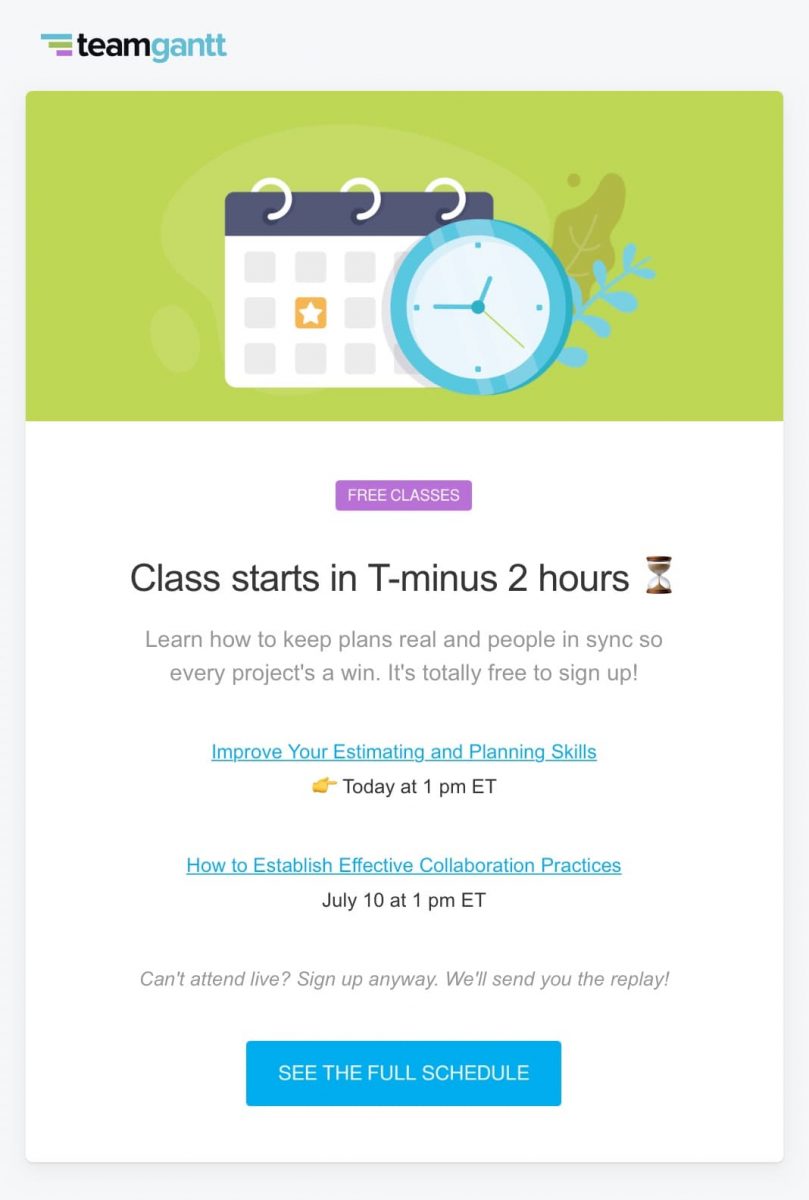 If you prefer sending plain-text invites to a targeted list for a more personal feel, go for it! Templates work just as well for those, too. Standardize as much as you can so it's quick and easy to drop in specifics for each new webinar event.
Don't forget to check out Demio's standard webinar email notifications. You can opt to automate — and even customize — your registration confirmation, event reminders, and replay follow-up emails to save time as well.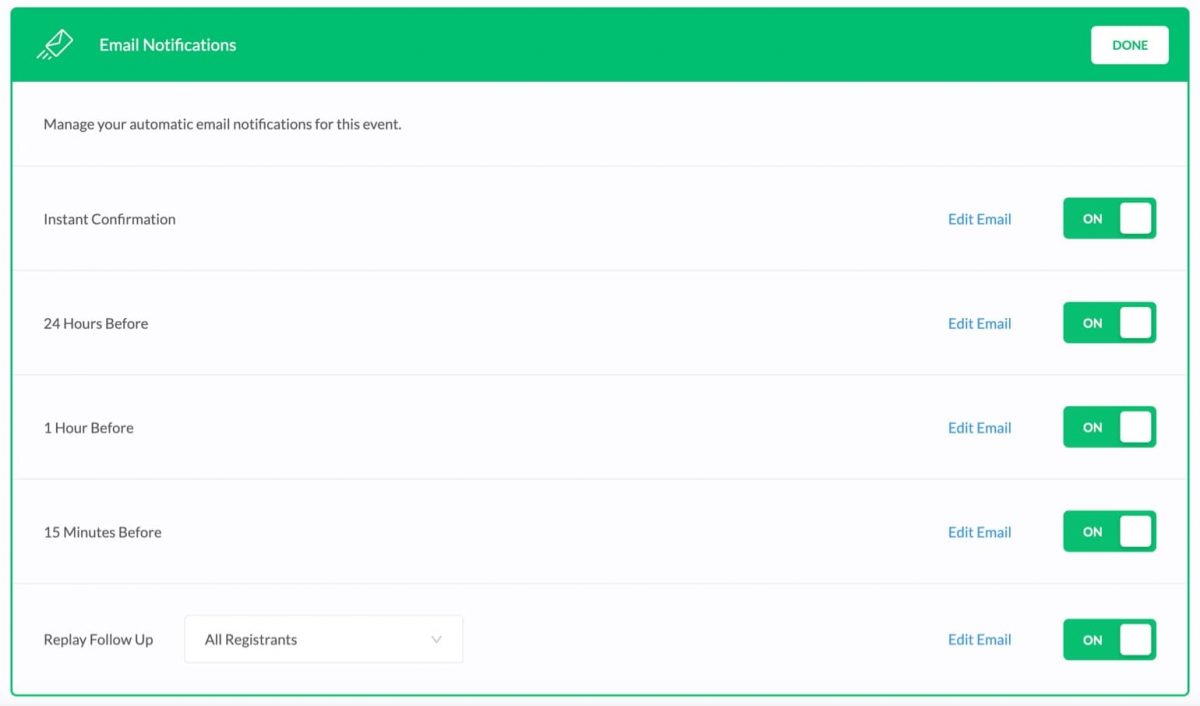 Slide deck
Creating a standard deck for evergreen webinars is a major time-saver that can help you scale your webinar strategy like Drift. This enables anyone on your team to run webinars without the whole shebang resting on one person's shoulders. 
At TeamGantt, our support team takes turns running weekly product demos. Using the same core deck means they don't have to take time away from customers to throw slides together each week. We can also be sure our product is positioned in a standard way, no matter who's presenting.
Automate webinars
We run live webinars at TeamGantt, but automation is definitely something we've considered, and is an awesome feature offered by Demio.
Automation gives you the ability to put at least one component of your webinar on autopilot so you can free up time and resources. Here are a few ways automated vs. live webinars can benefit your team:
Got a webinar that converts like gangbusters every time you host it? Automation makes it easier to scale your success without having to expand your team.
It frees you up to focus on other marketing initiatives without compromising the quality of your webinar campaign.
It enables you to serve your international customers better by offering multiple time slots — and even on-demand options — without burning the midnight oil.
You don't have to worry about tech issues, mistakes, or unexpected illnesses throwing a kink in your live event.
While automated webinars no doubt ease your stress and workload, they don't have to feel completely pre-packaged to your audience. For example, you might use recorded content to automate the presentation, but moderate the chat in real time so attendees still get that live experience. Find creative ways to make automated webinars interactive, and never fake people out by pretending your recorded webinar is live.
Need ideas? Check out these examples of how SaaS businesses like Shopify and Campaign Monitor use automated webinars to grow.
Select a platform that integrates with your stack
We chose Demio as our webinar platform for several reasons, but one of the deciding factors was the fact that we could integrate it with many of the tools we know and use. That meant we didn't have to waste time manually exporting and importing lists across our marketing stack. Huzzah!
Integrations make it so much easier to:
Set up webinar registration forms
Track webinar sign-ups and engagement
Send post-webinar emails and replay links quickly
If the webinar platform you really, really love doesn't integrate with every tool in your marketing stack, don't write them off immediately. Dig deeper to find out who their target persona is and whether their overall vision aligns with yours.
We knew Demio was a webinar platform made by marketers for marketers, especially in the software space. That hyperfocus — along with the fact they were super responsive to our feedback and suggestions during our free-trial period — gave us confidence that, even if everything on our wishlist wasn't available right away, any future improvements would surely benefit us.
How to keep your webinar campaigns on budget
I've already mentioned we're a bootstrapped company, which means we don't take investor money. Here are a few ideas for minding your webinar budget so you can get the best bang for your webinar buck.
Consider the cost of the service you're using
This one's a no-brainer. Of course, you want to find a webinar platform that doesn't blow your entire marketing budget.
Just keep in mind pricing can be based on a variety of factors. Answering these questions can help you strike the right balance between cost and features and get a more accurate pricing picture when comparing webinar options:
How many webinars do you plan to host each month?
How many attendees do you expect on average?
How long will your webinars be?
What are your must-have vs. nice-to-have features?
Choosing a yearly vs. monthly subscription is a great way to score a discount on the webinar platform you go with. At Demio, for example, you can save 30% off the regular price with an annual plan.
Plan ahead so you can use free resources to promote it
Planning ahead isn't just a surefire stress-reliever — it's also a great way to save dough on advertising expenses.
Email and social media are free and easy channels every marketer has at their disposal. Best of all, they offer audiences that actually want to hear from you, so don't treat them as an afterthought. Take time to come up with a strategy that puts those channels to work for you early in your webinar planning game.
But don't stop there! Here are some other tools you can use to get the webinar word out for absolutely nothing:
Website banners or pop-ups
This is a great way to funnel organic site traffic to your webinars. We put this tactic to use for one of our popular planning classes recently and saw a 34% increase in registrations compared to the previous session we hosted. And that class happened the day before a big summer holiday when we thought most folks would be checked out for the week!
In-app messages
In-app messages are a great way to let users know about upcoming webinars that are relevant to their stage in the customer journey. For example, we notify customers in our 14-day onboarding window about upcoming TeamGantt 101 demos, while more experienced TeamGantt users receive alerts about our educational project management classes.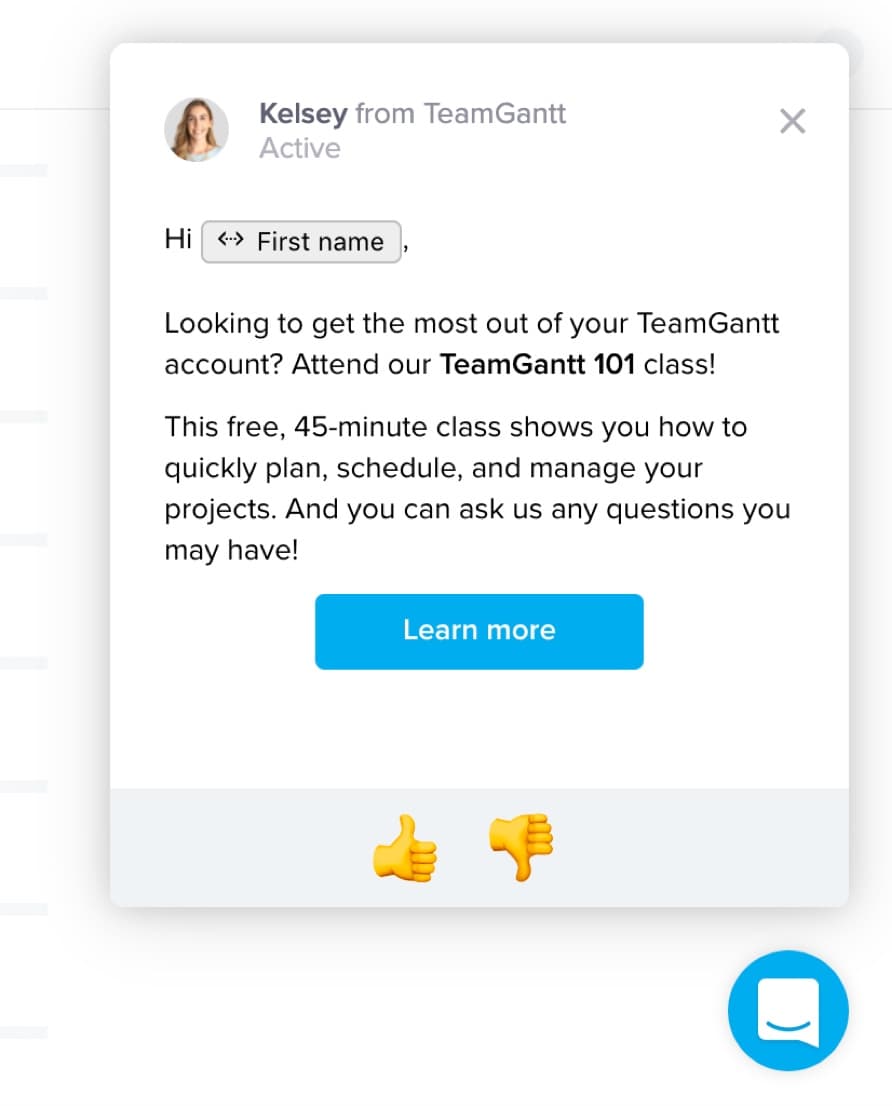 Support email signatures
Your support team sends out loads of emails each day, so why not use these personal communications to amplify your campaign? Add an inviting text link that takes people to the registration page, or draw even more attention to your promo with a well-designed banner. It's a great way to increase registration and show customers you put effort into creating value for them.
Partner up
Strategic partnerships enable you to reach beyond your core audience without spending extra advertising dollars. Depending on your agreement, you and your partner may decide to divvy up webinar tasks across your shared resources for even more savings.
Just keep in mind that partner webinars require a little extra planning and lead time. We add these tasks into our timeline when teaming up with other industry partners:
Introductory call: 2–3 months before the webinar
Partner presentation review: 2 weeks prior to the event
Dress rehearsal: 1 week before the event
So, how do you decide who to partner with? It really depends on your goals and what leads to more conversions.
At TeamGantt, we like partnering with subject matter experts and industry influencers. This adds diverse perspectives and expertise into our webinar mix, while also enabling us to expand our reach in targeted industries that convert well for us.
For example, we partnered up with Shawn Van Dyke, a trusted influencer with an established following in the construction industry, to offer a class on planning and managing residential construction projects. These webinars brought in nearly twice as many purchases as we see on average from a typical class. It just goes to show the power of partnership can really move the needle!
Of course, every company and campaign is different. Mention uses strategic partnerships to generate leads and sees better conversion rates when teaming up with other companies that align with their target audience vs. big influencers. Pay attention to what works best for you as you experiment with this approach.
Keep it simple
If you're just getting started in the webinar world, you might think you need to splurge on a bunch of high-tech gadgets. And while that equipment may not make up a huge chunk of your webinar budget in the grand scheme of things, every dollar counts!
Take it from Podia's CEO and founder Spencer Fry. In Demio's SaaS Webinar Recipe Book, he shares his webinar tech secret: "Don't overthink the hardware."
His webinar equipment list is simple: his laptop camera and Airpods mic. And that doesn't bog Podia down a bit. Their live demos always make the list of customer faves on surveys.
Crush webinar deadlines without overspending
Time and money aren't the secret to webinar campaign success. With the right tools and a few savvy tricks, you can deliver quality content that educates people and helps you reach your goals. No overtime or bank-breaking needed!
Ready to launch your next webinar? Planning ahead is a great first step toward shipping your campaign on time and under budget, and it doesn't have to add hours to your day.
You can create a beautiful project plan in just minutes with TeamGantt. And because everything happens online, it's easy to track project progress and collaborate with your team in real time.